Chancel repair liability
Chancel repair liability dates back to the 16th century sale of monasteries by Henry Vlll, during which, responsibility for repairing the chancel (the part of a church around the altar, including the choir and the sanctuary) passed from the monks to the new owner of the land. This land is not always close to the church building.
5,200 pre-Reformation churches in England and Wales benefit from a right, allowing Parochial Church Councils (PCC's or the Church of Wales in Wales and Monmouth) to require owners of former church land within the parishes of churches built before 1536 to contribute a proportion (historically known as a tithe) of the cost of maintaining or repairing the chancel.
This liability was not always recorded, and in an effort to reform what was seen as an outdated law, The Land Registration Act 2002 required that from 13 October 2013, new owners of land will only be bound by chancel repair liability if it is entered in the land register. Since then, properties sold with no notice in their register may be considered free from the liability.
If the liability was registered by the 2013 deadline, future owners of the land remain liable for their share. If the liability was not registered by the 2013 deadline, the liability is still enforceable until the land is sold. Liability can still be registered after the 2013 deadline, but is only be effective if there has been no sale.
A freedom of Information request by the Sunday Times in 2013 revealed that 247 churches had registered 12,276 homes or plots of land as being liable. However, as it is thought that 5,200 churches could benefit from the right, the final total is likely to be higher.
Actual claims are rare, but the potential for there to be a claim can affect property prices, and checking for the liability is an important part of conveyancing when purchasing a property. It is possible to obtain insurance to cover the potential for a claim.
The National Secular Society is campaigning for the liability to be abolished.
Featured articles and news
IHBC Gus Astley Student Award 2017 now open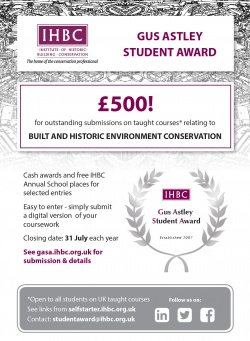 Send in your coursework on a taught course by 31 July for a chance to win a prize and attend the IHBC's Annual School in Belfast in June 2018.
---
Can Wellington (NZ) save its heritage buildings before it's too late?

---
Local military heritage at risk
The Daily Telegraph reports that many small regimental museums are to lose Ministry of Defence (MoD) funding by the end of next decade.
---
Heritage Open Days festival 2016 attended by millions
The Heritage Open Days (HODs) 2016 Impact Report shows an estimated 3 million visitors attending 5293 events with £10m for local economies.
---
International News - Cultural Protection Fund projects announced
The British Council has announced the initial projects to be supported by the Cultural Protection Fund, which will protect heritage overseas.