Valuing historic buildings
There are no real hard and fast rules for valuing historic buildings and established valuation principles used for more modern buildings may not apply.
Valuations will be affected by styles, locations, condition, local and national policies, whether the building is listed or in a conservation area, the availability of grant aid, public perception and so on. In addition, it is difficult for valuers to be objective as considerations such as the nature of the surrounding area, convenience of access, and views of and from the property can be subjective.
Most valuers' work is based on the concept of 'market value', which is the value the building might be reasonably expected to achieve after reasonable exposure in a free, stable market assuming that both buyer and seller are acting on their own free will and have a reasonable period in which to negotiate the sale. Real market value is not the same as the value to the owner, who may be affected by feelings of sentimentality and a distorted sense of worth. Also, value and price are not the same: even though prices are often the best indicators of market value, they are not decisive.
For more information see: Market value.
However, historic buildings can be unique or very close to it. This means that using market prices to value them is a difficult task. Furthermore, the legal restraints associated with any building works and the obligations to repair (e.g Grade 1-listed status) make valuing problematic.
Steps that may help establish the value of a historic building:
Inspection, involving a detailed survey and analysis;
Undertaking a historic survey involving any statutory listing, researching the building's history and identifying any reference works, local records etc;
Undertaking a detailed condition survey;
Understanding the architectural qualities and any special features, their local significance and contribution to the visual environment or townscape;
Understanding who is likely to be interested in buying the building, whether private individuals, companies, developers, local authorities, social groups etc;
Understand and accounting for prevailing market conditions;
Considering how much it could cost to repair or adapt and maintain the building for whatever use is envisaged.
Understanding constraints on development. for example, listed buildings involve a government-imposed control on owners that could make repairs and refurbishments far more costly than might at first be appreciated;
Considering whether the building has heritage value – can it be said to be a national treasure in any way?
Considering how easy it might be to get grant aid.
These considerations may help establish a historic building's value, which in turn may help potential buyers (or sellers) make an informed decision.
IHBC NewsBlog
'Local Heritage Listing: Identifying and Conserving Local Heritage' Published
Historic England has published a new edition of its advice note on how local heritage listing and local heritage lists can be formally identified as part of the wider range of designation so that they can be taken into account in planning applications.
---
Hammersmith Bridge illuminated red in Valentine's Day message to Government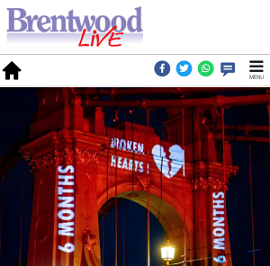 The stunt aimed at highlighting ongoing delays to its repair, as the 133-year-old west London bridge has been closed to traffic since April 2019 when cracks appeared in its pedestals.
---
Drone Surveying a London Landmark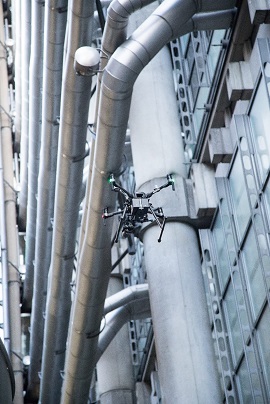 Uninhabited Aerial Vehicles (UAVs) have been used to undertake a survey of the Lloyd's building's external façade in the heart of the City of London.
---
Green Party calls for no VAT on refurbishment in new Parliamentary petition
The petition calls on the government to remove VAT on refurbishment projects and raise VAT on non-Passivhaus new-build construction to 20 per cent. Retrofitting is carbon-efficient but the current VAT regime privileges new build over refurbishment.
---
Conservation Professionals Concerned about Future Planning Policy

Directors of the IHBC and the Victorian Society are among those whose opinions are featured in the RICS in-house publication Modus as it explores heritage impacts in England's planning proposals.
---
Learn all about the Professions in Building Conservation at upcoming Conference

Glasgow City Heritage Trust (GCHT) 3-day online conference aimed at anyone working, or interested in working, within the building and heritage sectors.
---
New use for abandoned oil rigs: Offshore reefs!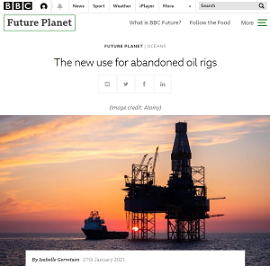 One way in which these old rigs can be remarkably useful is that the subsurface rig can provide the ideal skeleton for coral reefs, allowing the remarkable ecosystems beneath the waves come into their own.
---
Birnbeck Pier, in Weston-super-Mare, to undergo Restoration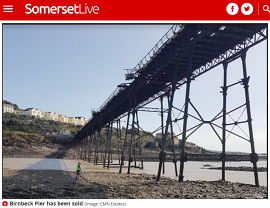 A new company – Birnbeck Holdings Limited – has now been set up by CNM Estates which has purchased Birnbeck Island and the historic pier.
---
Ecclesiastical Heritage Risk Barometer 2020 Published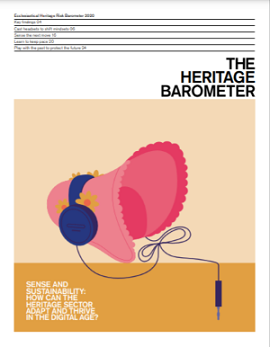 The publication offers research to help answer the question: 'How can the heritage sector adapt and thrive in the digital age'?
---
Victorian Bath House dug up from under a Manchester Car Park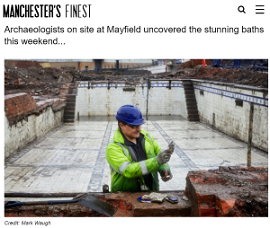 A stunning Victorian Bath House has been uncovered during works on creating the city's first public park in over 100 years.