Manor Farmhouse listed building prosecution
A significant and unusual listed building prosecution case has successfully concluded in which Huntingdonshire District Council brought contempt of court proceedings.
This the first case of which the IHBC is aware where this specific course of action has been needed. It is an illuminating example for those uncommon circumstances where injunctions are necessary but have been flouted.
The case concerned Manor Farmhouse, 15 High Street, Spaldwick, a Grade II listed building dating in part to 1546 and located between two Grade II* listed buildings. The owner purchased the property in September 2014, and within two weeks had removed external render and lath-and-plaster ceilings. Although requested to stop work by the council, he declined to do so and a temporary injunction was obtained to prevent any further damage.
The injunction fell away on 15 October 2014 when the owner gave an undertaking in the county court not to carry out any further work to the building without first obtaining listed building consent or the prior approval of the local authority. Despite this undertaking and further council warnings, works continued without consent.
On 11 November the owner appeared at Peterborough County Court and admitted 20 individual breaches of the undertaking previously given to the court in 2014, including the removal of wattle-and-daub panels, the removal of windows, internal walls and internal fixtures, and the insertion of new second-floor accommodation.
The owner was found guilty, given a six-week suspended sentence and ordered to pay £25,000 towards the council's costs. The owner will also have to meet the costs of appropriate reinstatements and risks further action by the council if this is not done.
A listed building enforcement notice will now be sought to secure the reinstatement of the fabric of the building. It would be open to the council to initiate further proceedings if the notices are not complied with.
---
This article originally appeared in IHBC's Context 148, March 2017. It was written by Bob Kindred, IHBC research consultant, who maintains the National Database of Listed Building Prosecutions.
--Institute of Historic Building Conservation
Find out more
IHBC NewsBlog
Find an IHBC HESPR accredited professional using our map-based search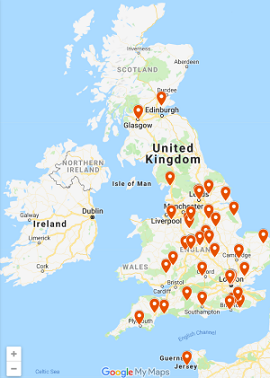 Find the office locations of HESPR members – IHBC's Historic Environment Service Provider Recognition (HESPR) scheme – using our map-based facility.
---
The Liverpool Grade II 'jewel' that lies empty, derelict and vandalised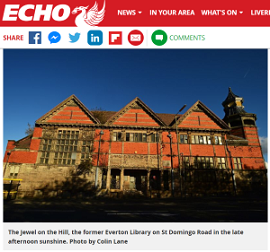 Liverpool landmark the Everton Library, a Grade II (GII) listed building that has been the focus of calls to restore it to its former glory continues to lie leaking, vandalised and derelict, when £5m could renovate the building, reports The Liverpool Echo.
---
Flintshire: Shotton steelworks' John Summers building to be restored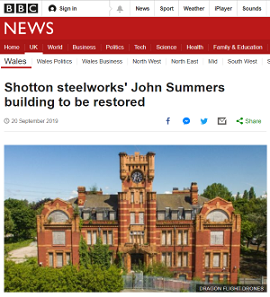 A landmark on a list of the UK's most endangered buildings, Shotton steelworks' Grade II-listed general office and clock tower, is to be brought back to life in Flintshire.
---
Rochdale Market, Manchester, to close as trader numbers and revenue continue to fall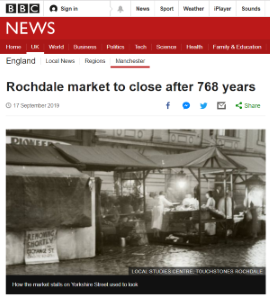 Rochdale Borough Council writes: Over the past year the number of traders regularly attending the market has halved and it is not financially viable.
---
IHBC supports Climate Heritage Network Global Launch: Edinburgh 24-25 Oct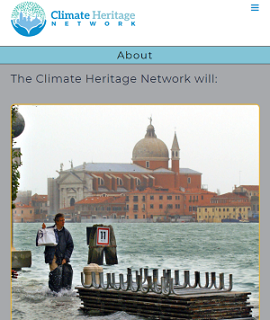 The Climate Heritage Network (CHN) Global Launch is a two-day program devoted to urgently mobilizing the cultural heritage sector for climate action across the globe.
---
Brunel's 'other bridge' in Bristol to be 'saved with £62k grant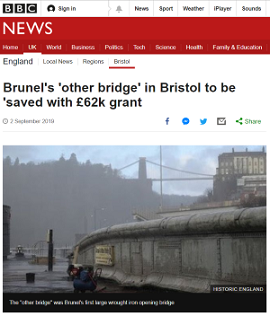 A swing bridge that was designed by Brunel is to be 'saved' with a £62,000 grant from Historic England.
---
Victorian Society announce Top 10 Most Endangered Buildings 2019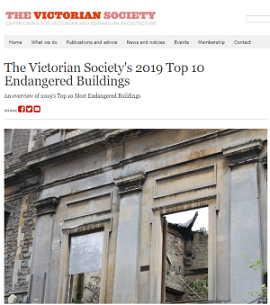 On September 13th the Victorian Society announced its Top 10 Endangered buildings list.
---
American Cities Then & Now: See How New York, Los Angeles & Detroit Look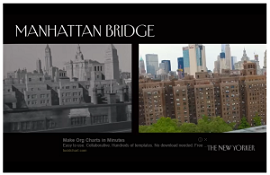 An Open Culture article takes a look at the American Cities of New York, Los Angeles and Detroit comparing how they look now compared to the 1930s and 1940s.
---
Great Yarmouth's Venetian Waterways to recapture former glories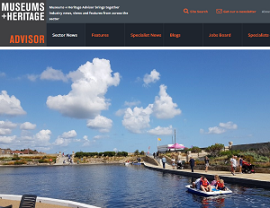 Great Yarmouth's 91 year old Venetian Waterways has been re-opened to the public following a £2.7 million regeneration project.
---
Fire engulfs Grade II-listed Horncliffe Mansion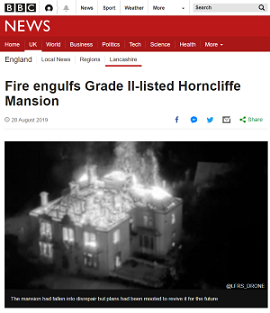 BBC news has reported on how the Grade II-listed mansion, Horncliffe Mansion in Rawtenstall has been 'completely gutted' after a fire tore through the derelict building.
---