England's Post-War Listed Buildings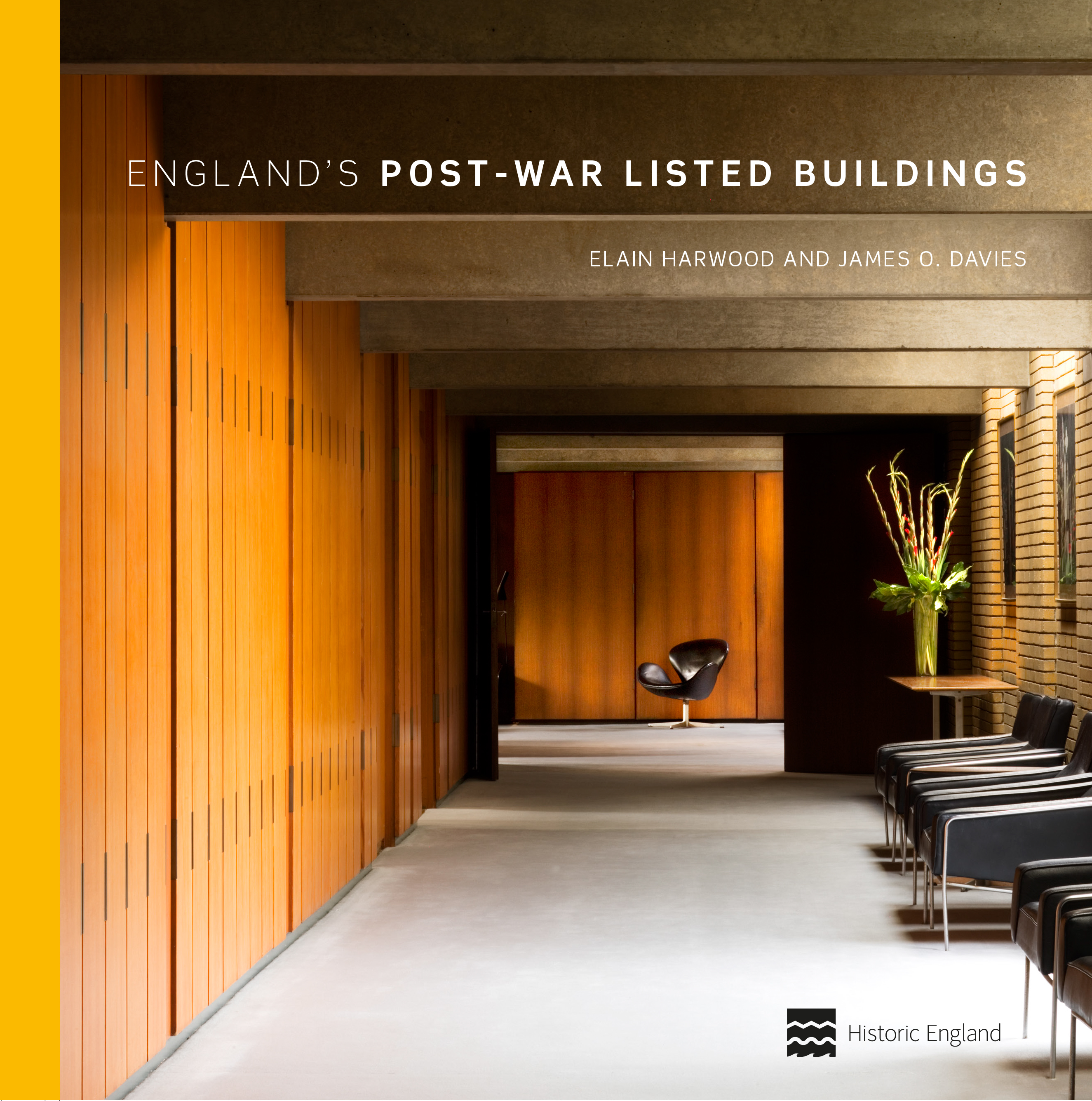 [edit]
'England's Post-War Listed Buildings'
Elain Harwood and James O. Davies
Published by Batsford (2015)
---
With England's more familiar architectural history often finding itself preserved in the amber of 'heritage' status, it comes as some surprise to realise the extraordinary range and calibre of the buildings that have been awarded listed status during the 7 decades since 1945.
'England's Post-War Listed Buildings', commissioned by Historic England (HE), is a veritable breezeblock of a book, comprising some 600-plus pages that serve as easily the most comprehensive guide available to parts of the built environment that don't always receive the public appreciation they deserve.
The number of listed buildings dating from post-1945 amount to a scant 0.01% (the total list in 2014 extended to over 376,000 entries), a fact that lends the book's author, Elain Harwood and photographer James O. Davies something of the attentive curator role.
The buildings range from the familiar and high-profile, such as Trellick Tower, Lloyd's of London and the Crucible Theatre, to the delightfully obscure, such as the lilypad canopies at an Esso filling station in Leicester, and a 'particularly elegant' concrete footbridge in Swanscombe.
The compilation is ordered by region and each building is given a concise descriptive overview together with photographs, which throughout are wonderfully executed, making the book a real joy to flick through, pausing to read further when something in particular catches the eye.
Whilst the brevity of the text may serve to satisfy the lay person rather more than the technically-minded, this is only be a minor drawback, and the book as a whole should inspire more people to seek out and reevaluate the modern architecture of England with renewed appreciation.
---
Designing Buildings Wiki put some questions to one of the book's authors Elain Harwood, whose previous work includes 'Space, Hope, and Brutalism: English Architecture, 1945-75'.
DBW:
When compiling the book did you notice any political influence - overt or discreet - in the decisions for buildings that were given approval for listed status?
EH:
No. There was one oddity – the Pasmore Pavilion was turned down in 1998 by the then minister, Tony Banks, responding to local opposition to the Pavilion. But in 2001 a trust was formed by other local residents to preserve the pavilion, who were successful in restoring it – and then it was listed!
DBW:
What is notable is how the book is full of municipal buildings such as social housing complexes, universities, libraries, and so on, that were very much part of the post-war social democratic building programme. As such they reflect the times and the society in which they were built. If this book were to be updated in, say, 30 or 40 years time, what kind of buildings would you expect to see being listed?
EH:
A lot more High Tech, and some post-modernism – so more offices, and the number of private houses will continue to grow. Indeed HE embarked on a programme of listing offices from the 1970s in 2014-15 – too late for inclusion in the book. I wonder, too, how many of the Millennium Projects may eventually be listed.
DBW:
What do you think about the fact that a lot of these buildings are closed to the public? Should more be done to try and encourage more interaction and engage the level of public enthusiasm that becomes evident at an event such as 'Open House London'?
EH:
Quite a lot of these buildings have been open for Open House and the Heritage Open Days outside London, including flats at Trellick and Balfron towers, and office buildings like New Zealand House – but it depends on owners from year to year. Ventures like this and the National Trust open days at Balfron Tower have done a huge amount to stimulate interest and it would be great to see more of such initiatives.
DBW:
Which one building do you think deserves to be added to the list?
EH:
I don't like to speculate when owners haven't been consulted. But do note that a number of offices have been listed in 2015 and that 41 more post-war sculptures have just been listed, which is really exciting.
DBW:
Which one building do you think doesn't deserve to be on the list and that you'd remove if you could?
EH:
Again, I don't want to get involved in sensitive cases where discussions are underway. I think finding new uses for the churches that have closed will be difficult, and I hope that the listing gives them a second chance.
---
[edit]
Book extracts
Engineering Building, Leicester University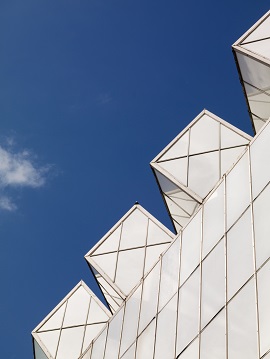 Norfolk Terrace and Suffolk Terrace - 'the Ziggurats'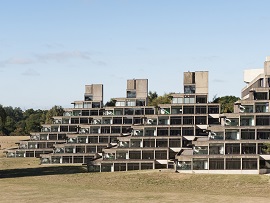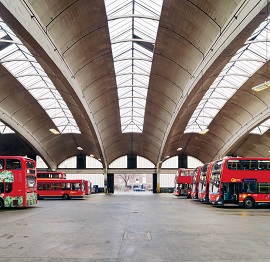 You can buy 'England's Post-War Listed Buildings' here.
[edit]
Find out more
IHBC NewsBlog
Last chance to submit for IHBC Student Award 2018
The Gus Astley Student Award closes on 31 July, so if you have relevant coursework submit it online to have a chance to win £500 and a place at Belfast2018.
---
IHBC 2017 Annual School tour features in Liverpool Echo
Among the most enjoyable of the huge variety of tours at the IHBC's Manchester 2017 Annual School was the visit to Liverpool as featured in the Liverpool Echo of 16 July.
---
IHBC on Intervention - SkillBuild competition highlights best in construction crafts
The 'SkillBuild' competition sees the very best in construction talent compete against each other in local heats across the country culminating in the Final at the NEC Birmingham.
---
Civic Voice Design Awards 2017 announced
11 awards to schemes and projects across England were handed out at an event at The Leadenhall Building, London attended by community groups and industry professionals.
---
All Party Parliamentary Group inquiry into the impact of Brexit on future skills
The fifth Inquiry from the APPG for Excellence in the Built Environment looks at Brexit's impact on future skills needs in the construction industry and built environment professions.
---
BBC reports on the youngest Grade I listed structures in England
The BBC reports on how the Humber Bridge has been given Grade I listed status to become one of only six structures built in England since 1961 to be afforded the honour.
---
Contracts awarded for Palace of Westminster refurbishment
BDP and CH2M have been selected for vital work to protect the heritage of the Palace of Westminster from the substantial and growing risk of failure of its essential services.
---
Scotland Planning Review - analysis of consultation responses
The Scottish Government's commissioned independent analysis of responses to the 'Places, People and Planning' consultation has been published with a position statement on proposals it plans on taking forward.
---
Historic Environment Scotland - Bringing a Blackhouse to life
HES offers a blog on creating a series of Digital Stories to help schools learn about blackhouse history and Gaelic, with the help of pupils from Sgoil an Taobh Siar.
---
London Assembly Environment Committee launched report on green spaces
The Committee has launched a report that looks at measures to protect and improve the capital's green spaces 'Park life: ensuring green spaces remain a hit with Londoners'.
---
National Trust DG quits for job at Oxford College
Dame Helen Ghosh has announced she will be stepping down as director general of the National Trust in March next year to become master of Balliol College at Oxford University.