James Crawford - Fallen Glory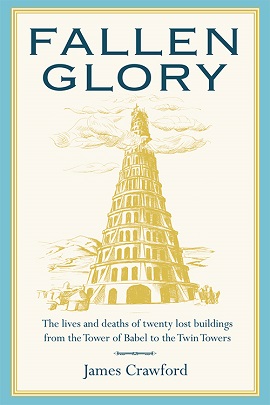 James Crawford – 'Fallen Glory: The Lives and Deaths of Twenty Lost Buildings from the Tower of Babel to the Twin Towers'
Published by Old Street Publishing (Nov 2015)
---

Most successful books are driven by characters around which a narrative can be woven and stories effectively told. The lead characters in James Crawford's 'Fallen Glory' are buildings or structures that are no more.
As the author writes in the introduction: 'Even the longest human life barely exceeds a century. How much more epic are the lives of buildings, which can endure for thousands of years? Unlike the people who made them, these structures experience not just one major historical event, but a great accumulation of them... Buildings have the potential to be the ultimate raconteurs.'
It is with this spirit of telling stories through buildings that Crawford embarks upon his work, a well-researched and compelling guide that seldom loses momentum in more than 500 pages. As well as examining each of his buildings from a conventional historical angle, he also revels in the socio-political milieu of the particular time, the ideals and aspirations of the people who erected them as well as those that tore them down.
While almost all of the structures included will be of some measure of familiarity to the reader – the Tower of Babel, the Roman Forum, the Old St. Paul's Cathedral, the Bastille, the Berlin Wall, the Twin Towers of the World Trade Centre – each chapter offers engrossing new interpretations that will shine fresh light on their significance. While occasionally the author might overstretch himself with the ambition of some parallels drawn, such as trying to find the physical blueprint for the internet in the anarchic pell mell of Hong Kong's Kowloon 'Walled City', for the most part the conclusions he offers up are engaging and thought-provoking.
Key to the book's success is the way Crawford elucidates fine points of detail that lend real colour to the individual narratives. The 76-year-old Christopher Wren watching from below as his son is raised by crane to place the final stone on the lantern of the new St. Paul's Cathedral that Wren had seen through to completion from the devastating Great Fire. Or, the utilitarian philosopher Jeremy Bentham's frustrated efforts to get political approval for his Panopticon 'grand plan', the design of which could be said, and it is by Crawford, to have preempted the modern 'surveillance state'. Or, the parallel lives of two talented yet disaffected architects, one of whom grew up to design the Twin Towers, whilst the other became one of the hijackers who brought them down on 9/11.
Crawford writes with a great amount of zeal and enthusiasm for his subject, and it is this style along with his attempt at drawing a line between what the buildings represented both then and in the present, that makes his book such enjoyable and highly recommended reading.
If any conclusions are to be drawn, it is that humans have long sought to pursue with hubristic design, the posterity and stature that an iconic building confers upon them and that, like the big ideas or societal systems that lay their foundations, they can be consigned to the dust of history almost in an instant.
Find out more about 'Fallen Glory' here.
[edit]
Find out more
[edit]
Related articles on Designing Buildings Wiki
Featured articles and news
IHBC NewsBlogs now open for comments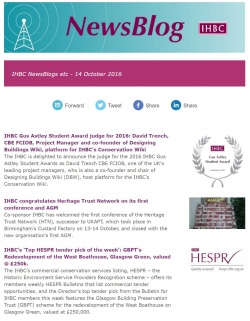 The IHBC has now opened its celebrated NewsBlog service to user comments, so members and users can open, join and extend the discussions around our news items.
---
IHBC HESPR tender pick of the week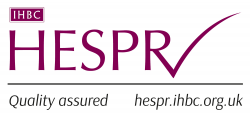 This week's Director's top pick for IHBC members features a call from Fenland District Council for archaeology, building investigation and community engagement.
---
IHBC Context CPD tale of two traumas - The importance of conservation expertise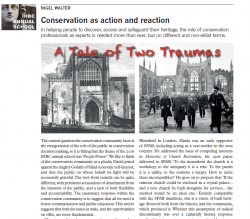 In helping people to discover, access and safeguard their heritage, the role of conservation professionals as experts is needed more than ever, says Nigel Walter.
---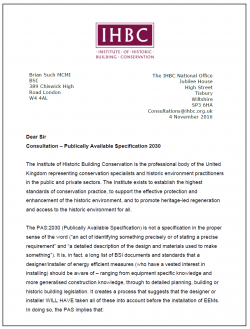 The BSI consulted on two Publically Available Specifications on energy efficiency measure (EEM) installation.
---
Churchill Barriers to be listed

Second World War structures at Scapa Flow have been recognised as being of national importance by Historic Environment Scotland.
---
Neighbourhood Planning Bill 2016 - 2017 – Committee Stage amendments
The Bill was amended during its Committee stage in the House of Commons, and a number of Government new clauses were added in relation to local plan making.
---
Complete Historic Environment Scotland survey
Historic Environment Scotland (HES) has announced a national campaign to find out what heritage means to the people of Scotland as part of the 2017 Year of History, Heritage and Archaeology.
---
Heating and energy-related reports for retro-fit projects
The UK government has published several reports on retro-fit issues for historic buildings.
---
US Embassy scheme receives conditional planning permission
Qatari-backed hotel scheme for the Grade II listed building in Mayfair will include 137 bedrooms, additional restaurants, retail and events space.
---
The pros and cons of crowdfunding architectural projects
A CLAD magazine feature discusses how crowdfunding can help get projects started and allow architects to be proactive.
---
Hidden paintings found at the Guild Chapel in Stratford upon Avon
Conservators have conclude it is one of the few places in Europe to have an almost complete medieval decorative scheme still in situ.
---
ebulletin&utm_campaign=c19f6a8b87-EMAIL_CAMPAIGN_2016_11_16&utm_medium=email&utm_term=0_56a3992b07-c19f6a8b87-129752081 Scottish Civic Trust calls for entries to My Place Awards
Community groups have been asked to nominate favourite new buildings, conservation projects and people in its annual awards (closing date 31 January 2017).
---
The Design Museum - regenerating a 1960s architectural icon
Museums Heritage says that after almost five years of restoration and refurbishment, the Grade II* Design Museum has been transformed into a modern multi-purpose space.
---
Property Flood Resilience Action Plan out
An independent report has been issued relating to flood protection, aiming to help with flood resilience.