New energy retrofit concept: 'renovation trains' for mass housing
This article summarises a research paper, 'New energy retrofit concept: 'renovation trains' for mass housing', by Ronald Rovers, published in 2014 in --Building Research & Information, 42:6, 757-767, DOI: 10.1080/09613218.2014.926764.
---
Reducing greenhouse gas emissions in the EU housing stock by 20% by 2020, requires either that the energy consumption of all houses is reduced by 20%, or that 20% of all houses are retro-fitted to a zero-carbon standard. There are approximately 213 million houses in the EU, so retrofitting 20% by 2020 would involve urgent and substantial works to more than 40 million houses.
This paper presents the findings of a pilot project which adopted a large-scale, rapid retrofitting process for 150 houses in Kerkrade in the Netherlands. The pilot focussed on the low-energy retrofit of social housing in an area suffering from decreasing density due to population changes. Retrofitted properties were a combination of one and two family terraced houses typical of 1970s construction, with non-load bearing front and rear facades.
The process is described as a 'renovation train', with the each set of activities moving on by one house a day and a total time of ten days per house. Works were undertaken whilst the houses were occupied as previous experience had shown that temporarily rehousing people was costly and stressful.
Inhabitants were asked to move their furniture 0.5 m away from the front and rear facades and a temporary plastic wall was installed to provide protection and create a small working space for the builders. The facades, roof and internal building services were renovated, but the rest of the house remained untouched. Prefabricated elements were used, with some piping and connections pre-installed. A modern heating boiler system was installed, along with photovoltaic panels, a storage tank and a ventilation heat exchanger.
The process cost more than €100,000 per house. However, the works gave the houses a 50-year prolonged lifetime and reduced energy costs from €140 to €40 a month. €60 of the savings go towards a rent increase to contribute to the retrofit, leaving the inhabitants with €40 a month.
The paper recommends that future projects should consider the environmental impact of materials, particularly if standards move from low energy to zero energy, as there is the potential to simply shift the carbon cost from operation to construction. Care must also be taken regarding people's perception of standardised solutions, and the desire for individuality in housing design.
Last year, the Kerkrade West project became the model for a nationwide initiative, with six housing corporations and four consortia of 'comakers' planning to renovate 100,000 houses.
---
Ronald Rovers (2014) New energy retrofit concept: 'renovation trains' for mass housing, Building Research & Information, 42:6, 757-767, DOI: 10.1080/09613218.2014.926764.
Read the full paper at Taylor & Francis Online.
[edit]
Find out more
IHBC NewsBlog
IHBC London Branch Conference launched and open for booking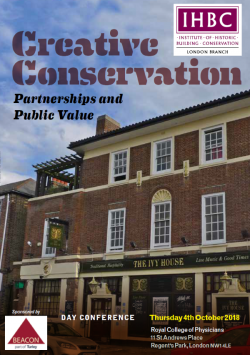 'Creative Conservation: Partnerships and Public Value' - 4 Oct, Royal College of Physicians - leading speakers, unequalled debate - a CPD opportunity not to be missed!
---
IHBC latest Jobs etc skills review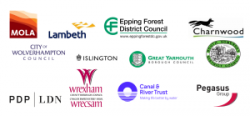 Specialist areas and skills in demand, from design and project management to regulation and more featured in our celebrated – and very cost-effective - IHBC Jobs etc service.
---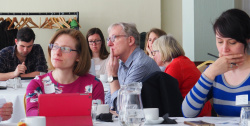 Ideas bear fruit, as early career members 'reverse mentor', generating fresh perspectives on the institute's future plans and structures!
---
IHBC Scotland at Listed Property Show in Edinburgh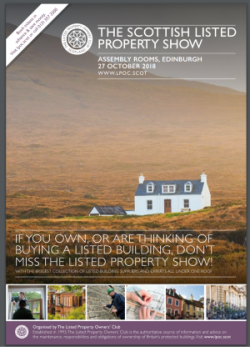 IHBC Scotland will host a CPD session at the Show on 27 October, while an IHBC stand will offer more informal access and conservation advocacy to visitors.
---
IHBC Heritage from the doorstep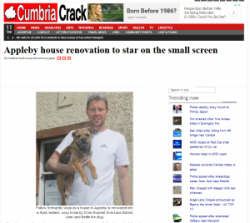 A traditional building in the Appleby Heritage Action Zone (HAZ) is filming its 'work in progress' as part of work grant aided by Historic England as reported by Cumbria Crack!
---
English Heritage celebrates the Cooper Car with a blue plaque.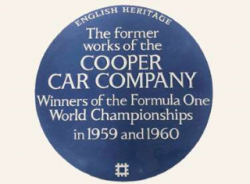 A blue plaque has been placed at the home of the former Cooper Car Company, marking its motoring heritage.
---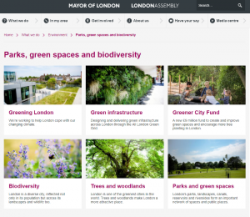 Community Tree Planting Grants and £1.5million woodland fund look to make London the world's first National Park City.
---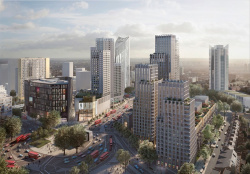 'What if mothers or teenagers designed our cities?' An opinion piece in the invites us to consider what our cities would look like if cities reflected their diverse populations.
---
V&A Dundee opens Saturday 15 Sept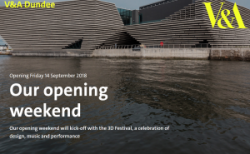 IHBC NewsBlogs reports on some building construction and collection highlights, including spectacular drone footage of work in progress and to completion.
---
IHBC supports LPOC petition on VAT reductions for Listed Buildings
LPOC notes '...it is perverse that repairs should be subject to VAT when new development is not'.
---
Loyd Grossman recently appeared on a BBC radio programme to discuss NIMBYism in heritage and development, the programme is currently available on BBC iPlayer.
---
Call to share land value with communities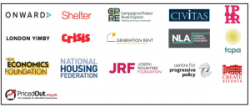 England's SoS for Housing, Communities and Local Government is sent an open letter by leading campaign organisations calling for land value to be shared.
---
Redrock Stockport wins 2018 Carbuncle Cup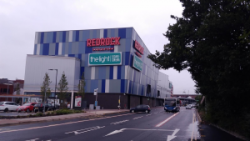 The 2018 winner of the Carbuncle Cup is Redrock Stockport, a £45m leisure complex and car park designed by BDP for the local council.