Cheshire Oaks: Marks and Spencer
[edit]
Introduction
M&S Cheshire Oaks opened on Wednesday 29th of August 2012. It was designed to be the "biggest and greenest" M&S store to date, with an architectural and design strategy addressing water, carbon, waste, biodiversity and community, materials, travel and access. The project started with the help of Simons Developments in 2004 and has received a host of awards since its completion.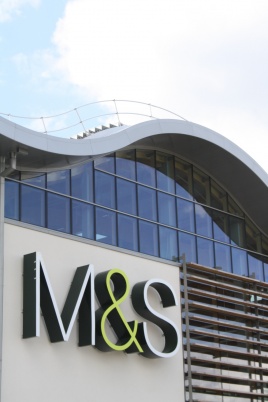 Image: Front elevation (image supplied by Simons Group)
Being located in a heavily populated area with 600 homes situated immediately behind the store and thriving businesses located on every side resulted in the build generating lots of local interest and stakeholders to consider.
BREEAM requirements concerning the improvement of the quality of flora and fauna on the site challenged the design team to deliver net gain in biodiversity, guaranteeing improvements to landscaping and creating new habitats for a number of species.
Prior to the commencement of construction works, Simons' project team undertook a two year programme to facilitate the translocation of native great crested newts, toads and frogs, eventually re-homing over 14,000 amphibians to a safe environment less than one mile from the site.
A £5m highways scheme was designed and delivered in advance of the store construction programme improving junctions, crossings, cycle ways and footpaths. Funding from the project also contributed £100k per annum over a 10 year period towards improvements to the existing bus services and an electric car charging point was installed. Upon completion of the store a shuttle bus was provided throughout neighbouring retail park to improve local access, and improved facilities for cyclists including a cycle lane, staff showers and 100 covered cycle stands were installed to encourage sustainable travel.
The store is designed to maximise the use of natural light with North lights and clerestory glazing complimented by a fully dimmable DALI lighting to the sales floor and integrated daylight control. An extensive displacement ventilation system which facilitates free cool air handling is woven into the steel and glulam hybrid frame with 6ft diameter earth tubes carrying partially cooled or heated outside air under the building and feeding it in around the main structural members. Passive design measures were incorporated by the architects wherever possible, including the maximisation of solar gains from the South and East elevation controlled by cedar brise soleil and a natural insulation bund constructed from surplus soils and clays. Hemp wall panels with 400mm thick hemcrete insulation and recycled glass wool in the roof construction also help to regulate the stores internal temperature.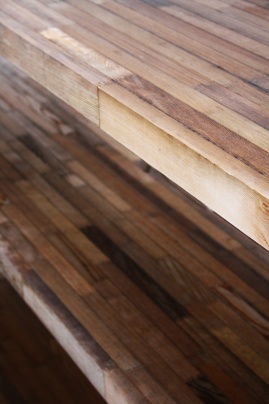 Image: Red cedar (image supplied by Simons Group).
Rainwater harvesting is predicted to displace 25% of the store's mains water demand with an 80,000 litre underground tank which irrigates the green wall and serves the customer toilets. Waterless urinals, dual flush W.Cs and sensor taps all contribute to water efficiency and metering and leak detection measures are intended to ensure that nothing is wasted.
The building hosts 30% recycled content within its structure, including a 100% recycled aluminium roof, fermacell dry lining board and 40% recycled ceramic floor tiles. Concrete mix designs were adapted to include recycled content and recycled insulation was used in the roof lining.
Supply chain partners were encouraged to be holders of ISO14001 and to use products which have BES6001 (responsible sourcing of construction products) certification. A number of subcontractors were helped through the FSC certification process ensuring that all timber products delivered to site were accompanied by full chain of custody. Over 60% of aggregates used in the ground works were from locally recycled sources, with virgin aggregates and gabion infill natural stone also locally sourced.
An industry leading post occupancy evaluation programme part funded by the Technology Strategy Board is being used to examine the building's efficiency and performance with the addition of academic focus on soft analysis from University College London. The 12 month study incorporates specialist engineers, academics and store staff and is designed to prove the value of energy efficient design whilst also uncovering what it is like to shop and work in sustainable buildings.
100% of waste was diverted from landfill during the build process with 87.5% of all waste segregated on site. Resource sharing of left over materials and packaging through community initiatives enabled 126 tonnes of material to be diverted from the waste stream, including; plant pots, pallets, plywood, cable drums and timber sections. Lime stabilising ground below the building and car park helped reduce the quantity of concrete required in the foundations by 25% and the enabling works involved a bulk earth removal totaling almost 55,000 tonnes of soils, stones and clays, all of which was used in local projects
The store includes a living wall system on one elevation of the 958 space car park, acting as a pollution filter and biodiversity habitat. 9 swift boxes on the building and a further 6 bird boxes in perimeter hedgerows and trees provide habitat for local species and bat and bird boxes were also installed in the community using recycled untreated timber sourced from FSC certified formwork off cuts collected on site. 229 new trees and enhanced existing hedgerows were planted including nationally endangered and significant species such as Oak and Black Poplar. 12,000m2 of planting and an enhanced Sustainable Urban Drainage System with an attenuation pond designed to attract wildlife were constructed on site including gabion walls, insect boxes and log piles.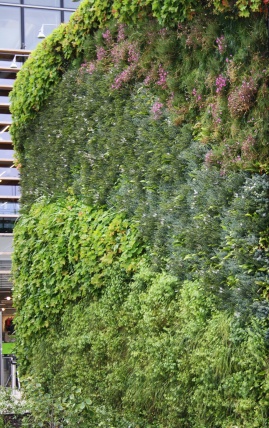 Image: Living wall (image supplied by Simons Group).
[edit]
Social
The store employs nearly 500 people of which approximately 400 were new positions. Over 50 positions were allocated through the Marks & Start scheme, which is a work experience programme for the homeless, disabled, lone parents and young unemployed. 350 of the new employees were from the local area. M&S also contributed £1m to a local town centre remodelling improvement fund and to the design of a children's play area just 1km from the store.
Educational site visits by Salford & Chester Universities, West Cheshire College and local primaries were conducted throughout the project with a total of over 100 hours of guided walks held in the 20 month build. The project team used a website, social media pages and newsletters to keep the community informed and achieved a Considerate Constructors Scheme score of 38 out of 40, along with a Gold National Site Award in recognition of their efforts.
A total of 200 hours was volunteered to community events in 'brawn' and 'brain' over the two year programme with two locals schools benefiting from a wide range of experiences including making biodiversity habitats, meeting newts under the care of the site ecologist, and waste segregation management.
A one year Construction BTEC project was held with a local college incorporating design, presentation, business and cost planning skills which culminated in a live final where students competed for a prize of 3 iPads. Undergraduates and researchers from a number of universities and special interest groups such as BuildOffsite had tours during construction with the site also opened up to local community groups throughout the project.
Issue support documents
| | |
| --- | --- |
| | These are Multiple Author Articles - click on them and add to them today. It's easy. |
You can also add to General Multiple Author Articles here.
Issue support documents are written for named BREEAM Issues or sub-issues. More info. (ac) = awaiting content.
[edit] Management:
[edit] Health and Wellbeing
[edit] Energy
[edit] Transport
[edit] Materials
[edit] Land Use and Ecology
[edit] Pollution
Once an ISD has been initially created the '(ac)' marker can be removed
This particular index is based around the structure of the New Construction and RFO schemes.