Annual conservation management statements
This article was created by The Institute of Historic Building Conservation (IHBC). IT was written by Bob Kindred MBE BA IHBC MRTPI and published in September 2014. You can see the original article on the IHBC website.
Because of its length, this article is in two parts. The second part can be seen at Annual conservation management statements Part 2.
Executive Summary
This Note gives advice on the principles, structures, priorities and objectives of Annual Conservation Management Statements (ACMS) as one way of improving the delivery of local authority conservation services.
These Statements have proved to be a valuable and adaptable professional tool. They help to define the extent, complexity implementation mechanisms and outputs of a balanced local authority conservation management workload. They help to make explicit for elected councillors and senior managers the breadth, depth and potential success of delivery of the service being provided. This is becoming increasingly important where local authority services are under severe resource constraints in terms of expertise and budgets and components of the service are scaled back or abandoned.
Background
Between 1995 and 2009, central government generated a number of initiatives aimed at improving good practice and better delivery of local authority services [1] and badged as aiming to achieve 'Best Value'. In practice this would more usefully have been described as a means of raising standards and might have better been promoted as a sharing of 'best practice'. An element of benchmarking between authorities was often involved as a route toward more efficient and effective (and by implication more economic) service delivery. [2]
Similar aims formed the background in the early 2000s to the setting of national and local performance indicators. These also attempted to elicit year-on-year improvements to local authority services including, selectively, aspects of heritage management [3]. National indicators, reflected more of an imposition by central government of 'top-down' benchmarks rather than a 'bottom-up' approach to proposed service improvements by local authorities and the professions with the support of the Local Government Association.
During this period, collaborative work [4] was also done in the planning and heritage fields by attempting to establish excellence models including those for development management; and conservation and urban design services [5]. These models were deliberately aspirational so as to be capable of adaptation to differing models of srvice delivery and to allow individual local authorities to tailor them to specific local circumstances – for example in relation to the scale of heritage assets and the resolution of specific planning and heritage management issues and service objectives.
Some of these exercises proved to be difficult to measure, were of questionable value or were abandoned at the pilot stage because of the anticipated costs [6], but valuable procedural good practice lessons where they did emerge were regrettably lost once central government abandoned National Performance Indicators in October 2010. [7]
While some specific exemplars of good practice found their way onto the Historic Environment Local Management (HELM) website [8], much of this became self-referencing and thus did not necessarily assist under-performing authorities or represent the collective concerns or needs of local authorities facing similar specific issues of service improvement.
One initiative generated by Best Value in Conservation [9] of particular relevance in the present climate of reduced local authority resources was the development of Annual Conservation Management Statements (ACMS). This has become increasingly important when the need for a minimum professional operating standard of provision is a pressing concern for conservation professionals in local government.
The genesis of ACMS can be seen to some extent in the services required by central government to be undertaken by the new unitary authorities in 1994 [10], but are more adaptable to the current circumstances, priorities and heritage assets of individual local authorities and therefore to some extent were a precursor to the Excellence models which followed on after the ACMS approach had been developed.
The extent to which local authority heritage management is a statutory or discretionary function is not specifically defined in this note but guidance is provided separately on the IHBC website. [11]
The intention of ACMS is to provide a clear overview of all the aspects of a local authority's heritage management on both a statutory and discretionary basis set within a structure directly related to local political priorities and to the extent and type of heritage assets within the council's administrative area.
Defining the management of the resource in this way, greatly reduces any ambiguity for elected councillors or senior operational management anywhere within the authority on what work is required to manage the local historic environment properly. It should be framed in a way that reflects local political and community aspirations and outcomes and also making explicit choices concerning the allocation of resources. It adds a level of robustness to the service where the authority if, for example there is a change of political control and consequent change to priorities.
Once an ACMS has been put in place, experience has shown that councillors, managers and the general public have a far clearer understanding and appreciation of the breadth of what proper local authority based heritage management entails. For newly elected councillors (or those assuming new heritage related portfolio, committee or forum responsibilities) there is often a great deal of surprise at the range of professional heritage work being undertaken, notwithstanding the resource constraints under which all local authorities now operate.
Every local authority sets overarching corporate goals and core objectives for service delivery tailored to local circumstances. These should include ones for the council's proper management of the historic environment [12] for which the ACMS may prove a valuable tool. [13]
An ACMS usually consists of three parts:
It is the element (c) that helps address the ideals identified above. Review of the content by the Council's conservation specialist normally takes place around May each year to coincide with the outcome of elections and shortly after the confirmation of budget allocations.
Overall Council priorities (a).
It is not the purpose of this Note to attempt to circumscribe a Council's corporate priorities, but typical examples may include high-level statements such as: 'We will enrich and protect the authority's heritage and it's diverse cultural offering', a typical principal aim of which would be for example to: 'Protect, enhance and interpret the authority's historic buildings, designated conservation areas and other heritage assets.'
The essential aim is for the ACMS to align as many heritage management activities to the Council's high-level corporate goals as possible [15]. Accordingly, other relevant high-level statements relating to, for example, the cleanliness of the public realm and sustainability (with its implications for the condition and management of the public realm) might choose for an urban authority to 'Seek to enhance the City/Borough through effective urban design.' Other objectives might relate to area regeneration.
It is useful if service objectives are relatively few in number and form a bridge to a Council's high-level statements and a suitable skeleton for the detailed and exhaustive articulation of the services being delivered. This latter level of detail can, of course, be updated and amended annually.
Typical conservation service objectives might be framed along the following lines. For example:
'Provide a full Conservation Service [16] in accordance with planning and listed building legislation, in furtherance of the following agreed service objectives:
Although overall goals and service objectives will vary according to the characteristics of the local authority concerned, the service description of the ACMS itself needs to fully articulate the form and extent of practical day-to-day management. The examples and structure that follow is based on the three service objectives given above, but are not intended to be proscriptive and should be tailored to an authority's individual circumstances.
It is crucial to remember the audience for the detailed description of the service. As the potential author you will understand the service fully, but the readership identified may not. The effectiveness of the ACMS will dependent on being able to spell out some procedures which as a professional you may consider so obvious that they are an implicit not an explicit part of your work. Remember that some of these activities may take up a disproportionate amount of your time while others will take place only occasionally or at pre-determined intervals.
Service Objective A: Protection and promotion of historic identity
This heading within the ACMS will typically be broken down further according to the workload related to the relevant categories of heritage asset, irrespective of the frequency with which they will require a workload commitment during the year: listed buildings, scheduled ancient monuments; conservation areas; historic parks, gardens and cemeteries; and buildings of local interest. [18] Additionally any technical support for associated bodies would be included such as a local building preservation trusts; liaison with or participation in local or sub-regional technical forums etc.; and publication, promotion and other miscellaneous functions.
Most local authority conservation services should have an established mechanism to keep potential candidates for listing under continuous review as part of normal workload. [19] Associated with this will be the regular but intermittent advice to building owners, agents, solicitors, other professionals and the general public about the criteria and process of listing. [20]
Buildings added to or upgraded on the Statutory List will require updating of the records, formal notification of owners and occupiers and communication with the relevant internal Council contacts and local amenity organizations. [21]
Related to this is the preparation and review of heritage assets as entries on a Heritage-at-Risk Register based on nationally established at-risk criteria [22] [23]; consulting affected owners and occupiers about relevant individual entries; periodically inspection of the assets - dependent on the degree of risk identified in each case; and where necessary, initiating appropriate action to ensure proper repair and maintenance or disposal for refurbishment. [24]
Where a local authority owns heritage assets, usually listed buildings, good practice will usually entail maintaining a schedule of these [25] and a mechanism for regular review of condition, proposed expenditure, necessary consents and regulatory requirements. This may be done autonomously or in conjunction with the authority's asset managers. [26] It may also be necessary to proscribe workload related to the technical support and advice to estates and service managers necessary for their understanding of the significance of the assets and the statutory and other implications of any future proposals.
Any heritage assets which are subject to evolving Heritage Partnership Agreements should be identified in the ACMS along with the procedures required for agreeing with the participants/signatories, the scope and cycle of periodic review and the recording of updates and amendments.
If a councillor Historic Environment Champion [27] has been appointed [often, but not always the Planning Portfolio Holder] an item of workload will be the provision of regular professional and technical updates and the promotion of the work of the Service. [28]
Scheduled ancient monuments
If the authority owns any standing monuments, a workload item should allow for annual inspection of condition and maintenance, a review of proposals for expenditure and the necessary statutory consents in discussion with Historic England as necessary.
Co-operation with sub-regional or county Archaeological Service and Historic England should be identified as workload necessary to ensure the relevance and effectiveness of the Historic Environment (HE) Record. [29]
Monitoring of the HE Records held on the Council's GIS will be necessary from time to time as will work to ensure the appropriate technical links function correctly and are kept operational.
Many local authorities have prepared or are developing lists of buildings of local townscape interest, [30] often as Supplementary Planning Guidance to the Local Development Framework and in support of national heritage protection reforms. [31] If this is the case, the preparation or maintenance and periodic revision of such a list should be identified as an appropriate workload item.
The ACMS should define any programme for new designations; the timespan for the periodic review of existing conservation area boundaries and steps necessary for the appropriate level of public consultation. This is a clearly defined legislative function and statutory duty. [32] Involvement of specialist stakeholders (for example, a Conservation Area Advisory Committee), and reference to the relevant Council Portfolio Holder and Executive/Cabinet may be work which needs to be specifically identified as part of the Statement.
While it is good practice to appraise the character of proposed conservation areas (and commence a management plan) [33] as part of the designation process; there may be 'legacy' designations where this has not yet been done or where appraisals do not accord with current standards. [34] If this is the case, the ACMS may need to define the work required to bring this up to an acceptable level to meet statutory obligations.
As legislation imposes a duty of periodic review, the ACMS should define the timescale (or earlier if development pressures require) for existing Conservation Area Character Appraisals and Management Plans so as to ensure the descriptions, policies and proposals remain current.
An associated duty is work necessary to formulate proposals for enhancement of the conservation area [35]. The ACMS may therefore define the need for the identification, design and implementation of schemes of enhancement either on an opportunistic basis or as defined in the Conservation Area Management Plan. Such actions will make explicit in the ACMS the workload related to consultation owners, occupiers, statutory bodies and, for example the Conservation Area Advisory Committee (where one operates) or a Design Review Panel.
If a conservation area is likely to be threatened by inappropriate alterations which militate against its proper preservation [36], the suspension of permitted development rights by the imposition of Article 4(1) and (2) Directions under the General Permitted Development Order may be justified. The workload needed will potentially involve the public consultation process within the proposed area to be affected, together with other stakeholders such as the Conservation Area Advisory Committee. If the area is confirmed (or a Direction is already in place) there will be specific work required to monitor changes to the area affected periodically [37] to identify unauthorised alterations and take appropriate enforcement action as necessary.
These assets may be in public, private or third-sector ownership and normally be on the National Register of Historic Parks and Gardens, although other historic landscapes may also have been identified as being of high amenity value. Involvement will therefore usually be indirect. However, where these assets are in municipal ownership, the ACMS should identify any work generated from the capacity of as acting as the as the technical focus for the historic building and conservation area related aspects of works by the Authority. This may include liaison for where appropriate, with Historic England, the Heritage Lottery Fund and others.
If the service supports or administers complementary organisations such as a Conservation Area Advisory Committee, the ACMS should identify the work necessary to support this such as the preparation of agendas, minutes, provision of accommodation for meetings etc., periodic review of the terms of reference and any training needs to ensure the professionalism of the organisation and quality of the advice is maintained.
If the service supports any charitable body in an official capacity for example by acting as the Authority's nominee on a local building preservation trust, this workload should be identified in the ACMS for each of the bodies concerned. In the case of BPTs this may involve reporting on the status of heritage assets-at-risk and other neglected buildings as potential Trust projects and technical and legislative advice.
Membership of the Institute requires a commitment to CPD and the authority should formally recognize this in personal development training and annual appraisal. Participation in regular county-based or sub-regional forums should therefore by specifically be identified in the ACMS as part of normal workload as contributing to the sharing of best practice, the maintaining of consistent standards and peer review of activities and processes. Such forums may include, for example, county-wide benchmarking of heritage-at-risk entries.
Although there is a wide disparity of practice between Dioceses under the Ecclesiastical Exemption, works submitted under the Faculty Jurisdiction system occasionally require planning permission. It is good practice to identify in the ACMS a liaison mechanism whereby the receipt of the agendas and minutes of the Diocesan Advisory Committee can be scrutinized to endure that the need for any permissions under the secular system are identified at pre-application and/or pre-Faculty stage. Additional workload may extend to any redundancy proposals from the Diocese under the Pastoral Measure.
An ACMS should make explicit that, as the authority's conservation specialist, it is your role to act as the Council's central technical and professional reference point for all direct liaison between the authority and Historic England on matters of conservation policy and practice. Furthermore this workload should normally extend to acting as the central conduit within the authority on pre-application LBC discussions (for Grade I, II* and the local authority's own Grade 2 applications); grant schemes; technical queries; liaison on candidate buildings for listing, and the management of scheduled ancient monuments.
Similarly, the role will identify through the ACMS the central technical and professional reference role for all direct liaison with other statutory consultees on matters of conservation policy and practice. [38] [39]
Continue reading Annual conservation management statements part 2.
--Institute of Historic Building Conservation 10:00, 23 Jun 2016 (BST)
IHBC NewsBlog
Ireland's Our Rural Future: support for LA purchase of vacant and derelict buildings for community use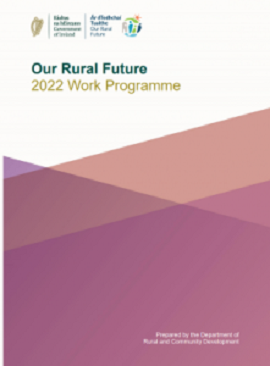 Ireland's Minister for Rural and Community Development, Heather Humphreys, announced a new funding stream to support Local Authorities (LAs) to purchase vacant buildings that could be converted and developed for community use.
---
BBC: Eleven Historic English pubs recognised for their interiors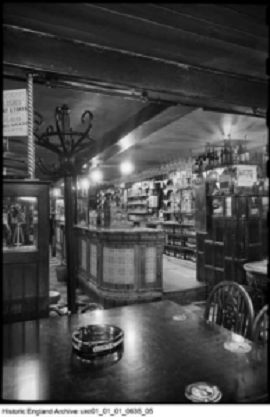 Eleven pubs across England have been recognised for their historic or unusual interiors, as they have been listed, upgraded or relisted.
---
HEF's Heritage Sector Resilience Plan launched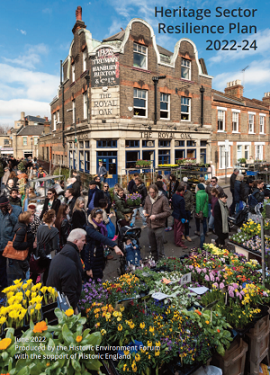 The Heritage Sector Resilience Plan, developed by the Historic Environment Forum (HEF) with the support of Historic England, has been launched.
---
Common Commitment to all Ireland's heritage – North South Agreement on Vernacular Heritage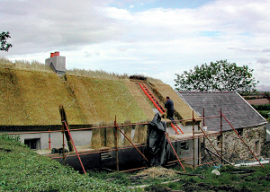 An 'All-Island' commitment to Ireland's vernacular heritage has been established with the signing of the North South Agreement on Vernacular Heritage, supporting traditional buildings etc.
---
Bristol Harbourside landmark Canons House gets GII listing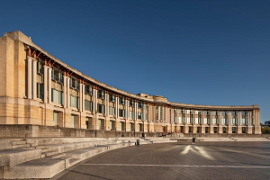 Canons House, a landmark building on Bristol Harbourside, has been awarded Grade II (GII) listed status having been built as a regional headquarters for Lloyds Bank between 1988 and 1991 (Arup)
---
BRE/BEIS project to modernise home energy rating scheme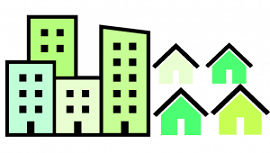 The Building Research Establishment (BRE) has announced a new project with the Department for Business, Energy and Industrial Strategy (BEIS) to improve and modernise the home energy rating scheme used to measure the energy and environmental performance of UK homes.
---
Interdisciplinary IHBC accreditation recognised by CSCS for PQP Cards

Sector lead the Construction Skills Certification Scheme (CSCS) has recognised the IHBC's professional accreditation and support (CPD etc.) in awarding its PQP (Professionally Qualified Person) cards.
---
Unearthing the history of Gloucester's 'the Fleece' Hotel starts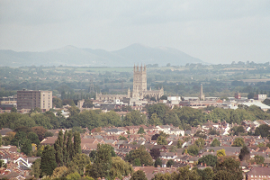 Work to repair a fire-hit medieval hotel in Gloucester is underway as crews have started work to strip back some of the modern trappings and reveal the historic framework.
---
European Heritage Heads Forum statement on Ukraine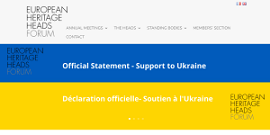 The Secretariat to the European Heritage Heads Forum has has coordinated its declaration of solidarity and support for Ukraine's cultural heritage institutions.
---
Welcome to #IHBC25 – 25 years since we turned professional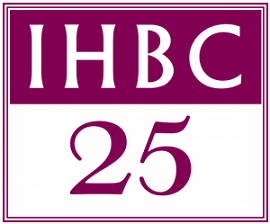 2022 will see the IHBC mark a quarter of a century since our incorporation as a professional body supporting and accrediting built and historic environment conservation specialists. We're kick-starting it by inviting your ideas on how to mark this special year!