New architecture of Scotland's west coast
After a great deal of poor housing design in the 20th century, some excellent new architecture has emerged, much of it inspired by the familiar vernacular form of traditional buildings.
The west coast of Scotland – remote rural Argyll, the Highlands, and the Islands of the Hebrides – is an area probably never known for its domestic architecture, either traditional or modern. It may have fine castles and monuments but the landscape has been more memorable than the domestic architecture.
Traditionally the area is noted for its drystone-walled blackhouses, longhouses with room for humans at one end and animals at the other. Originally roofed in thatch or turf, some continued in use and others have now been restored, but many stand roofless.
After the stone blackhouses came the new modern white houses, built to standard pattern-book designs. Attractive and well proportioned, they were constructed with stone and lime initially. But in later phases they were built in concrete, with little thought for positioning away from weather extremes as the traditional houses had been. They were cold and damp, and soon many fell into disrepair.
Throughout the 20th century, development in the west continued with even poorer standard designs. Finally, an epidemic of kit houses began to cover the land with the same designs and with no resonance of place. 'The incongruity of these structures in a setting of such outstanding scenic beauty, their disregard for the traditional building forms and materials that have evolved from the land, invariably shocks the visitor', writes Mary Miers. [1] The kit houses, with their bulky massing, oversize dormers and bolted-on balconies, have the names of far-flung glens or remote islands to ensure that customers believe that they must really be suitable for the locality. They are often positioned on prominent platforms of raised ground and as poorly protected from prevailing weather as their white house predecessors.
Against the backdrop of humble traditional houses and poor-quality replacements, a new manner of design has emerged over the last two decades, which has seen rural Scottish domestic architecture winning acclaim and awards equal to that of urban metropolitan design. In 2018 a remote off-grid west highland house, Lochside House by HaysomWardMiller Architects, beat off a shortlist of six houses in London and the south of England to win the RIBA House of the Year.
Some of the recent work in the area has been carried out by architects from London and the south [2] but in the vanguard of the new architecture of the Highlands are two firms based in the Isle of Skye: Dualchas,[3] founded by twins Alasdair and Neil Stephen, and Rural Design, [4] established by wife and husband Gill Smith and Alan Dickson. Other practices producing architecture of this type include Mary Arnold Forster Architects, [5] who formerly worked with Dualchas; Colin Andrew Smith Architects, [6] CP Architect; [7] and Cameron Webster Architects. [8]
Much of this new architecture takes the familiar vernacular form of traditional crofts, blackhouses, steadings and sheds, and dresses it with simple contemporary detail and materials. Scale is often traditional and human, with low-lying houses built into the landscape.
Unenclosed curtilages and natural landscaping bring the wild organic environment up to the house and anchor the architecture in the landscape. Houses are built to exploit the view but in the best cases sensitive placement makes the building contribute positively to other views: sitting in the landscape and becoming part of that landscape too.
Some elevations, for bedrooms and bathrooms on cold north sides or away from the view, have limited window openings, while extensive glazing on other sides frame the views of mountain, moor, sea, beach or sunset, and take advantage of solar gain while being built to withstand gales, wind and rain (and there is just a bit of rain). Many houses sit close to the sea or the lochside, and the water is seen as a moving picture through large windows. Some are so close that from inside the house appears to be floating in the water or part of the beach.
'It is this response to location and environment, as seen in the blackhouse, which is our inspiration for modern Highland design,' Dualchas Architects write. 'Careful siting in the topography, creating shelter from the wind, the use of materials and their sustainability are all lessons that can be applied.'
'But we now also have to consider capturing sunlight, exploiting the views, creating beautiful volumes, carefully crafted detailing and integrating modern technologies. The result is a language of architecture that is distinctly of a place – that connects to what has gone before but is also a modern statement of what the Highlands is and can be. It is responsive yet restrained – trying to sit within the landscape rather than seek to shout out.'
Materials are simple and suitable. Walls are sometimes clad in blackened or scorched larch and oak, corrugated cladding and zinc. But plain larch is the predominant cladding material, left untreated and fading over time from reddish brown to a subtle silvery tone. The materials may not always be truly local to the site but in these more remote areas, traditional building materials were imported historically. The materials may be genuinely considered the most fitting for the site as part of the design process, and although some might feel they are used because they are popular with decision makers and more likely to obtain support, or that designers are simply following the wider trends in modern building fabric, they do befit this rural location and are not out of place, as they could easily be in urban areas.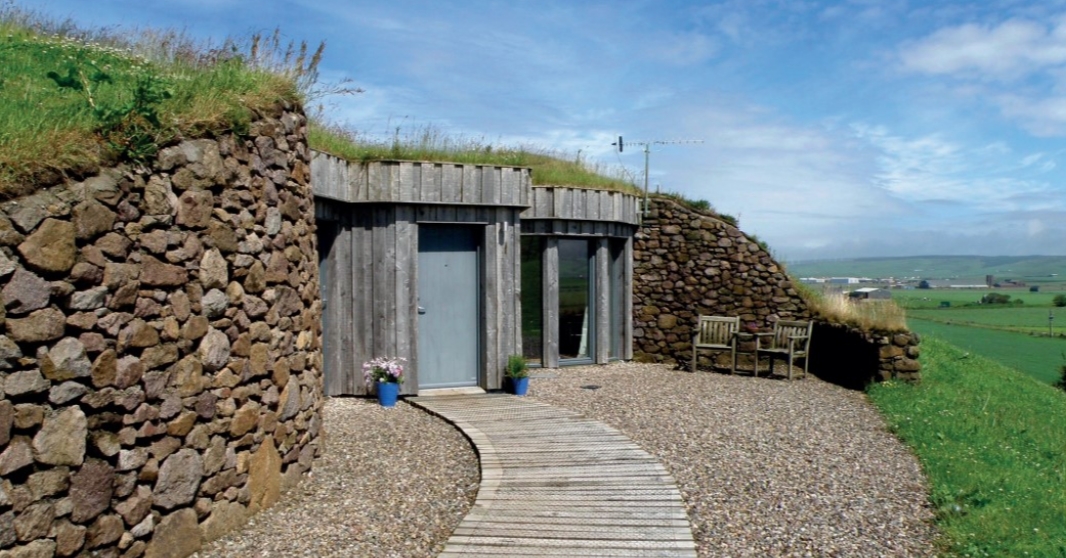 High Trodigal, Machrihanish, Kintrye: an earth-sheltered, stonewalled cottage built into the hillside. Photo by Fiona Newton.
In the far Hebrides and the more rugged outposts of the western and north-western mainland, the landscapes are more austere. A single tree can be a gnarled and stunted novelty. The predominant traditional building material has never been timber and new architecture might not principally include timber either. Here more of the new design is based on earth-sheltered homes, almost like Hobbit houses, partly underground, with curved stone rubble walls and turf roofs. Curving rubble perhaps echoes the walling of iron-age brochs and blends with the ancient rocks of the Lewisian Gneiss. The orientation towards the sea, and something of the form of the house, echoes wartime lookouts and pillboxes that were found in similar locations. Many of these houses were designed by Stuart Bagshaw of SBA Architects, based on the Isle of Lewis. [9]
Depopulation has been a common theme across the west, from the forced evictions in the clearances of the 18th and 19th centuries to the mass moves to the industrialised cities that followed. The landscape has been left littered with the decaying remains of former homes. Sometimes the cause of vacancy is simply the construction of the next new house nearby: blackhouse, white house, then kit house.
The creation of new houses in these ruins, not simply by converting and restoring the existing, but by designing modern architecture within and beside it, is a further addition to the recent high-quality architecture on the west coast. Like the White House on the Island of Coll by WT Architecture, which includes the consolidated ruin of an 18th-century historic house with portions left roofless and a large dramatic crack retained. A glazed link looks out over the sea and connects to a modern wing.
| | |
| --- | --- |
| | |
| The White House on the Isle of Coll, by WT Architecture, includes the consolidated ruin of an 18th-century historic house, with parts left roofless and a large dramatic crack retained. Photo by Fiona Newton. | The ruins of the White House before work was carried out, from a photograph displayed on the Caledonian MacBrayne ferry Clansman. Photo by Fiona Newton. |
The development of a west-coast style by architects producing high-end, one-off designs has led some of the architects looking at lower-cost, off-the-peg homes. Simple layout and construction reduce costs but can still allow for bespoke detail. Architects Rural Design produce the R House, and Dualchas Architects their HebHomes. Off-site fabrication allows quick assembly once it gets to site, something of considerable benefit in the notoriously wet west. They may still be kit houses, like the standard products built of structurally insulated panels, but they have designs more rooted in the local vernacular.
Other kit house companies are being launched to supply low-cost, small homes with a more traditional style reflecting the design of simple, almost colonial, late 19th-century and early 20th-century prefabricated sectional cottages, with red crinkly tin roofs and coloured timber-clad walls.
The influence of the new generation of architect-designed and properly considered kit houses has begun to filter down to the mass market. The largest Argyll kit builders now offer ranges with more traditional bulk and form. Other suppliers have developed ranges which also have some element of traditional form and appear to understand, in producing those houses at least, the important design elements to consider. But a trawl through the patterns offered by many big kit companies shows they have yet to be influenced by any new traditional architecture trends and continue to produce the same designs they have done for years. One proudly claims that 'many hundreds of these homes have been built throughout the Highlands of Scotland, in other parts of the UK, France and Spain.'
Regular readers of the Sunday supplements or the glossy home magazines will be familiar with the images of the new architecture of the west which often appear in their pages. But from those pages they will also be aware that very many of the houses shown are holiday homes occupied occasionally by the owners or by holiday renters, or at best are the permanent homes of those relocating from the south. Bankers and IT professionals turned crofters, who can afford to buy a plot of land, which may be costly in relation to local house prices, engage an architect to do the right thing with the plot. Few of these houses, even the lower-cost prefabricated builds, can cater for the local population.
Two decades ago, when remote rural Scotland was going the way of much of Ireland and filling up with poor-quality, ill-designed housing, it would have been impossible to imagine that this change could come. It is a small change, not a major shift. But it is one whose style and influence has filtered down and has begun to improve the quality of architecture in the west, and to influence designers of all types, so they might, at last, consider more what they are trying to achieve and why. It is possible now to admire the view and for it to include a house that actually enhances the prospect, rather than disfigures it.
Notes:
Miers, M (2006) The Western Seaboard, Rutland Press
For example, House No 7 cottage and extensions on the Isle of Tiree by Denizen Works, designed for the architect's parents, and House at Camusdarach Sands by Raw Architecture Works
Boreraig, Glendale; Cliff House Galtrigall; the Black House, Armadale; and Colbost; all on the Isle of Skye
Tinhouse, Milovaig; The Hen House, Fiscavaig; Lusta, Waternish; The Black Shed, Skinidin, Dunvegan; and Turf House, Kendram, Kilmaluag; all on the Isle of Skye 5
The Black Shed, Heaste, Isle of Skye; Nedd, Assynt, Sutherland; and Sandbank, Isle of Iona
Askival, Arisaig
Tigh Rois, Sanna Bay, Ardnamurchan
Due West, Isle of Lunga
---
This article originally appeared in IHBC's Context 158 (Page 37), published in March 2019. It was written by Fiona Newton, IHBC's operations director.
--Institute of Historic Building Conservation
IHBC NewsBlog
BRE/BEIS project to modernise home energy rating scheme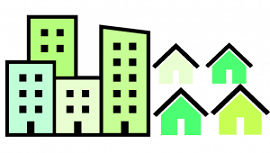 The Building Research Establishment (BRE) has announced a new project with the Department for Business, Energy and Industrial Strategy (BEIS) to improve and modernise the home energy rating scheme used to measure the energy and environmental performance of UK homes.
---
Interdisciplinary IHBC accreditation recognised by CSCS for PQP Cards

Sector lead the Construction Skills Certification Scheme (CSCS) has recognised the IHBC's professional accreditation and support (CPD etc.) in awarding its PQP (Professionally Qualified Person) cards.
---
IHBC Heritage Marketplace provides learning-led virtual engagement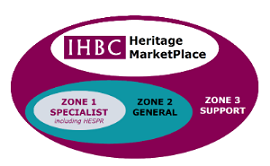 The IHBC's 2022 Aberdeen School Heritage MarketPlace (4.30-7.30PM, 15 June) is designed to extend the scope of a traditional IHBC School exhibition floor.
---
Unearthing the history of Gloucester's 'the Fleece' Hotel starts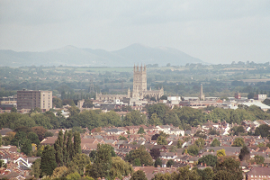 Work to repair a fire-hit medieval hotel in Gloucester is underway as crews have started work to strip back some of the modern trappings and reveal the historic framework.
---
Booking Open for IHBC Annual School: Aberdeen, 16-18 June 2022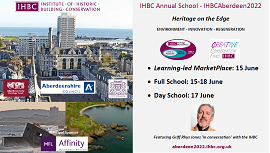 Options for in-person and virtual delegates to explore 'heritage on the edge' across up to 4 days of IHBC engagement & learning.
---
European Heritage Heads Forum statement on Ukraine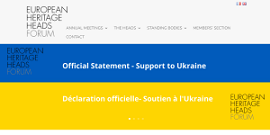 The Secretariat to the European Heritage Heads Forum has has coordinated its declaration of solidarity and support for Ukraine's cultural heritage institutions.
---
Welcome to #IHBC25 – 25 years since we turned professional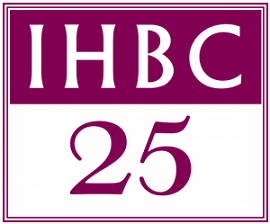 2022 will see the IHBC mark a quarter of a century since our incorporation as a professional body supporting and accrediting built and historic environment conservation specialists. We're kick-starting it by inviting your ideas on how to mark this special year!
---
IHBC launches new Guidance Note on 'Design sources for historic building conservation'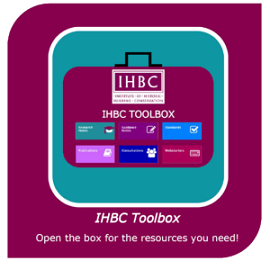 The IHBC's latest Guidance Note adds to the institute's open-access, online practitioner's Toolbox.
---
England's communities empowered to shape design of neighbourhoods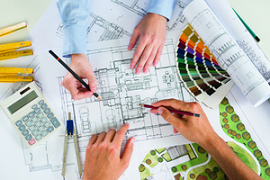 Twenty-five areas in England from Bournemouth to Carlisle have been awarded a share of £3 million to help them set their own standards for design locally. "move from a vicious circle of generic development to a virtuous circle of regenerative development".
---
IHBC at COP26 - Conserving our Places Conserves our Planet - Podcast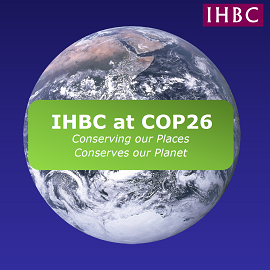 The IHBC seeks to raise awareness and understanding of how building conservation philosophy and practice contributes towards meeting the challenge of climate change.