Engaging communities in our Highlands and Islands
Regardless of where they are in Scotland, placing communities at the heart of its work is an ever-increasing focus for the designations team at Historic Environment Scotland.
Introduction
Finding ways to place communities at the heart of the work of Historic Environment Scotland's (HES) designations team can be challenging when they are in more remote areas. But it is a hugely important part of our wider aim to involve people more in our decisions. Living in a remote part of Scotland is a reality for one in five of our population. The Scottish Government classifies over 98 per cent of our landmass as 'remote rural'. For our designations work, whether we are looking at new sites for listing or scheduling, or reviewing existing designated sites, this can often mean working in sparsely populated areas. Travel time and costs need to be factored in, and it can be necessary to travel by air or sea, as well as by more usual methods.
The health and safety of our staff is an important consideration and we carry out risk assessments in advance of working out of the office. Staff need to be prepared for disruption to their travel plans as Scotland's weather can often affect ferry and plane travel to and from our remotest islands. Winter working in remote areas needs to be undertaken carefully and with suitable preparations. The safety of our staff is paramount.
Involving people and communities more in our thinking and decision-making is fundamental to our future. Owners and occupiers and local authorities have been consulted on designations for many years, but we now want to involve people and communities more closely in our work and at an earlier stage, before designation takes place. Since 2015 we have published all of our decisions online.
While this has gone a long way to give people interested in their historic environment access to the reasons behind designation, it does not give people the opportunity to take part at an earlier stage. 2019 will see us opening up proposals for new designations to public comment before a decision is taken. While online services are a critical part of our work and improving accessibility to what we do, where we have the resources to do so, face-to-face communication remains a hugely rewarding and useful way to work with people and communities.
Local knowledge is invaluable when assessing sites and places for designation. This is especially important for vernacular buildings when there are not necessarily 'traditional' research sources and we need local people to tell us what they know. When we began our Scotland-wide designation review of thatched buildings in 2017, we knew that it would be critical to speak to people directly. Thatched buildings are now very rare in Scotland, with only around 300 thatched buildings surviving.
We began the review in Na h-Eileanan Siar (the Western Isles – the Outer Hebrides off the west coast of mainland Scotland). Many of the thatched buildings here are unoccupied and/ or semi-ruinous, so trying to contact owners in advance through our usual route of writing letters to the postal address of the property was not going to be effective.
In looking for different ways to engage the community, on HES's inaugural Heritage Awareness Day in October 2017 we hosted a public drop-in Thatch Cafe on the island of Benbecula. With the important things like coffee and biscuits provided, the event introduced our review of thatched listed buildings in Na h-Eileanan Siar. We wanted to find out what owners and the community valued about their thatch buildings and what problems they faced in managing their properties. We were also looking for an opportunity to explain more about how we make decisions about listing buildings.
Over 40 people attended the event and it generated a lot of discussion. People talked about their concern for the loss of traditional thatching skills and the lack of suitable thatching material. Some people shared the history of their own cottages with us, or brought along photographs showing family life in and around their thatched buildings.
By speaking to the local community, we learned about how they viewed and valued their heritage. It also gave us the chance to offer support and information. We were hosted by the local authority and we had staff on hand to answer questions about the review, and listing in general. We were joined by colleagues from our conservation directorate who provided specialist knowledge and advice about thatch. Others, from our archives and collections team, showed people how they could record their knowledge and stories on our website, using our MyCanmore facility.
As part of this project, we also wanted to make strong links with the local authority as their knowledge on the ground is very important. The conservation officer at Comhairle nan Eilean Siar (Western Isles Council), Hannah Morrison, was very helpful in providing contacts and establishing links on the ground.
Some of the stories and discussions on the day happened in Gaelic as well as English. The result of this bilingual gathering has inspired us to use Gaelic place names in the legal listing address for listed building records in areas of Scotland where there is a direct connection to Gaelic language and culture. This is an exciting development that is not only practical from an accessibility point of view, but also as something more meaningful in terms of connecting people to place and making designations more directly relevant to Gaelic-speaking communities.
Our cafe event was part of our Scotland-wide review of thatched buildings taking place from 2017 to 2019. It was begun in the Na h-Eileanan Siar because so many of Scotland's thatched buildings are there – one in five listed buildings in this council area, in fact. It was clear from the people we talked to on Benbecula that this type of building is truly valued. We are planning similar events in the Highlands and Argyll and Bute in 2019.
Working with Historic Assynt
We get many requests for new designations from individuals and heritage groups across Scotland who ask us to consider giving sites and places local to them recognition and protection. When these sites are located in areas that are more difficult for us to reach, we need to decide how and when to carry out this work. When we heard from the community heritage group Historic Assynt about almost 60 prehistoric burial monuments in the Assynt region in the north-west Highlands we were delighted to work with them on a project to explore this heritage further.
We knew already that this most remote part of the Scottish mainland had not been assessed thoroughly for potential scheduled monuments in the past, so some exciting discoveries were likely. What was a little more surprising was the concentration of sites found at Assynt. Without the fieldwork and data-gathering undertaken in advance by Historic Assynt, it would not have been possible for us to easily discover or assess these sites. Working collaboratively with Historic Assynt was hugely rewarding for our heritage and for us as a team. We had access to their local knowledge and it gave us the chance to build a valuable relationship for the future and to demystify what we do.
The focus of our fieldwork was the locally dense concentration of chambered burial monuments dating back to 4000 BC. As a result of the project, 14 monuments became scheduled, we updated the records for 17 existing scheduled monuments and we removed one scheduled monument which no longer met the criteria for scheduling. The project and its partners at HES and Historic Assynt has secured a far better representation of scheduled Neolithic and Bronze Age burials in the North West Highlands.
Being on the ground to assess sites first hand is not always possible or practical. If we have enough recent information about some types of sites, either submitted to us through the designation application process, available to us online, or already compiled in the National Record of the Historic Environment, we may decide that visiting a more remote site is not required. A recent example of this was the listing of the elegant Kylesku Bridge in Caithness – a well-known structure which had been extensively surveyed in recent years. Good data can enable us to understand and assess areas which are less easily visited.
New technologies such as the use of drones or sophisticated satellite mapping will no doubt change how we carry out designations fieldwork in the future. For the moment, having a cup of tea and a chat with our stakeholders, when we can, remains a key part of our engagement with the communities and people of Scotland.
---
This article originally appeared in IHBC's Context 158 (Page 34), published in March 2019. It was written by Dawn McDowell, deputy head of designations at Historic Environment Scotland.
--Institute of Historic Building Conservation
IHBC NewsBlog
Part of historic Old Courthouse in Cockermouth collapses into river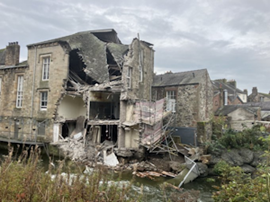 A section has fallen away and landed in the River Cocker below, including the back walls over three floors, sections of flooring and parts of the roof.
---
Scaffolding removed from Salisbury Cathedral after 37 years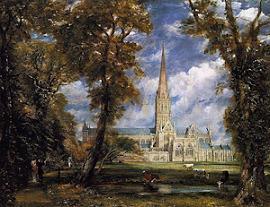 Starting with a survey in 1986, the 'topping out' ceremony took place 7 Sep 2023.
---
Demolition of Kirkcaldy's Category B former Kitty's nightclub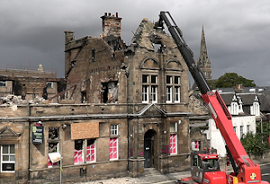 Following a fire, engineers confirmed that the building faced complete demolition.
---
Irreplaceable Welsh castle saved from collapse thanks to £2.2m grant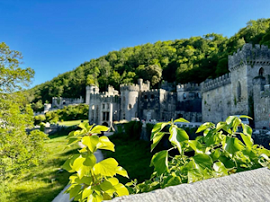 Wales' Gwrych Castle has a funding lifeline from the National Heritage Memorial Fund (NHMF) as part of its Covid-19 Response Fund
---
New interactive models of the 'Dinosaurs' sculptures in Crystal Palace Park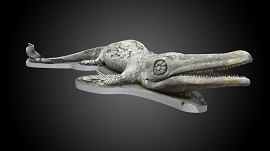 Interactive 3D models have been created of the 29 surviving 'dinosaurs' in Palace Park, South London.
---
How was it built – the Iconic Forth Bridge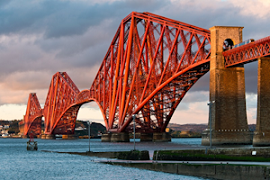 The Forth Bridge is one of the engineering wonders of the world. From the Engine Shed HES, find out more about how this incredible structure was built and what the conservation challenges are today.
---
Stirling's Christie Clock Tower demolition 'over safety' sparks Council investigation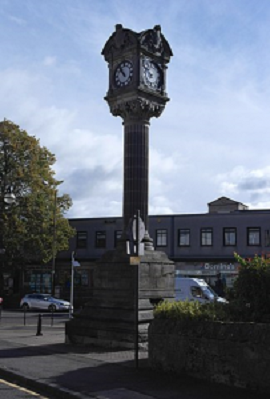 A clock tower which stood in Stirling for 117 years has been controversially and dramatically demolished by the local council over safety fears
---
The Natural Stone Source Book 2023-24 Specifiers Guide published

This guide is designed to be both inspirational and educational, providing the information and creative stimulation needed for successful completion of a natural stone project.
---
Context C176 published - World Heritage Sites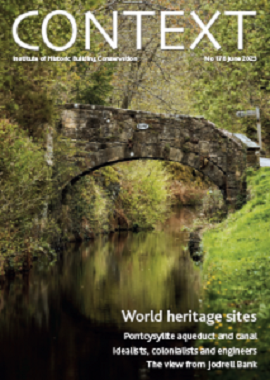 The issue explores the diverse facets of conservation of World Heritage Sites from across our globe.
---
Historic Environment Scotland unveils plans for new Archive House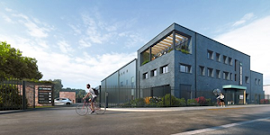 The innovative project will be an exemplar of reuse and retrofit of an existing building.