Real estate, place adaptation and innovation within an integrated retailing system
Research shows, not the death of the high street, but a complex picture with falling rents, more land uses, flexibility and innovation offering some hope for the future.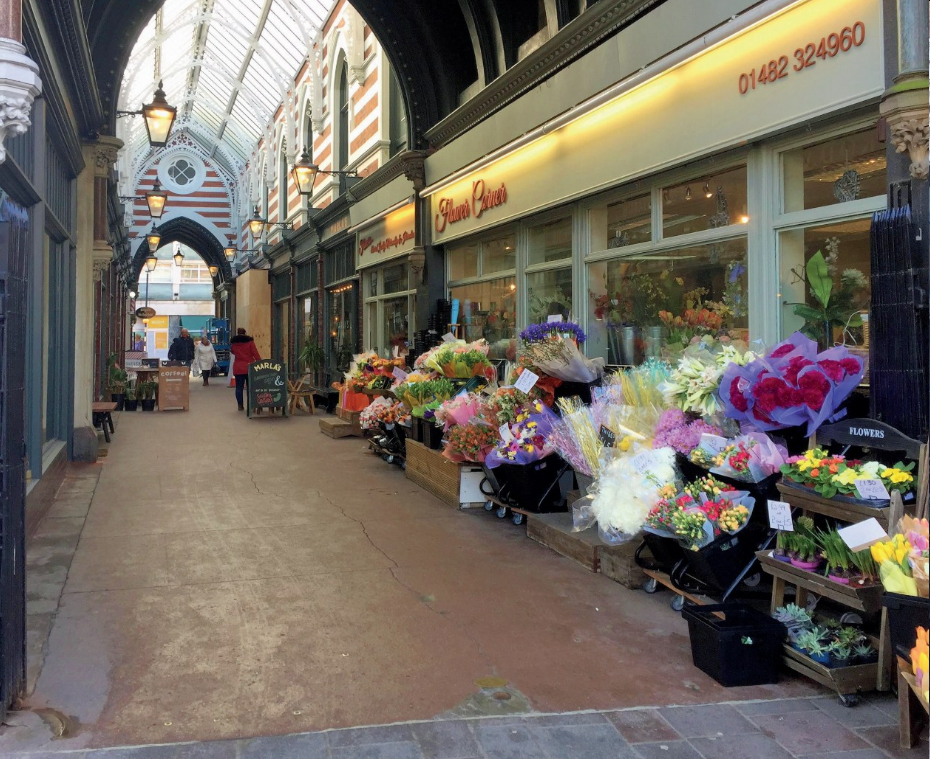 The refurbished 19th-century Paragon Arcade in Hull successfully specialises in independent retailing.
Introduction
The struggles faced by the UK retail industry are well documented. Unsustainable operating costs, ascendant online technology, changing consumer habits and the uncertainty of the pandemic have precipitated the closure of numerous well-known shops and driven a surge in vacancies on the high street and in shopping centres. However, today's challenges are not entirely new. The retail market is dynamic and often cut-throat, and the fickle nature of consumers means that city centre retailing is always in a state of flux.
What is different this time is the sheer scale of closures and redundant space. With the prospect of emerging from the pandemic, the search for innovative solutions that address this decline has become an urgent preoccupation of policymakers, landowners and other actors who have a stake in the future of our city centres.
Researchers funded by the Economic and Social Research Council (ESRC) at the University of Glasgow and University of Sheffield have been investigating how urban retailing centres have been adapting to changing market conditions over the past 20 years as part of a project called REPAIR (Real Estate, Place Adaptation and Innovation within an integrated Retailing system).
Since 2018 we have been piecing together a series of linked datasets on landownership and land use with stakeholder interviews and observations of the built environment. This has allowed us to track the significant land use and ownership changes that have occurred in five UK city centres: Edinburgh, Glasgow, Hull, Liverpool and Nottingham. In this article we reflect first on the changes occurring on the traditional high street and then within city-centre shopping centres. We argue that, despite the acceleration in vacancy rates, city-centre land uses are diversifying and new innovations are appearing all the time.
Our research reveals that all five cities have faced similar changes on the high street to varying degrees. Across the piece, the number of retail units has contracted since 2010. Store closures, vacancies and land-use changes have tended to be greatest on the peripheral edges of the 'prime retail pitch' (the main shopping thoroughfare) and surrounding streets. The hardest hit retailers have been the national midmarket clothing and fashion chain stores, which have sought to reduce their occupation costs by right-sizing their corporate portfolios.
The past 10 years have seen many ground floor units that once housed retailing adapt into coffee shops, restaurants and pubs, suggesting that change rather than absolute decline is taking place. Similar changes are happening above ground level. Retailers used to store their stock on the upper floors, but the need for this expensive space has waned and resulted is a trend towards residential conversion. We found that independent retailers, local operators with a small number of outlets, and service-oriented businesses, for example hairdressers, barbers and beauty salons, are becoming more established in prime and secondary retail locations due to falling rents. So too are retailers known for offering 'experiences', perhaps best exemplified by the Apple Store. These various operators are much happier to locate in the quirky and unique high street units than chain retailers, who find them difficult to standardise. This has required landlords to provide 'white-boxed units', enabling small businesses, which do not have the resources for store fit-outs, to get up and running quickly.
High vacancies
Size also matters. Bridlesmith Gate in Nottingham is an attractive shopping street with numerous historic properties, but it has been plagued by high vacancies. Here the problem is that many units fall below the preferred average 1,000 sq ft size. The street's proximity to the partially demolished Broadmarsh Shopping Centre also adds to its woes, demonstrating the knock-on effect of wider city-centre challenges on retailing streets. A local property investment company has recently begun buying up the vacant units on Bridlesmith Gate and seeks to capitalise on the trend towards independent and experiential retailing. It hopes to reimagine Bridlesmith Gate as a cool destination with carefully curated fashion boutiques and coffee shops.
All of the high streets we examined have lost department stores. These large multi-storey buildings have proven much harder to adapt than the smaller units now favoured by independents and experience-oriented retailers. Their sheer scale, physical depth and the cost of conversion have made repurposing difficult and expensive. However, it has not taken long for innovative proposals to emerge and fill the gap, principally in the burgeoning hospitality, entertainment and leisure sector. Examples include the Johnnie Walker Experience in Edinburgh in the former House of Fraser building, a Vue cinema in the old BHS store in Glasgow's St Enoch Shopping Centre and, in Hull, a European-style food hall in a former House of Fraser store known locally as Hammonds.
Our research found that the operators of in-town shopping centres are struggling to remain competitive as the retail market has contracted. Whether new or old, most shopping centres are located on or close to the prime high-street pitch and have tended to benefit from the footfall this attracts. Until recently, they were designed around four basic principles:
These principles resulted in the creation of highly controlled and enclosed environments that were easy to manage, but lacked integration with the wider city centre.
When they were built in the 1980s and 1990s, in-town shopping centres were heralded for providing flexible space that retailers often found difficult to source on the high street. Shoppers welcomed the convenience of a dry and pleasant environment where all their needs could be catered for within a short walking distance. Today, however, many of the oldest centres are facing an unclear future. In part, this is due to rising vacancies, but it is also the result of skyrocketing maintenance costs. The inward-looking design of many shopping centres means they can feel cut off from the city centre, especially if many units are empty. Managers of the older shopping centres we examined found that they were stuck in a vicious cycle of lower footfall and growing costs resulting from the need to heat and cool large, enclosed spaces with out-of-date equipment and decreasing service charges.
These challenges may explain a new era of shopping centre design. The recently-built shopping centres that we explored were not configured around enclosed spaces with few access points. Instead, shopping centres like Liverpool One and St James Quarter in Edinburgh have been designed using an open street-and-square figuration. St James Quarter is the epitome of this hybrid design philosophy. Although the outdoor areas are privately owned by the centre, the new centre has open interconnecting walkways that link a mix of shops and other land uses with neighbouring streets under a glass canopy. The designers of Liverpool One integrated existing historic buildings into the design to create a relatively seamless boundary between the vast new shopping centre and the surrounding area.
Rather like the changes occurring on the high street, in-town shopping centre operators are diversifying what they offer to shoppers to reduce the rental voids in their portfolio. As St James Quarter and Liverpool One are both relatively new, they were built with a mix of uses, including hotels, flats and leisure facilities. However, we found that older established centres are currently trying out new ways to diversify their offering. One such example is the St Enoch Centre in Glasgow. There, leisure facilities such as a cinema and competitive entertainment venues, such as crazy golf, bowling alleys and, believe it or not, axe throwing, have opened in vacant shops alongside a greater variety of food and drink establishments. It remains to be seen whether these uses will fail or flourish.
When we emerge from the pandemic, many towns and cities will face an uncertain future. Our research found that, over the last decade or so, traditional retailing has begun a significant retreat from city centres. Retailers and landowners are facing unprecedented pressures and challenges. As more and more shopping moves online and home-working increasingly becomes the norm, some commentators have predicted the death of the high street. Our research suggests a much more complex picture and offers some hope for the future. No one single change will fix all the problems on the high street, but falling rents, more land-use and leasing flexibility, and a greater willingness among landlords and operators to innovate, are all steps in the right direction. Taken together, the changes have potential to encourage much-needed diversity in UK centres. They will play an important role in the reinvigoration of local economies and the creation of more resilient places.
---
This article originally appeared as 'All change on the high street' in the Institute of Historic Building Conservation's (IHBC's) Context 171, published in March 2022. It was written by Allison Orr, senior lecturer in real estate at the University of Glasgow, who leads the REPAIR research project, and James White, senior lecturer in urban design, based in urban studies at the University of Glasgow.
--Institute of Historic Building Conservation
IHBC NewsBlog
Ireland's Our Rural Future: support for LA purchase of vacant and derelict buildings for community use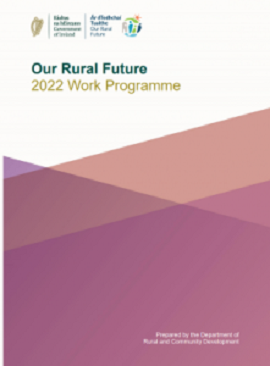 Ireland's Minister for Rural and Community Development, Heather Humphreys, announced a new funding stream to support Local Authorities (LAs) to purchase vacant buildings that could be converted and developed for community use.
---
BBC: Eleven Historic English pubs recognised for their interiors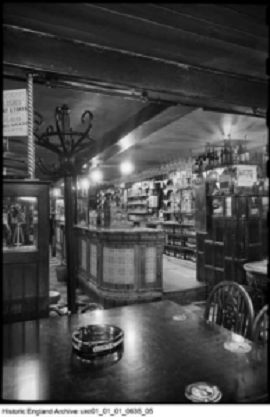 Eleven pubs across England have been recognised for their historic or unusual interiors, as they have been listed, upgraded or relisted.
---
HEF's Heritage Sector Resilience Plan launched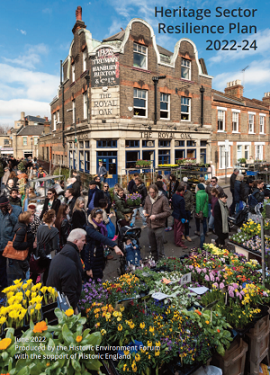 The Heritage Sector Resilience Plan, developed by the Historic Environment Forum (HEF) with the support of Historic England, has been launched.
---
Common Commitment to all Ireland's heritage – North South Agreement on Vernacular Heritage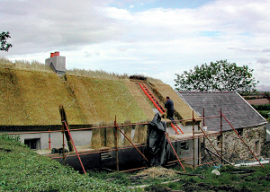 An 'All-Island' commitment to Ireland's vernacular heritage has been established with the signing of the North South Agreement on Vernacular Heritage, supporting traditional buildings etc.
---
Bristol Harbourside landmark Canons House gets GII listing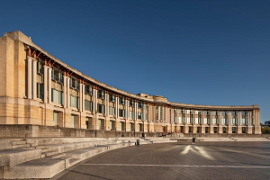 Canons House, a landmark building on Bristol Harbourside, has been awarded Grade II (GII) listed status having been built as a regional headquarters for Lloyds Bank between 1988 and 1991 (Arup)
---
BRE/BEIS project to modernise home energy rating scheme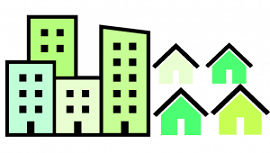 The Building Research Establishment (BRE) has announced a new project with the Department for Business, Energy and Industrial Strategy (BEIS) to improve and modernise the home energy rating scheme used to measure the energy and environmental performance of UK homes.
---
Interdisciplinary IHBC accreditation recognised by CSCS for PQP Cards

Sector lead the Construction Skills Certification Scheme (CSCS) has recognised the IHBC's professional accreditation and support (CPD etc.) in awarding its PQP (Professionally Qualified Person) cards.
---
Unearthing the history of Gloucester's 'the Fleece' Hotel starts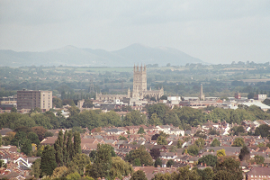 Work to repair a fire-hit medieval hotel in Gloucester is underway as crews have started work to strip back some of the modern trappings and reveal the historic framework.
---
European Heritage Heads Forum statement on Ukraine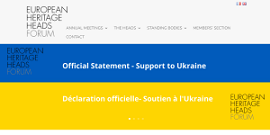 The Secretariat to the European Heritage Heads Forum has has coordinated its declaration of solidarity and support for Ukraine's cultural heritage institutions.
---
Welcome to #IHBC25 – 25 years since we turned professional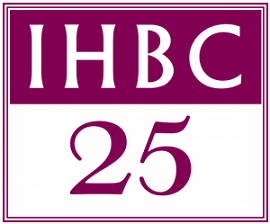 2022 will see the IHBC mark a quarter of a century since our incorporation as a professional body supporting and accrediting built and historic environment conservation specialists. We're kick-starting it by inviting your ideas on how to mark this special year!