Funding for heritage on the high street
Government funding programmes provide an unprecedented opportunity to use heritage as a catalyst for reviving historic centres for retail, leisure and community life.
In the wake of the 2008 crash, the Portas Review of 2011 and the relentless rise of internet shopping over the past decade, a consensus has developed in Britain around the need to revitalise high streets, not only as centres for retail, but also as hubs for leisure, social activities and community identity. This aim is supported through the various funding schemes brought in by the last few governments, most recently by the Levelling Up fund. These programmes present enormous opportunities for heritage-based regeneration.
The array of government funding programmes announced in recent years is quite bewildering. The Future High Streets Fund was launched in 2018, including £107 million to support the regeneration of heritage high streets. In September 2019, the government announced the introduction of the high street heritage action zones scheme, which proposed to channel £95 million from the Future High Streets Fund into the revitalisation of 69 historic high streets. Also in 2019, the Towns Fund promised £3.6 billion of investment, under which 101 towns in England were selected to develop 'town deals'. Most recently, in March 2021, the Levelling Up Fund was introduced with the offer of £4.8 billion in high-value local infrastructure across the UK.
The high street heritage action zones (HSHAZs) are a refinement of the heritage action zones (HAZs) introduced by Historic England in 2017, and both are partnerships between local authorities and Historic England. Currently the 18 original HAZs are still in operation. Generally they incorporate a particular historic area of a town, like Drake Street in Rochdale or the Burges in Coventry, although some are less town-focused: one of them will see the recording and restoration of 26 miles of the historic Stockton and Darlington railway and ancillary buildings. The 69 areas designated as high-street HAZs have much in common with the earlier HAZs in their focus on high-street heritage. For example, Lowestoft High Street HAZ for London Road complements the North Lowestoft HAZ that has been running since 2019.
The HAZs and HSHAZs offer a toolkit of solutions and ideas which are applied in accordance with the needs of the individual high street. Improving the condition and appearance of historic buildings is a common objective in these areas. For example, in Walworth Road, south London, a detailed condition survey has provided the basis for identifying potential improvements to building facades, and preparing packages of grant-funded work that will help raise the environmental quality of the street. Unattractive shop fronts and signage are a widespread issue that most HAZs are seeking to address. In some cases, like in Maryport and Lancaster, grant schemes for shopfront improvements are supplemented by design guidelines.
The HAZs are also intended to assist in the transition which the high street is currently undergoing, becoming a centre for new kinds of leisure activities, cultural uses and retail experiences. Many of them also offer grants to property owners to use vacant floorspace, encouraging their use as offices, pop-ups or accommodation. Some HAZs also provide for the adaptive re-use of buildings as centres for civil society – in Harlesden, north London, a refugee support charity is working with the council to turn a former bank into a space to support young people, small businesses and community groups. Even though the facade of the high street might be preserved, what lies behind it will have to change if any solution is to be sustainable in a post-Covid economy.
The HAZs also aim to encourage community engagement in local heritage, and in Tyldesley near Wigan the HSHAZ is itself a community-led project. Many HAZs mention the desire to encourage people to reflect on the heritage of their towns through community events. In some towns, the focus is on training young people, thereby helping to improve their employment opportunities. In the Great Yarmouth HSHAZ, this takes the form of hands-on training and workshops to teach traditional building skills. In Swindon, £7 million is being invested in the listed Carriage Works. One of the units is now occupied by the Royal Agricultural University's new Cultural Heritage Institute, which will train the next generation of heritage managers and professionals.
While HAZs and HSHAZs have a specific heritage focus, the Towns Fund and Levelling Up Fund are both much broader in scope, aimed at addressing the economic and cultural needs of some of England's more deprived areas. Although generally focussed on new infrastructure, in some cases the money is being applied to heritage-led projects, like the restoration of Trowbridge's town hall. The Towns Fund is focused on the wider development of a town, often including infrastructure and public realm improvements, while new venues and community centres are often proposed inside historic buildings.
The Levelling Up fund awards money to local authorities for projects focused on three main themes: transport, the regeneration of town centres and culture. Cultural investment covers maintaining, regenerating or creatively repurposing museums, galleries, visitor attractions (and associated green spaces) and heritage assets, and creating new community-owned spaces to support the arts and serve as cultural spaces. All three strands of Levelling Up are thus potentially applicable to heritage-led projects. Often these new grants work in tandem with progress made through participation in other schemes. To return to Swindon, the review undertaken for the HAZ recognised the potential for developing the town's Victorian swimming pool. The £5 million needed to carry out this project was made available by a successful Towns Fund application, while HAZ money was put towards creating the new signage and crossings to make it more accessible.
The regeneration of heritage assets through these more ambitious initiatives also has much to offer for the high street. One issue which many Towns Fund proposals address is the lack of space for live performance. In some cases old theatres are being brought back into use, such as the derelict Grade-II-listed Empire Theatre in Burnley. In Grimsby, there is a plan to transform the abandoned Grade-II*-listed Ice Factory, supported by an offer of £95 million through the Grimsby Town Deal. In Prescot, Lancashire, the Kemble Street cinema, used in recent years as a community church, is to be turned back into a cinema. In other cases, theatres are being created anew, such as in Oldham, where an old post office and Friends' meeting house are being converted into a performance space. Integrating these venues into town centres not only serves to help diversify the high street's leisure offering, but also will provide a welcome boost to the evening economy which many towns lack.
Elsewhere, heritage assets are being renovated as attractions in their own right, aiming to draw visitors and uncover neglected aspects of a town's heritage. As part of the St Helens town plan, Cannington Shaw – the world's first regenerative glass furnace for the continuous manufacture of glass bottles – is being redeveloped as the centre of a glass heritage and research centre. According to the proposal, it will be the place 'where glass past meets glass futures' and will serve to connect the city's history with its continued status as a centre of glass manufacture. Centres like this will also provide a platform for local artists and artisans to share their work, further boosting the local economy even as it fosters civic pride.
The schemes and initiatives mentioned above thus have much to offer for high streets. The two types of heritage action zone administered with Historic England, together with the Future High Streets Fund, offer a set of solutions to the problems faced by many high streets in the UK. These serve not only to preserve the historic fabric of the high street, but also to ease necessary transitions towards a new civic environment. Many approved town deals also make similar commitments to high-street regeneration, with far-reaching ambitions to improve the lives of the inhabitants of these towns. It is encouraging to see how many of them share the conviction that heritage has an important role to play in creating distinctive and vibrant town centres. However, few schemes so far explicitly link investment to the government's zero-carbon agenda.
Currently an exceptionally large number of projects are being pursued or supported through the programmes mentioned above. Some local authorities have been much more effective than others in grasping the opportunities offered and developing the necessary partnerships, including joint ventures with the private sector. Ultimately their success will depend on translating the quick hit of fixed-term funding into long-term sustainable solutions.
---
This article originally appeared as 'Heritage on the high street' in the Institute of Historic Building Conservation's (IHBC's) Context 171, published in March 2022. It was written by Will Holborow, an associate and senior heritage consultant with Purcell and Archie Williams, who is currently studying Islamic art and architecture, and spent the summer of 2021 working as a heritage researcher for Purcell.
--Institute of Historic Building Conservation
IHBC NewsBlog
Ireland's Our Rural Future: support for LA purchase of vacant and derelict buildings for community use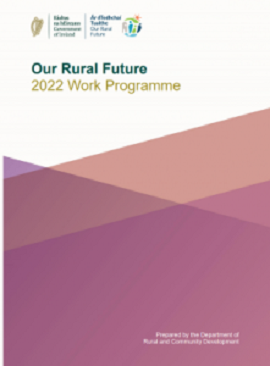 Ireland's Minister for Rural and Community Development, Heather Humphreys, announced a new funding stream to support Local Authorities (LAs) to purchase vacant buildings that could be converted and developed for community use.
---
BBC: Eleven Historic English pubs recognised for their interiors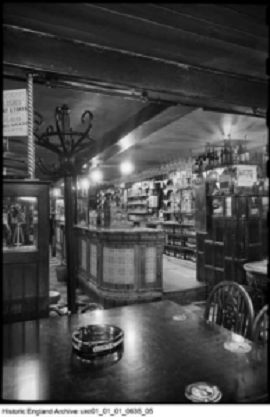 Eleven pubs across England have been recognised for their historic or unusual interiors, as they have been listed, upgraded or relisted.
---
HEF's Heritage Sector Resilience Plan launched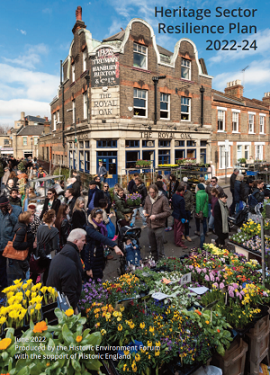 The Heritage Sector Resilience Plan, developed by the Historic Environment Forum (HEF) with the support of Historic England, has been launched.
---
Common Commitment to all Ireland's heritage – North South Agreement on Vernacular Heritage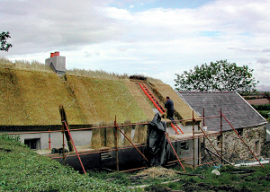 An 'All-Island' commitment to Ireland's vernacular heritage has been established with the signing of the North South Agreement on Vernacular Heritage, supporting traditional buildings etc.
---
Bristol Harbourside landmark Canons House gets GII listing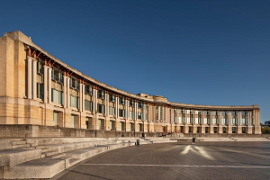 Canons House, a landmark building on Bristol Harbourside, has been awarded Grade II (GII) listed status having been built as a regional headquarters for Lloyds Bank between 1988 and 1991 (Arup)
---
BRE/BEIS project to modernise home energy rating scheme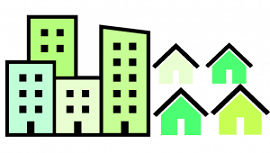 The Building Research Establishment (BRE) has announced a new project with the Department for Business, Energy and Industrial Strategy (BEIS) to improve and modernise the home energy rating scheme used to measure the energy and environmental performance of UK homes.
---
Interdisciplinary IHBC accreditation recognised by CSCS for PQP Cards

Sector lead the Construction Skills Certification Scheme (CSCS) has recognised the IHBC's professional accreditation and support (CPD etc.) in awarding its PQP (Professionally Qualified Person) cards.
---
Unearthing the history of Gloucester's 'the Fleece' Hotel starts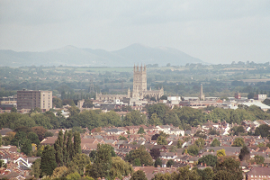 Work to repair a fire-hit medieval hotel in Gloucester is underway as crews have started work to strip back some of the modern trappings and reveal the historic framework.
---
European Heritage Heads Forum statement on Ukraine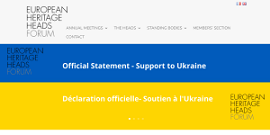 The Secretariat to the European Heritage Heads Forum has has coordinated its declaration of solidarity and support for Ukraine's cultural heritage institutions.
---
Welcome to #IHBC25 – 25 years since we turned professional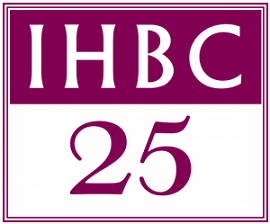 2022 will see the IHBC mark a quarter of a century since our incorporation as a professional body supporting and accrediting built and historic environment conservation specialists. We're kick-starting it by inviting your ideas on how to mark this special year!