High streets heritage action zones
What is happening on our high streets?
NOTE: This article was written pre-pandemic
While use of the term 'high street' can be traced back several centuries, the development of high streets as we would now recognise them, coincided with more people living in urban areas and the provision of shops and market stalls serving a wider (and growing) population.
However, as these streets developed they offered more than the opportunity to buy goods, becoming places where people congregated, seeing shopping as a leisure pursuit (English Shops and Shopping, Kathryn A Morrison, 2003). In the 1960s, cheaper manufacturing processes and the rise of 'disposable culture' meant that retail became an increasingly important part of what high streets offered the communities they served. It is therefore not surprising that high streets became defined by their retail offerings, and analysis in the media charts the narrative of their 'death' using shop closures and the fall in retail employment as evidence (cf The Guardian, http://bc-url.com/hshaz1 ). The reality, however, is that these places have always offered their communities more than this. These are spaces containing cafes, libraries, places of worship, museums and much more besides, and so linking their demise to the reduction in retailers is premature.
There is a growing body of evidence that points to successful high streets being places where people enjoy spending time, not just money. (These include, for example, Making sense of mixed use town centres, Turley, 2019; High streets and town centres in 2030, Housing Communities and Local Government Select Committee, 2019; and The Deloitte Consumer Review: Reinventing the role of the high street, 2013).
The struggles of many like Debenhams, House of Fraser and Marks and Spencer have been well reported. The scale of these brands' presence on high streets means that these struggles have caused significant issues, though it is worth noting that not every enterprise is seeing the same level of decline. The success of some stores, in particular those whose activities that cannot be replicated online, (such as barbers and independent coffee shops) suggest grounds for optimism in high streets that are able to offer an experience, not just a base for shopping.
To quote the House of Commons briefing paper, Retail Sector in the UK: '…increasingly, what attracts people to the town centre… is no longer just the shops (which have often been substituted by online vendors), but rather the leisure facilities that they can access there, such as cafes, restaurants, cinemas and children's activities'.
It is important to reflect on how important high streets are to the people they serve. Research undertaken on behalf of the Mayor of London in 2017 found that '45 per cent of surveyed users' primary high street use was non-retail related', and that 'high streets are important gathering spaces for marginalised and underrepresented groups' (see High Streets for All, Greater London Authority). High streets are one of the few places where all people are able congregate and mix, which makes them incredibly important, not just for local economies but also for the social cohesion and well-being of communities.
What is the future for our high streets?
High streets are evolving. To compete with online shopping and out-of-town retailers, they need to offer people something different to what they did in the latter part of the 20th century. While that 'offer' will vary in different places (what works for Hastings might not work for Blackpool), we can see demand for retail falling and more emphasis on personalised offers for customers, providing goods and services not available elsewhere (cf Elite Business Magazine, http://bc-url.com/hshaz2 ).
As the 'experience' that the high street offers becomes more important in its relative success, the quality of the built environment and of the place itself becomes ever more important. Successful high streets need to be places that people wish to visit and spend time. They need to be distinct. They need character. This is why investment in their historic character is being seen as a route to their regeneration.
With funding from central government, Historic England is developing and managing a new programme which will see £92m invested into 69 'High Streets Heritage Action Zones' (HSHAZ) in England (with an additional £3m from the National Lottery Heritage Fund to support a cultural programme, below). The programme is based around three investment objectives:
The programme will see investment focused on understanding and regenerating historic buildings on the high street, along with investing in the public realm and restoring local character, while supporting the features that help make these places unique and attractive for residents and visitors alike. The success of the programme will not just be measured in terms of historic fabric restored, but on the impact it has on the economic, social and cultural well-being of the place and the people who use it. It will focus on recording the number of people visiting the high street; how long they spend there, the amount of floor-space brought back into use (for use as office or residential space); use of space on the high street; and public perceptions of it.
All but one of the 69 HSHAZs were due to start work in April 2020; one, the Burgess in Coventry began work a year earlier as a 'demonstrator'. The early start means that we will be able to use the lessons learnt in Coventry to inform the other 68 high streets.
To select the HSHAZs, Historic England invited local partners (lead applicants did not have to be a local authority, but did need to have one involved) to submit 'expressions of interest' in May 2019. The original intention was to support around 40 high streets but the response was amazing and the scheme was heavily over-subscribed, so at Historic England's request central government agreed to extend the programme to support more high streets. Those expressions of interest were assessed against a range of criteria, including the level of partnership support, the level of community involvement, and the deliverability of what is being proposed. In addition, local economic specialists assessed the expressions of interest to see whether proposals reflected local economic need. Finally, each had to include a conservation area – an essential requirement.
In September 2019, the 68 successful high streets were informed and local partners, in partnership with Historic England, began developing their programme designs. This required the development of detailed programmes of work providing answers to the how, who, when and where. In December 2019, the final drafts were submitted to Historic England for assessment and sign off.
Each HSHAZ will bring together partners to develop a programme of cultural activities inextricably linked to the regeneration of the high street. These partners include local cultural organisations and community charities and groups. Each consortium will apply for a grant to fund its own defined cultural programme with help and guidance from Historic England, Arts Council England and National Lottery Heritage Fund. Running parallel with this, Historic England will also commission artists and creatives to produce pieces that respond to a set of national themes that celebrate the high street and the identities of places involved in the scheme.
Why is this type of work important? Compelling evidence from places such as Hull and Liverpool shows that cultural programming encourages people to see these challenged areas in a new light. The cultural programme will challenge the perception that the high street is dying or neglected, and alongside the capital works, will help people see them as places where communities come together.
HSHAZ represents one plank of a wider initiative designed to stimulate high street regeneration. It sits alongside the wider Future High Streets Fund, a £1bn package of investment that will target around 100 high streets in England; offering grants of up to £25m for projects that focus on proposals around transport, housing delivery and public services. Completing the suite of high streets funds is the Architectural Heritage Fund's Transforming Places Through Heritage, which is an asset based scheme providing support for charities and social enterprises to develop projects with the potential to bring new life to high streets by creating alternative uses for redundant or underused historic buildings in town centres.
---
This article originally appeared in the IHBC Yearbook 2020, published by Cathedral Communications Ltd in August 2020. It was written by Owain Lloyd-James MCIfA, the Head of Places Strategy at Historic England, where he has worked since 2007). He originally trained as an archaeologist and has contributed to The Archaeologist magazine, also co-authoring Pillars of the Community: the Transfer of Local Authority Heritage Assets.
--Institute of Historic Building Conservation
IHBC NewsBlog
IHBC Marsh Awards 2022 launched - Submissions Close 31 March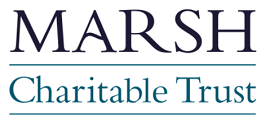 A chance to nominate retired IHBC members and/or successful learners in heritage skills, with prizes that include £500 and a free place at the IHBC's Aberdeen 2022 Annual School in June.
---
IHBC-SAHGB announce 2021 annual research award winner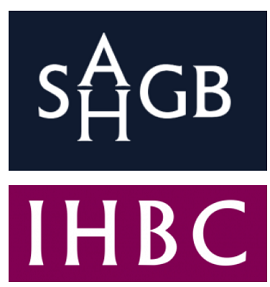 Donald Insall Associates has been announced as the winner of the new joint award with the Society of Architectural Historians of Great Britain (SAHGB). The award celebrates the quality of architectural-historical research produced as private consultants or for public bodies etc.
---
IHBC at COP26 - Conserving our Places Conserves our Planet 1-12 Nov 2021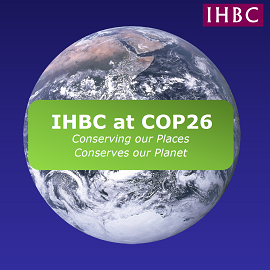 The IHBC seeks to raise awareness and understanding of how building conservation philosophy and practice contributes towards meeting the challenge of climate change.
---
IHBC's latest CONTEXT explores 'Conservation Leadership by the People'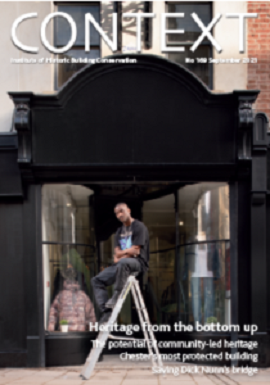 From Amenity Societies and Wentworth Woodhouse to Kurt Schwitters, Scotland's Towns, Chester and more...
---
Edinburgh's Royal High School to become '£55M national centre for music'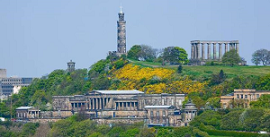 The former Royal High School building in Edinburgh is to be transformed into a £55 million national centre for music after the City of Edinburgh Council agreed to the lease of the historic property.
---
IHBC, CIfA, IEMA launch Principles of Cultural Heritage Impact Assessment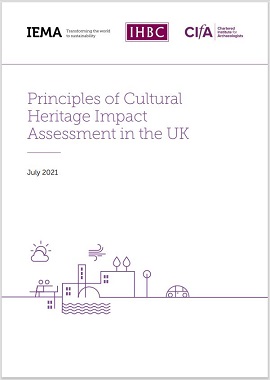 The joint-institute document aims to help maintain cultural heritage by providing a consistent framework across different sectors & geographies
---
Enter Now to Win: IHBC's GASA Awards 2021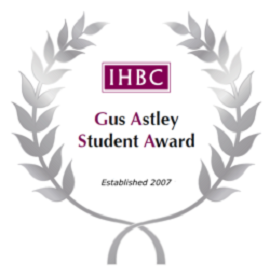 IHBC's Gus Astley Student Awards 2021: Win £500 and a place on IHBC's 2022 Aberdeen School with your built environment/heritage coursework, closes 31/07!
---
Former Harris meat factory mansion in Calne, Wilts, to be restored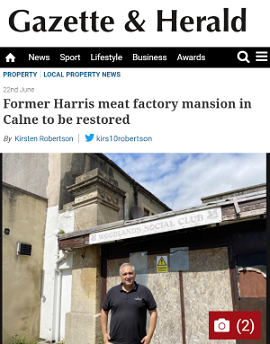 The last remaining buildings on the site of the Harris meat factory family's historic mansion are being restored to their former glory and converted into new homes.
---
CICV Forum introduces professional indemnity insurance guide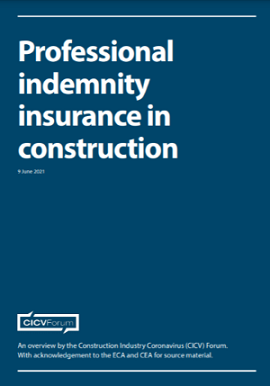 The Construction Industry Coronavirus Forum (CICV Forum) has unveiled a new guide to the crucial and increasingly complex issue of professional indemnity insurance (PII).
---
The World Heritage Committee(WHC): Liverpool should lose its World Heritage status.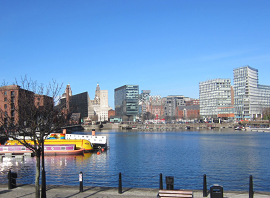 ICOMOS has advised that the new football stadium proposal, if implemented, would have a completely unacceptable major adverse impact its authenticity and integrity.