Aberdeenshire: heritage on the edge?
North east Scotland's mix of urban and rural environments provides a fascinating cross-section of issues faced by many parts of the UK, nuanced by its particular economic and social context. Retail pressures in high streets, remote landlords, underuse and redundancy are by no means unique, and nor are under-maintenance and shortages of skilled contractors.
Aberdeen and its shire may have benefitted from years of support from the energy sector, but the popular myth that it is cash-rich belies significant complexities which can have both positive and negative impacts on the historic built environment. While by no means a monotown, there is no doubt that the price of a barrel of Brent Crude still has an immediate and sometimes dramatic impact on local economics, as borne out by estimated job losses in oil and gas of over 100,000 in the wake of the oil crash in 2014.
The region's rurality brings its own issues too. Stretching and prioritising limited resources over large tracts of land, whether in private or public ownership, and resourcing and encouraging inward investment into widely dispersed settlements is challenging in a context where traditional industries have been subject to historic ebb and flow.
While it is tempting to see North East Scotland as being at the edge, geographically and economically, Aberdeenshire has been a strategic location since earliest times. Mesolithic finds point to very early occupation and stone circles are in abundance. Remains of marching camps testify to the ambitions of the Roman Empire north of Antonine's Wall and the Grampian Mountains themselves are named after the AD83 battle between the Picts and Romans at Mons Graupius. Some speculate that the battle took place at or near Bennachie, a prominent 1,800-foot hill near Inverurie, which seems ever-visible from across large swathes of Aberdeenshire. A recent archaeological discovery at Tap o' Noth indicates that it once accommodated a large Pictish settlement, possibly the largest yet discovered in Scotland.
The Year of Scotland's Coast and Waters 2020 reminds us that every part of Britain – be that Brighton or Aberdeenshire – is very much shaped by Britain's island status. We are never far from the sea or river course which, for much of our history, was the safest and quickest mode of trade and transit, as well as being a source of food.
Jutting into the North Sea and including the most easterly point in mainland Scotland, Aberdeenshire was ideally positioned for trade. Aberdeen's harbour was first established as a business in 1136, and has continued in operation ever since. Harbour infrastructure, improved by successive eminent surveyors, allowed development of trade with markets on the east coast of the UK, the Low Countries, the Baltic states and further afield. Aberdeen's burgeoning 19th-century granite industry saw building, paving and memorial stones transported across Britain and the globe.
Via the Baltic trade routes, Scotland and Aberdeen in particular had strong connections with Poland from the 15th century. Some estimates put the Scottish contingent in Poland at 30,000 by the 17th century. Alexander Chalmers from Dyce, in Aberdeen, a resident of Poland, served four terms as Mayor of Warsaw between 1645 and 1703. Among the many local beneficiaries of the wealth created by this trade were William Forbes, so called 'Danzig Willie', who by 1626 had built the photogenic fairy-tale Scots Baronial Craigievar Castle in Aberdeenshire. Another beneficiary was Robert Gordon, a local merchant, who spent most of his life in Poland. His bequest provided funds which allowed the founding of his Hospital for Boys, an early school building designed by William Adam and constructed in 1750. The foundation became the bedrock to technical education in the 19th century, culminating in the creation of Robert Gordon University in the 20th.
Aberdeen has long ranked as a European place of learning with its two early Universities. King's College was founded by Papal Bull in 1495, while Marischal College, was established in 1593; the two establishments amalgamating in 1858, making the University of Aberdeen the fifth oldest in the United Kingdom.
Coastal and fishing villages and ports developed on sometimes the merest slivers of land. Herring or the 'silver darling' were followed and brought in along the coast in an industry peaking in the early 20th century. The harvesting of white fish, once the dominant industry in the ports of north-east Scotland, as vividly captured in the BBC TV series Trawlermen in the 2000s, has had a chequered economic history with commensurate impact on local economies and their historic environments.
The exposed edge against the Moray Firth and the North Sea presented physical and environmental challenges for those settling there. Traditional buildings responded to this brutal maritime environment by being built gable-end on and huddling together against the prevailing on-shore winds and seas. The result is villages like Pennan which, with its red telephone box, was immortalised in the 1980s film Local Hero.
Improvements and reapportionment of land during the 18th century saw villages and towns in the North East of Scotland improved or created by landowners as part of the wider movement of agricultural reform and, post-Culloden, by reallocation of lands by Commission. The area's turnpike construction improved communication with main trading centres. Aberdeen's King Street and Union Street (the 'Granite Mile') linked into five turnpikes, connecting city and shire and opening up tracts of land in the city to relieve overcrowded accommodation in the late 18th century.
Meanwhile, it was in remote parts on the edge of Aberdeenshire and Speyside such as the Cabrach that the whisky industry first developed. The illicit production in small farm steadings contrasts sharply with the recently-completed cutting-edge Roger Stirk Harbour & Partners' Macallan distillery.
Victoria and Albert played their part in popularising the area. The mid-century construction of William Smith's Scots baronial revival Balmoral Castle, at the edge of the Cairngorms, encapsulates a Walter Scott-inspired romantic notion of Scottishness legitimised by the extravagant plaid-clad visit of George IV to Edinburgh in 1822.
The area's strategic prominence come to the fore once again during WWII when the threat of Nazi invasion from Norway saw fortification of the coastline. Amongst the UK's best preserved runs of WWII defensive exist in the North East. Following a mid-20th century spell as a holiday resort marketed as the 'Silver City by the Golden Sands', that capitalised on the beach and 1930s ballroom, the more recent oil boom from the 1970s thrust Aberdeen forward again as the 'oil capital of Europe'.
Despite the boom, the architectural character of Aberdeen, the 'Granite City', remains heavily influenced by its stone, as architectural critic Jonathan Meades explains:
'In Aberdeen, the extent to which they [the buildings] are unchanged is without peer in Scotland. Indeed without peer in the still just United Kingdom. The lack of decorative stonework certainly makes for austerity, but it is the most magnificent austerity: taught, elegant, surprisingly douce [or sedate], sometimes almost effete, it possesses the restraint of dandyism. Granite's supreme quality as a building material is that it doesn't weather. It's impervious to time and climate. It doesn't grow old gracefully: it doesn't grow old at all. It is the stone whose pituitary gland has been excised in some hideous experiment. It makes the case for stasis: it is stasis, forever young. It is a city of brand new buildings that are two or three hundred years old.' (From Off Kilter)
The pattern of antiquities and architecture of North-East Scotland provides the evidence of communities which have settled, managed and adapted the landscape over centuries to survive. Aberdeenshire Council developed its Historic Asset Management Project (HAMP) from 2013 to record and manage its wealth of historic fabric; a process that has allowed prioritisation of the neediest of monuments and structures. The religious complex at Tullich near Ballater in Royal Deeside, with its Pictish symbol stones and cross slabs is a beneficiary of this strategic approach.
The shire has successfully attracted several area-based conservation area regeneration and townscape heritage schemes over the past decade supported by Historic Environment Scotland and the National Lottery accordingly, with the coastal settlements at Banff, Portsoy, Fraserburgh and Peterhead all having received significant levels of investment. Individual conservation projects of note include Banff Castle, Duff House Vinery and the development of 'The Smiddy', a silver smithing studio in Banff. The North East of Scotland Preservation Trust's Portsoy Sail-loft project overcame many practical challenges to deliver a sustainable and meaningful reuse of historic fabric.
Likewise, in Aberdeen, conservation area-based investment of funds has seen buildings at risk like the 1872 Tivoli Theatre, a traditional variety theatre by Phipps and Matcham, brought back into active use, while across the city Aberdeen City Heritage Trust has supported the repair of over 300 buildings over the past decade.
Union Street, Aberdeen's historic high street, is currently receiving £2.4 million Conservation Area Regeneration Scheme (CARS) funding to March 2022. This joint City Council and Historic Environment Scotland initiative forms one part of the city's ambitious 25-year Aberdeen City Centre Masterplan. The programme takes in redevelopment of Union Terrace Gardens, Aberdeen's only significant city-centre green space, creation of a Queens' Square cultural neighbourhood and other supporting high-profile city-centre activities like Nuart and the Spectra light festival. Aberdeen Art Gallery, with its bold and still controversial roof extension, reopened in 2019 and houses a diverse and important fine art collection. Provost Skene's House, which dates from the 16th century and includes some of the oldest surviving built fabric in Aberdeen, is currently being conserved and reinterpreted by the City Council. The reopening of the reworked Category A listed Aberdeen Music Hall with its 1822 Greek revival facade, has revitalised the cultural offering in the heart of Union Street.
Aberdeen and North East Scotland has a history of change that has required reinvention. It's a common story that could be told across the UK. As traditional industries mature and new opportunities emerge in the new post-Covid-19 'normal', what are the ramifications for the historic built environment? And how can building conservation provide or contribute to solutions?
---
This article originally appeared in the IHBC Yearbook 2020, published by Cathedral Communications Ltd in August 2020. It was written by Douglas Campbell IHBC FSA (Scot), Aberdeen City Heritage Trust's project officer. Having worked as a building conservation officer for local authorities and a national park in England over a nine-year period, he returned to Scotland in 2004 to help set up and run Aberdeen City Heritage Trust.
--Institute of Historic Building Conservation
IHBC NewsBlog
IHBC at COP26 - Conserving our Places Conserves our Planet 1-12 Nov 2021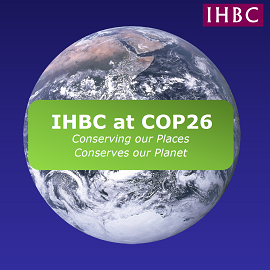 The IHBC seeks to raise awareness and understanding of how building conservation philosophy and practice contributes towards meeting the challenge of climate change.
---
IHBC's latest CONTEXT explores 'Conservation Leadership by the People'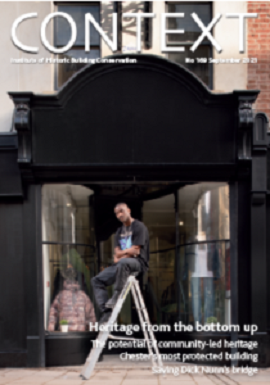 From Amenity Societies and Wentworth Woodhouse to Kurt Schwitters, Scotland's Towns, Chester and more...
---
Edinburgh's Royal High School to become '£55M national centre for music'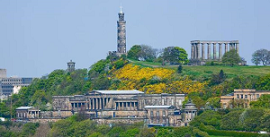 The former Royal High School building in Edinburgh is to be transformed into a £55 million national centre for music after the City of Edinburgh Council agreed to the lease of the historic property.
---
IHBC, CIfA, IEMA launch Principles of Cultural Heritage Impact Assessment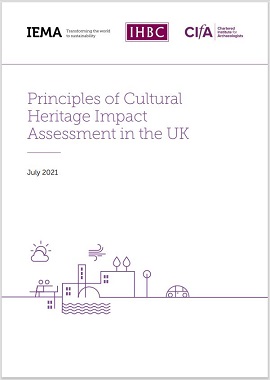 The joint-institute document aims to help maintain cultural heritage by providing a consistent framework across different sectors & geographies
---
Enter Now to Win: IHBC's GASA Awards 2021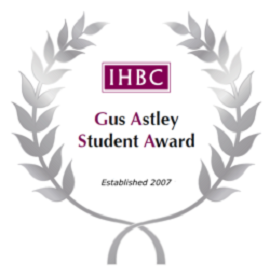 IHBC's Gus Astley Student Awards 2021: Win £500 and a place on IHBC's 2022 Aberdeen School with your built environment/heritage coursework, closes 31/07!
---
Former Harris meat factory mansion in Calne, Wilts, to be restored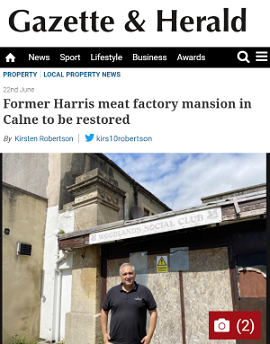 The last remaining buildings on the site of the Harris meat factory family's historic mansion are being restored to their former glory and converted into new homes.
---
CICV Forum introduces professional indemnity insurance guide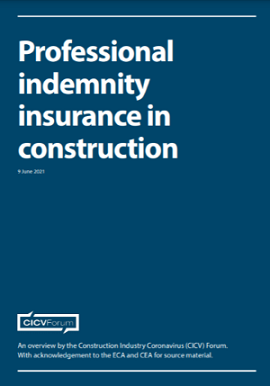 The Construction Industry Coronavirus Forum (CICV Forum) has unveiled a new guide to the crucial and increasingly complex issue of professional indemnity insurance (PII).
---
The World Heritage Committee(WHC): Liverpool should lose its World Heritage status.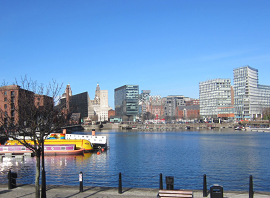 ICOMOS has advised that the new football stadium proposal, if implemented, would have a completely unacceptable major adverse impact its authenticity and integrity.
---
Scotland's CSIC: New plans to transform public spaces into sustainable office hubs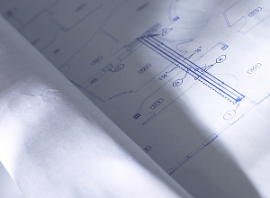 Responding to the changing working patterns of a post-Covid Scotland, the Construction Scotland Innovation Centre (CSIC) has revealed new plans to help retrofit public spaces into out-of-town alternatives to city centre offices.
---
IHBC's latest Context explores 'Applying Digital Technology'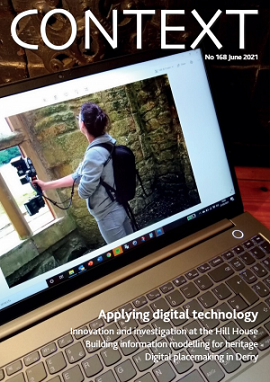 The free-to-access online issue mixes the topical and practical to explore how the sector can best adapt to digital innovation.