The decline and revival of food markets
Once the coronavirus crisis has receded, the revival of markets could make a big contribution to building community identity, and making available fresh, healthy, affordable food and diets.
In September 2019, almost 800 years after the town of Rochdale was granted a Royal Charter to establish a market, local traders were told that their covered market would be closed the following month as it was no longer viable. This unhappy event is typical of the fate that has affected many historic markets, casualties of the internet shopping revolution, the rise of fast-food outlets and the decline of high streets.
In 2009 a Parliamentary inquiry into traditional markets found that the number in decline was greater than those that were more than holding their own.[1] The committee expressed serious concern, pointing to the contribution markets make to social cohesion, and their role in promoting healthy eating and reducing environmental impact in the retail sector, as well as their obvious economic benefits. Noting that the majority of the 1,000 or more markets in Britain were owned and operated by local authorities, the committee urged those councils struggling to keep their markets alive to consider sharing costs and management responsibilities with the private sector, and to embrace change.
Some historic markets, especially those actively promoted by their local authorities, have kept pace and never lost their appeal. Among these are the open markets at Norwich and Newark, whose loss would be unimaginable. There are also those with spectacular Victorian market halls that are symbols of civic pride.[2] At Leeds Kirkgate, one of the largest markets in Europe, everything from shawarmas to shrimps, chapatis to cockles, and Yorkshire puddings to patisserie can be found beneath the soaring cast-iron-and-glass vaulted market hall. This stupendous structure, designed by John and Joseph Leeming and completed in 1904, is listed Grade II*. The same architects' slightly earlier market hall at Halifax is equally ornate, with foliated capitals, decorative spandrels and brackets in the form of wyverns. It has recently been repaired and remains the vibrant heart of the town.
Meanwhile Bury Market, which has avoided Rochdale's fate and those of other proud industrial towns in the north of England, is today one of the liveliest in England. Bustling and colourful, with over 350 stalls crammed into a variety of market buildings and in the open air, Bury celebrates local produce with a huge range of fresh food. Here you will find Chadwick's original Bury Black Puddings, made to a secret recipe from 1865, and patronised by Prince Charles and the late Ken Dodd. There are fat Eccles cakes, plump Goosnargh poultry and rare breeds of beef from farms in Lancashire, and tempting cafes serving traditional fry-ups. Unlike the sterile supermarket model which has caused the demise of so many markets, at Bury the traders love to chat, while in the liveliest part, the Fish and Meat Hall, they call out their wares in an endless banter of goodwill and entertainment.
Bury is exceptional, but since the Parliamentary inquiry, a number of councils have been looking beyond the traditional market models to attract a wider range of buyers, younger people in particular, and creating opportunities for a different type of market trader. The increasing desire for local produce, both edible and otherwise, is also leading to new ideas. A current trend-setter is Nick Johnson, formerly a director of Urban Splash, who now runs two markets, one in Altrincham, his home town, and another in Manchester. In 2013 he and his partner Jenny Thompson took over from Trafford Council the running of the Altrincham market which, together with a fifth of the shops in the town centre, had been killed off by the nearby Trafford Centre and a Tesco superstore.
Their models were the Boqueria market in Barcelona and Columbia Road in east London, as well as Bury; their selling points are that you cannot get it online, it is handmade and you are dealing directly with the creator. More than 120 traders in the outdoor market, each with something special to offer, include bakers, butchers, chocolatiers, jewellery makers and purveyors of limited-edition jeans. All are from the northwest, and most of the produce is too. The Grade-II listed Market House, which occupies about half the market place, was renovated at a cost of £500,000. Within it now is a range of food and drink units set around a large eating area with shared tables and a sound system for live music and films.
Since it opened, the market's success has acted as a catalyst for new shops, bars and cafes to open up in the surrounding conservation area. A key reason for its success is flexibility and cost-efficient operating systems: traders are charged a percentage of turnover, thus reducing the risk and encouraging innovation. The only downside has been a 483 per cent increase in business rates slapped on the property by the local authority this year, ostensibly to meet criteria set out by the government's valuation office agency, and thereby threatening its economic viability.
Johnson's Manchester project involved renovating the old meat market in the northern quarter of the city, another listed building that had been empty for decades. On a larger scale than the Altrincham Market House, but without any additional space for market stalls, this is strictly a prepared food and drink market, catering for over 10,000 customers a week. The building, known as Mackie Mayor after Ivie Mackie, the Mayor of Manchester when it was first opened in 1858, has been renovated, with a new glazed roof, its rough brick walls left exposed, and a reclaimed timber floor. There are 18 independent kitchens plus beer and wine bars, and customers wander about to see what is cooking and watching the chefs at work, before placing their order, not necessarily from the same counter. Food and drink then arrives at your table. Johnson's idea is that instead of money leaching out in profits to London or to a multinational, not only the jobs but also the value remains in the region. 'The money made here stays here,' he says. 'It helps with Brexit Britain.'
Some of these ideas underpin other recent market revivals. Stockport's Produce Hall, a classical stone building of 1852, adjunct to the splendid iron-and-glass Market Hall of 1861, has reopened for independents as part of an ambitious conservation-led regeneration of the Market Place. Other initiatives include the well-received conversion of a section of Wrexham Market into a contemporary art gallery and the conversion of part of Maidstone Market into a town centre distillery and bar. Traditional market traders have often been in conflict with their local authority owners, who are commonly accused of increasing rents and making their businesses unviable.
This has long been the case at Oxford Covered Market, where the traders faced rent hikes of 50 per cent in 2012, and 25 per cent in 2016. But more recently, mutual trust has returned: Oxford City Council is investing £3.1 million in repairs to the fabric of the market building, which dates back to the 1780s, and is preparing a masterplan to increase footfall, improve the trading environment and turn it into a cultural as well as a trading hub. The project has the support of the Market Tenants' Association, surrounding landlords, Oxford Preservation Society and the Oxford Civic Society.
The rise of the farmers' market movement, which developed as a reaction to the decline of municipal markets, has connected producers and consumers directly. The markets provide outlets for small local farms that typically sell organic foods and spend less on land, equipment and transport than the large agro-industrial businesses. Most vendors at farmers' markets, if not the farmers themselves, are self-employed, maybe doing more than one job, and operating within the gig economy. Especially in London, they have spawned the creation of pop-up markets, all based on the groundswell of interest in developing artisan food businesses.[3]
An early example was the takeover of Borough Market in Southwark in the late 1990s by a group of artisan traders who started by holding 'warehouse sales'. At that time the cast-iron-and-glass market buildings, dating from the 1850s and 60s, were threatened by widening of the Thameslink rail viaduct. Now the market is a charitable trust administered by volunteer trustees who have to live in the area, although the traders come from across the UK and Europe. Another spin-off is the street-food movement: artisan food carts and vans, typically seen at music festivals, have shown there is a big demand for alternatives to hamburger vans. KERB, which started up at Kings Cross and now has several venues across London, has traders with enticing names such as Utter Waffle, Smoke and Bones, Greedy Khao, Baba Dhaba and Mother Clucker. One advantage of street food is that in most cases the trader can 'move on' should a particular pitch prove to be unsuccessful.
Yet another change in market operation is the arrival of night markets with a focus on food. In London there are several, including POP Brixton, Dinerama Shoreditch and the all Italian Mercato Metropolitano on Newington Causeway; and in Manchester there is Hatch, a brightly-coloured jumble of shipping containers under the Mancunian Way flyover. They offer the experience of communal eating with innovative street food while enjoying entertainment, theatre and music.
These and other speciality markets cater to a growing population of discerning customers who want better value and more variety, and who enjoy talking about food in the way that Italians do. Thus markets may be returning closer to their origins. Before the 19th century, the market place was not only the retail centre, but also the social and commercial hub of the town, providing a gathering place and helping to build community identity. Perhaps, once the coronavirus crisis has receded, the availability of fresh, healthy, affordable food and diets will take their rightful place once again in the 'new normal'. The revival of markets could make a big contribution.
References
---
This article originally appeared in Context 165, published by The Institute of Historic Building Conservation in August 2020. It was written by Peter de Figueiredo, reviews editor, Context.
--Institute of Historic Building Conservation
IHBC NewsBlog
Ireland's Our Rural Future: support for LA purchase of vacant and derelict buildings for community use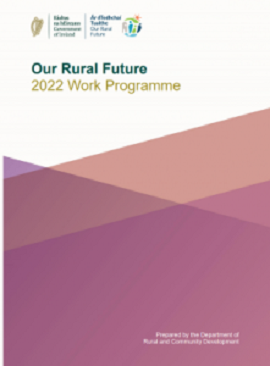 Ireland's Minister for Rural and Community Development, Heather Humphreys, announced a new funding stream to support Local Authorities (LAs) to purchase vacant buildings that could be converted and developed for community use.
---
BBC: Eleven Historic English pubs recognised for their interiors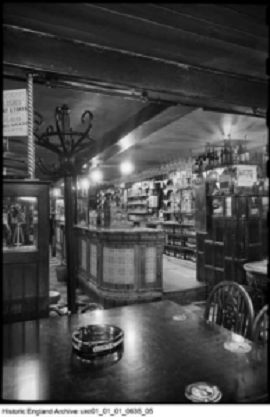 Eleven pubs across England have been recognised for their historic or unusual interiors, as they have been listed, upgraded or relisted.
---
HEF's Heritage Sector Resilience Plan launched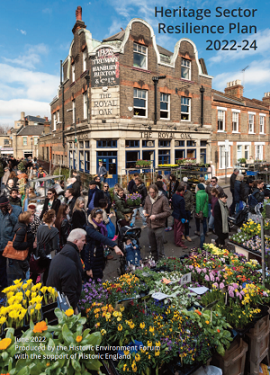 The Heritage Sector Resilience Plan, developed by the Historic Environment Forum (HEF) with the support of Historic England, has been launched.
---
Common Commitment to all Ireland's heritage – North South Agreement on Vernacular Heritage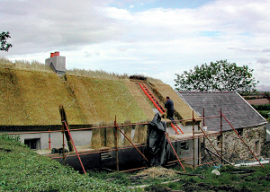 An 'All-Island' commitment to Ireland's vernacular heritage has been established with the signing of the North South Agreement on Vernacular Heritage, supporting traditional buildings etc.
---
Bristol Harbourside landmark Canons House gets GII listing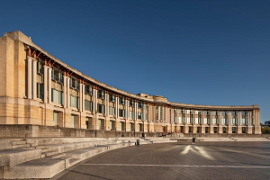 Canons House, a landmark building on Bristol Harbourside, has been awarded Grade II (GII) listed status having been built as a regional headquarters for Lloyds Bank between 1988 and 1991 (Arup)
---
BRE/BEIS project to modernise home energy rating scheme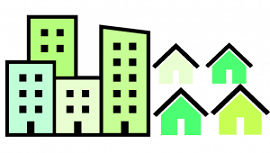 The Building Research Establishment (BRE) has announced a new project with the Department for Business, Energy and Industrial Strategy (BEIS) to improve and modernise the home energy rating scheme used to measure the energy and environmental performance of UK homes.
---
Interdisciplinary IHBC accreditation recognised by CSCS for PQP Cards

Sector lead the Construction Skills Certification Scheme (CSCS) has recognised the IHBC's professional accreditation and support (CPD etc.) in awarding its PQP (Professionally Qualified Person) cards.
---
Unearthing the history of Gloucester's 'the Fleece' Hotel starts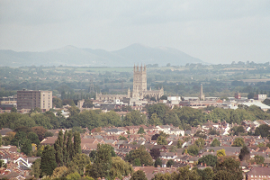 Work to repair a fire-hit medieval hotel in Gloucester is underway as crews have started work to strip back some of the modern trappings and reveal the historic framework.
---
European Heritage Heads Forum statement on Ukraine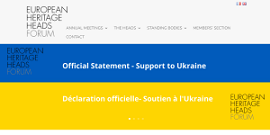 The Secretariat to the European Heritage Heads Forum has has coordinated its declaration of solidarity and support for Ukraine's cultural heritage institutions.
---
Welcome to #IHBC25 – 25 years since we turned professional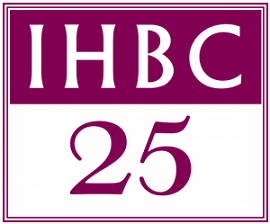 2022 will see the IHBC mark a quarter of a century since our incorporation as a professional body supporting and accrediting built and historic environment conservation specialists. We're kick-starting it by inviting your ideas on how to mark this special year!