Incredible Edible Todmorden
The idea of open-source food, grown by the community for everyone in the community, started in the redundant Todmorden Unitarian Church in 2008 and has spread across the world.
High in the South Pennines, in a landscape so wild that only a Bronte could love it, sits the town of Todmorden. Named either for a fox or for a long-forgotten man called Todde, the town is dwarfed by three structures that form a triangle in which the town sits. Two John Gibson-designed buildings, the Town Hall and the Unitarian Church, and the Stoodley Pike Monument.
The neo-classical town hall, opened in 1875, is so ornate and different to any buildings that flank it, that it looks built on a different scale to the town and more suited to a big city. The monument on Stoodley Pike, a 37-metre-high obelisk, which sits on top of the 400-metre hill, commemorates manhood lost; erected to remember the boys and men who did not come home from the Crimean War. Both the Pike and the Town Hall seem to have a scale all of their own, so imposing are they. Both are statements of the power of human endeavour, hope and of a new world. The third monumental building, forming the point of the triangle in which the town nestles, is the splendid gothic revival Unitarian Church. Grade I listed, it was completed in 1869. The solidity of the nave mirrors the statement pediments and facade of the Town Hall, and the 60-metre spire reflects the Pike, both reaching for heaven and built to outlive their architects.
Water, wild weather and radicalism have always run through this place. It is a town rooted in the protest and non-conformism of the 1840s, where the border between Yorkshire and Lancashire felt a long way from the law and where there were passionate, ordinary people wanting to do things differently. It is still a place where the ordinary people are activists, albeit a quieter type of activism now, where the revolution has been happening from its historic buildings and through promoting open-source food to wrap this town in kindness.
Back in 2008, the financial crisis bit deeply into the local economy. Todmorden is not an affluent area and most of its people work in the service industry or manufacturing, so job losses had hit hard. People were falling through the cracks, with real poverty, including food poverty, rife. The schools were failing, there were empty shops and public money was in short supply. A group of people got together to think about how the community could help itself. They wondered if it could be done without recourse to public funds or funders. These people had originally met as volunteers helping to cut the grass, tend the borders and bring some life back to the then roofless, redundant Unitarian Church, being cared for by the Historic Chapels Trust.
The idea that germinated and grew was one of an activated community caring for its environment and each other, united through food growing in unused spaces, and in communal eating. The idea that grew was that by turning ornamental beds over to growing food and using the scraps of green space beside buildings, everybody in the town could help, and everyone could share in the harvest. A community united through growing and eating.
Gradually the team of volunteers grew. Everyone at Incredible Edible, including the directors, are unpaid volunteers. The number of repurposed green spaces grew and the seeds in those spaces grew too, with fruit growing outside the health centre, vegetables growing outside the police station, and welcoming, pickable herb beds and a vegetable plot for the commuters at the train station to gather as they went to and from work.
The town has herb beds, berry bushes, food-to-share plots, edimentals (edible ornamentals, like fuchsia), an apothecary garden and a butterfly garden. The Incredible Farm, a social enterprise spin-off, has three commercial polytunnels, 160 fruit trees, beehives, ducks and chickens. There are more than 300 Incredible Edible sister projects across the world, and a whole new area of 'vegetable tourism' has grown on the back of this movement. A traffic of inspiration, visits and cross-pollinating know-how goes back and forth between the projects, each one finessing how they work and what they grow for their communities and countries.
As the UK has gone into lockdown, the role of Incredible Edible in Todmorden has changed, and something new has been added to the growing and the community work. The spectre of food poverty stalks the town again. Kindness and community have been needed more than ever. A partnership with the food-waste social enterprise The Real Junk Food Project (TRJFP) and generous local businesses that could not open has resulted in The Kindness Hub. A former shop and café has been repurposed as a pay-as-you-feel shop run by volunteers. It has been open every day to support the redistribution of food waste, bringing affordable meals to people who need it and preventing tonnes of food going to landfill. In April alone TRJFP intercepted enough food to make a million meals and 'feed bellies not bins'. The Incredible Edible Kindness Hub has been a key part of that. Since May, another three pay-as-you-feel shops have opened in and around Todmorden, serving the rural areas too, and the network of four PAYF shops is helping to feed the town.
The Unitarian Church still acts as the focal point. Here every two weeks, Incredible Edible volunteers meet, collect tools, assign tasks and head off to weed, dig, clip and litter pick. At the end of the shift, they meet at the church again and enjoy a big communal meal.
At Christmas, this communal eating, a celebration of the food that is being grown and of community and togetherness, is done on an even bigger scale. The church doors are thrown open to anyone who wants to come and join, cook, wash up or just be part of something special on Christmas Day, where no one has to be without, or on their own.
The Unitarian Church also hosts festivals, performances and community meetings, and people are married there again. This old building is now so well used and well loved that it even has a local nickname The Pointy Place (because of its magnificent spire). Todmorden Unitarian Church is the living cultural resource that we want all our historic buildings to be. Though redundant, the Unitarian Church is not jobless. It is a working, loved community hub. The idea of open-source food, grown by the community for everyone in the community, started there and has spread across the world.
As the doers and champions of building conservation, there is an ask for you. Can the buildings that you look after, and bring life back to, be more? When you survey, visit and advise, can you spot the potential beyond the fabric of the building? Can a brave or lateral piece of thinking about what this building can do help it to live? Could choosing something different from a recreation of period-specific themes or ornamental planting mean that the building's curtilage could be productive? Does your building have potential for growing food for the community and being a living, growing cultural resource? Big changes grow from small seeds. It would be wonderful if you could help plant some.
Further reading
Warhurst, Pam, and Dobson, Joanna (2014) Incredible! Plant veg, grow a revolution, Matador.
---
This article originally appeared in Context 165, published by The Institute of Historic Building Conservation in August 2020. It was written by Ceinwen Paynton, an Incredible Edible volunteer. Her day job is as a consultancy manager for the National Trust. https://www.incredible-edible-todmorden.co.uk
--Institute of Historic Building Conservation
IHBC NewsBlog
IHBC Annual School: Historic Places - People Places: 18 June 2021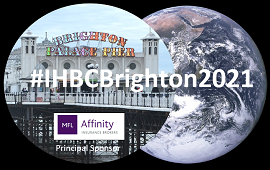 IHBC's 2021 virtual conference examines how we can best change and sustain places for the benefit of people, led by expert practitioners boasting international, national and local profiles and experiences.
---
St Albans Cathedral restoration features a figure wearing a face-mask!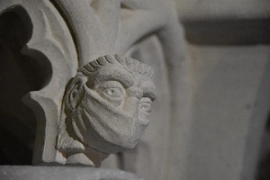 The medieval shrine of St Amphibalus has been restored to its former glory, now with 'a modern addition of a face wearing a face-mask to commemorate the shrine's restoration project' in the pandemic!
---
Ulster Canal to be Restored and Reopened in Border Region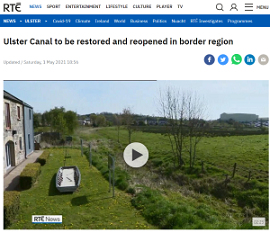 A section of the Ulster Canal, a disused canal in the border region of Monaghan and Fermanagh, will be restored and reopened as a public amenity more than 90 years after it was abandoned.
---
Remains of 'high-status' Roman villa and bath-house found in Scarborough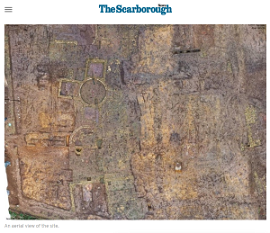 One of the most stunning Roman finds ever unearthed in Britain has been discovered on the site of a new housing development in a village near Scarborough.
---
IHBC's newest Context: Tackling 'Urban Design'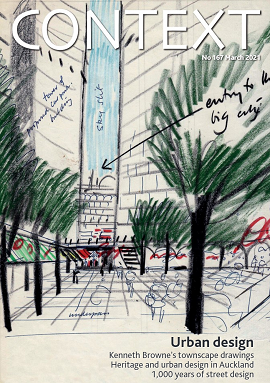 The latest issue (no.167) of the IHBC's membership journal Context is now out, boasting a tight focus on Urban Design, with a distinctly international take.
---
Europa Nostra announce Europe's 7 Most Endangered Heritage sites 2021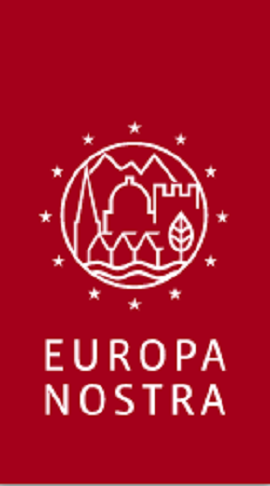 Europa Nostra has announced the list together with its partner, the European Investment Bank Institute.
---
Virtual Bradford will 'clone' the city to create navigable online world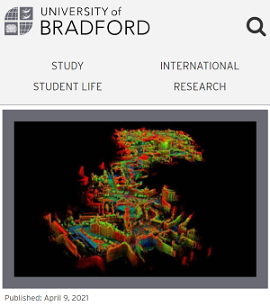 Work is underway on an ambitious project to virtually 'clone' Bradford city centre, as a 'Digital twin' will open the door to a 3D world with virtually endless possibilities.
---
Canal River Trust secures funding to create waterway roles for young people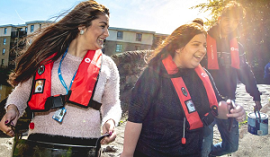 The support will create dozens of opportunities in heritage repair and construction and waterways management, funded by the Department for Work and Pensions.
---
2021 Building Conservation Directory published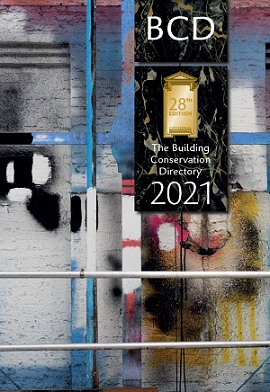 The 2021 edition of the Building Conservation Directory, also available online, has been published. Find skilled trades specialising in work to historic and traditional buildings.
---
BT dials up 'Adopt a Kiosk' scheme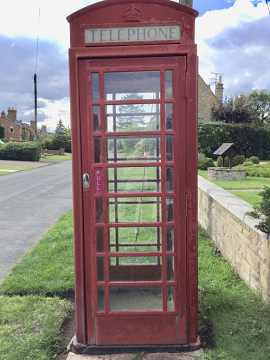 BT has revealed that almost 4,000 of its iconic red phone boxes across the UK are available for local communities to adopt for just £1.