Off the rails: railway carriages reused as holiday homes and permanent housing
This article originally appeared in Context 124, published by The Institute of Historic Building Conservation in May 2012. It was written by Fiona Newton.
---
For more than a hundred years, former railway carriages have found a new life off the rails, being ingeniously reused as both holiday homes and permanent housing.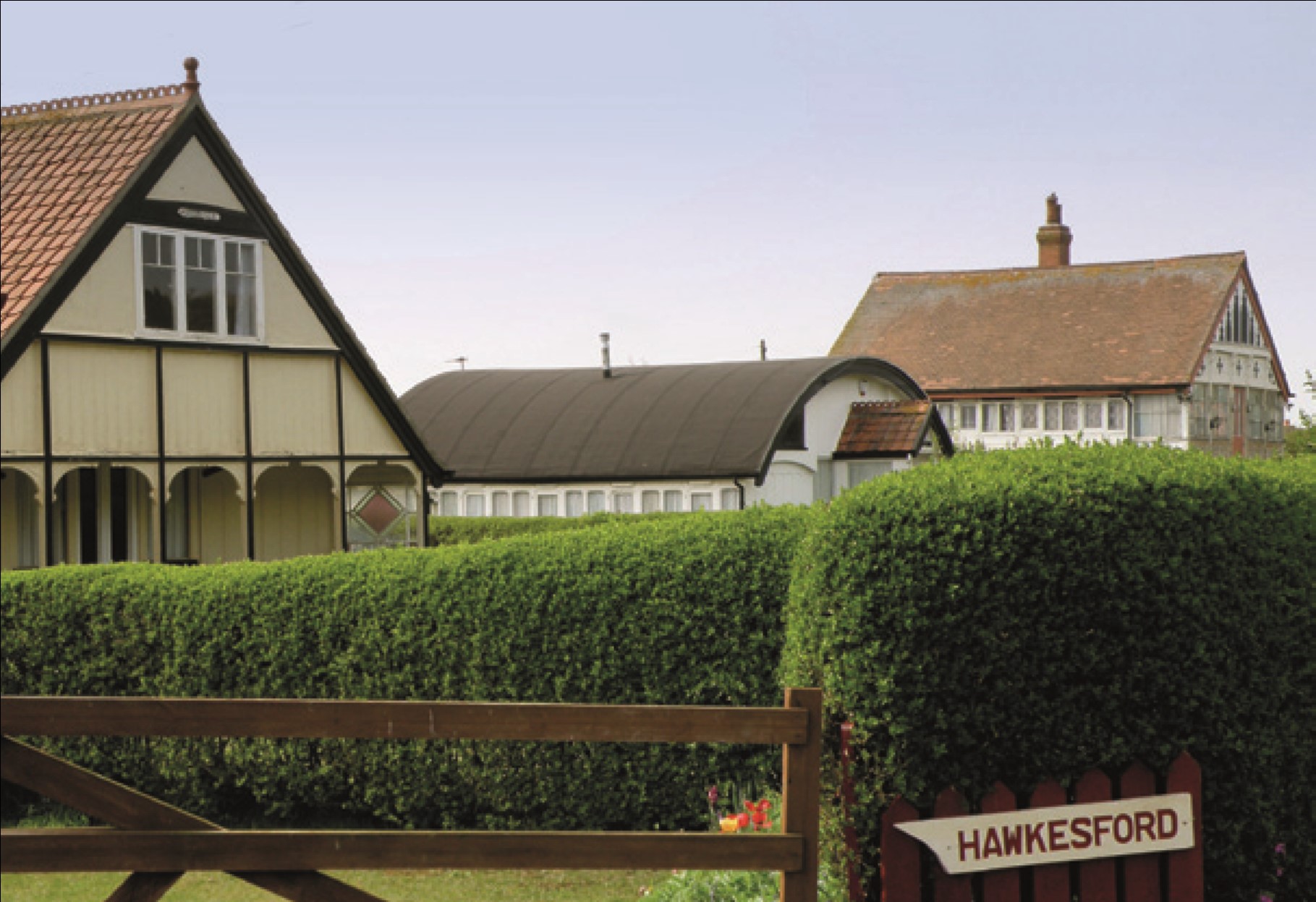 [Image: Three houses close to the beach at Sutton on Sea in Lincolnshire – Wavelands, Lindum and Marsoville – are each based on two railway carriages.]
Railway carriages and wagons taken off the rails can have a hopeless and abandoned look. They stand forlornly in the corners of fields housing horses or simply mouldering away. But for some, life off the rails has not been the end of the line. Carriages have, for over a hundred years, been reused as a ready-made shell for housing. They have ceased to be railway memorabilia and have become architecture. In the best examples, thought and design have been involved in their conversion. In other cases it is simple ramshackle opportunism.
Many former railway stations which are now used as holiday accommodation, restaurants or hotels have a carriage or two pulled up where the rails once were, as if the engine had just pulled out but forgotten to take its carriages with it. They provide extra commercial space and add context. They can enhance the station's character, if in a rather Disneyland kind of way. Most of these carriages have been positioned relatively recently. The physically converted railway carriage was a much more familiar sight between the wars than it is today.
The development of railway carriage cottages came in two very distinct stages. Carriage homes began primarily in the 1890s as holiday homes for the more Bohemian upper classes. Without planning restrictions, development was able to take place on the back of the beach as close to the high tide line as possible. Into the early 20th century, areas of coastline saw the colonisation of beaches and dunes with ephemeral shacks and structures. In some cases these developments, away from the centres of resorts and often on bleaker or more inhospitable parts of the coast, included buildings which reused old railway carriages. Very few of these houses of the 1890s to 1910s survive.
This fashion even found its way into Victorian novels. HG Wells described their development in The Days of the Comet (1906): 'It was, you must understand, the custom of the steam-railway companies to sell their carriages after they had been obsolete for a sufficient number of years and some genius had hit upon the possibility of turning these into habitable little cabins for the summer holiday. The thing had become a fashion with a certain Bohemian-spirited class; they added cabin to cabin, and these little improvised homes, gaily painted and with broad verandahs… made the brightest contrast to the dull rigidities of the decorous resorts.'
In the 1920s and 1930s railway carriages were developed as cheap holiday homes for the working classes and sometimes as permanent homes, if not anticipated for use in the long term. Land-owners, especially those within easy distance of cities, sold land to speculators, who divided it into smaller plots and sold it on for holiday homes. Coastal and riverside locations, especially in the south east, became overrun with uncontrolled plotland development for the masses. Some of these used the railway carriage as their basic structure. Contemporary magazines such as The Woodworker published plans for the conversion and layout of railway carriages.
Cheaply purchased carriages formed the basis of some quick-to-build permanent housing. After the first world war, Lloyd George promised 'homes fit for heroes' for returning soldiers and their families, but the housing shortage was so great that the supply of new council housing was not sufficient to meet demand. A quick and cheap-to-build railway carriage bungalow filled the housing gap.
Very few carriage houses have any form of statutory protection. Listing in England is probably limited to one group of turn-of-the-20th-century buildings and two interwar examples. Some, such as at Dungeness, are in a conservation area. That is an interesting turnaround for groups of buildings erected without respect or regard for rules and establishment.
One rare surviving group of the early seaside holiday home type of bungalow were listed Grade II in 1994. In 1901 six Great Eastern railway carriages were placed two to a plot close to the beach in Sutton on Sea in Lincolnshire. The list description calls them 'very early, important and well preserved examples'.
[Left: Wavelands: the two carriages are supported on walls to create the first floor accommodation.]
[Middle: Marsoville has a similar architectural style to Wavelands but the carriages are on the ground floor.]
[Right: below the barrel-vaulted roof, the shape of the carriages can be seen clearly on the front of the property]
Perhaps the most interesting of the three, Wavelands, is a full two-storey house with the two carriages supported on walls to create the first floor accommodation. Aside from having two railway carriages cunningly disguised as a house, it has very much the appearance of a fashionable seaside house of its time, with a first floor verandah with wavy splat balusters, a decorative timber quatrefoil and slit frieze, a large bay window, black-and-white timbering, rendered walls and a plain tile roof. Marsoville has a similar architectural style but with the carriages on the ground floor. The arched open ground-floor verandah has glazed diamond panels set in each end.
The third property, Lindum, is the only single-storey building of the three and, as a result, the only one to have received substantial modern extension. Below the barrel-vaulted roof, the shape of the carriages can be seen clearly on the front of the property as well as the window sides. It has a simple appearance alongside its more highly decorated late Victorian neighbours, almost leading towards art deco. An early photograph shows Wavelands and Marsoville, completed and inhabited, while Lindum was still simply two railway carriages set down some feet away from each other, without any infilled central area.
Bungalow Town in Shoreham, West Sussex, began in the 1870s when railway carriages, set down as net stores on the spit of land at the mouth of the Rive Adur, were converted to bungalows. Soon formal plots were laid out where railway carriages were supplied at £10 each, with a small additional sum for transport to the beach by horse-drawn trolley and setting on sleeper foundations. Among the first built was one owned by the music-hall star Marie Loftus. She showed off her railway carriage house to her theatrical friends and soon more carriages were being converted to elaborate verandahed bungalows.
[Left: Chesterford, one of the carriage houses at Bungalow Town in around 1912 (Doris Steers Collection, Shorehambysea.com)]
[Right: Demolished in the 1940s, Bungalow Town, Shoreham by Sea, West Sussex was a high-quality railway bungalow development occupied by the celebrities of the time. (Peggy Bailey, Shorehambysea.com)]
By 1910 there were over 90 properties. For a short while from 1915 Bungalow Town, with its celebrity residents, was touted as the British Los Angeles. It was even home to a film studio, but this was short-lived and it closed in 1922. In 1940, fears of German invasion following Dunkirk (or an opportunity by the establishment to clear unpopular, unregulated development so close to the sea) led to the government giving the owners just two days notice to leave and the subsequent demolition of most of the bungalows.
At Dungeness in the late 1920s railway carriages were brought off the end of the Southern Railway line and scattered around the beach for working-class holiday makers from elsewhere in Kent. One carriage is even reputed to be Queen Victoria's Pullman, although it is not even clear it is a Pullman, let alone who travelled in it. Amid the many long-stationary railway carriages sits a new take on railway carriage housing. Architect Simon Conder designed a building that retained the existing 1870s railway carriage but stripped it back to its frame, with peeling paint work, no windows and open ends. Inside the carriage a kitchen was constructed and around it, enclosing it completely, a whole new house. The outside of the house is clad in timber, with few windows around the curved rear, but it is flat and fully glazed on the front looking towards the sea. The scheme could be considered either a nose thumbing at the planning rules or something new in the original anti-establishment spirit of the area.
Probably the largest collection of surviving carriage houses sit in pockets along the entire Sussex coast, scattered among later seaside bungalows. Few of the houses in this general area have as much character and style in their conversion as those of nearby Bungalow Town had, or which the Sutton on Sea examples retain. At Pagham in the 1930s almost 300 bungalows were built using two carriages each. Most of these still exist. More survive at East Wittering, Felpham and Winchelsea. The Golden Sands holiday park at Lancing was originally established with railway carriages as holiday homes. While the site survives, the carriages have been replaced with caravans.
Some of the 30 or so surviving 1930s houses at East Beach Selsey are interesting because many of their 1890s carriage bodies were originally first-class compartments, later rebuilt in the 1920s by Pullman. Two 1897 carriages were even imported for service from Delaware, USA. One of these, Tulip, retains its polished timber finishes and elaborate carvings. Externally the conversions at Selsey were generally simple timber bungalow encasings with asbestos tile roofs and timber verandahs. Some of these have now been considerably altered with render coverings, modern PVC windows, and sizable porches and extensions. Princess Ena and Venus (their Pullman carriage names) are among those which retain much of their original bungalow form.
[Left: The Golden Sands Holiday Park at Lancing, West Sussex still exists but the railway carriages have now been replaced by caravans. (Winton Collection, Shorehambysea.com)]
[Right: A thatched carriage at Slindon (Photo: David Boyson)]
The railway companies themselves also provided holiday accommodation in carriages. After the first ten were introduced by the LNER in 1933, the idea soon caught on with other companies. These camping coaches close to stations were used to encourage holiday travel by train. They remained as carriages and were not converted into anything architectural. Although initially popular, their use declined following the second world war. They were re-launched by British Rail in the 1950s, before waning once more in the 1960s. Only a handful of these camping coaches survive.
The Welsh coast has its share of railway carriages perched on cliff edges. Aberporth on the Ceredigion coastline has a number of railway carriages holiday homes dotted along the coastal path. Some still have the appearance of carriages simply dropped onto the cliff top while others are clad in timber or roofed with corrugated tin pitched roofs. One of the carriages, timber clad and virtually invisible beneath, apparently retains the panelling, upholstery, light fittings and even carpets of the original 1899 London and North Western Railway carriage.
Providence Bungalow in Birtsmorton, Worcestershire, is not a coastal holiday home but cheap inland housing built following the first world war. Like those at Sutton on Sea, this house is made from two railway carriages, set parallel to each other. In this case the carriages are used as the main elevations of the building, front and back, with no attempt to disguise their original purpose or relegate them to the sides. Providence Bungalow was listed Grade II in 2004.
Another example of the later inter-war permanent housing is Swindon Villa in Withiel, Cornwall, which was listed Grade II in 1988. Looking for somewhere for a large family to live, the original home owner purchased an old Great Western carriage in the mid 1930s for £20, and borrowed two wagons and horses and a crane to move it three miles from the railway to a piece of common land. The addition of a corrugated tin roof and gable ends give the outward appearance of a simple shed-like cottage. Inside the railway carriage remains as it was when lifted from the rails, even down to the internal partitions.
The majority of converted carriages were roofed in pantiles, slates, asbestos tiles or felt. One in Slindon,West Sussex, dating from 1906, stands out for the unique use of a most unlikely roofing material for a railway carriage, thatch.
The Town and Country Planning Act 1947 brought to a halt the unregulated development, which had led, among the other shacks, shanties and jerry building, to the surge in railway carriage houses in the 1930s.
Pressure to stop plotland development had been mounting through the first quarter of the 20th century. Opposition from prominent architects and campaigners found favour in government. During the foundation of the Campaign for the Preservation of Rural England, Patrick Abercrombie singled out for the greatest condemnation those houses which were based on wheeled vehicles. 'Since the war innumerable wooden shanties have sprung up, better sociologically but artistically deplorable,' he wrote. 'Many of these are on wheels (although unmoved for years) in order to avoid rates; and whole fields have become so packed with them that they are extremely unsanitary… the preserver of rural amenities cannot allow any sort of old junk cabin to deform the choicest spots'[1].
In the majority of cases railway carriage houses have gone unnoticed and unprotected. Many have been clad entirely, removing all external evidence of the carriage, and eventually the run-down timber house or basic bungalow is seen for its development potential. Even a property worth almost £600,000, attractive and having been retained in good order, in Market Lavington, Wiltshire in 2007, was advertised with permission for a modern replacement dwelling.
Many properties built as holiday homes are still in their original use, but most now rented out by the week, rather than being an occasional home to one family. Some have become permanent homes, but full-time occupation of a small property brings with it needs for increased accommodation and modernisation. Extensions and integrity-stripping alterations have led to many surviving properties losing much of their original character.
Some properties have been restored as examples of the building type. In Norfolk an 1899 Great Eastern carriage, converted into a cottage at Kerdiston in the 1930s, was recently donated to the North Norfolk Railway and re-erected at Holt. The cottage, restored to its 1935 appearance, is used educationally for school parties and the public, primarily to show what life was like for those who lived in carriages.
One final twist of fate sometimes occurs when the building is demolished. Preserved railway organisations, seeking carriages to run with their steam engines, have recovered the most intact or rare carriages for restoration. After at least 70 years of domestic retirement off the rails, they go full circle to return to their original use. At least there are some sorts of conservation body that value their history, if not their architecture.
References:
[1] Patrick Abercrombie, The Preservation of Rural England, 1926.
---
Fiona Newton is the IHBC's projects officer.
--Institute of Historic Building Conservation.
Find out more
IHBC NewsBlog
IHBC London Branch Conference launched and open for booking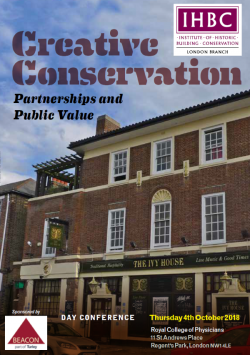 'Creative Conservation: Partnerships and Public Value' - 4 Oct, Royal College of Physicians - leading speakers, unequalled debate - a CPD opportunity not to be missed!
---
IHBC latest Jobs etc skills review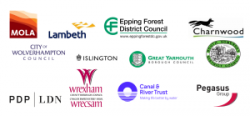 Specialist areas and skills in demand, from design and project management to regulation and more featured in our celebrated – and very cost-effective - IHBC Jobs etc service.
---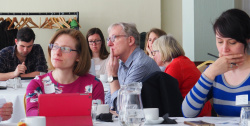 Ideas bear fruit, as early career members 'reverse mentor', generating fresh perspectives on the institute's future plans and structures!
---
IHBC Scotland at Listed Property Show in Edinburgh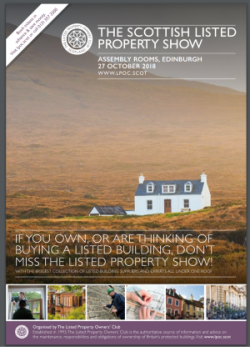 IHBC Scotland will host a CPD session at the Show on 27 October, while an IHBC stand will offer more informal access and conservation advocacy to visitors.
---
IHBC Heritage from the doorstep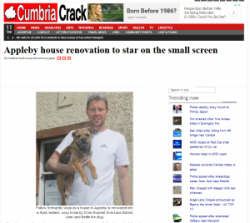 A traditional building in the Appleby Heritage Action Zone (HAZ) is filming its 'work in progress' as part of work grant aided by Historic England as reported by Cumbria Crack!
---
English Heritage celebrates the Cooper Car with a blue plaque.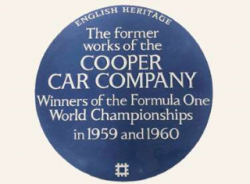 A blue plaque has been placed at the home of the former Cooper Car Company, marking its motoring heritage.
---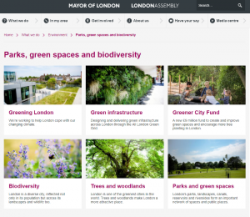 Community Tree Planting Grants and £1.5million woodland fund look to make London the world's first National Park City.
---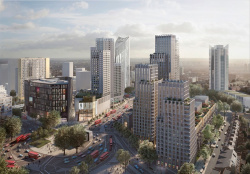 'What if mothers or teenagers designed our cities?' An opinion piece in the invites us to consider what our cities would look like if cities reflected their diverse populations.
---
V&A Dundee opens Saturday 15 Sept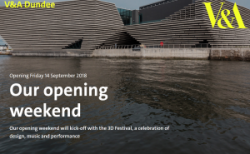 IHBC NewsBlogs reports on some building construction and collection highlights, including spectacular drone footage of work in progress and to completion.
---
IHBC supports LPOC petition on VAT reductions for Listed Buildings
LPOC notes '...it is perverse that repairs should be subject to VAT when new development is not'.
---
Loyd Grossman recently appeared on a BBC radio programme to discuss NIMBYism in heritage and development, the programme is currently available on BBC iPlayer.
---
Call to share land value with communities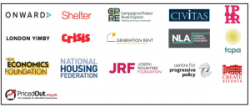 England's SoS for Housing, Communities and Local Government is sent an open letter by leading campaign organisations calling for land value to be shared.
---
Redrock Stockport wins 2018 Carbuncle Cup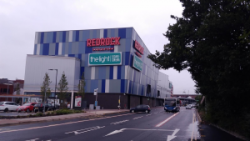 The 2018 winner of the Carbuncle Cup is Redrock Stockport, a £45m leisure complex and car park designed by BDP for the local council.