Patrick Abercrombie
[edit]
Introduction
Sir Leslie Patrick Abercrombie (1879-1957) was an architect and educator who became involved in urban planning during the 1920s and 1930s. His most significant accomplishments are associated with the post-Second World War regeneration of cities and towns throughout the UK.
Abercrombie was born in Ashton upon Mersey, Cheshire, which is now considered Greater Manchester. He got his start in architecture by training as an apprentice, first in Manchester and later in Liverpool.
In 1907 he joined the staff of the University of Liverpool, where he became a research fellow (1909) and then a professor of civic design (from 1915 to 1935).
[edit]
Early career highlights
Abercrombie practiced architecture while maintaining his academic position at the University of Liverpool. He also became the first editor of Town Planning Review during these early years.
While developing his reputation as a teacher and expert in civic design, Abercrombie was also named one of the winners in a 1916 international competition to re-plan Dublin's city centre. This paved the way for his specialisation in regional planning, and in 1926 he co-founded (and was named chairman of) the Council for the Preservation of Rural England.
During the 1920s and 1930s he recognised the importance of regional planning and began applying his understanding of connected principles - such as geography, transport, industry, architecture, and so on - to proposals for Sheffield, Doncaster, Bristol, Bath and other cities throughout the country. He also became a proponent of the concept of green belt programmes that would protect land from excessive urban sprawl. This ideology would be incorporated into his later work.
[edit] London and the Second World War
In 1935, Abercrombie moved to London and joined the faculty of University College, London where he became a professor of town planning. He served as president of the Geographical Association in 1937, but it was the work he did during - and after - the Second World War that established his reputation as one of Britain's most celebrated town and country planners.
His work on rebuilding the bombed city of London was in two phases. Later known as Abercrombie Plan, both phases attempted to draw people to newly established outlying suburban communities that were accessible through improved transport infrastructure. The plans also tried to minimise urban sprawl and other negative housing characteristics associated with overcrowding and poor planning in older cities in need of renewal.
In 1943, Abercrombie worked with the architect John Henry Forshaw to develop the County of London Plan. They acknowledged the 'low level of urban design' in pre-war London and created a masterplan that reserved London's hinterland as a green belt designed to preserve the countryside, while also providing nourishment to the city.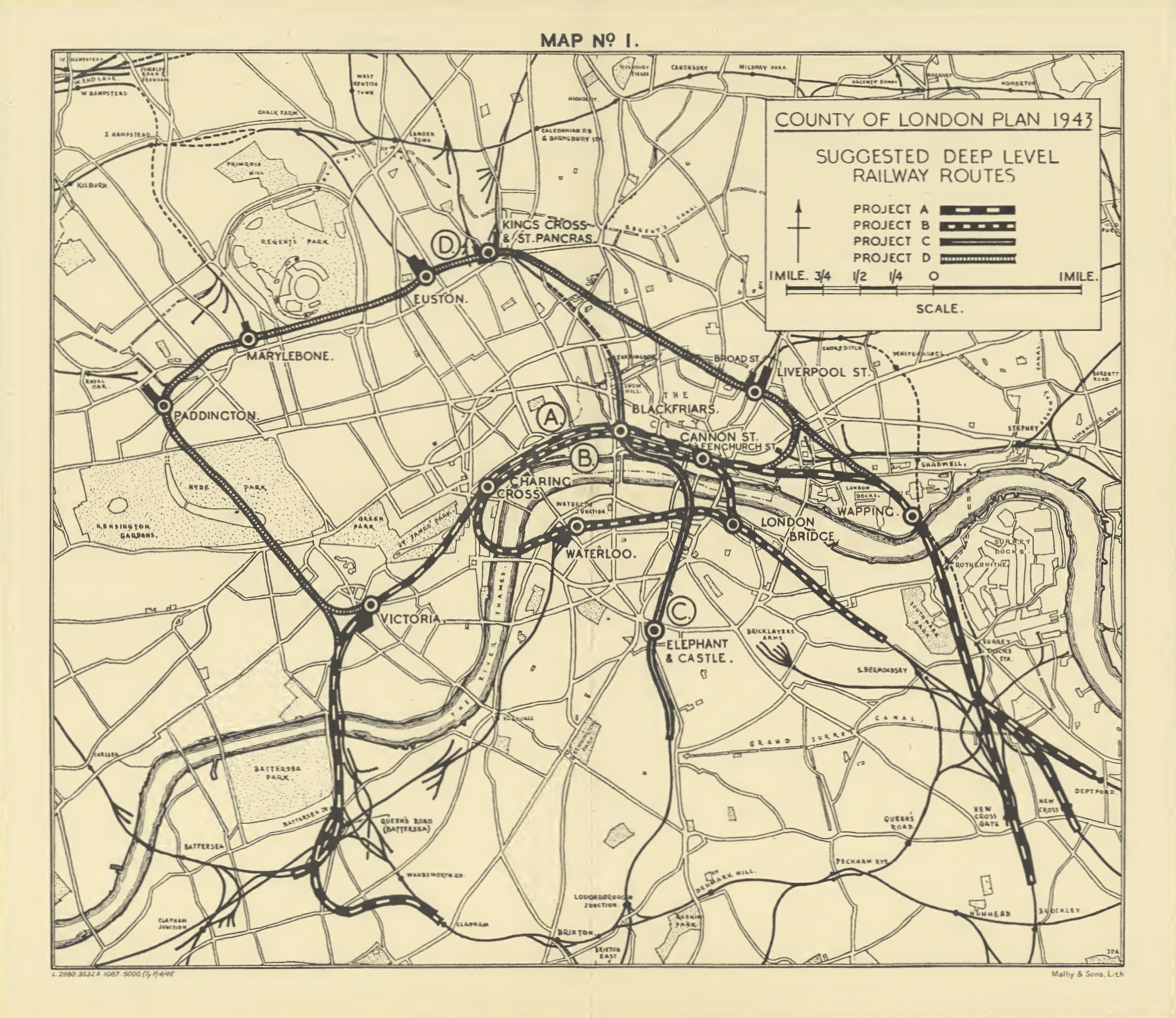 This map shows proposed new rail routes for The County of London Plan 1943.
This first phase separated industry from housing, added open spaces, introduced three ring roads and proposed the revival of historic town centres.
The 1944 Greater London Plan was developed by Abercrombie with assistance from Gordon Stephenson and Peter Shepheard. As with the original plan, the emphasis was on a vision of London with four concentric rings: city centre, suburban living area, green belt region and outer county ring. A noteworthy feature was a proposed halt to growth in the green belt region. Any additional residents would be relocated to new towns that were proposed beyond the green belt boundary.
Abercrombie's collaborations throughout the country increased after the Second World War. In 1945, he collaborated with Sir Edwin Lutyens to publish 'A Plan for the City & County of Kingston upon Hull'. Lutyens died before the plan was complete, and it was subsequently rejected by city officials.
Other post-war redevelopment work included plans for Plymouth and Bournemouth, and in 1949 Abercrombie collaborated with Derek Plumstead to produce the Civic Survey and Plan for Edinburgh.
The New Towns movement arose out of the Abercrombie Plan to move 1.5m people from London to new or expanded towns. The Plan partially contributed to the passage of the New Towns Act of 1946. A total of 28 new towns were designated under the 1946 Act.
Harlow, Crawley and Harold Hill were three new towns planned by Abercrombie prior to the passage of the 1946 Act. In 1946 came proposals for East Kilbride and Cumbernauld. These were developed as part of the Clyde Valley Regional Plan in collaboration with Robert Matthew.
Abercrombie worked with Richard Nickson in 1949 to publish 'Warwick - Its Preservations And Redevelopment', which included a redevelopment plan for Warwick.
[edit]
Later achievements
The British government knighted Abercrobmie in 1945 and hired him to work on the redesign of Hong Kong in 1947. He became the first president of the International Union of Architects in 1948 and was awarded the AIA Gold Medal in 1950.
One of his final works was for Haile Selassie, who hired him in 1956 to develop a plan for Addis Ababa, Ethiopia. Abercrombie completed the plan in 1957 and died the same year.
IHBC NewsBlog
Part of historic Old Courthouse in Cockermouth collapses into river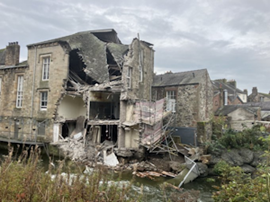 A section has fallen away and landed in the River Cocker below, including the back walls over three floors, sections of flooring and parts of the roof.
---
Scaffolding removed from Salisbury Cathedral after 37 years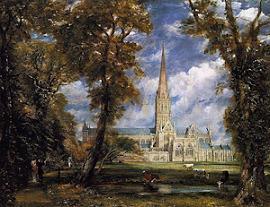 Starting with a survey in 1986, the 'topping out' ceremony took place 7 Sep 2023.
---
Demolition of Kirkcaldy's Category B former Kitty's nightclub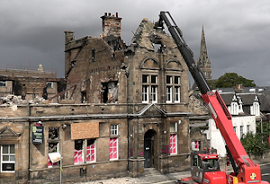 Following a fire, engineers confirmed that the building faced complete demolition.
---
Irreplaceable Welsh castle saved from collapse thanks to £2.2m grant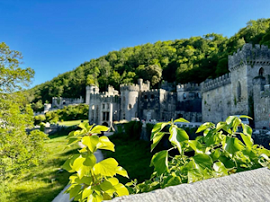 Wales' Gwrych Castle has a funding lifeline from the National Heritage Memorial Fund (NHMF) as part of its Covid-19 Response Fund
---
New interactive models of the 'Dinosaurs' sculptures in Crystal Palace Park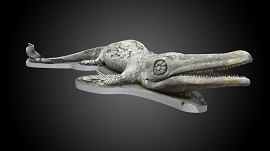 Interactive 3D models have been created of the 29 surviving 'dinosaurs' in Palace Park, South London.
---
How was it built – the Iconic Forth Bridge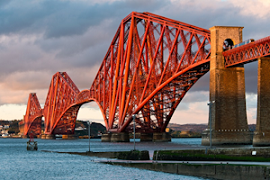 The Forth Bridge is one of the engineering wonders of the world. From the Engine Shed HES, find out more about how this incredible structure was built and what the conservation challenges are today.
---
Stirling's Christie Clock Tower demolition 'over safety' sparks Council investigation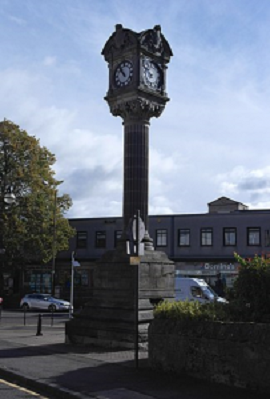 A clock tower which stood in Stirling for 117 years has been controversially and dramatically demolished by the local council over safety fears
---
The Natural Stone Source Book 2023-24 Specifiers Guide published

This guide is designed to be both inspirational and educational, providing the information and creative stimulation needed for successful completion of a natural stone project.
---
Context C176 published - World Heritage Sites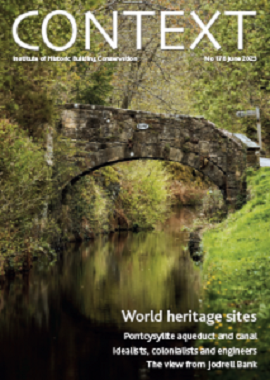 The issue explores the diverse facets of conservation of World Heritage Sites from across our globe.
---
Historic Environment Scotland unveils plans for new Archive House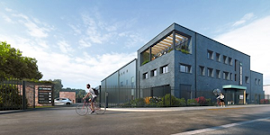 The innovative project will be an exemplar of reuse and retrofit of an existing building.