Patrick Abercrombie
[edit]
Introduction
Sir Leslie Patrick Abercrombie (1879-1957) was an architect and educator who became involved in urban planning during the 1920s and 1930s. His most significant accomplishments are associated with the post-Second World War regeneration of cities and towns throughout the UK.
Abercrombie was born in Ashton upon Mersey, Cheshire, which is now considered Greater Manchester. He got his start in architecture by training as an apprentice, first in Manchester and later in Liverpool.
In 1907 he joined the staff of the University of Liverpool, where he became a research fellow (1909) and then a professor of civic design (from 1915 to 1935).
[edit]
Early career highlights
Abercrombie practiced architecture while maintaining his academic position at the University of Liverpool. He also became the first editor of Town Planning Review during these early years.
While developing his reputation as a teacher and expert in civic design, Abercrombie was also named one of the winners in a 1916 international competition to re-plan Dublin's city centre. This paved the way for his specialisation in regional planning, and in 1926 he co-founded (and was named chairman of) the Council for the Preservation of Rural England.
During the 1920s and 1930s he recognised the importance of regional planning and began applying his understanding of connected principles - such as geography, transport, industry, architecture, and so on - to proposals for Sheffield, Doncaster, Bristol, Bath and other cities throughout the country. He also became a proponent of the concept of green belt programmes that would protect land from excessive urban sprawl. This ideology would be incorporated into his later work.
[edit] London and the Second World War
In 1935, Abercrombie moved to London and joined the faculty of University College, London where he became a professor of town planning. He served as president of the Geographical Association in 1937, but it was the work he did during - and after - the Second World War that established his reputation as one of Britain's most celebrated town and country planners.
His work on rebuilding the bombed city of London was in two phases. Later known as Abercrombie Plan, both phases attempted to draw people to newly established outlying suburban communities that were accessible through improved transport infrastructure. The plans also tried to minimise urban sprawl and other negative housing characteristics associated with overcrowding and poor planning in older cities in need of renewal.
In 1943, Abercrombie worked with the architect John Henry Forshaw to develop the County of London Plan. They acknowledged the 'low level of urban design' in pre-war London and created a masterplan that reserved London's hinterland as a green belt designed to preserve the countryside, while also providing nourishment to the city.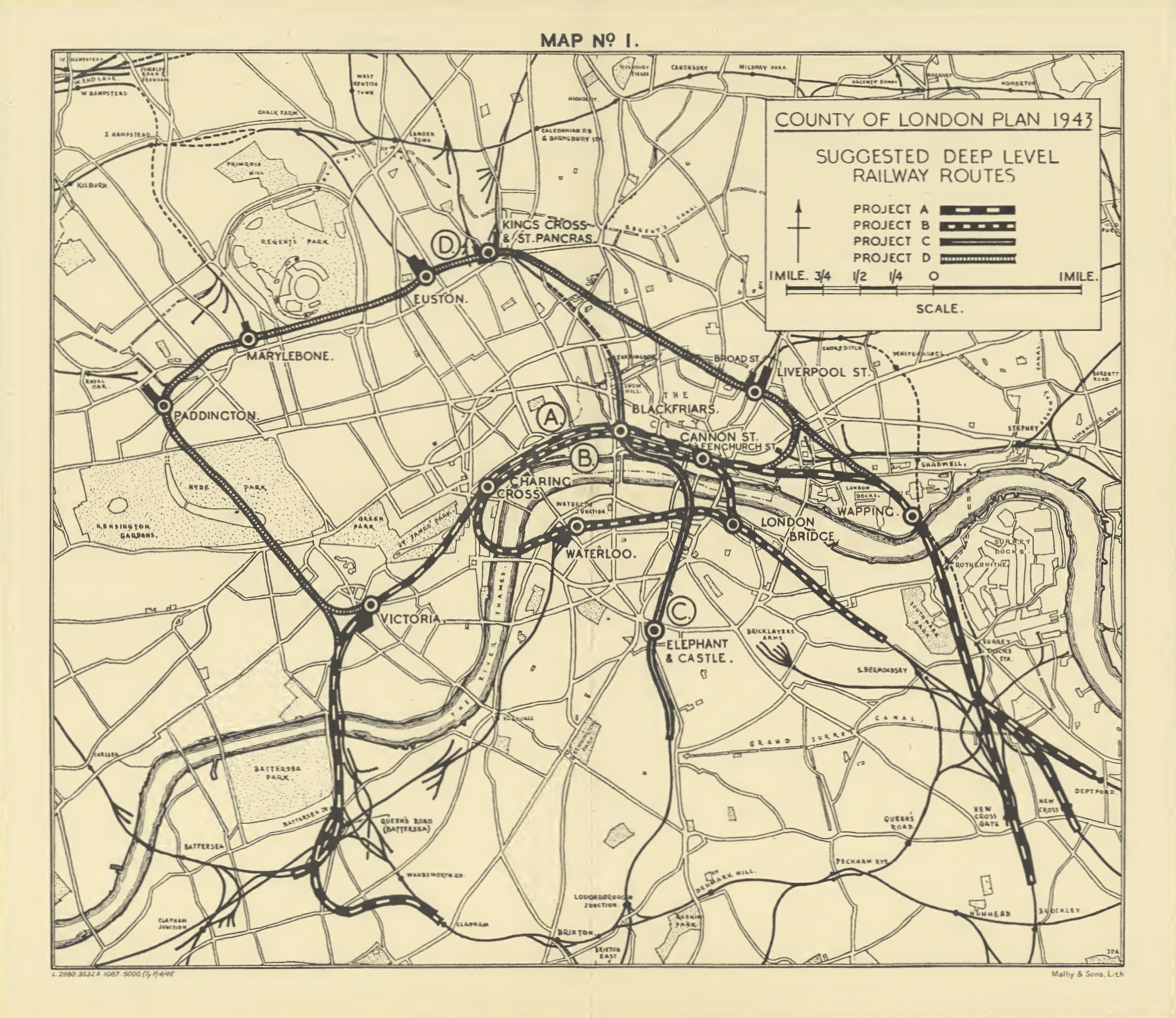 This map shows proposed new rail routes for The County of London Plan 1943.
This first phase separated industry from housing, added open spaces, introduced three ring roads and proposed the revival of historic town centres.
The 1944 Greater London Plan was developed by Abercrombie with assistance from Gordon Stephenson and Peter Shepheard. As with the original plan, the emphasis was on a vision of London with four concentric rings: city centre, suburban living area, green belt region and outer county ring. A noteworthy feature was a proposed halt to growth in the green belt region. Any additional residents would be relocated to new towns that were proposed beyond the green belt boundary.
Abercrombie's collaborations throughout the country increased after the Second World War. In 1945, he collaborated with Sir Edwin Lutyens to publish 'A Plan for the City & County of Kingston upon Hull'. Lutyens died before the plan was complete, and it was subsequently rejected by city officials.
Other post-war redevelopment work included plans for Plymouth and Bournemouth, and in 1949 Abercrombie collaborated with Derek Plumstead to produce the Civic Survey and Plan for Edinburgh.
The New Towns movement arose out of the Abercrombie Plan to move 1.5m people from London to new or expanded towns. The Plan partially contributed to the passage of the New Towns Act of 1946. A total of 28 new towns were designated under the 1946 Act.
Harlow, Crawley and Harold Hill were three new towns planned by Abercrombie prior to the passage of the 1946 Act. In 1946 came proposals for East Kilbride and Cumbernauld. These were developed as part of the Clyde Valley Regional Plan in collaboration with Robert Matthew.
Abercrombie worked with Richard Nickson in 1949 to publish 'Warwick - Its Preservations And Redevelopment', which included a redevelopment plan for Warwick.
[edit]
Later achievements
The British government knighted Abercrobmie in 1945 and hired him to work on the redesign of Hong Kong in 1947. He became the first president of the International Union of Architects in 1948 and was awarded the AIA Gold Medal in 1950.
One of his final works was for Haile Selassie, who hired him in 1956 to develop a plan for Addis Ababa, Ethiopia. Abercrombie completed the plan in 1957 and died the same year.