Milton Keynes
A new city grounded in utopian modernism, Milton Keynes has developed a local list to ensure that its 20th-century heritage assets can be considered in a context of future growth.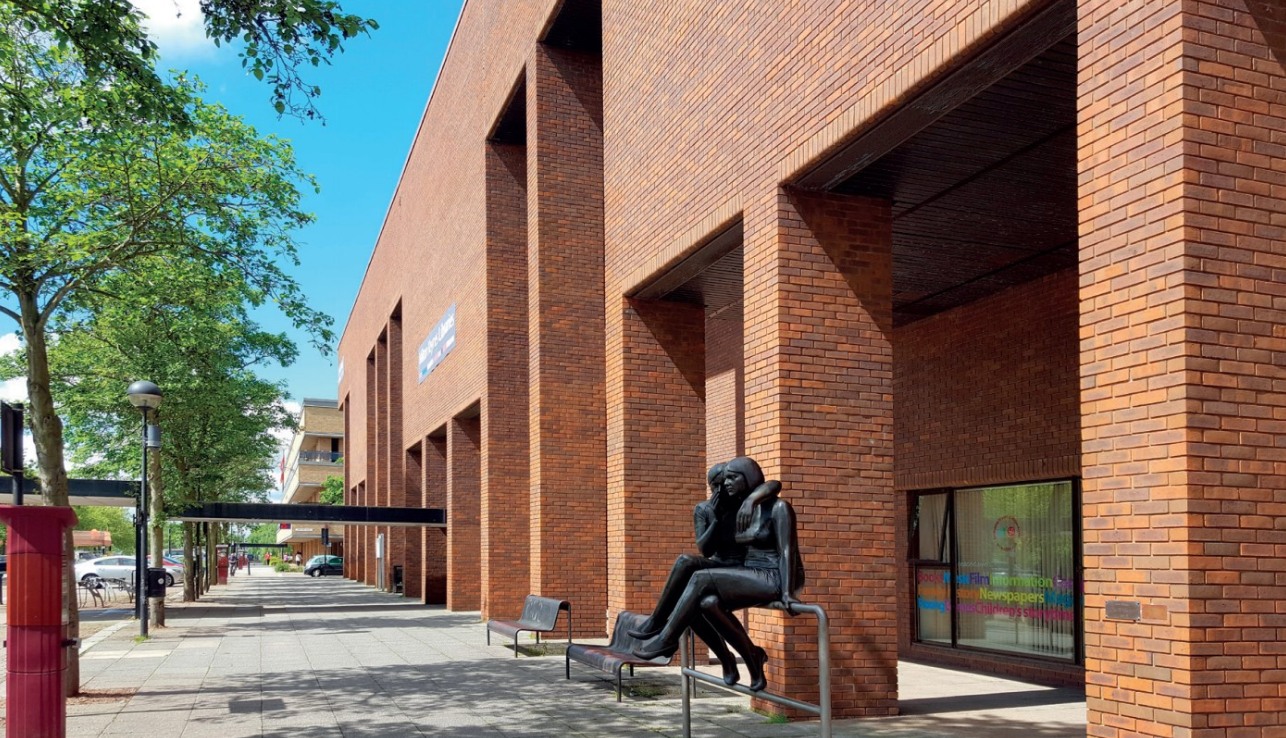 Central Library, Central Milton Keynes, 1971–81, designed by Bucks County Council Architects Department (Paul Marcrow and Tse-Chiu Ng) and The Whisper, a sculpture by Andre Wallace, 1984. Both are listed Grade II. Photo by Milton Keynes Development Corporation.
Most of us will have encountered the common perception of what conservation is about: the business of preserving stuff that's a least a few centuries old. As we know, conservation is in fact a dynamic process that adapts and evolves as political, social and economic attitudes change. Those involved have sought from its beginning to be at the forefront of understanding the significance of those assets that do not conform to the common perception of what heritage is. Victorian, art deco, industrial, wartime, modern, brutalism and post-modern architecture are all examples that have gone or are going through a period of retrospective revaluation, often prompted by losses of prominent assets within those groups. In Milton Keynes a local list has been developed to ensure that the new town's 20th-century heritage assets can be considered within the agenda for future growth.
Over the past 50 years, Milton Keynes has performed incredibly well economically (its productivity is 27 per cent above national levels and it is ranked in the five most productive cities outside London), and it has a high degree of satisfaction among its 270,000 residents. The city continues to have an ambitious appetite for growth, which can raise a familiar yet unnecessary tension between growth and the heritage significance of the earlier new town phases. Decision makers often perceive development opportunities as a choice between the heritage value of a place and the economic investment on offer, failing to explore more sympathetic options that take advantage of the placemaking benefits to local character that heritage assets provide.
At a time when new settlements and development corporations are again being discussed as solutions to the need for new homes, the achievements at Milton Keynes (often shortened locally to 'MK') take on a new degree of relevance. The initial idea of a new town in North Buckinghamshire (nicknamed 'Pooleyville') was worked up by Fred Pooley of Buckinghamshire County Council, complete with monorail. However, it would ultimately be Milton Keynes Development Corporation that delivered the new town to an alternative master plan.
Between designation in 1967 and the start of works in 1970, a team of experts led by Robert Llewelyn-Davies produced the comprehensive master plan that was unique in featuring a large grid road network, generous interwoven green landscape and the dispersal of its land uses across its polycentric plan. Milton Keynes has endured national derision during its lifetime, largely due to the dedicated use of a modern architectural approach employed by Derek Walker, chief architect to the Milton Keynes Development Corporation (MKDC), and its grid-road network.
This architectural approach was not required in the master plan, and is one of a number of ways in which MKDC interpreted or varied the execution of the city. Walker's unwavering execution and high-quality approach would become one of Milton Keynes' defining characteristics. Walker exercised close control over the architects working at MKDC in order to employ the preferred style of architecture while seeking to attract both up-and-coming and established external practices. The attention of the architectural world was on Milton Keynes, with almost monthly reports in professional journals.
Early housing schemes were particularly distinctive, characterised by rigorous, linear layouts and continuous facades, as at Fullers Slade and Netherfield. These layouts were efficient and could adapt to the shortage of some building materials at the time. This approach was later softened to more conventional arrangements and appearances with no reduction in architectural quality.
The culmination of this approach and the centrepiece of the city is Central Milton Keynes (CMK). The Grade II Shopping Building (Walker, Mosscrop and Woodward) sits atop CMK's plateau and is dominant in its footprint and use, if not its height. The long, low-slung building represents the zenith of the individual buildings constructed by MKDC. Its clean, hi-tech modern approach looks as elegant and slick as it did when it was built, creating never-ending facades, while the attention to detail, high-quality materials, hidden roof-level servicing, level access and generous public spaces ensure that, within its period and use, it is utterly peerless.
Despite the architecture, arguably the public realm is the star of the show. In CMK, the city's wavy grid was straightened to provide a rigid, rectilinear framework for Mies-van-der-Rohe inspired buildings that sit within its blocks and blocklets. A skilful hierarchy of roads, paths and underpasses interweave to make up the tree-lined boulevards and gates, all executed in MKDC fashion. Similarly, street furniture and other infrastructure were all purpose-designed for CMK, including the 300 or so 'porte cochère' structures that are unique to the city.
Today, Milton Keynes retains its unique character, standing as a testament to the culmination of the new towns programme and the efforts of the development corporation to achieve its vision. However, appreciation of MK's potential heritage significance is not universal. The city continues to have an ambitious appetite for growth, which can raise a familiar yet unnecessary tension between growth and the heritage significance of the earlier new town phases.
A consistent theme of Milton Keynes is the way in which it continues to polarise opinion. On the one hand the new town has achieved international and national acclaim, and a number of the buildings have been statutorily listed by Historic England and the DCMS. However, the majority of the assets will not meet the high bar required for post-war assets to be designated; this is especially true of many of the more characterful assets, such as community artwork or smaller developments. As such, it became clear that a local list would be needed to capture the local significance of Milton Keynes and ultimately those aspects of it that could be considered non-designated heritage assets.
The post-war, utopian approaches to architecture, design and planning in the new towns resulted in places that have proved to be divisive. The uncertainty over these relatively youthful places possessing significance is part of the life cycle of a place, inevitably reaching a low point, at which the threat to it is greatest, before its contribution to history is properly understood and ultimately accepted as worthy of being considered as 'heritage'. Milton Keynes is no exception. Some buildings have already been lost or have consent granted for their demolition. Many assets are now reaching a point in their life where their original use has ceased and/or they require decisions to be made as to whether substantial investment into their fabric is worthwhile.
The New Town Heritage Register (a local list) began with a commitment through the Milton Keynes Core Strategy, which recognised the significance of the new town of MK. This was an important step, since until this point the authority had been keen to tell the story of its important 'old' heritage, but was yet to acknowledge that the new town could possess heritage significance. The core strategy established a commitment to undertake a local list. This policy statement helped the project through later political and internal challenges.
The core strategy has since been superseded by Plan:MK (2019). This continues to recognise the heritage value of the new town and heritage register approach in its supporting evidence, its positive strategy for the conservation and enjoyment of the historic environment, and its planning policies.
As a first stage, a statement of significance document was prepared by consultants Alan Baxter, to explain why the new town possessed heritage significance and the various factors and themes that contributed to that significance. This helps to address one of the key problems of reacting to ad hoc individual proposals through development management in the absence of an overarching evidence base that fits an asset within the wider story. MK Forum (a civic society stakeholder group) and MKC organised a seminar of ex-MKDC employees covering various disciplines, through to general manager. The event not only helped inform some of the statement's conclusions, but it was filmed and transcribed so that it could be used as part of the cultural interpretation later in the project.
Accompanying the statement, a selection criteria document identified categories in which heritage assets could be considered and the criteria they would need to meet. Public consultation on both documents, featuring drop-in sessions and stakeholder meetings, was followed by successful adoption by MKC, reinforcing the progress of the project and establishing their status, via Plan:MK, as material evidence in planning considerations.
Having set in place the planning foundations for the register, nominations were sought from the public of potential heritage assets that they felt contributed to the new town story and met the criteria. Nominations made by the general public and those collated by MK Forum totalled around 250 potential candidates. Each was visited, photographed and mapped in GIS.
This brings us to the current phase of the project. A first wave of around 50 assets, featuring everything from architectural industrial buildings, through sleek mirror-glass offices buildings, to a community artwork triceratops, will be taken forward for consideration by a selection panel. This is formed of community groups, heritage stakeholder groups, Historic England and Milton Keynes Council. The final sign-off will lie with the cabinet member at MKC, meaning that the decision is a council one, carrying full weight in planning considerations. The approved scope of the project allows officers to put forward those assets that have potential to be of national significance for statutory listing.
In the interim, work is taking place to enable the GIS layer of nominated assets to flag to planning officers that those sites may possess local significance, improving initial awareness, the accuracy of pre-application discussions and ultimately decisions. This layer will be made public on the addition of assets to the register, helping developers to understand the significance that their assets possess and to plan accordingly.
To help share the new town story with the wider community, the National Lottery Heritage Fund has awarded £70,000 to MKC for its Heritage Explorers' project to bring the New Town Heritage Register to life through mobile technology, community engagement, participation and learning.
While at its heart the MK New Town Heritage Register is a planning mechanism, it is hoped that its benefits will reach beyond planning decisions and help to reinforce the city's truly unique identity, generate pride in both communities and decisions makers, and create a strong cultural offer.
Milton Keynes may not represent the perfect model for a modern, sustainable city, but it is an incredibly intact illustration of an important moment in the history of British architecture and town planning, grounded in utopian modernism, moving through to a more nuanced place-making approach. It is an example of an approach that was ground-breaking but that will not be repeated in the UK, making it unique. It is hoped that the project will inspire and inform other new towns to take a closer look at their own recent heritage and consider how its significance may be best captured and promoted.
---
This article originally appeared as 'Capturing the significance of a designed city' in IHBC's Context 162 (Page 27), published by The Institute of Historic Building Conservation in November 2019. It was written by Simon Peart, conservation and archaeology manager at Milton Keynes Council.
--Institute of Historic Building Conservation
IHBC NewsBlog
BRE/BEIS project to modernise home energy rating scheme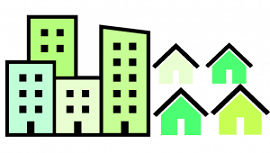 The Building Research Establishment (BRE) has announced a new project with the Department for Business, Energy and Industrial Strategy (BEIS) to improve and modernise the home energy rating scheme used to measure the energy and environmental performance of UK homes.
---
Interdisciplinary IHBC accreditation recognised by CSCS for PQP Cards

Sector lead the Construction Skills Certification Scheme (CSCS) has recognised the IHBC's professional accreditation and support (CPD etc.) in awarding its PQP (Professionally Qualified Person) cards.
---
IHBC Heritage Marketplace provides learning-led virtual engagement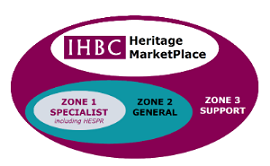 The IHBC's 2022 Aberdeen School Heritage MarketPlace (4.30-7.30PM, 15 June) is designed to extend the scope of a traditional IHBC School exhibition floor.
---
Unearthing the history of Gloucester's 'the Fleece' Hotel starts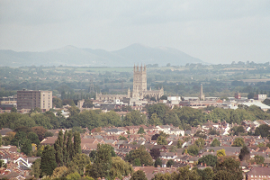 Work to repair a fire-hit medieval hotel in Gloucester is underway as crews have started work to strip back some of the modern trappings and reveal the historic framework.
---
Booking Open for IHBC Annual School: Aberdeen, 16-18 June 2022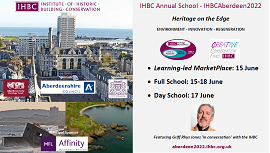 Options for in-person and virtual delegates to explore 'heritage on the edge' across up to 4 days of IHBC engagement & learning.
---
European Heritage Heads Forum statement on Ukraine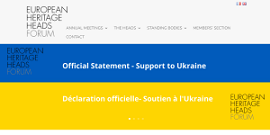 The Secretariat to the European Heritage Heads Forum has has coordinated its declaration of solidarity and support for Ukraine's cultural heritage institutions.
---
Welcome to #IHBC25 – 25 years since we turned professional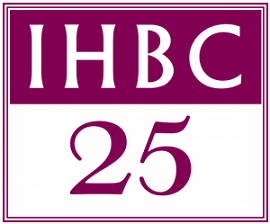 2022 will see the IHBC mark a quarter of a century since our incorporation as a professional body supporting and accrediting built and historic environment conservation specialists. We're kick-starting it by inviting your ideas on how to mark this special year!
---
IHBC launches new Guidance Note on 'Design sources for historic building conservation'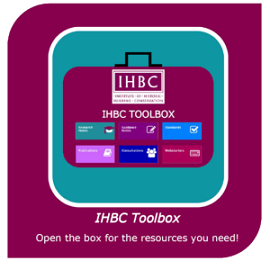 The IHBC's latest Guidance Note adds to the institute's open-access, online practitioner's Toolbox.
---
England's communities empowered to shape design of neighbourhoods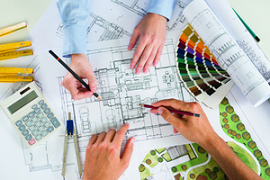 Twenty-five areas in England from Bournemouth to Carlisle have been awarded a share of £3 million to help them set their own standards for design locally. "move from a vicious circle of generic development to a virtuous circle of regenerative development".
---
IHBC at COP26 - Conserving our Places Conserves our Planet - Podcast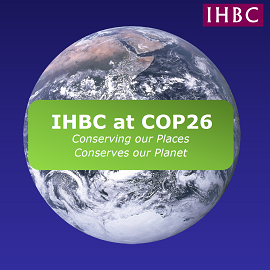 The IHBC seeks to raise awareness and understanding of how building conservation philosophy and practice contributes towards meeting the challenge of climate change.