Milton Keynes 2050 vision
This article originally appeared in the IHBC NewsBlogs
---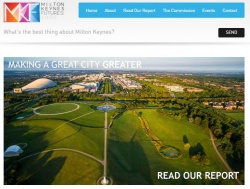 The heritage of Milton Keynes is increasingly well recognised, and is a small but important thread in a report by a commission of independent experts which considered what sort of city Milton Keynes could become by 2050.
The report suggests that by 2050 Milton Keynes could be home to 400,000 residents and be recognised internationally as a centre of learning and innovation at the heart of a cluster of high-performing universities in the Cambridge- Milton Keynes-Oxford Arc.
The report also urges that: '…future plans respect the city's distinctive heritage – Milton Keynes' landscape is a gift that keeps on giving – and ensure that future generations will enjoy the city's beauty.'
The approach is best reflected in its 'Project Six', Milton Keynes - The Creative and Cultured City which states that Milton Keynes is 'a uniquely created cultural artefact, with a priceless cultural, sport and leisure asset base, this will harness the creative energy and motivation of the city's biggest assets, its people. Using the 50th anniversary as a platform and building from the Capital of Culture bid, this would start with an International Festival of Creative Urban Living linking to innovation as well as culture, with a festival of urban green space and architecture, designating a grid square of sport, and arts, music and dance programme and animating the city's rich heritage.'
Read the summary and full report on the Milton Keynes Futures website
---
Featured articles and news
IHBC Branches nominate your retired members for a Marsh Award
Celebration retired IHBC members for community contribution with prizes of £500 and a free place at the Annual School (closes 31 March).
---
New IHBC Guidance Note published in the Toolbox
IHBC's Guidance Note (GN), 'Community Infrastructure Levy and Historic Buildings' has been published on the IHBC's Toolbox.
---
School children help secure Chislehurst war memorial listing
The war memorial on Chislehurst Common has been awarded Grade II listed status, thanks to pupils at Montbelle Primary School.
---
Nominations open for Europa Nostra endangered programme 2018
Europa Nostra's '7 Most Endangered' programme is open, so if you know of important, endangered, heritage that nominate it before 30 June 2017.
---
Cheshire design consultancy works on HLF funded Quarry Bank brief
Mather & Co of Cheshire has completed the first phase of a four-year project at the National Trust's (NT) Quarry Bank estate in Cheshire.
---
Bothie bagging in Scotland the secret is revealed
One of Scotland's best-kept secrets, bothies (remote wilderness shelters available to walkers overnight, free of charge) are revealed in a new book.