New town heritage
Protecting the extraordinary heritage of new towns will not bring back the post-war spirit of town planning and architectural idealism, but it will remind us of what is possible.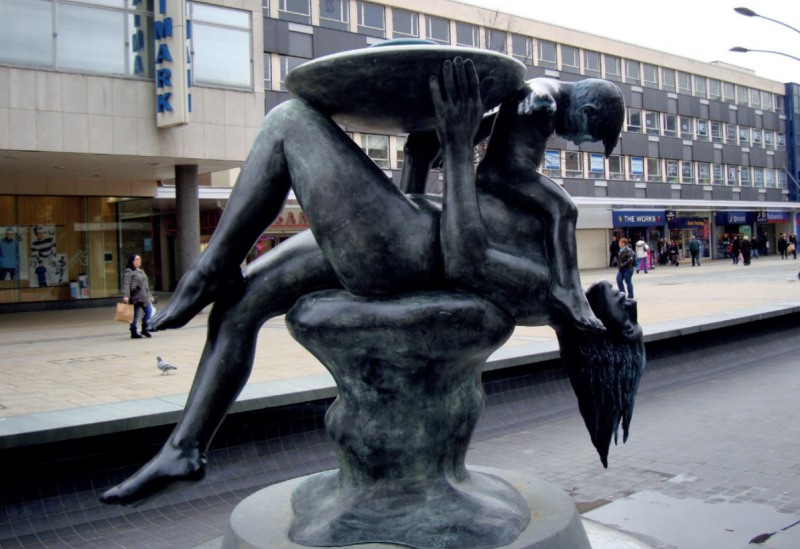 Mother and Child by Maurice Lambert in Basildon town centre (Photo: John Armagh, Wikimedia).
The architecture critic of the Financial Times recently suggested that the new towns are the greatest architectural achievement of the 20th century. Yet the iconic architectural and urban heritage of post-war new towns in the UK and mainland Europe is in danger. Although post-war building heritage is undergoing a reassessment in the UK and elsewhere in Europe, there is no national protection policy for the extensive heritage of the post-war new towns which represents a remarkable legacy of that period and is highly significant from a social and political point of view.
One of the reasons why saving this heritage is important is that it concerns not just the loss of modernist architecture and post-war urban planning achievements. The recent focus on new town legacy is part of a wider reflection on the loss of the social and egalitarian mission that underpinned the new towns movement – a mission that is missing from much contemporary town planning and architecture. It was in this context that a New Towns Heritage Research Network, including civic societies and universities, was formed in 2017 (see http://www.mkcdc.org.uk/new-towns-heritage/).
The New Towns Heritage Research Network built on existing connections between academics, local authorities and civic societies in new towns in the UK and mainland Europe (mainly in the Netherlands and France). The definitions, valuations and planning policies associated with new town heritage were discussed at a series of public events in six new towns (three in the UK, two in the Netherlands and one in France) organised through the network in 2018.
New towns in the UK and mainland Europe were initially hailed as the answer to the ailments of the historic European city and the urgent need for housing after the second world war. Many studies of the new towns in the 1960s and 70s by Peter Hall and others were concerned with their effectiveness in dispersing population from large cities and with questions of whether they were self-sufficient or mainly commuter towns. The potential of new towns as a model for new settlements to address the national housing shortage is undergoing a revival promoted by the Town and Country Planning Association and now adopted in part by the government. However, the value of the planning, architectural or urban design heritage of the post-war new towns appears to be judged rather differently.
Part of the reason for the prevailing negative view of the built environments of new towns is that they came under fire from the new urbanism movement, which criticised the design of post-war new towns as a product of top-down planning, producing low-density development and dreary town centres. In the 2000s, when 'sustainable communities' became the dominant aim of town planning in the UK, new town designs and master plans were judged again to have failed. [1]
Yet this critique ignored the significant, and in many cases successful, innovations in urban design and neighbourhood planning that characterised the post-war new towns, not only in the UK but across Europe. New towns were extraordinarily ambitious. What made them different was that they were comprehensive town developments providing complete living, working and recreational places along with public services from cradle to grave, within a setting of extensive green space and public parks. The master-planned layouts, often designed by external architects or in-house design teams, created a remarkable built environment comprising planned residential neighbourhoods, iconic civic buildings, exceptional landscaping and public art. These built forms, initially very popular and well received, were recognised as the product not just of good planning but of a singular moment in the politics and social and economic values of these countries. [2]
Decades later, the popularity of the post-war new towns as models of urban design has declined. Some of them, or parts of them, have arguably not weathered well or, are considered out-dated. For example, the grid road system at Milton Keynes does not fit well with contemporary ideas of modern urban planning in Europe, while the 1950s shopping centres at Harlow and Stevenage, for example, have struggled to adapt to contemporary shopping habits and commercial requirements.
Arguably, the most important reason for the decline of the new towns was not a failure of town planning but the severe reduction in funding for maintaining new town infrastructure and public services from the 1980s onwards. The planners took the blame, although in reality it was not bad planning but cuts in public funding and loss of local control of new town assets that did it for the UK new towns.
Many new towns have recently celebrated significant anniversaries, which have provided an opportunity to look closely at their built heritage. This was one of the factors that prompted the formation of the New Towns Heritage Research Network. The first generation new towns of Stevenage and Harlow are 70 years old. Later generations of new towns such as Milton Keynes, Peterborough and Northampton are 50 years old. Similar birthdays are being celebrated in new towns in the Netherlands and Germany. The UK anniversaries have attracted national and international attention to the new town story. [3]
Local histories have been written about most of the post war new towns, often commissioned by local authorities or undertaken by civic societies. For example, Milton Keynes has been the subject of a number of architectural books and monographs. There is a recent book on Sir Frederick Gibberd, the master planner of Harlow, [4] there is digital archive of Telford new town and a municipal history of Peterlee. There are also oral histories, photographic archives and videos of other new towns both in the UK and in mainland Europe, for example, in the French new towns around Paris. New town museums, art galleries and archival teams are taking a renewed interest in new town archives and stories. Films, plays and documentaries are being made. There is, for example, an excellent recent documentary evaluating the story of Basildon, which is an outstanding critical appreciation of the town. [5] From our network events in the UK and Europe it has become apparent that appreciation of new town architecture is moving from interest in individual iconic buildings (some of which have been protected already) to serious heritage analysis of the towns and their foundational planning ideas.
Nevertheless, it is evident that there is great variation in the value that communities and built environment professionals give to their own new town heritage. New town planning and architectural history are valued by many first-generation residents and civic leaders. While architectural specialists, archivists, community leaders and arts and cultural organisations have strong feelings about new town histories, more recent residents and younger people in the new towns have less attachment to, or knowledge of, the history or architecture of their new town. In response to this, new town museums and community arts groups in the UK and mainland Europe try to provide knowledge of their towns for school students and visitors. But as in all heritage debates, the valuation of new town environments is not a settled issue; much is contested and needs further local discussion.
It is difficult to generalise about new town heritage from our network activities alone. We have focused on a limited number of new towns in the UK and mainland Europe. Even within this small group of towns there is wide variation in the designs of new towns around London, Paris or Rotterdam. They demonstrate the different views of state intervention in planning, funding and governance of new towns. Nevertheless, there are common themes of comprehensive planning, public services, and innovative urban design and architecture.
One theme that has emerged is the contested question of new town identity. There is public discussion among planners and civic leaders about whether to move on from the original identities of the new towns as places shaped by master plans and post-war planning, perhaps shaking off the new town label altogether. Some new towns regard this re-branding as necessary to expand the town and re-think the physical environment. The change in identity itself has an impact on whether there is local impetus to protect new town architecture and design.
Inevitably, each new town has a different level of heritage protection for individual iconic buildings, neighbourhood housing clusters, public art or landscaping. The incidence of valuation and protection by the local planning system is generally based not on a systematic valuation of new town heritage but on piecemeal selection of key buildings or sculpture, for example, to be protected. An exception to this piecemeal approach is the recent pioneering work of Milton Keynes Council undertaken for its local plan consultation. The council has asked the public to identify parts of the new city's built heritage that they most value, with a view to including these features in the local plan as buildings and spaces of special interest and importance.
It is important that heritage valuation takes into account the significance of the founding ideology of the new towns. The planning and design of housing, public parks, public art and civic buildings in the new towns are manifestations of the welfare state spirit across Europe in the post-war period. These gave a distinctive character to the built heritage, which can not be given its full value without considering this social context.
There is increasing awareness of the need to give greater recognition and protection to new town heritage. New towns in the UK and Europe share an iconic status as models of positive comprehensive plan making and of modernist design. They were the product of a period of idealist social planning which largely came to a halt in the 1980s. Protecting what we have of this extraordinary heritage is now of some importance. More research and documentation needs to be done. None of this will bring back the spirit of town planning and architectural idealism of that time, but it will remind us of what is possible.
References:
---
This article originally appeared as 'Saving new town heritage' in IHBC's Context 162 (Page 20), published by The Institute of Historic Building Conservation in November 2019. It was written by Bob Colenutt and Sabine Coady Schaebitz. Bob Colenutt teaches and researches town planning and housing development at Oxford Brookes University. Sabine Coady Schaebitz teaches at Coventry University in the department of architecture.
--Institute of Historic Building Conservation
IHBC NewsBlog
IHBC Virtual School 19 June: Heritage Reflections & Speculations from a Pandemic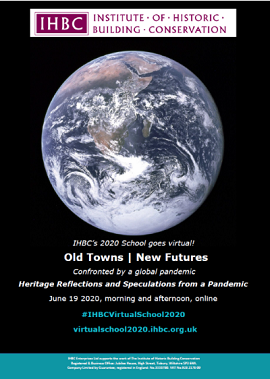 How the current pandemic will shape historic urban areas and their surrounding communities across the globe is impossible to tell. Join us to reflect on the implications for our current approaches to caring for valued places, and even speculate on future strategies and responses.
---
RTPI calls on government to issue planning guidance to prevent development delays

The Royal Town Planning Institute (RTPI) has called on the government to urgently issue planning guidance to prevent unnecessary delays to development from the pandemic.
---
How to Enjoy Heritage from Home, from the Heritage Fund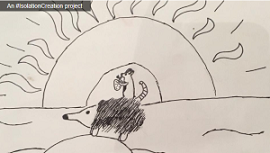 The Heritage Fund has put together a list of heritage-inspired activities to be done from home.
---
Listed Property Owners Club's Spring Checklist for Buildings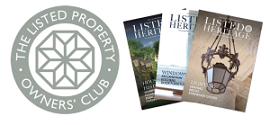 Spring is a good time to stand back and consider any building repairs that are required over the next 12 months, notes the LPOC, and regular inspection and maintenance is the key to keeping homes in good repair, as per its accessible step-by-step guidance.
---
Firefighters tackle blaze at converted Grade II listed former mill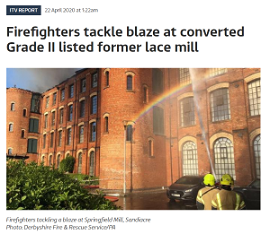 Derbyshire Fire and Rescue Service said "rapid and effective firefighting" had saved three quarters of the mill – which is now apartments.
---
Thieves take advantage of lockdown to steal lead from church roof in Halsham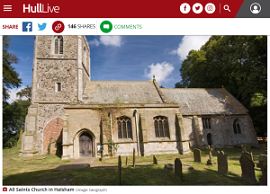 Police have appealed for witnesses after thieves stole lead from the roof of All Saints Church in Halsham near Hedon during the coronavirus lockdown.
---
IHBC's CPD Circular provides info on digital CPD opportunities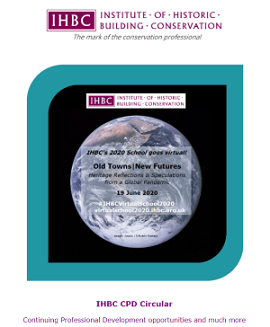 The regular newsletter showcases the IHBC's own Continuing Professional Development (CPD) content as well as online opportunities from 'IHBC Recognised CPD Providers' and other conservation related training and events.
---
Frank Lloyd Wright houses offer virtual tours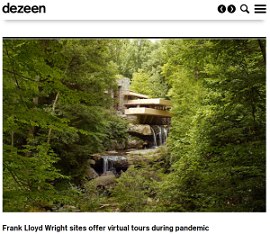 To make sure the public still has access to twelve of those famous works, #WrightVirtualVisits has been launched, which offers virtual tours of 12 iconic houses.
---
CIC's Coronavirus Digest review and survey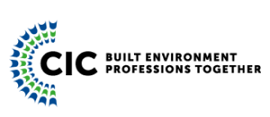 The Construction Industry Council's (CIC's) 'CIC Coronavirus Digest – Issue 8' surveys the latest government advice with updates from the construction industry.
---
COVID-19: Advice and Updates collated from the Heritage Sector
Organisations with conservation links have been collating resources on COVID-19 impacts, including Built Environment Forum Scotland (BEFS), Historic Environment Forum, The Heritage Alliance (THA), and Historic England, on cleaning surfaces.
---
Councils considering 'executive powers' as measures to avoid planning gridlock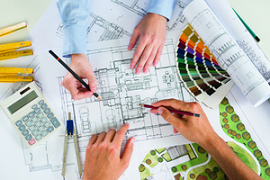 Councils are reported to be considering taking up rarely-used executive powers to keep the planning and development system moving during the coronavirus pandemic.
---
Historic England provides updated flood recovery advice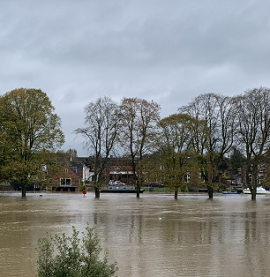 Historic England's 'After a Flood' provides timely advice on how to dry walls properly and avoid further damage to the building fabric.
---
Conservation of Timber Buildings: an example of evolving conservation techniques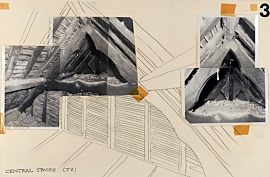 Context Issue 162 offers a peek into an archive of timber conservation history through the records of the practice of FWB and Mary Charles Chartered Architects.
---
Call for VAT rates for Refurbishment to be Reduced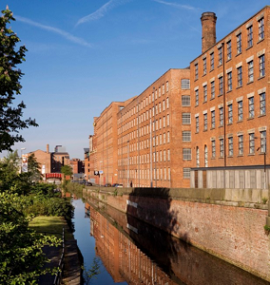 To meet the government's target of being carbon neutral by 2050, we must recycle, reuse and responsibly adapt our existing historic buildings, according to this year's Heritage Counts report, so Historic England and partners are calling for a reduction in VAT rates to incentivise this more sustainable option.
---