French new towns
In the past 20 years significant research and assessment work has been carried out on France's new towns programme. Despite this, the towns' heritage continues to be largely unknown.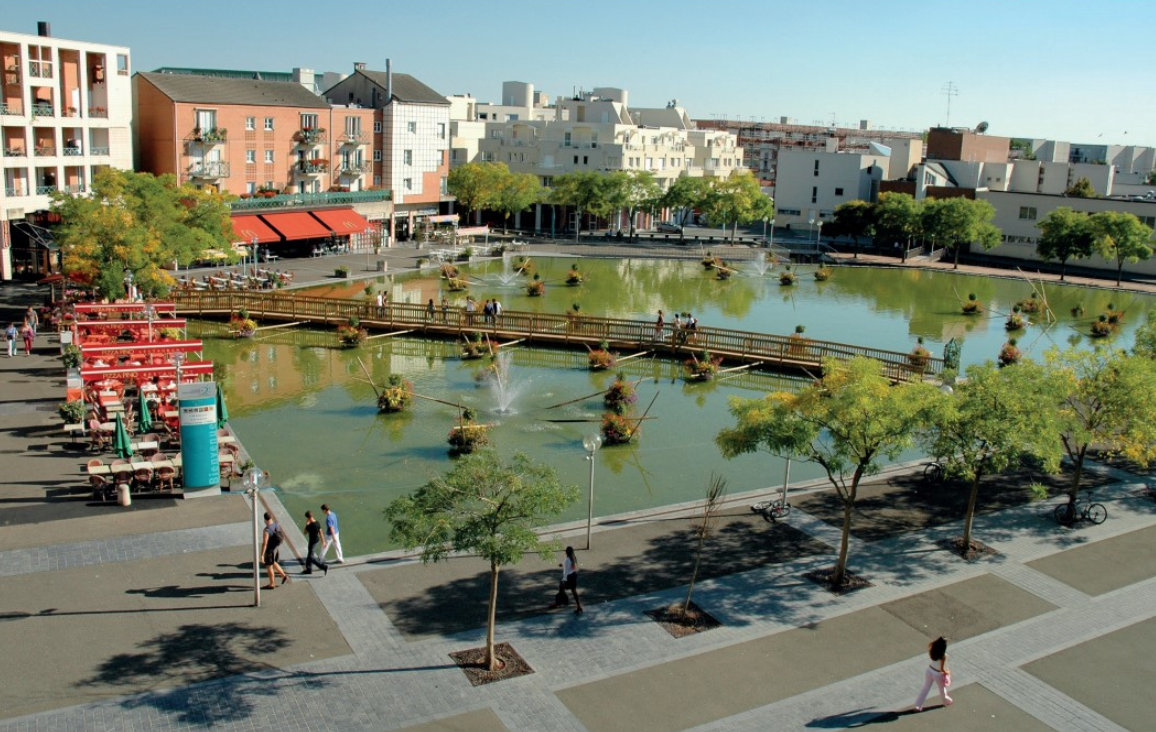 The central district of Saint-Quentin-en-Yvelines combines housing with an outdoor shopping centre (Photo: Daniel Huchon, SQY City Museum).
Introduction
French new towns were established under the 1965 Schéma directeur d'aménagement et d'urbanisme de la région parisienne (Development and Town Planning Master Plan for the Paris Region, SDAURP), and reached their maturity at the turn of the 1990s and 2000s. What can be done about their heritage? That issue has been raised in relation to all five new towns in the Ile-de-France region (Cergy-Pontoise, Evry, Marne-la-Vallée, Melun-Sénart and Saint-Quentin-en-Yvelines) for the past 15 or so years at least.
Some of them, including Saint-Quentin-en-Yvelines, responded in the early 2000s by setting up a designation intended to make its recent history better known to inhabitants and visitors. Others seem to have opted for a policy of urban renewal and economic development, which neglects questions relating to memory and history. In both cases, irrespective of the option chosen by the local elected officials, France can take pride in having carried out extensive analytical work in this area.
Between 1999 and 2005, teachers, researchers, experts, witnesses and stakeholders with an interest in the history of new towns in France contributed to the Programme d'histoire et d'évaluation des villes nouvelles (New Towns History and Assessment Programme, PHEVN). Driven by the state, this vast programme of study[1] prompted the community of historians, led by Loïc Vadelorge, to study 'new urban centres', the term used to describe new towns under the SDAURP master plan. Broaching issues touching on social relations, governance, housing, heritage, the role of the state and even transport, this programme helped to extend the pioneering work conducted in the 1980s by the Institut d'histoire du temps présent (Institute of Present History, IHTP, French National Centre for Scientific Research).[2]
This work led to all the participants putting the new towns period into perspective. Between 1965 (when the SDAURP master plan was published) and the start of the 2000s (when the public planning bodies and master planning tools put in place by the state in each of the new towns closed), new urban centres witnessed a massive influx of families, assets and businesses, allowing an urban reality to develop. They implemented a clear vision for the town based, in particular, on urban sprawl, the presence of large green-and-blue spaces, the construction of cultural and sporting facilities, or even welcoming cars as a central element of urban living.
Urban narratives
Going beyond these themes, one of the major achievements of the PHEVN programme will have been its consideration of the influence of town narratives. Rightly so: throughout their construction, new towns were presented by their makers in an eminently modernist light. From the outset, the town planners in public planning bodies stressed that they were building new towns as alternatives to large housing developments. According to these planners, the new urban centres were the very antithesis of the urban developments built by the Ministry of Reconstruction and Town Planning in the 1950s. The director of the Cergy-Pontoise study, Bernard Hirsch, wrote: 'Our aim is to make a new town and not a priority urban development area (ZUP) or a large housing development, even if they would be of good quality'[3].
He is not alone in this opinion. Following numerous sociologists at the time, specialists in public planning bodies defended the idea that large housing developments and new towns would fall under two different town planning models. Large housing developments, being dormitory towns deprived of functional diversity and experiencing social problems, stood in contrast to the new towns, which were fully integrated into the metropolitan areas on which they were dependent; harmoniously welcomed assets and businesses; were served by public transport; and offered a global cultural and environmental milieu. This vision needs to be nuanced, as several urban historians in France have shown.
Is history in the process of repeating itself? Having been set up as urban models, new towns are now at best ignored and at worst decried by town planners. The conceptual context has changed significantly in the past 20 years or so. Two major concepts that prevailed in the construction of new urban centres have been particularly placed at risk by this renewal of urban theory: urban sprawl, on the one hand, and the motor industry, on the other.
Urban sprawl, which for a long time has justified the boom in the new towns' housing programmes, is now under strong competition from, and is even fighting against, the notion of urban densification. Galvanised by ecological and environmental change, this idea features prominently in the current master plan for the Ile-de-France region, which has set out regional urban development milestones for the next 25 years. Adopted in 2013, the master plan increases densification, particularly for districts close to railway stations. It also calls on local elected officials and town planners to avoid any de-densification initiatives in these regions.[4]
As for the omnipresence of the car, this is now clearly being threatened by public policies on regional mobility, and environmental concerns. As reported in 2012 in the white paper published by the European Commission on Transportation in Europe: 'The gradual phasing out of "conventionally-fuelled" vehicles from the urban environment is a major contribution to significant reduction of oil dependence, greenhouse gas emissions, and local air and noise pollution'.
These elements are an obstacle to the heritage of French new towns. However, some of the towns are attempting to implement historical, heritage and cultural mediation initiatives. Using exhibitions, studies, discovery workshops and urban walks, these cultural public policies are brought into France by inter-communalities, the political and administrative institutions that bring together the communities in the regions of the former new towns.
Take the case of Saint-Quentin-en-Yvelines. Since the start of the 2000s, continuing its New Towns History and Assessment Programme, the Museum of Saint-Quentin-en-Yvelines applied for the Ministry of Culture's Towns and Districts of Art and History (VPAH) certification. Established in the 1980s, this certification is aimed at communes or groups of communes wanting to foster awareness among inhabitants, visitors and young people of the quality of the region's heritage, architecture and environment. In 2008, Saint-Quentin-en-Yvelines was awarded this door-opener, becoming the first new town, and the first town built after 1945, to lay claim to this title.
The VPAH label offered valuable recognition of the quality of Saint-Quentin-en-Yvelines' architectural heritage[5], where only four per cent of buildings are listed in the historic monuments register. It has served as an important acknowledgement of the urban identity of Saint- Quentin-en-Yvelines, rooted in a time that the inhabitants themselves knew very little about.
Even though important historical research has been carried out in France on new towns, and despite the heritage efforts of some of the towns, in public opinion and in the eyes of a number of town planners, new towns continue to be regarded as barren, soulless dormitory towns, devoid of urbanity and sociability. Educational efforts need to continue for connoisseurs of new French towns, whether teachers, researchers or local elected officials.
Is this work feasible, even though the budgets of communes and inter-communalities are falling sharply, against a backdrop of increasing competition between regions? This is the current challenge that is emerging in France for former new urban centres.
---
This article originally appeared as 'The complex heritage of French new towns' in IHBC's Context 162 (Page 17), published by The Institute of Historic Building Conservation in November 2019. It was written by Frédéric Theulé, head of studies and research fellow in the Chaire Territoires et Mutations de l'Action Publique at the Institut d'Etudes Politiques, Rennes. He has written a thesis on Saint-Quentin-en-Yvelines.[6]. It was translated by Callum Walker at CW Translation (http://www.cwtranslation.co.uk).
References
Seven colloquia and around 20 study days based around four thematic workshops were held as part of the PHEVN programme. One of these, entitled 'Stakeholders, ideas, methods, resources and choices', focused on history.
Voldman, Danièle (ed) (1989), 'Les origines des villes nouvelles de la région parisienne', Les Cahiers de l'IHTP, No 12, Paris, CNRS, April
Hirsch, Bernard (2000) Oublier Cergy: l'invention d'une ville nouvelle. Cergy-Pontoise, 1965–1975, Presses de l'Ecole nationale des Ponts et Chaussées, 2000 (1st edition, 1990
The six master plan instalments are available at www.iau-idf.fr
Ricardo Bofill, Martine and Philippe Deslandes, and Manolo Nuñez- Yanowsky were among the architects of Saint- Quentin-en-Yvelines new town.
Theulé, Frédéric (2011) Intercommunalité et gouvernement d'agglomération en ville nouvelle: le cas de Saint- Quentin-en-Yvelines, 1965-2004, Université de Paris XIII
--Institute of Historic Building Conservation
IHBC NewsBlog
BRE/BEIS project to modernise home energy rating scheme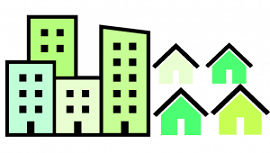 The Building Research Establishment (BRE) has announced a new project with the Department for Business, Energy and Industrial Strategy (BEIS) to improve and modernise the home energy rating scheme used to measure the energy and environmental performance of UK homes.
---
Interdisciplinary IHBC accreditation recognised by CSCS for PQP Cards

Sector lead the Construction Skills Certification Scheme (CSCS) has recognised the IHBC's professional accreditation and support (CPD etc.) in awarding its PQP (Professionally Qualified Person) cards.
---
IHBC Heritage Marketplace provides learning-led virtual engagement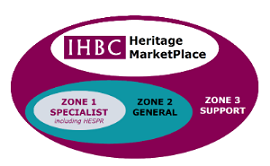 The IHBC's 2022 Aberdeen School Heritage MarketPlace (4.30-7.30PM, 15 June) is designed to extend the scope of a traditional IHBC School exhibition floor.
---
Unearthing the history of Gloucester's 'the Fleece' Hotel starts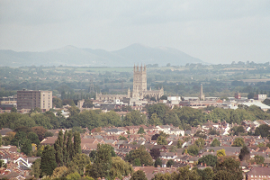 Work to repair a fire-hit medieval hotel in Gloucester is underway as crews have started work to strip back some of the modern trappings and reveal the historic framework.
---
Booking Open for IHBC Annual School: Aberdeen, 16-18 June 2022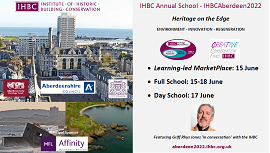 Options for in-person and virtual delegates to explore 'heritage on the edge' across up to 4 days of IHBC engagement & learning.
---
European Heritage Heads Forum statement on Ukraine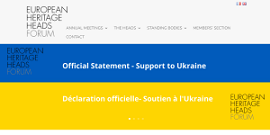 The Secretariat to the European Heritage Heads Forum has has coordinated its declaration of solidarity and support for Ukraine's cultural heritage institutions.
---
Welcome to #IHBC25 – 25 years since we turned professional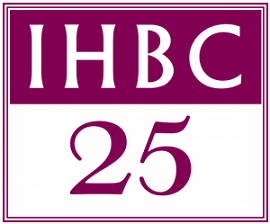 2022 will see the IHBC mark a quarter of a century since our incorporation as a professional body supporting and accrediting built and historic environment conservation specialists. We're kick-starting it by inviting your ideas on how to mark this special year!
---
IHBC launches new Guidance Note on 'Design sources for historic building conservation'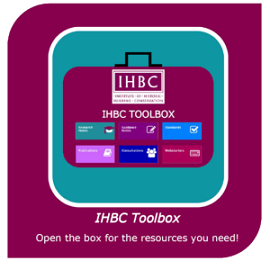 The IHBC's latest Guidance Note adds to the institute's open-access, online practitioner's Toolbox.
---
England's communities empowered to shape design of neighbourhoods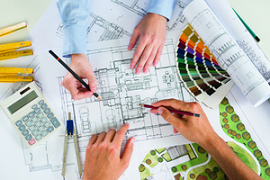 Twenty-five areas in England from Bournemouth to Carlisle have been awarded a share of £3 million to help them set their own standards for design locally. "move from a vicious circle of generic development to a virtuous circle of regenerative development".
---
IHBC at COP26 - Conserving our Places Conserves our Planet - Podcast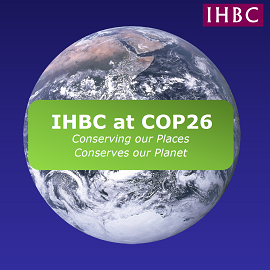 The IHBC seeks to raise awareness and understanding of how building conservation philosophy and practice contributes towards meeting the challenge of climate change.