The Walled City Lighting Project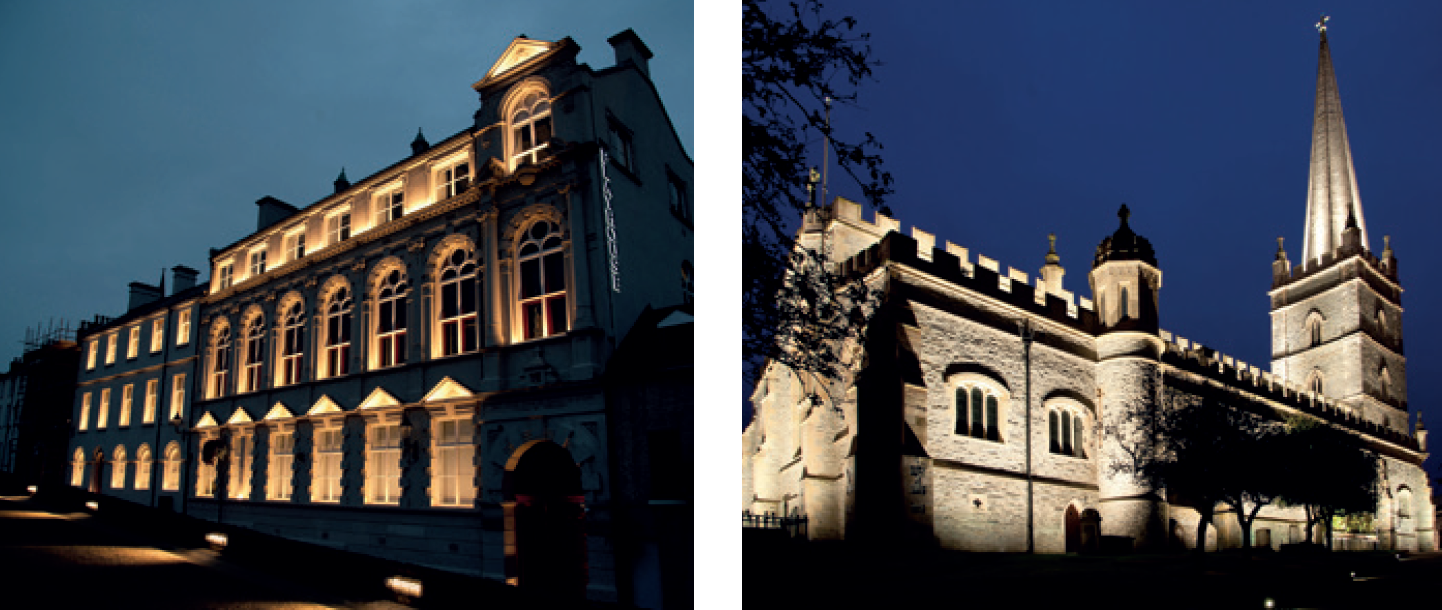 Left: The Playhouse Theatre (c1877), right: St Columb's Cathedral (c1633).
Introduction
The Walled City of Derry~Londonderry is the only complete walled city in Ireland. The Northern Ireland Tourist Board recognised the importance of this unique heritage site in 2004 when it designated the walled city as one of the five Signature Tourism Projects for Northern Ireland with Titanic Belfast, the Giant's Causeway, St Patrick in Downpatrick and Armagh, and the Mourne Mountains. In 2013 Derry was designated UK City of Culture.
As part of the second phase of the Walled City Signature Project, the Walled City Lighting Project builds on previous tourism-linked regeneration initiatives in the city. The innovative and creative lighting strategy involves the illumination of six key historic buildings: the city's Guildhall, St Columb's Cathedral, the Playhouse Theatre, First Presbyterian Church, the Apprentice Boys' Memorial Hall, Aras Colmcille (a historic school building) and the surface and original gates of the historic city walls. Following the successful delivery of the project in 2013, Derry City Council decided on behalf of the Built Heritage Partners to add the c1872 neogothic church of St Augustine's to the scheme in early 2014.
The objective of the lighting strategy was to illuminate and visually enhance key elements of the city's built heritage, and to encourage visitors to stay longer in the city throughout the year.
As part of a multi-disciplinary team with electrical consultants Gillespie & Cummings and lighting consultants Light + Design Associates Ltd, Kriterion Conservation Architects (Kriterion) was closely involved in implementing the lighting strategy. The architects undertook a built heritage report for each of the six buildings originally selected, as well as for the historic city walls, bastions and gates. Lighting trials were conducted in November 2012.
Historic buildings, structures and monuments are often important examples of architecture and engineering and many have been transformed and visually brought to life at night with appropriately designed external lighting schemes.
Inevitably, the installation of external light fittings and the associated cabling involves fixing equipment to the fabric of the building. A key priority of the project was to ensure that any works to buildings and monuments within the walled city did not disturb or destroy historic fabric, so workshops were conducted on-site by Kriterion outlining best conservation practice. In deciding how best to illuminate a building, principles of minimum intervention and reversibility were followed at all times.
Thoughtfully designed external lighting can enhance night-time use and improve the visitor experience, potentially bringing significant economic benefits. When carried out professionally, the lighting scheme becomes part of the architecture, offering a different view to the observer and complementing the building's materials and architectural form. However, a poorly designed and executed scheme can highlight flaws in the building or afford views of the structure that were never meant to be seen.
Several key considerations are crucial to successful lighting scheme design and these are outlined below.
Extent of external lighting
Lighting every aspect of a building may not be justified, and certain elevations may be unsuitable or hidden from view. It is often best to concentrate on those elevations and features which would have the greatest impact on the townscape at night. For example, only one elevation of First Derry Presbyterian Church was illuminated – its main and most impressive elevation, which faces Magazine Street.
The illumination of key architectural features such as columns, arches and string courses may be sufficient rather than attempting to light the entire facade of the building.
In the case of the Playhouse Theatre, external lighting highlights the rhythms of the building's composition while drawing attention to the details of the facade. The use of up-lighting was limited and well controlled to avoid light pollution.
A number of other techniques were considered during the lighting trials but not ultimately used. These included back-lighting, which involves lighting the facade from within (for example by positioning lights inside a ground floor colonnade to silhouette the columns); and cross-lighting, which uses light sources directed across a building's elevation from opposite sides.
All external fittings need to be unobtrusive, require minimum intervention during installation and must be easy to maintain without risk of damage to the building fabric.
Painstaking work was needed to carefully weave wiring through and around historic structures to small well-concealed lighting sources. This was the case at First Derry Presbyterian Church, where the ashlar stonework did not lend itself to cabling and also at the Playhouse Theatre where pedestrians pass by in very close proximity to light fittings.
The location of external light positions within the grounds of the cathedral was challenging given the close proximity of graves and tombstones right up to the cathedral walls. However, the presence of crenellated parapets at higher levels along the main roof structure provided ideal sites for light fittings and cable integration associated with illuminating the main cathedral roof and spire.
Light spill from adjoining buildings and surrounding areas always needs to be considered. More light is required to illuminate a building in a city environment than in a rural area where ambient light levels are lower.
As was the case at the Apprentice Boys' Memorial Hall, it may be that existing lighting provision by statutory authorities will no longer be needed in proximity to a well-illuminated historic building.
As well as the existing ambient lighting, the reflectivity of the building surfaces must be taken into account. This will be affected by the colour of the building materials, and how clean their surfaces are. Buildings that are more reflective will require fewer, less powerful luminaires. In the case of the Guildhall, First Presbyterian Church and St Columb's Cathedral the lighting designers had to take account of the fact that all three buildings had recently been the subject of substantial conservation works including facade cleaning.
Historic buildings are often home to a variety of animals such as bats and swifts that can be affected by new lighting proposals. Wildlife habitat surveys were undertaken that considered breeding, hibernation, flight paths and points of access to ensure that the proposed lighting points did not have adverse effects either in installation or operation.
Important considerations on the Walled City Lighting Project were the strength and type of light source, both of which are key to a successful scheme. Light source appearance can range from warm reddish tones through to cool blue tones. Colour rendering is described using the Colour Rendering Index, which ranges from 26Ra (poor, or least similar to natural daylight) to 90Ra (good). Proposed light sources must take into account the external finish of the building, how clean it is and the surface articulation.
High pressure sodium lamps are efficient but tend to create an overall yellow tinge with a low colour rendering index which can have a distorting effect on the building's appearance. Ceramic discharge metal-halide (CDM) lamps have excellent colour rendering properties and provide a natural effect which complements most building materials, although they have a shorter projected lifespan.
Most importantly, a preinstallation trial should be carried out to ensure that the position and angle of luminaires achieves the best possible outcome. Trials are best carried out before the detailed design stage, but should certainly be carried out before final installation using the luminaires specified for the building or structure.
Care in the installation of external lighting is especially important when it is fixed to the building. While the poor selection of light fittings can so easily disfigure a building's facade, thoughtless installation can result in irreversible damage to historic fabric. Careful consideration in the location of any light fitting should always take into account the material to which it is to be fixed. To avoid unnecessary damage, fixings should be drilled into joints rather than into ashlar stone or facing brick. Bolts, screws or brackets which are directly in contact with the building must be made from non-rusting and non-staining elements such as stainless steel or bronze. The lighting units and the cable routes should be designed and installed so that they do not impede rainwater run-off from the building. They should avoid sills, drip-courses and other architectural features. A key aim for the design team on the Walled City Lighting Project was to make the installation of both the light fittings and the cable runs as discreet as possible.
There is a balance to be struck between ease of maintenance and the desire to hide or disguise fittings. All external lighting schemes require safe access for maintenance. If access is complex or costly this may discourage routine maintenance inspections and result in a 'reactive' approach of responding to problems after they occur rather than seeking to prevent them. Lighting installations should be inspected regularly. All fittings should be cleaned and checked during the inspection and any defective elements replaced.
Thoughtful design, specification and installation will help to ensure that a successful scheme is not undermined by a difficult maintenance process. The lighting maintenance schedule should be viewed as part of the overall repair and upkeep of the building rather than an unwelcome expense to be avoided.
The Walled City Lighting Project demonstrates that the art of lighting lies in both the control of light and in the sensitive installation of light fixtures and fittings. Bringing Derry~Londonderry's historic buildings out of the shadows has encouraged visitors and residents to value them in a new way, a fact that should help to secure their future conservation.
---
This article originally appeared as: 'Lighting the walled city' in IHBC's Yearbook 2014, published by The Institute of Historic Building Conservation. It was written by Paul Millar BSc RIBA RIAI MAPS, a partner at Kriterion Conservation Architects. He has over 30 years' experience as a conservation architect working with historic buildings throughout Northern Ireland. He is a member of Hillsborough Castle Working Group and the International Network for Traditional Building, Architecture & Urbanism. He is also chairman of the Belfast Buildings Trust.
--Institute of Historic Building Conservation
IHBC NewsBlog
HEF's Heritage Sector Resilience Plan launched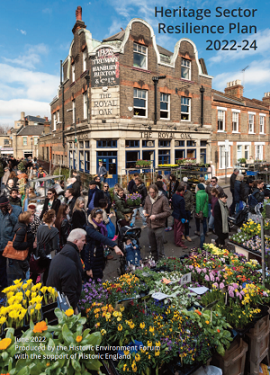 The Heritage Sector Resilience Plan, developed by the Historic Environment Forum (HEF) with the support of Historic England, has been launched.
---
Common Commitment to all Ireland's heritage – North South Agreement on Vernacular Heritage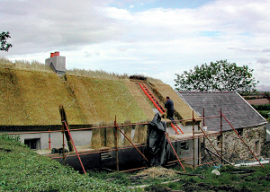 An 'All-Island' commitment to Ireland's vernacular heritage has been established with the signing of the North South Agreement on Vernacular Heritage, supporting traditional buildings etc.
---
Bristol Harbourside landmark Canons House gets GII listing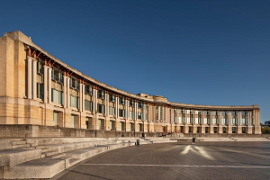 Canons House, a landmark building on Bristol Harbourside, has been awarded Grade II (GII) listed status having been built as a regional headquarters for Lloyds Bank between 1988 and 1991 (Arup)
---
BRE/BEIS project to modernise home energy rating scheme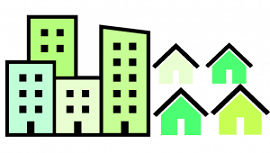 The Building Research Establishment (BRE) has announced a new project with the Department for Business, Energy and Industrial Strategy (BEIS) to improve and modernise the home energy rating scheme used to measure the energy and environmental performance of UK homes.
---
Interdisciplinary IHBC accreditation recognised by CSCS for PQP Cards

Sector lead the Construction Skills Certification Scheme (CSCS) has recognised the IHBC's professional accreditation and support (CPD etc.) in awarding its PQP (Professionally Qualified Person) cards.
---
IHBC Heritage Marketplace provides learning-led virtual engagement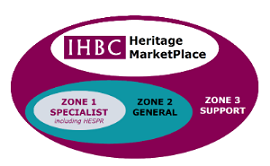 The IHBC's 2022 Aberdeen School Heritage MarketPlace (4.30-7.30PM, 15 June) is designed to extend the scope of a traditional IHBC School exhibition floor.
---
Unearthing the history of Gloucester's 'the Fleece' Hotel starts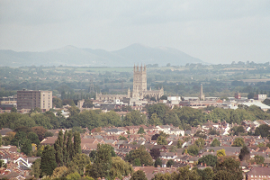 Work to repair a fire-hit medieval hotel in Gloucester is underway as crews have started work to strip back some of the modern trappings and reveal the historic framework.
---
Booking Open for IHBC Annual School: Aberdeen, 16-18 June 2022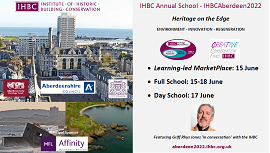 Options for in-person and virtual delegates to explore 'heritage on the edge' across up to 4 days of IHBC engagement & learning.
---
European Heritage Heads Forum statement on Ukraine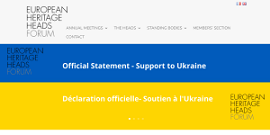 The Secretariat to the European Heritage Heads Forum has has coordinated its declaration of solidarity and support for Ukraine's cultural heritage institutions.
---
Welcome to #IHBC25 – 25 years since we turned professional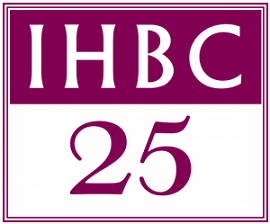 2022 will see the IHBC mark a quarter of a century since our incorporation as a professional body supporting and accrediting built and historic environment conservation specialists. We're kick-starting it by inviting your ideas on how to mark this special year!