Using drones for inspection and survey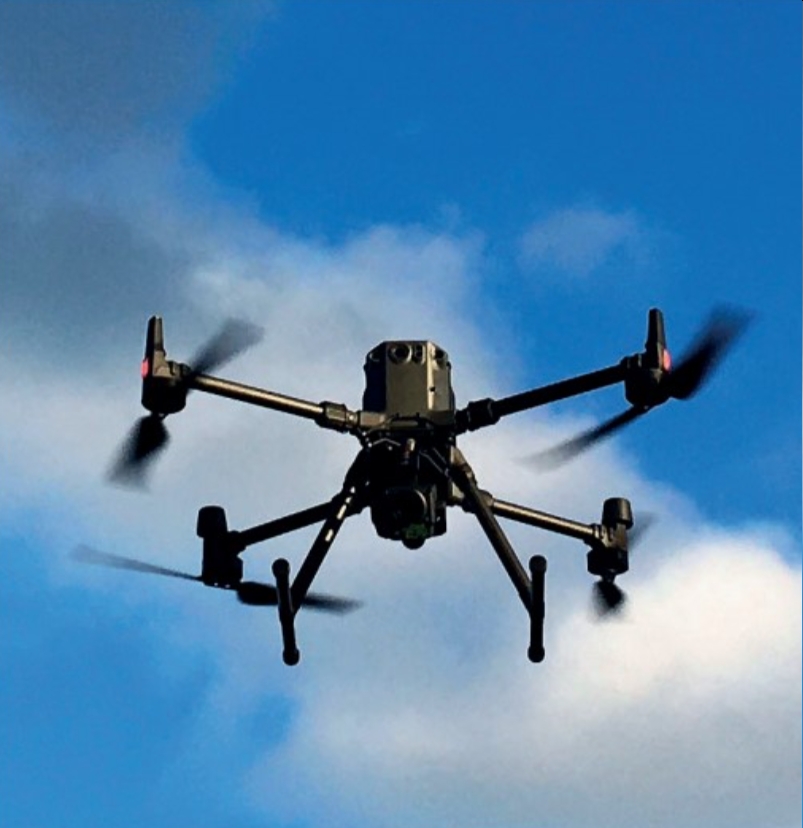 First seen in heritage surveys just over a decade ago, remotely piloted drones are now widely used for carrying cameras, thermal cameras, and laser or lidar scanners.
Drones (remotely piloted aircraft systems) have their origins in military technology dating back to the 1850s, when they were used for aerial reconnaissance, and in both world wars for more destructive aerial-torpedo applications. Most commercial and consumer development of drones has occurred over the past decade, leading to them becoming a common sight in our skies, used by professionals, hobbyists and the general public.
English Heritage first encountered a drone in 2008 during a demonstration of the Microdrones MD4-200 at Fountains Abbey, the world heritage site in North Yorkshire. Although flight times were short, image resolution was low and video capture was exceedingly shaky, this demonstration showed their potential for capturing low-level aerial photography from multiple, often unique vantage points that could aid both the survey and close-range inspection of heritage buildings and structures.
Modern drones, such as the DJI M300 now used by Historic England's drone team, contain an assemblage of on-board technology to enable them to be flown safely and efficiently. This includes a global navigation satellite system to aid in-flight positioning; an inertial measurement unit to detect in-flight orientation and maintain stability; multiple range sensors to detect objects in their path; and artificial intelligence to help avoid collisions. This technology is linked through mobile phone controller apps to aid the preparation and management of the actual flights. Even with this array of on-board technology, a drone is simply a remote-controlled platform for carrying something, which in the case of heritage can be a camera, laser scanner, lidar scanner, thermal camera or a combination of such sensors.
In heritage the primary sensor is usually a camera for capturing overlapping still imagery, from which geospatial survey outputs can be later generated using structure-from-motion photogrammetric routines, and video sequences that aid the remote inspection of historic structures.
Other application areas, such as agriculture, regularly use drone-mounted multispectral and hyperspectral imaging sensors to remotely sense surface landscape type, condition and topography.
As with other geospatial survey equipment, such as the total station theodolite, GNSS receiver and laser scanner, drones have matured sufficiently over the past decade to become an essential tool in the surveyor's toolbox for providing high-level coverage of areas that are often difficult to access by ladder, scaffolding tower or cherry-picker. This has been helped by the increasing worldwide popularity of drones that has driven down their cost. Systems suitable for heritage start at around £500, using a standard mobile phone and downloadable app in their remote controller.
Although in theory anyone can fly a drone, their use in the UK is regulated by the Civil Aviation Authority (CAA), which now provides the necessary rules and registration of leisure, recreational and commercial pilots. On 1 January 2021 the rules changed when new EU regulations governing the use of drones came into force in the UK and across Europe. Developed by the European Union Aviation Safety Agency (EASA), these new regulations adopted a risked-based approach, no longer distinguishing between leisure and commercial drone activities. Anyone flying a drone commercially must still obtain a 'permission' for commercial operations from the CAA by passing a theory and flight test. As part of the process, an operations manual must also be developed and approved by the CAA, detailing every aspect of the proposed drone operation, including risk assessment, insurance, maintenance and their safe flying within the required visual line of sight limits.
For commercial, consumer and leisure applications, two types of drone are used (fixed-wing and rotary), each of which has advantages and disadvantages for heritage application.
Until 2018 the capture of drone-acquired imagery for Historic England and English Heritage projects was undertaken through commercial contractors who possessed the necessary CAA permissions, hardware and personnel. Although some drone surveys are still procured externally, Historic England now has an in-house team of eight qualified drone pilots, and a range of consumer, professional and inspection-grade drones that are being increasingly used across a range of heritage-related applications.
Geospatial survey: providing overlapping, low-level aerial imagery suitable for photogrammetric processing, and combining with terrestrial survey data to generate more complete, three-dimensional models from which plans, sections and ortho-rectified elevations can be extracted.
Archaeological investigation: providing a rapid and complementary low-level aerial approach for capturing topographical landscape detail into which more detailed or interpretive survey data can be added from the ground.
Civil and structural engineering: allowing the safe inspection of structures, where vehicular access may be limited, and discovery of structural issues (such as fabric damage, loss, weathering, cracking and vegetation build-up) which can not be seen from the ground. Use of a drone within a protective, lightweight cage also provides a safe means of remotely inspecting a space within a historic building, deemed unsuitable for access, or analysing a section of fabric close up. Use of thermal imaging enables an assessment of depth of soft-capping and the highlighting of areas that may be susceptible to water ingress.
Photography: providing a means of raising the camera height to capture a low-level aerial view of how buildings and archaeological features sit within the landscape, and video capture for use on websites and other presentational applications. The Future Technologies Review, published by the Geospatial Commission in 2019, highlighted the current, emerging and future trends in drone development. Although some of these, such as package delivery and passenger transport, are unlikely to impact the heritage sector, others could provide additional survey and remote inspection capabilities.
These include tethered drones for safe flying within urban spaces; drone operations beyond visual line of sight, enabling their remote control over longer ranges; autonomous mission configuration and management, enabling more automated flying and image capture; artificial intelligence to enable their safe flying within complex heritage structures; and machine learning to automate the structural and condition analysis of the captured imagery.
Further information https://historicengland.org.uk/research/methods/terrestrial-remote-sensing/
---
This article originally appeared in Context 168, published by the Institute of Historic Building Conservation (IHBC) in June 2021. It was written by Paul Bryan, the geospatial survey manager in Historic England's building conservation and geospatial survey team. He is joint author of 3D Laser Scanning for Heritage; BIM for Heritage: developing a historic building information model and BIM for Heritage: developing the asset information model.
--Institute of Historic Building Conservation
IHBC NewsBlog
Interdisciplinary IHBC accreditation recognised by CSCS for PQP Cards

Sector lead the Construction Skills Certification Scheme (CSCS) has recognised the IHBC's professional accreditation and support (CPD etc.) in awarding its PQP (Professionally Qualified Person) cards.
---
IHBC Heritage Marketplace provides learning-led virtual engagement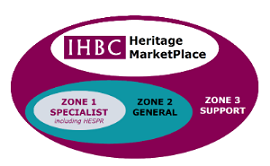 The IHBC's 2022 Aberdeen School Heritage MarketPlace (4.30-7.30PM, 15 June) is designed to extend the scope of a traditional IHBC School exhibition floor.
---
Unearthing the history of Gloucester's 'the Fleece' Hotel starts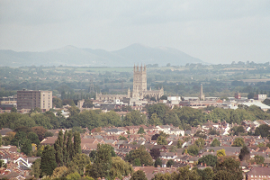 Work to repair a fire-hit medieval hotel in Gloucester is underway as crews have started work to strip back some of the modern trappings and reveal the historic framework.
---
Booking Open for IHBC Annual School: Aberdeen, 16-18 June 2022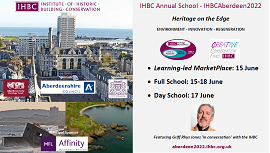 Options for in-person and virtual delegates to explore 'heritage on the edge' across up to 4 days of IHBC engagement & learning.
---
European Heritage Heads Forum statement on Ukraine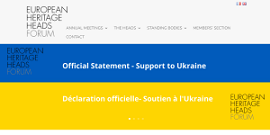 The Secretariat to the European Heritage Heads Forum has has coordinated its declaration of solidarity and support for Ukraine's cultural heritage institutions.
---
Welcome to #IHBC25 – 25 years since we turned professional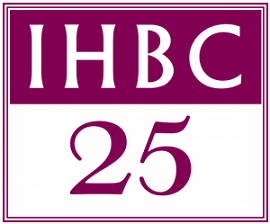 2022 will see the IHBC mark a quarter of a century since our incorporation as a professional body supporting and accrediting built and historic environment conservation specialists. We're kick-starting it by inviting your ideas on how to mark this special year!
---
IHBC launches new Guidance Note on 'Design sources for historic building conservation'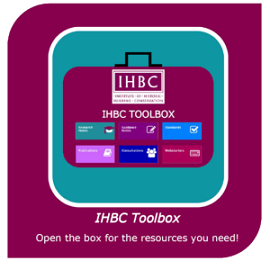 The IHBC's latest Guidance Note adds to the institute's open-access, online practitioner's Toolbox.
---
England's communities empowered to shape design of neighbourhoods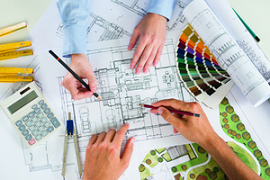 Twenty-five areas in England from Bournemouth to Carlisle have been awarded a share of £3 million to help them set their own standards for design locally. "move from a vicious circle of generic development to a virtuous circle of regenerative development".
---
IHBC-SAHGB announce 2021 annual research award winner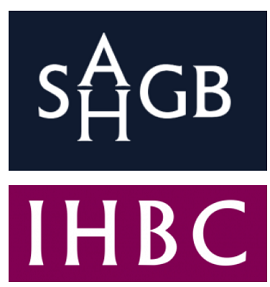 Donald Insall Associates has been announced as the winner of the new joint award with the Society of Architectural Historians of Great Britain (SAHGB). The award celebrates the quality of architectural-historical research produced as private consultants or for public bodies etc.
---
IHBC at COP26 - Conserving our Places Conserves our Planet 1-12 Nov 2021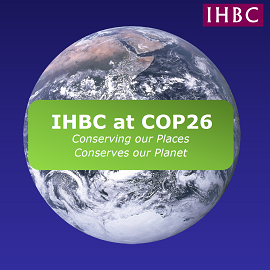 The IHBC seeks to raise awareness and understanding of how building conservation philosophy and practice contributes towards meeting the challenge of climate change.