Digital modelling for retrofit
The buildings and construction sector accounts for around 40 per cent of energy and process-related greenhouse gas emissions globally [1], and in the UK it is estimated that 80 per cent of the building stock of 2050 already exists [2]. With the push to reduce greenhouse gas emissions to mitigate climate change, enormous pressure is being placed on retrofitting buildings to reduce their energy use and hence their share of emissions.
It is important to carefully understand and appreciate existing conditions, analyse a range of potential interventions to achieve an optimised result, monitor build quality and evaluate performance against initial assumptions. The IHBC's Guidance Note on Retrofitting of Traditional Buildings, available on the institute's online Toolbox [3], is an excellent resource.
Existing digital modelling tools used to estimate carbon emissions of various retrofit interventions are highly sophisticated, but they almost exclusively account for operational carbon, not embodied carbon. A skewed picture emerges where the removal and disposal of existing building elements, and the manufacture, transport, installation, and future repair and maintenance of new ones are ignored. Accounting for these embodied carbon emissions, as well as operational emissions, known as a life-cycle analysis, provides a much more favourable view to the retention, repair and reuse of existing building elements. It is also likely to align much more closely to conservation professionals' established practice of emphasising the understanding of significance and heritage values to inform interventions and alterations.
Several new life-cycle analysis tools, at various levels of sophistication, are currently in development. The Sustainable Traditional Buildings Alliance is working on a simplified tool aimed at the policy level, as is the Association for Preservation Technology International with its OSCAR tool [4]. More sophisticated modelling tools intended for the practitioner level include the Green Building Calculator V2 and a life-cycle analysis tool being built by Carrig Conservation. 'Building passports' have been proposed [5] to streamline data flows and enable the implications of the complex modelling to be understood by end users, to enhance their understanding of their own buildings and how they perform.
Many challenges remain. Measuring the performance of existing buildings is time consuming, labour intensive and requires expensive specialist tools, techniques and skills. For practical purposes, assumptions will have to be made. The variety of the building stock, especially buildings of traditional construction, presents highly complex interactions between energy use, air and moisture flow, and occupant comfort and wellbeing. And until the use of environmental performance certificates, which tabulate the environmental impact and net carbon emissions of a particular material, becomes more widespread, accurate embodied carbon inputs will be difficult to obtain.
It is also a challenge for digital modelling tools to account for heritage understanding and significance, which are typically difficult concepts to quantify. The broader challenge is in educating the professionals and trades involved in retrofit. Standards such as PAS-2030 and PAS-2035 are a good start in providing a framework, but more needs to be done.
The Climate Heritage Network, of which the IHBC is an active member, endeavours to ensure that culture and heritage influence climate policy at national and international levels. An example of the work is a variety of projects and presentations planned for the upcoming COP26 conference this autumn (2021) in Glasgow [5].
References
---
This article originally appeared in Context 168, published by the Institute of Historic Building Conservation (IHBC) in June 2021. It was written by Michael Netter, the IHBC's professional services officer.
--Institute of Historic Building Conservation
IHBC NewsBlog
Part of historic Old Courthouse in Cockermouth collapses into river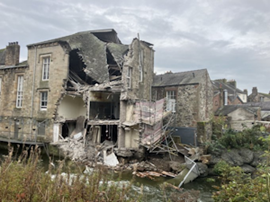 A section has fallen away and landed in the River Cocker below, including the back walls over three floors, sections of flooring and parts of the roof.
---
Scaffolding removed from Salisbury Cathedral after 37 years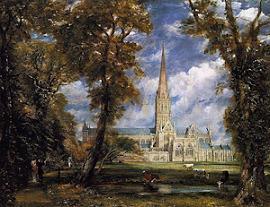 Starting with a survey in 1986, the 'topping out' ceremony took place 7 Sep 2023.
---
Demolition of Kirkcaldy's Category B former Kitty's nightclub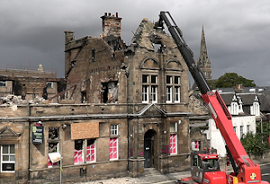 Following a fire, engineers confirmed that the building faced complete demolition.
---
Irreplaceable Welsh castle saved from collapse thanks to £2.2m grant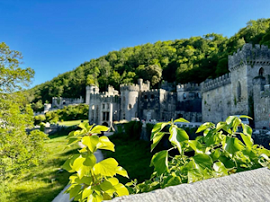 Wales' Gwrych Castle has a funding lifeline from the National Heritage Memorial Fund (NHMF) as part of its Covid-19 Response Fund
---
New interactive models of the 'Dinosaurs' sculptures in Crystal Palace Park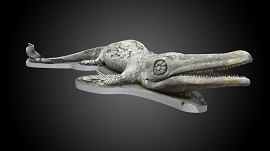 Interactive 3D models have been created of the 29 surviving 'dinosaurs' in Palace Park, South London.
---
How was it built – the Iconic Forth Bridge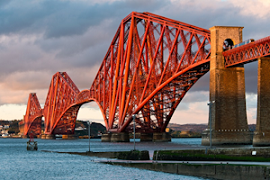 The Forth Bridge is one of the engineering wonders of the world. From the Engine Shed HES, find out more about how this incredible structure was built and what the conservation challenges are today.
---
Stirling's Christie Clock Tower demolition 'over safety' sparks Council investigation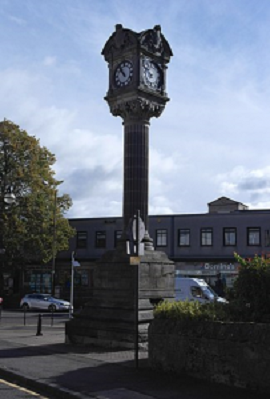 A clock tower which stood in Stirling for 117 years has been controversially and dramatically demolished by the local council over safety fears
---
The Natural Stone Source Book 2023-24 Specifiers Guide published

This guide is designed to be both inspirational and educational, providing the information and creative stimulation needed for successful completion of a natural stone project.
---
Context C176 published - World Heritage Sites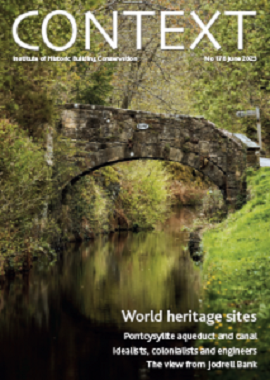 The issue explores the diverse facets of conservation of World Heritage Sites from across our globe.
---
Historic Environment Scotland unveils plans for new Archive House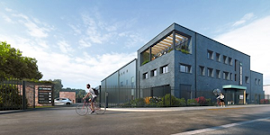 The innovative project will be an exemplar of reuse and retrofit of an existing building.