Heritage protection in Ireland
Introduction
There are two main strands of legislation affecting heritage assets in Ireland, the National Monuments Act, 1930–2004, a broad piece of legislation dealing with the protection of historic monuments and archaeological areas, and the Planning and Development Acts, 2000–2017, in which measures affecting historic structures form an integral part of a broader framework for local authority planning.
There is a constant balancing of the need to protect cultural heritage with the rights and freedoms of the individual, guaranteed by the state under the Irish Constitution. International conventions and charters influence the form legislation may take, but the provisions of the constitution take precedence over acts of parliament.
The constitution guarantees freedom to religious denominations to manage their own affairs and to own and administer property, and in this regard the National Monuments Act excludes churches in ecclesiastical use. There are also special provisions in planning law in relation to development to churches which impose an obligation on planning authorities to respect liturgical requirements and to consult appropriately when making declarations or assessing planning applications affecting interiors.
The primary legislation for the conservation of built heritage in Ireland is the Local Government (Planning and Development) Act, 2000 (as amended), which consolidated the Planning and Development Acts, 1963–1999. The 1999 act introduced significant change regarding heritage protection by giving effect to the Granada Convention of 1985, ratified by Ireland in 1997. A further piece of legislation enacted at that time, the Architectural Heritage (National Inventory) and Historic Monuments (Miscellaneous Provisions) Act, 1999, established the National Inventory of Architectural Heritage (NIAH) on a statutory basis. The NIAH surveys provide the basis for the Minister for Culture, Heritage and the Gaeltacht (DCHG) to make recommendations to planning authorities concerning designation for protection.
The Planning Act, 2000 (as amended) requires each planning authority to include a record of protected structures (RPS) in its development plan. In the context of development in relation to any protected or proposed protected structure under this legislation, the definition of works includes 'any act or operation involving the application or removal of plaster, paint, wallpaper, tiles or other material to or from the surfaces of the interior or exterior of a structure'.
If a structure is included in the RPS, a planning authority (or An Bord Pleanála, the national planning appeals board) must provide an owner or occupier with a declaration clarifying the kind of works that would or would not materially affect the character of the structure. Planning authorities are obliged to have regard to any guidelines issued under the act and also to any ministerial recommendations made in relation to specific structures.
The minister is obliged to issue guidelines to planning authorities concerning development objectives for protecting structures, and for preserving the character of architectural conservation areas (ACAs). Planning authorities must have regard to the guidelines issued in considering development objectives, and should have regard to the guidance for detailed consideration of protected structures and structures in architectural conservation areas in relation to decisions on individual planning applications and appeals, and in relation to the content of declarations.
Each owner and occupier of a protected or proposed protected structure must ensure that the structure or any element of it that contributes to its special interest is not endangered. It is also an offence to cause damage to any such structure.
Each planning authority must include objectives for preserving the character of ACAs in their development plans, once they have chosen to designate an ACA for protection. Works to a structure in an ACA are exempted only if they do not materially affect the character of the area.
In 2012 an expert advisory committee was established by government to review the legislation and its operation. It concluded that the protection of the environment had been significantly improved since 2000. It also made substantial recommendations for improvement, encompassing legislation, economic support and targeting education and training.
Alongside the 1999 Planning Act, the government also introduced a series of administrative and financial arrangements to support the implementation of the legislation within the local authority framework, which gave rise to the role of architectural conservation officer (ACO). (A number of local authorities have yet to establish the ACO role.) ACOs have formed the Association of Architectural Conservation Officers as their representative organisation, through which they promote the care and revitalisation of the historic building stock in Ireland.
While the ACO serves as an adviser on built and historic environment conservation issues broadly comparable to those in the UK, the organisational structure within local authorities does vary, as does the reporting structure. Duties include the assessment of the impact of projects, measures and policies on protected structures, on buildings within ACAs and other supporting activities.
There is also a county network of local authority heritage officers who play a key role in promoting awareness, knowledge and pride in local heritage. They provide advice, guidance and information on various aspects of Irish heritage and heritage best practice. Heritage officers work closely with the Heritage Council, a statutory body set up in 1995 to facilitate the grant-aiding of heritage and engagement with local government and communities in capacity-building and support.
The future
Three interrelated initiatives are shaping the future of heritage resource management and care in Ireland.
Project Ireland 2040 is a nationwide consultation, launched by government in February 2018 simultaneously with a €116 billion budget which aims to build the 'Ireland of tomorrow'. It seeks to provide a comprehensive social, economic and cultural infrastructure so that a better society can be created. It aspires to provide high-quality, well-managed built and natural environments that contribute to public confidence and quality of life. The project aims to achieve ten strategic outcomes with overarching themes of wellbeing, equality and opportunity, and representing the ten priorities of the linked National Planning Framework.
The National Planning Framework (NPF) outlines ten national strategic outcomes (NSOs) along with corresponding strategic investment priorities. NSO 7 deals with enhanced amenity and heritage, which is linked to and integrated with our built, cultural and natural heritage. Strategic investment priorities include culture, heritage and sport. Commitments include investment in national heritage and safeguarding the historic built environment, including revitalising historic urban cores, bringing historic buildings back into use, urban and rural revitalisation, and the conservation of national monuments (extending to 780 monuments and sites).
Supporting funds include the Built Heritage Investment Scheme (http://bc-url.com/bhis) and the Structures at Risk Fund (http://bc-url.com/srf), which help owners and custodians to protect built heritage and maintain traditional building skills.
The National Development Plan (NDP) 2018–2027 sets out the investment priorities that will underpin the successful implementation of the new NPF. This will guide national, regional and local planning and investment decisions in Ireland over the next two decades.
Conclusion
Recent legislation underlines an endorsement of the high value to be placed on the built heritage. The combined NDP and the NPF will further enhance and support the legislative controls in place to ensure that heritage assets are conserved. The ambitious development programme is to be welcomed, as is the DCHG consultation 'Heritage Ireland 2030' which is working towards a national heritage plan.
---
This article originally appeared in , in IHBC's 2018 Yearbook (Page 87), published by Cathedral Communications. It was written by Mona O'Rourke, a conservation and heritage management consultant based in the Republic of Ireland. She is an executive member of ICOMOS Ireland and of the Irish Landmark Trust. She is an affiliate member of the IHBC.
--Institute of Historic Building Conservation
IHBC NewsBlog
Wales introduces the Optimised Retrofit Programme (ORP) for a green recovery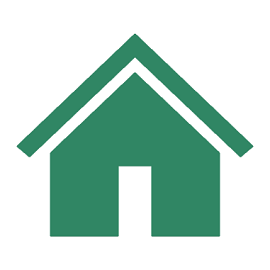 The Welsh Government has given the green light and a further £10M to a major new programme that will transform social housing across Wales, boost the economy and open the door to a new Welsh industry: the Optimised Retrofit Programme (ORP).
---
Lifeline grants for culture in all corners of the country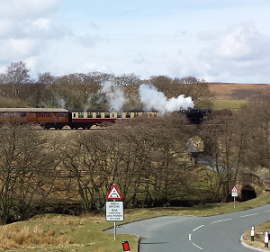 Culture across the country benefits as Lifeline grants from the latest round of the £1.57 billion Culture Recovery Fund will protect a further 162 heritage sites across the country.
---
Scottish Government rejects transformation of landmark building into luxury hotel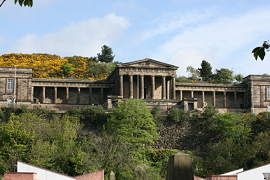 Now the building long touted as a potential home for the Scottish Parliament stands as a symbol of a divided Scottish capital.
---
One of Britain's last AA telephone boxes saved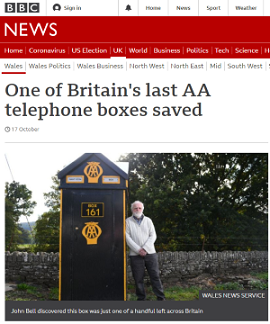 AA Box 161 has now been listed. The telephone boxes were a sanctuary for motorists in distress, but of the hundreds across Britain just 21 remain.
---
IHBC submits comments on BSI's PAS 2038 – Retrofitting non-domestic properties

The IHBC has noted that it fails to emphasise the need to carry out appropriate repairs as the vital precursor to installing retrofit measures.
---
Mapping tool for unused construction materials launched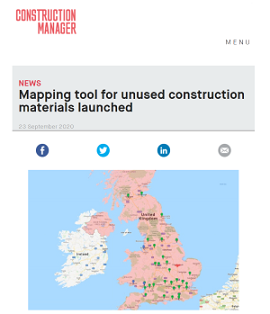 A mapping tool that provides contractors and their suppliers with a central database of local Materials Exchange Platform (MEP) projects to help cut waste by finding a home for unused materials has been launched.
---
'Unusual' WW2 sites listed and upgraded to mark 80th anniversary of Battle of Britain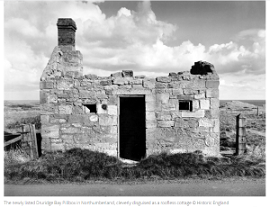 An air raid shelter, a pillbox cleverly disguised as a roofless cottage, a rare Chain Home radar defence tower, and a war memorial have been granted protection.
---
Derby City Council plans to knock down the 43-year old Assembly Rooms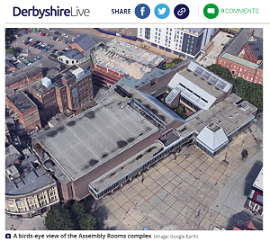 A planning application has been submitted by Derby City Council to knock down the Assembly Rooms – which has played host to the likes of Elton John, Iron Maiden, Take That, etc.
---
RIBA launches new contracts for the provision of conservation architectural services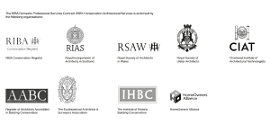 Specifically tailored for conservation projects, the Royal Institute of British Architects (RIBA) has launched two brand new professional services contracts.
---
Liverpool Mayor blocks £5m zip wire plan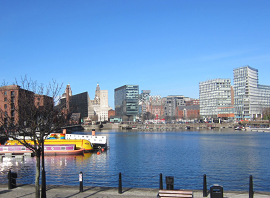 Liverpool Mayor Joe Anderson has made a dramatic intervention into the zip wire row which has divided people, politicians and businesses in the city.
---