The role of architectural conservation officers in the Republic of Ireland, 2000-2020
Irenie McLoughlin reflects on how the role of architectural conservation officers in the Republic of Ireland has developed over the past 20 years.
The attitude to architectural conservation and its importance has shifted within the Republic of Ireland over the past 20 years. A significant change came about with the introduction of architectural conservation officers (ACOs) into local authorities. We worked at the coal face of an industry that was new, helping the public and the planning authorities navigate the legislation.
A great deal has changed in 20 years. Although the statutory duties remain the same, ACOs have redefined and widened their role in promoting a positive attitude towards architectural heritage and a better understanding of the importance of the built environment. The role and function of ACOs have contributed to delivering an understanding of local and national government priorities such as urban regeneration, adaptive reuse of historic buildings and action on climate change, which are all key elements of Irish Government policy.
The role of the ACO within a local authority is to assess, advise and to promote the regeneration of historic buildings, towns and villages, helping to protect and enhance the historic environment, although the scope is far more than this. Our ethos and vision are very similar to the IHBC (Institute of Historic Building Conservation) in establishing the highest standards of conservation practice.
The architectural conservation officer post was introduced at local authority level in 1999. Today 18 local authorities have ACOs. The role of conservation officer was set out as a statutory role with a defined role of responsibility in line with Part IV of the Planning and Development Act, 2000. The role has expanded significantly and often goes far beyond the functions statutorily required by the legislation for protection of the historic built environment. Other conservation posts have developed in some local authorities to support the architectural conservation officer, such as executive and assistant architectural conservation officer.
A handful of architectural conservation officers has been in the role since its creation. I have been in the role with South Dublin County Council since 2001, having studied and trained architecture and building conservation in the UK. I still find the job very challenging, but it provides me with great satisfaction. Colleagues in other local authorities and I found the role very isolating at times, so the Association of Architectural Conservation Officers (AACO) was set up in 2002 to bring together local authority conservation personnel and provide a forum.
The AACO allowed an exchange of technical information on principles and best practice between individual members or with institutions, agencies and organisations. To me the value of the association is in supporting each other within the role, and collaborating in bringing about change.
At the end of my 19th year as an architectural conservation officer it is particularly important to work in partnership with others, both within my organisation and externally. As with all professions, the journey provides lessons for those in the role since its creation, and those new to the role. One of the main lessons I have learnt is to see the bigger picture. I am lucky to have a really good working relationship with my colleagues in the planning department and architectural services, my role being somewhere between architecture and planning.
Questions such as 'why have I stayed in this role for 19 years?' led me to reflect with my colleagues, leading to the idea of organising a facilitated workshop on the role of architectural conservation officers, with creativity and new vision in mind. The workshop was held with the support and organisation of Nessa Roche, senior architectural advisor at the Department of Culture, Heritage and the Gaeltacht, and funding from the department. Its theme was to consider and strengthen the architectural conservation officer role, and understand its value. It created positive energy, clarity and direction towards strategic actions and a common goal.
Our stakeholders' workshop identified clear areas of priority to progress the role of architectural conservation officers. The key areas were communication, engagement with professional cohorts and the public, cooperation, collaboration, knowledge sharing, upskilling and the creation of efficient work practice. We now have a clear path and vision to ensure effective implementation of legislation; enhanced conservation and level of protection of the built heritage; increased understanding of conservation among key players; and efficient grant administration. We continue to lobby for increased funding for the protection and conservation of our historic built environment.
With continued funding from the Department of Culture, Heritage and the Gaeltacht, we provide financial assistance to owners of protected structures and homeowners living in architectural conservation areas. There has been a significant increase in the delivery of small conservation projects, ensuring good conservation repair and supporting traditional skills. The Built Heritage Investment Scheme (BHIS) and the Historic Structures Fund are running again in 2020. One of the main work areas of the local authority ACOs is the operation of the grant schemes. This includes evaluating applications, issuing provisional approval and conditions for the proposed works, assessing quality of repair works and paying the grant.
Establishing a good relationship with the department's Architectural Policy and Protection Unit (Built Heritage Section) has led to a small change to the BHIS. Maintenance works can now be applied for in cases where previously such work did not qualify under the scheme. Other local small-scale grant schemes have been developed by architectural conservation officers. Cork City Council developed a scheme in 2011 to assist the owners of historic buildings in the city's architectural conservation areas, to conserve and repair windows, doors, roofs, chimneys, gutters, railings and shopfronts. South Dublin County Council has focused on local authority- owned protected structures, and has secured capital funds to help protect ruinous structures in public open space and parklands, which I have managed over the past number of years. This has promoted awareness and community collaboration.
A number of initiatives, projects, workshops and exhibitions have been delivered through the Engaging with Architecture programme, funded in partnership with the Arts Council and DCHG under the auspices of the Government Policy on Architecture. Offaly County Council's and South Dublin County Council's architectural conservation officers have successfully curated and managed programmes under this programme. Other architectural events to highlight the value of our built environment have been created and developed or assisted by ACOs from Galway, Mayo and Kerry County Councils, through the Architecture at the Edge and Architecture Kerry programmes. These saw a wide range of free events, including talks, guided tours, exhibitions, workshops and family events.
Becoming involved in a number of projects in South Dublin County Council and in collaboration with other organisations has allowed my role to expand and diversify, providing professional development and a sense of fulfilment. I was also involved in Reimagine Tallaght, funded by the Creative Ireland Programme and delivered in partnership with the Irish Architecture Foundation (IAF), South Dublin County Council and Tallaght Community Arts.
Reimagine brings together local communities, architects, designers and planners to develop projects that will enhance the built environment of each of the towns. Melt the Walls focuses on enhancing Chamber Square for the local residents with a temporary installation, connecting it with the surrounding cultural buildings. The intention was to test small ways in which local people could engage better with each other and with the physical space. The result was an interactive piece which functioned as a seating area.
The recently published National Policy on Architecture discussion paper is seeking public submissions on a proposed policy. The policy will set out the Irish Government's ambition for better understanding the qualities, benefits and potential of our built environment. At the heart of Project Ireland 2040 will be high-quality design, sustainable new buildings, places and spaces, and sensitive reuse of our existing built environment and resources.
The results of the national policy will be akin to the work of local authority architectural conservation officers. The ACOs have a clear vision: achieving it will depend on support at national government level and within our local authorities.
---
Thanks to Janice McAdam, strategy and engagement consultant facilitator, for the AACO workshop, and the Department of Culture, Heritage and the Gaeltacht and ACOs for information on projects.
This article originally appeared as 'The evolving architectural conservation officer' in IHBC's Context 163 (Page 28), published by The Institute of Historic Building Conservation in March 2020. It was written by Irenie McLoughlin, architectural conservation officer with South Dublin County Council.
--Institute of Historic Building Conservation
IHBC NewsBlog
IHBC at COP26 - Conserving our Places Conserves our Planet 1-12 Nov 2021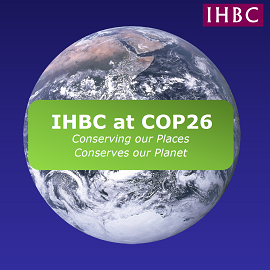 The IHBC seeks to raise awareness and understanding of how building conservation philosophy and practice contributes towards meeting the challenge of climate change.
---
IHBC's latest CONTEXT explores 'Conservation Leadership by the People'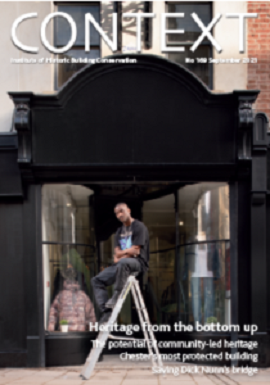 From Amenity Societies and Wentworth Woodhouse to Kurt Schwitters, Scotland's Towns, Chester and more...
---
Edinburgh's Royal High School to become '£55M national centre for music'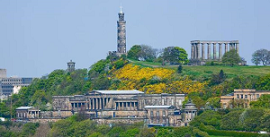 The former Royal High School building in Edinburgh is to be transformed into a £55 million national centre for music after the City of Edinburgh Council agreed to the lease of the historic property.
---
IHBC, CIfA, IEMA launch Principles of Cultural Heritage Impact Assessment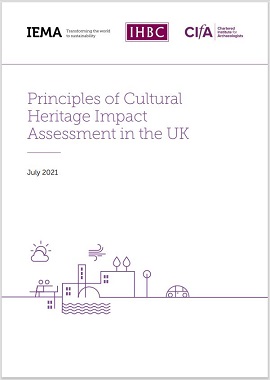 The joint-institute document aims to help maintain cultural heritage by providing a consistent framework across different sectors & geographies
---
Enter Now to Win: IHBC's GASA Awards 2021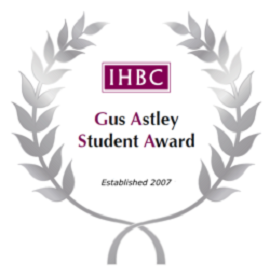 IHBC's Gus Astley Student Awards 2021: Win £500 and a place on IHBC's 2022 Aberdeen School with your built environment/heritage coursework, closes 31/07!
---
Former Harris meat factory mansion in Calne, Wilts, to be restored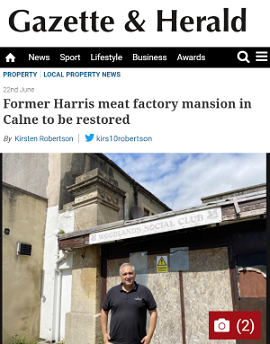 The last remaining buildings on the site of the Harris meat factory family's historic mansion are being restored to their former glory and converted into new homes.
---
CICV Forum introduces professional indemnity insurance guide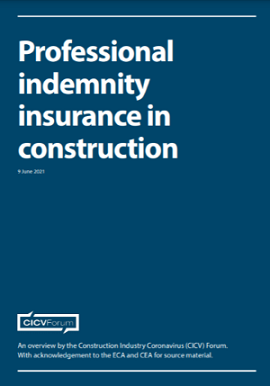 The Construction Industry Coronavirus Forum (CICV Forum) has unveiled a new guide to the crucial and increasingly complex issue of professional indemnity insurance (PII).
---
The World Heritage Committee(WHC): Liverpool should lose its World Heritage status.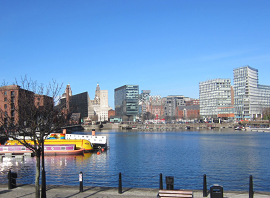 ICOMOS has advised that the new football stadium proposal, if implemented, would have a completely unacceptable major adverse impact its authenticity and integrity.
---
Scotland's CSIC: New plans to transform public spaces into sustainable office hubs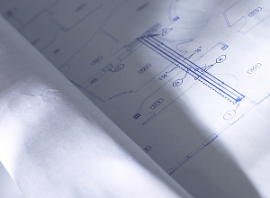 Responding to the changing working patterns of a post-Covid Scotland, the Construction Scotland Innovation Centre (CSIC) has revealed new plans to help retrofit public spaces into out-of-town alternatives to city centre offices.
---
IHBC's latest Context explores 'Applying Digital Technology'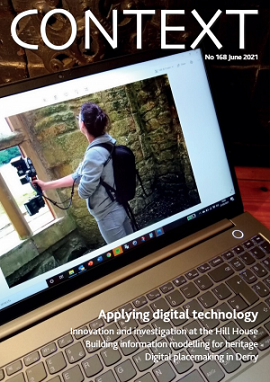 The free-to-access online issue mixes the topical and practical to explore how the sector can best adapt to digital innovation.