Sustainability in building design and construction
Sustainability is a broad term describing a desire to carry out activities without depleting resources or having harmful impacts, defined by the Brundtland Commission as 'meeting the needs of the present without compromising the ability of future generations to meet their own needs.' (ref. Brundtland Commission, Our Common Future, 1987).
Some broader descriptions include social and economic welfare although these can confuse the basic issue of the depletion of resources.
Sustainability in building developments is a vast and complex subject that must be considered from the very earliest stages as the potential environmental impacts are very significant (ref. Technology Strategy Board).
The built environment accounts for:
Once it has been decided to build a new building, as opposed to say changing working practices or refurbishing an existing building, a very significant commitment to consume resources has already been made. Designers and contractors may be able to help limit that consumption, but they cannot change the overall commitment.
This consumption of resources can be even more significant if the client makes a decision to relocate, with the impact this has on their staff, requiring that they either move house or change their travel plans. Decisions such as this which are often made outside of any environmental assessment process can have a far greater impact on sustainability than decisions that designers are able to influence such as the form of the building and selection of materials.
Key decisions may be picked up by an environmental impact assessment on larger projects, but even then, this can be a post-rationalisation process used to justify decisions to the local planning authority, rather than a genuine decision-making process.
Clients may wish therefore to appoint an independent client adviser with specialist knowledge of sustainability during the very early stages of their project (before the consultant team has been appointed) to help them address these high-level decisions.
Clients may have an existing environmental policy, that sets out an overall sustainability vision, as well as detailed objectives and targets. They may also have environmental accreditation such as ISO 14000 (a series of standards which provides a framework for environmental management).
Other standards may be imposed by funders, the building regulations, and planning legislation (including the possible need for an environmental impact assessment). It is wise however to write a specific environmental plan for the development being considered, as building projects involve many detailed issues that go beyond the scope of an existing corporate plan.
A project-specific environmental plan could form part of the brief, or on larger projects might be a stand-alone document. It might include an overall vision, objectives and and specific targets in relation to:
Business planning:
The need for a new building as opposed to doing nothing, refurbishment or changes in working practices.
Selection of consultants:
Contractual requirements in relation to the selection of materials, monitoring and reporting, track record, environmental accreditation and qualifications of staff.
Selection of location:
Availability of transport, the selection of a greenfield or brownfield site, the local availability of resources and services, the local infrastructure and local ecology.
Procurement route, travel plan, working methods, standards, ecology and landscape, energy use and energy source, flexibility and durability, waste management, water management, material selection and pollution.
Design:
Energy use and energy source, embodied energy, use of harmful materials, material sources, ecology and landscape, flexibility and durability, waste management, water management, disposal, travel plan and pollution.
Contractual requirements such as monitoring and reporting, working practices, track record, environmental accreditation and qualifications of staff.
Transport, embodied energy, use of harmful materials, material sources, working methods, site waste management plan, recycling, pollution, wheel washing, dust generation and noise nuisance.
Operation:
Energy source, energy use, water management, maintenance, resource management, waste management, flexibility, durability, landscape and ecology, pollution, evaluation and feedback.
Dismantling and demolition, re-use, re-sale and recycling, landscape and ecology, hazardous materials and pollution.
The environmental plan should:
Set specific, measurable targets.
Set standards that must be adhered to.
Establish procedures for communication and training.
Establish procedures for monitoring and reporting.
Establish procedures for revision and updating.
Environmental plans require policing, and on a large project this can be a full-time job for a specialist. At the client level, a senior champion should be appointed to take responsibility for environmental matters.
Predicting the likely environmental performance of a development during the design phase is becoming more important as regulations become increasing strict.
As well as the building regulations, and government targets for low carbon construction (see Low carbon construction plan), the National Planning Policy Framework makes clear that there should be a presumption in favour of granting planning permission for sustainable development, this might include low-carbon developments, and developments with resilience to climate change. This should be reflected in design and access statements for outline planning applications.
There are a number of assessment tools and standards available to help assess environmental performance:
These assessment techniques are beginning to allow whole-life costing to form a fundamental part of the design process as it becomes possible to demonstrate that higher initial costs can sometimes result in lower long-term impacts and greater long-term benefits. Demonstration of actual performance in use may be necessary through requirements for a Energy Performance Certificates (EPCs) or Display Energy Certificates (DECs)
Appointments should make clear the extent and standard of environmental performance and assessment that is required.
[edit]
Find out more
[edit]
External references
IHBC NewsBlog
IHBC London Branch Conference launched and open for booking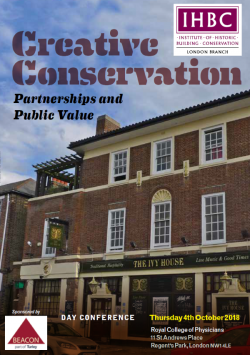 'Creative Conservation: Partnerships and Public Value' - 4 Oct, Royal College of Physicians - leading speakers, unequalled debate - a CPD opportunity not to be missed!
---
IHBC latest Jobs etc skills review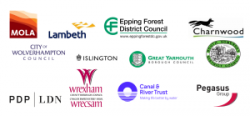 Specialist areas and skills in demand, from design and project management to regulation and more featured in our celebrated – and very cost-effective - IHBC Jobs etc service.
---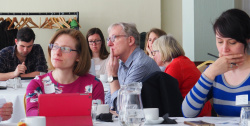 Ideas bear fruit, as early career members 'reverse mentor', generating fresh perspectives on the institute's future plans and structures!
---
IHBC Scotland at Listed Property Show in Edinburgh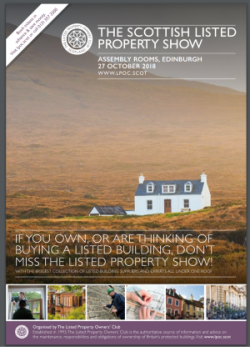 IHBC Scotland will host a CPD session at the Show on 27 October, while an IHBC stand will offer more informal access and conservation advocacy to visitors.
---
IHBC Heritage from the doorstep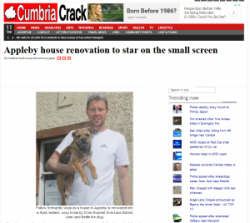 A traditional building in the Appleby Heritage Action Zone (HAZ) is filming its 'work in progress' as part of work grant aided by Historic England as reported by Cumbria Crack!
---
English Heritage celebrates the Cooper Car with a blue plaque.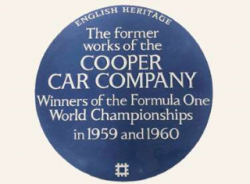 A blue plaque has been placed at the home of the former Cooper Car Company, marking its motoring heritage.
---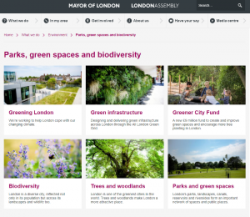 Community Tree Planting Grants and £1.5million woodland fund look to make London the world's first National Park City.
---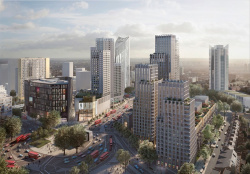 'What if mothers or teenagers designed our cities?' An opinion piece in the invites us to consider what our cities would look like if cities reflected their diverse populations.
---
V&A Dundee opens Saturday 15 Sept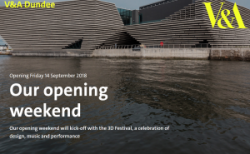 IHBC NewsBlogs reports on some building construction and collection highlights, including spectacular drone footage of work in progress and to completion.
---
IHBC supports LPOC petition on VAT reductions for Listed Buildings
LPOC notes '...it is perverse that repairs should be subject to VAT when new development is not'.
---
Loyd Grossman recently appeared on a BBC radio programme to discuss NIMBYism in heritage and development, the programme is currently available on BBC iPlayer.
---
Call to share land value with communities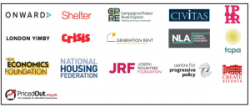 England's SoS for Housing, Communities and Local Government is sent an open letter by leading campaign organisations calling for land value to be shared.
---
Redrock Stockport wins 2018 Carbuncle Cup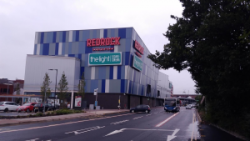 The 2018 winner of the Carbuncle Cup is Redrock Stockport, a £45m leisure complex and car park designed by BDP for the local council.