Digital Built Britain

[edit]
Introduction
Building information modelling is a very broad term that describes the process of creating and managing digital information about a built asset such as building, bridge, highway, tunnel and so on. Level 2 BIM has been required on centrally-procured public projects since April 2016. This is fully collaborative 3D BIM with all project and asset information, documentation and data being electronic.
Digital Built Britain (DBB), is the phrase coined to describe the next level of BIM maturity, level 3 BIM.
[edit]
2015 launch
The concept was initially launched by Business Secretary Vince Cable on 26 February 2015 with the publication of Digital Built Britain, Level 3 Building Information Modelling - Strategic Plan, and the associated Digital Built Britain website (now the Centre for Digital Built Britain at Cambridge University).
The website suggested that, "The jump between Level 2 and 3 is "big", the reason we have committed to Level 3 at this time is because we know how much work there will be in creating the technical standards and commercial controls to be ready for an early adopter programme towards the end of the decade."
See Level 3 BIM launched for more information.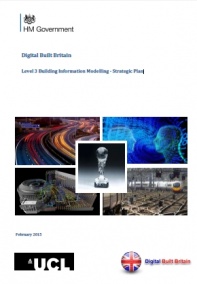 The Strategic Plan was written by the Department for Business Innovation and Skills (BIS), the BIM Task Group, University College London (UCL) and its associate dean of engineering Professor Jeremy Watson, chair of BuildingSMART UK.
It suggested that over the next decade BIM will combine with the internet of things, advanced data analytics and the digital economy, allowing us to plan more effectively, build at a lower cost and operate more efficiently.
It proposed that the functional changes from level 2 to level 3 could be summarised as:
The report described 4 phases of delivery:
The report set out in very general terms action necessary in a number of different areas:
It stated, 'We seek to create a mature digital economy for the built environment which delivers high performing assets and exceptional client value as well as a knowledge base to enable the Smart City and community members to thrive in our urban environments. This approach will attract the most talented individuals from diverse backgrounds into an industry seen to add demonstrable value to society.'
In an interview with BIM+, Mark Bew, Chair of the BIM Task Group suggested that Level 3 BIM was a "10-year plan", with five years of preparation followed by five of implementation and early adopter projects beginning in 2017/18. Ref BIM+ Level 3 BIM culture change is our 'Facebook' revolution, says Bew 5 March 2015.
[edit]
Criticism
Digital Built Britain was not universally welcomed however, with some suggesting it is too early to consider these next steps when Level 2 BIM is still in its infancy. Robert Klaschka, from Klaschka Studios said "We may have three or four software platforms that are okay for design and construction, but talking about Level 3 BIM when we're struggling with Level 2 seems bizarre." Ref Construction Manager, Government Level 3 strategy paves way to 'Digital Built Britain' 28 February 2015.
Despite this, in the 2016 budget, the government confirmed it '...will develop the next digital standard for the construction sector – Building Information Modelling 3 – to save owners of built assets billions of pounds a year in unnecessary costs, and maintain the UK's global leadership in digital construction.'
[edit]
2016 re-launch
On 19 October, 2016, it was announced that Innovate UK and the Department of Business Energy and Industrial Strategy had formed a partnership to deliver the next phase of digitisation in the construction sector through Digital Built Britain. Ref gov.uk Launch of Digital Built Britain.
This it said would '…deliver reductions in whole-life costs and carbon emissions, whilst improving productivity and capacity by using intelligent building information models, sensing technology and secure data and information infrastructure. It will also help deliver other Government digital transformation objectives, such as smart cities, cyber and physical security and sensors through the Internet of Things.'
This Digital Built Britain programme will focus on:
Simon Hart, BIM Task Group, Innovate UK said, "The use of the UK developed BIM standards is transforming the $10 trillion global construction sector towards improved productivity, competitiveness and efficiency and providing growth for UK small businesses at the forefront of this technology."
Mark Bew MBE, chair of the BIM Task Group said:
"Today marks a significant step in the journey to a digital economy for the built environment. The UK has made a significant step in creating a world-class position in delivering capability, standards and capacity in the sector to reduce cost and increase value. The coming together of the BIM and smart city programme into Digital Built Britain will continue this commitment to providing jobs, homes, services and growth to the UK economy."
Building on work started by the UK BIM Task Group, the Centre for Digital Built Britain (CDBB) is leading the next stage in the UK construction industry's digital evolution.
CDBB is a partnership between the Department of Business, Energy & Industrial Strategy and the University of Cambridge, supported by industry, to deliver a smart digital economy for infrastructure and construction and transform the UK construction industry's approach to the way we plan, build, maintain and use our social and economic infrastructure. It reports to HM Government through the CDBB strategic advisory board.
In December 2018, CDBB published the Gemini Principles, to provide the sector with foundational definitions and values to guide the development of the National Digital Twin (NDT), an ecosystem of digital twins connected by securely shared data.
It suggests that the NDT will be a national resource for improving the performance, service and value delivered by the UK's infrastructure; delivering benefits to society, business, the environment, and the economy. CDBB has been tasked with delivering the information management framework to underpin the NDT, and a series of pilot digital twins.
Mark Enzer, Chair of the Digital Framework Task Group (DFTG), said "The Gemini Principles are effectively the conscience of the digital built environment. If we want the National Digital Twin and information management framework to be for the public good, forever, we need start with strong founding values....the Gemini Principles are intended to help facilitate alignment for stakeholders throughout the built environment..."
Ref https://www.cdbb.cam.ac.uk/news/2018GeminiPrinciples
In December 2018, CDBB published Year One Report: Towards a digital built Britain, setting out progress made, and plans for the future. This suggests, amongst other things that CDBB is moving away from a focus on BIM, '…changing the language from BIM Levels 2, 3 and 4 to Design, Build, Operate and Integrate in order to catalyse transformation across the sector.'
In August 2019, CDBB published the Capability Framework and Research Agenda for a Digital Built Britain. Ref https://www.cdbb.cam.ac.uk/news/capability-framework-and-research-agenda-digital-built-britain
BIM Directory
---
[edit] Information Requirements
---
[edit] Information Models
---
[edit] Collaborative Practices
---
[edit] Standards
---
[edit] Levels of BIM
---
[edit] Glossary
---
[edit] Guide to BIM Level 2