Asset information requirements AIR
Built assets can be very complicated and operating them efficiently requires the development of a clear asset management strategy.
This can benefit from the creation of an Asset Information Model (AIM), a model that compiles the data and information necessary to support asset management. An AIM can provide graphical and non-graphical data and information as well as documents and metadata. An AIM can be created from existing asset information systems, from new information, or from information in a Project Information Model (PIM) that was created for the construction of a new asset.
The information required for an Asset Information Model is defined in the Asset Information Requirements (AIR). This should be developed from Organisational Information Requirements (OIR). OIR describe the information required by an organisation for asset management systems and other organisational functions. That is, they are organisational-level information requirements rather than task-specific, asset-level AIR.
In the case of a new asset, the Asset Information Requirements will have been used to develop the Employer's Information Requirements (EIR) incorporated into the tender documentation for the project.
PAS 1192-3 Specification for information management for the operational phase of construction projects using building information modelling (now replaced by BS EN ISO 19650) states that '...specific AIR shall be specified as part of a contract or as an instruction to in-house teams and may use data and information from the AIM relating to the asset management activities being carried out. The AIR shall also specify data and information to be captured and fed into the AIM. Where the activities relate to major works covered by PAS 1192-2, then the AIR will inform the EIR.'
PAS 1192-3 suggests that, 'The AIR may start as descriptive text, but should then be developed into a digital plan of deliverables. The effort to complete this should not be underestimated.'
It sets out an example of possible Asset Information Requirements, based on guidance in PAS 55-2:2008 (Asset management. Guidelines for the application of PAS 55-1) and BS 8587:2012 (Guide to facility information management). This might include:
Legal information:
Commercial information:
Financial information:
Technical information:
Managerial information: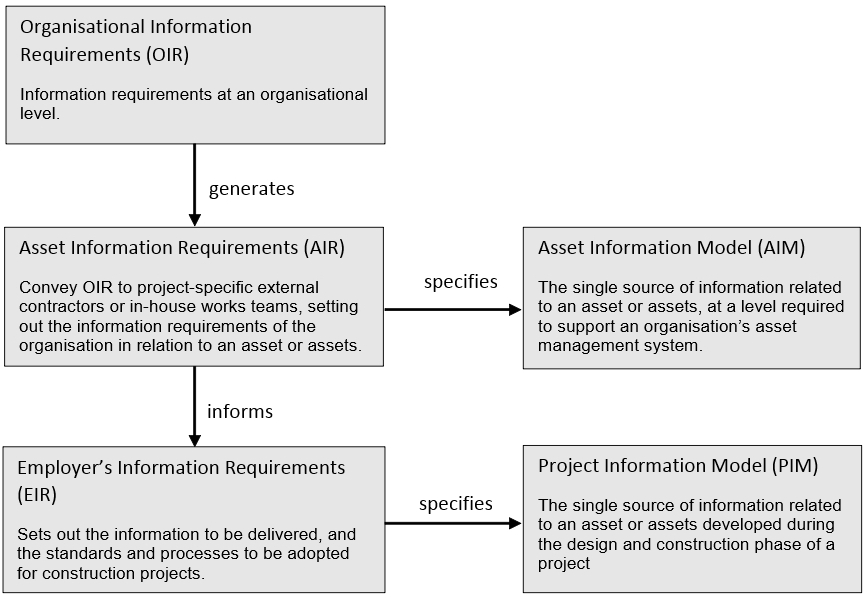 [edit]
External references