Curtain wall systems
Curtain wall systems are non-structural cladding systems for the external walls of buildings. They are generally associated with large, multi-storey buildings.
Curtain walls separate the interior from the exterior, but only support their own weight and the loads imposed on them (such as wind loads, seismic loads, and so on) which they transfer back to the primary structure of the building. This is in contrast to many forms of traditional construction in which the external walls are a fundamental part of the primary structure of the building.
Typically curtain wall systems comprise a lightweight aluminium frame onto which glazed or opaque infill panels can be fixed. These infill panels are often described as 'glazing' whether or not they are made of glass.
Curtain wall systems emerged in the 19th century with the development of large glass panels and became more common from the 1930's when aluminium was made available as a construction material for the first time.
St.Colmans College S3 Construction class, was here. we where doing our construction coursework on curtain wall systems which where popular in the 1930s as you can see above
They are now closely associated with the modernist movement and in particular, the International style, which became popular in the middle of the 20th century. This was an ornament-free, stark form of modernism, characterised by the repetition of units and the extensive use of glass. It is a style that is still in widespread use for tall buildings in cities around the world.
Curtain wall systems can be custom designed and manufactured, but are often manufacturer's proprietary systems that can be bought 'off the shelf'. Custom-designed systems are generally only cost effective for larger buildings.
Curtain walls can adopt a 'stick' system, or can be unitised:
Stick systems are installed piece by piece on site, with the glazing inserted into the frame from the inside or the outside depending on access conditions.
Unitised systems are pre-fabricated in modules off-site and delivered in panels. Unitised systems are better able to exploit the benefits of factory condition manufacturing and quality control and require lower installation time on site.
There are a wide range of possible infill panels for curtain wall systems, including:
Panels are often composites, with the facing materials bonded to, or 'sandwiching' an insulated core such as polyethylene (PE) or polyurethane (PUR), a profiled metal core or a mineral core. See Metal composite panels for more information.
Frame and panel designs are very complex, as they need to perform multiple functions:
On tall buildings, access systems must be provided to allow regular inspection, maintenance, cleaning and replacement (in particular, replacement of external seals).
Systems used to prevent the passage of water through joints (driven by pressure differences between the inside and outside) include; face-sealed, water-managed and pressure-equalised (PE or 'rainscreen') systems.
Pressure-equalised systems create a rebate between the internal and external gasket that is ventilated to the outside so that there is no pressure difference between the outside and the rebate. As a result, water is not driven into the rebate by a pressure difference that would otherwise build up across the outer gasket. Any rain that penetrates the outer seal can be drained to the outside through the vents, or weep holes. This is considered to be more reliable than face-sealed systems that attempt to create a 'perfect' seal which inevitably fails due to pressure-driven moisture.
Water-managed systems are similar to pressure-equalised systems, but there is no attempt to prevent water penetrating the outer seal, and so the primary function of weep holes or drains is to drain water rather than to allow pressure equalisation.
See Rainscreen for more information.
There is very good technical information about the design of curtain wall systems on the Whole Building Design Guide website (USA National Institute of Buildings Sciences), including typical details.
[edit]
External references
IHBC NewsBlog
IHBC's HESPR Pick this week: Scottish THI seeks 'creative(s)' in community engagement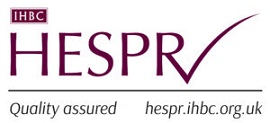 The IHBC's heritage business register HESPR emails members weekly 'News and Tender Alerts', and the IHBC Director's top pick this week features a call from a Scottish authority for 'creative(s)' to deliver 'community engagement projects', closing 28 October.
---
Banksy graffiti taken off Grade II listed Yorkshire bridge facing dismantling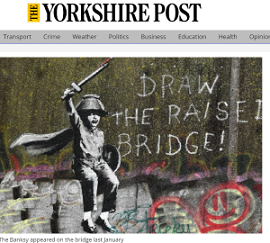 Graffiti by Banksy has been taken off a bridge in Hull as the Grade II (GII) listed Scott Street bridge itself faces dismantling.
---
The Liverpool Grade II 'jewel' that lies empty, derelict and vandalised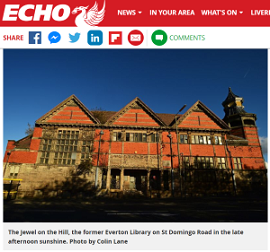 Liverpool landmark the Everton Library, a Grade II (GII) listed building that has been the focus of calls to restore it to its former glory continues to lie leaking, vandalised and derelict, when £5m could renovate the building, reports The Liverpool Echo.
---
Flintshire: Shotton steelworks' John Summers building to be restored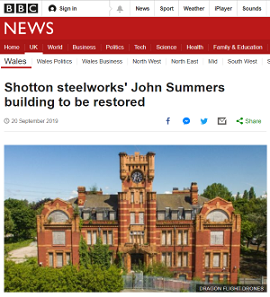 A landmark on a list of the UK's most endangered buildings, Shotton steelworks' Grade II-listed general office and clock tower, is to be brought back to life in Flintshire.
---
Rochdale Market, Manchester, to close as trader numbers and revenue continue to fall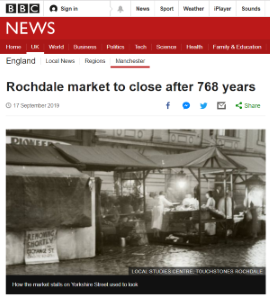 Rochdale Borough Council writes: Over the past year the number of traders regularly attending the market has halved and it is not financially viable.
---
IHBC supports Climate Heritage Network Global Launch: Edinburgh 24-25 Oct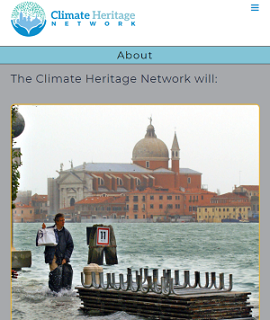 The Climate Heritage Network (CHN) Global Launch is a two-day program devoted to urgently mobilizing the cultural heritage sector for climate action across the globe.
---
Brunel's 'other bridge' in Bristol to be 'saved with £62k grant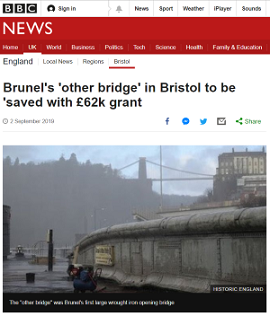 A swing bridge that was designed by Brunel is to be 'saved' with a £62,000 grant from Historic England.
---
Victorian Society announce Top 10 Most Endangered Buildings 2019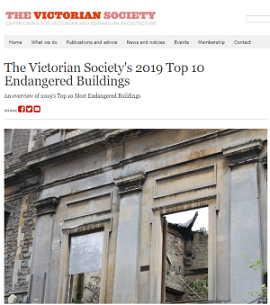 On September 13th the Victorian Society announced its Top 10 Endangered buildings list.
---
American Cities Then & Now: See How New York, Los Angeles & Detroit Look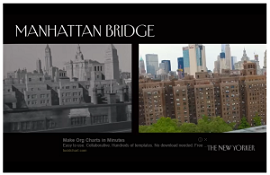 An Open Culture article takes a look at the American Cities of New York, Los Angeles and Detroit comparing how they look now compared to the 1930s and 1940s.
---
Great Yarmouth's Venetian Waterways to recapture former glories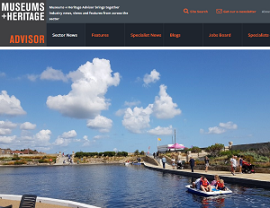 Great Yarmouth's 91 year old Venetian Waterways has been re-opened to the public following a £2.7 million regeneration project.
---