Inspecting historic fibrous plaster ceilings
The risk of collapse of fibrous plaster ceilings is being addressed by a review of current practices throughout the theatre industry.
Introduction
Fibrous plaster is composed of gypsum plaster reinforced with sheets of hessian and timber. Its advantages were numerous: relatively light in weight; cheap to produce; fabricated off-site; and quickly installed. Fibrous plaster ceilings were either fixed (nailed directly to the structure or on to an intermediate timber system); or suspended (secured by means of 'wads' of hessian and plaster, sometimes reinforced with wire, to a framework of timber battens fastened to the structure).
Fibrous plaster was patented in the UK in 1856 but did not enter widespread use until the 1880s. It was employed extensively in cultural, commercial, institutional and high-status residential buildings up to the second world war. It was also used for repair work or restoration carried out in earlier buildings.
Despite the ubiquitous use of fibrous plaster in such buildings over this period, there is an astonishing lack of guidance on its characteristics, inspection and repair. This is because surveys and repairs are managed by a small number of busy, specialist contractors, and perhaps because demand for guidance is low, on account of owners, facilities managers or their surveyors and architects being completely unaware of its existence within their properties.
All fibrous plaster ceilings, like those of plaster and lath, may be at risk of collapse if inadequately monitored, maintained and repaired. Ceiling collapse can cause serious injury or fatality. Failure can occur in suspended ceilings through natural ageing of unreinforced wads under strain, and both suspended and fixed ceilings are vulnerable to water damage from leaky roofs or plumbing. The overall condition can also be compromised by failure of structural elements, or by mechanical installations.
In 2013 the collapse of an area of fibrous plaster ceiling in the Apollo Theatre, London, injured a number of people. Such incidences are extremely rare. Following this incident, building and health-and-safety professionals reviewed current practice throughout the industry, and recognised a need for improvements to survey standards and competency requirements. With representatives from the theatre sector, swift action was taken to draw up guidelines to ensure that ceilings are properly inspected and maintained. The outcome was the promulgation of Guidance Note 20: Advice to Theatre Owners and Managers Regarding Suspended Fibrous Plaster Ceilings: survey, certification, record keeping etc by the ABTT (Association of British Theatre Technicians). This was based on consultation between the ABTT, the Health and Safety Executive, the Theatres Trust, theatre owners (Society of London Theatre and UK Theatre), building professionals, heritage representatives and specialist fibrous plaster companies.
The guidance is addressed to theatres, where suspended ceilings are common. It constitutes the standard required to give formal certification that the premises are safe for public access. All theatres were required to carry out inspections following its recommendations by 1 September 2016. However, it is relevant to any building where fibrous plaster ceilings are found. Architects and surveyors responsible for buildings of the period described above are advised to identify if suspended ceilings are present, and follow recommendations in the guidance. As fixed ceilings can also fail, they should be subject to the same considerations. Fibrous plaster is easily distinguished from lath and plaster by a very hollow sound upon tapping.
This article summarises the ABTT guidance with regard to inspection and how it would be carried out in all buildings. The document should be consulted for its full recommendations.
Summary of ABTT Guidance Note 20
The principles
Baseline survey
To enable access to ceilings from above or below, inspection hatches, platforms or other means of observing ceilings should be considered.
Until any such necessary methods are employed, the ceiling should be regularly monitored for changes clearly visible to the eye and the advice of a plaster specialist sought as to any interim measures that are necessary.
Unreinforced wadding ties
If it is not reasonably practicable to gain access to a suspended fibrous plaster ceiling from above or below, it should be presumed that unreinforced hessian wadding ties (without wire) may have been used.
Obstructions to inspection
Any obstructions to the visual inspection of suspended fibrous plaster ceilings should be removed wherever reasonably practicable.
Cleanliness of ceiling voids
Caveats and disclaimers
Re-inspection intervals
Maintaining records
Ceiling certificates
Competent persons
Practical application of the guidance
The following table frames the processes recommended in the guidance. Where funds are not available for a baseline survey, it proposes a preliminary survey to assess and manage risk. This is also recommended by the FIS (Finishes and Interiors Sector), the trade association for plasterers.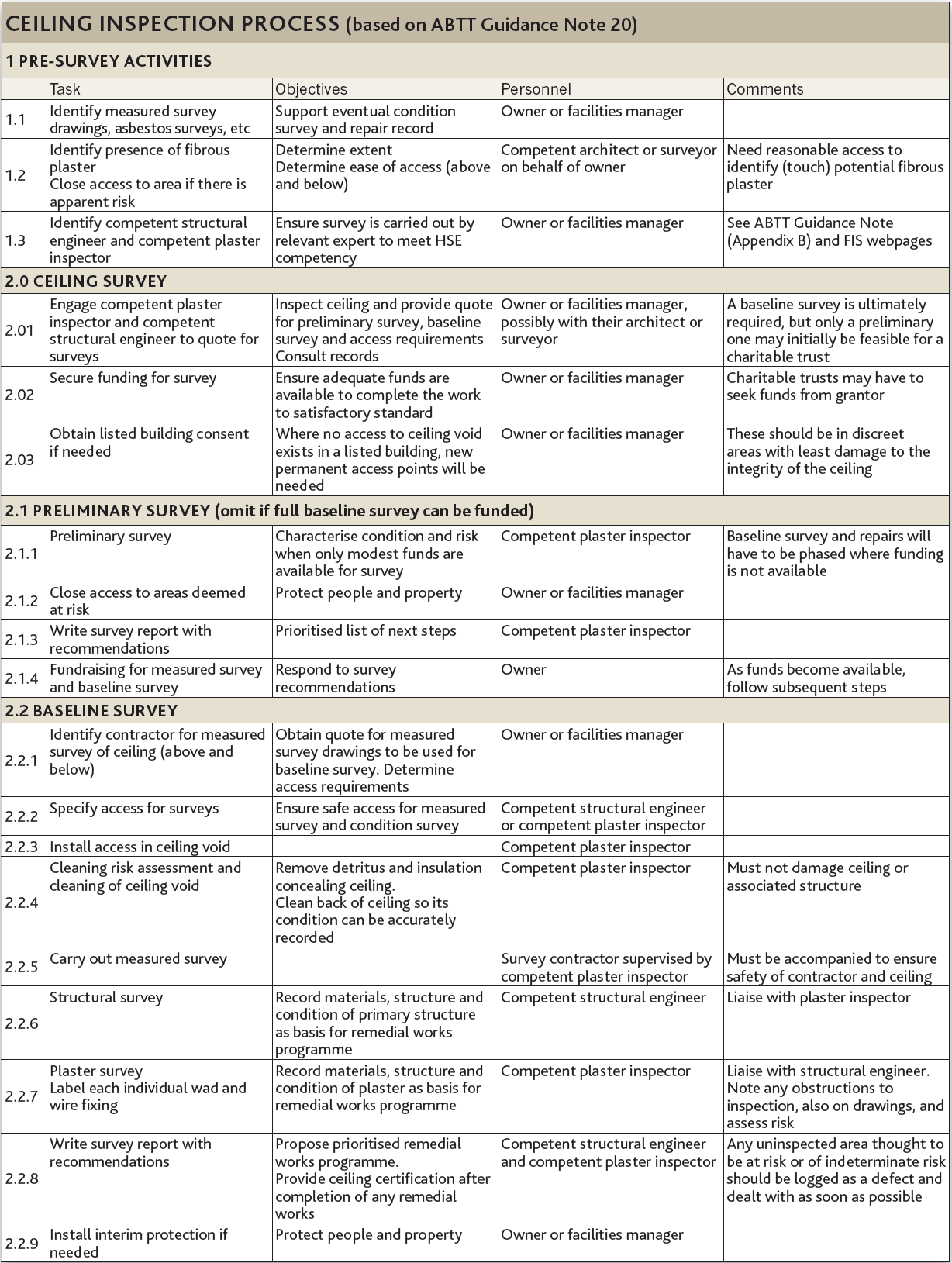 The ABTT guidance note constitutes the new standard by which all fibrous plaster ceilings should be assessed. The heightened awareness of fibrous plaster ceilings is prompting other initiatives. The FIS has a dedicated heritage group that has created additional guidance on survey format and determination of competency. Historic England is working with various partners, including the Theatres Trust, the FIS and specialist fibrous plaster companies, on several research streams to better understand and manage this material.
References
Association of British Theatre Technicians, Chartered Institute of Environmental Health, District Surveyors Association, Institute of Licensing (2015), David Adams (ed) Technical Standards for Places of Entertainment, Entertainment Technology Press, Great Shelford, Cambridge
Harrison, David (1999) 'Dramatic plasterwork: fibrous plaster in theatres', Building Conservation Directory
Health and Safety Executive, What is Competence?
---
This article originally appeared in IHBC's Context 154, published in May 2018. It was written by John Stewart, senior architectural conservator at Historic England, and co-editor of Mortars, Renders and Plasters (Ashgate, 2012).
--Institute of Historic Building Conservation
IHBC NewsBlog
IHBC FREE CPD Boost - Easy Access Webinar from Historic England and the IHBC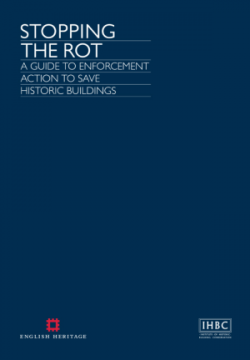 'Enhancing conservation areas & townscapes with S.215s', 13 December - numbers limited so book now!
---
IHBC Out of Context - CPD check-up and prize


'Who said that and what would you say back? FREE BS7913 for the best responses…
---
IHBC CPD boost: bite-sized briefings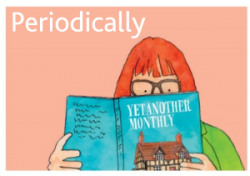 'Periodically', Bob Kindred's bite-sized briefings from the best of current heritage handbooks.
---
IHBC CPD Green Issue QuickQuiz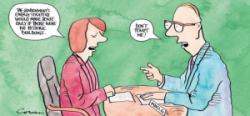 Do you know the ABCs of EPCs?
---
IHBC CPD Green Issue QuickQuiz Part 2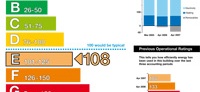 Do you know the ABCs of EPCs? - The answers! You tested your knowledge on energy performance certificates (EPC's) in the last Newsblog so now see how well you did!
---
IHBC at Listed Property Show London 2019 – FREE CPD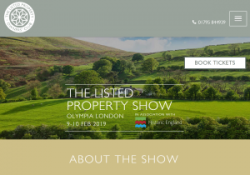 4 hours free CPD via IHBC and partners + lots more at the show in association with Historic England, on 9-10 February 2019 at London's Olympia.
---
IHBC launches new Toolbox Guidance Note for small traders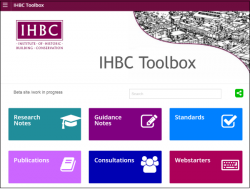 IHBC's latest Guidance Note in our Toolbox aims to provide sole practitioners and small traders with advice on taking on new work, offering 'Ten Red Flags' to watch out for.
---
Scotland - Historic Environment Audit (SHEA) 2018 is now out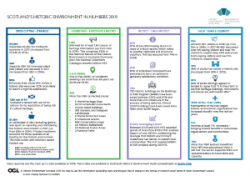 HES lead officer, Karen Robertson, has offered her personal blog looking at the trends and findings.
---
Slate Landscape of North-West Wales - preferred UNESCO World Heritage Site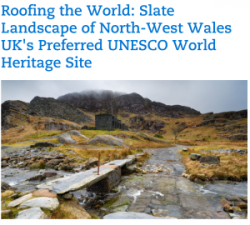 The Slate Landscape of North-West Wales will be the UK's next preferred nomination for UNESCO World Heritage Site status, Heritage Minister Michael Ellis announced recently.
---
Draft Parliamentary Buildings (Restoration and Renewal) Bill for Palace of Westminster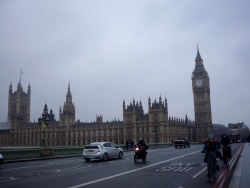 The draft Bill has been presented to allow 'interested parties the opportunity to consider the approach taken to the governance of the Restoration and Renewal Programme'.
---
APPG for Healthy Homes & Buildings White Paper published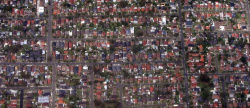 The White Paper highlights 'the need for a holistic approach to building design and renovation'.
---
Register English Community Assets on CAsE and you could win £100 gift voucher
The Architectural Heritage Fund (AHF) asks if you own or manage a community asset that you register it on the new Community Assets Exchange - you could win £100 gift voucher.
---
North of Tyne gets £600m devolution deal
Northern Powerhouse minister Jake Berry has confirmed a £600 million devolution deal for the North of Tyne. It is expected to generate £1.1 billion for the local economy.
---
Fifteen projects reach final of Heritage Angel Awards Wales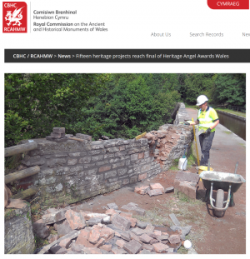 Fifteen outstanding examples of heritage achievement have been selected for a Heritage Angel Award by a panel of judges headed by Baroness Kay Andrews.
---
Entries open for 2019 John Betjeman award: Closing 26 Feb 2019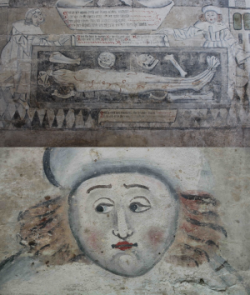 SPAB invites nominations for the award celebrating excellence in the repair to specific elements of places of worship of all denominations and faiths in England and Wales.
---
Civic Voice: Guidance tool for communities to identify local heritage assets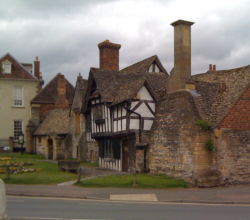 A resource developed as part of Civic Voice's Big Conservation Conversation and their 'Local Heritage List' campaign.
---
The economic value of culture - a benefit transfer study on museums in England
New research has been published to help understand the visitor and non-visitor value of cultural engagement at 4 cultural institutions in England – is this transferrable?
---
Former housing minister Nick Raynsford issues warning on planning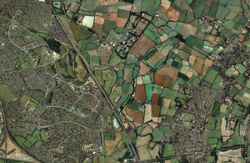 He writes that it has been reduced to a 'chaotic patchwork' of responsibilities which is not compatible with promoting the health, wellbeing and civil rights of communities.
---
DCMS revises - Principles of Selection for Listed Buildings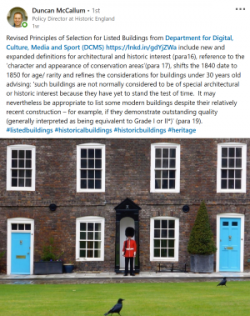 The Department for Digital, Culture, Media and Sport (DCMS) has issued its revised 'Principles of Selection for Listed Buildings' with new dates, definitions and more.
---
Specialist contractors call for government regulation of the construction industry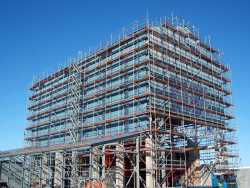 The chairman of the Specialist Engineering Contractors' (SEC) Group wants to government to set up a statutory authority to regulate construction industry practice.
---
Brexit skills shortages - survey

Add your company's take to the largest-ever poll on Brexit skills shortages.
---
Slow progress on encouraging female apprentices to construction industry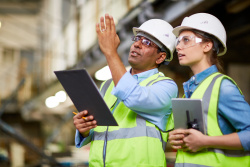 With 88% male in 2016/17 industry initiatives to encourage young women to join the construction industry do not appear to be making much headway.
---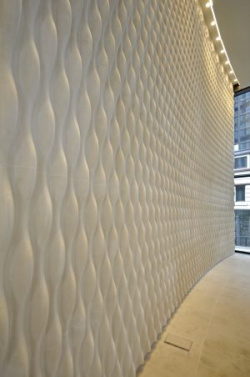 Water-jet cutting of stone changes the industry, but only so far!
---
Nuclear archive wins Andrew Doolan Best Building in Scotland Award for 2018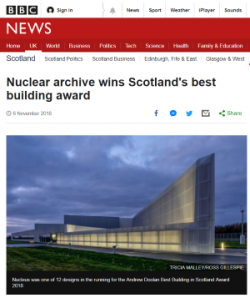 A national archive for the civil nuclear industry by Reiach & Hall Architects has won a top Scottish architecture prize: the Andrew Doolan Best Building in Scotland Award for 2018.