Inspecting historic fibrous plaster ceilings
The risk of collapse of fibrous plaster ceilings is being addressed by a review of current practices throughout the theatre industry.
Introduction
Fibrous plaster is composed of gypsum plaster reinforced with sheets of hessian and timber. Its advantages were numerous: relatively light in weight; cheap to produce; fabricated off-site; and quickly installed. Fibrous plaster ceilings were either fixed (nailed directly to the structure or on to an intermediate timber system); or suspended (secured by means of 'wads' of hessian and plaster, sometimes reinforced with wire, to a framework of timber battens fastened to the structure).
Fibrous plaster was patented in the UK in 1856 but did not enter widespread use until the 1880s. It was employed extensively in cultural, commercial, institutional and high-status residential buildings up to the second world war. It was also used for repair work or restoration carried out in earlier buildings.
Despite the ubiquitous use of fibrous plaster in such buildings over this period, there is an astonishing lack of guidance on its characteristics, inspection and repair. This is because surveys and repairs are managed by a small number of busy, specialist contractors, and perhaps because demand for guidance is low, on account of owners, facilities managers or their surveyors and architects being completely unaware of its existence within their properties.
All fibrous plaster ceilings, like those of plaster and lath, may be at risk of collapse if inadequately monitored, maintained and repaired. Ceiling collapse can cause serious injury or fatality. Failure can occur in suspended ceilings through natural ageing of unreinforced wads under strain, and both suspended and fixed ceilings are vulnerable to water damage from leaky roofs or plumbing. The overall condition can also be compromised by failure of structural elements, or by mechanical installations.
In 2013 the collapse of an area of fibrous plaster ceiling in the Apollo Theatre, London, injured a number of people. Such incidences are extremely rare. Following this incident, building and health-and-safety professionals reviewed current practice throughout the industry, and recognised a need for improvements to survey standards and competency requirements. With representatives from the theatre sector, swift action was taken to draw up guidelines to ensure that ceilings are properly inspected and maintained. The outcome was the promulgation of Guidance Note 20: Advice to Theatre Owners and Managers Regarding Suspended Fibrous Plaster Ceilings: survey, certification, record keeping etc by the ABTT (Association of British Theatre Technicians). This was based on consultation between the ABTT, the Health and Safety Executive, the Theatres Trust, theatre owners (Society of London Theatre and UK Theatre), building professionals, heritage representatives and specialist fibrous plaster companies.
The guidance is addressed to theatres, where suspended ceilings are common. It constitutes the standard required to give formal certification that the premises are safe for public access. All theatres were required to carry out inspections following its recommendations by 1 September 2016. However, it is relevant to any building where fibrous plaster ceilings are found. Architects and surveyors responsible for buildings of the period described above are advised to identify if suspended ceilings are present, and follow recommendations in the guidance. As fixed ceilings can also fail, they should be subject to the same considerations. Fibrous plaster is easily distinguished from lath and plaster by a very hollow sound upon tapping.
This article summarises the ABTT guidance with regard to inspection and how it would be carried out in all buildings. The document should be consulted for its full recommendations.
Summary of ABTT Guidance Note 20
The principles
Baseline survey
To enable access to ceilings from above or below, inspection hatches, platforms or other means of observing ceilings should be considered.
Until any such necessary methods are employed, the ceiling should be regularly monitored for changes clearly visible to the eye and the advice of a plaster specialist sought as to any interim measures that are necessary.
Unreinforced wadding ties
If it is not reasonably practicable to gain access to a suspended fibrous plaster ceiling from above or below, it should be presumed that unreinforced hessian wadding ties (without wire) may have been used.
If plain (unreinforced) hessian wadding ties have been found to be present and there is evidence of failure in any, consideration should be given to the consequences of further failures.
Obstructions to inspection
Any obstructions to the visual inspection of suspended fibrous plaster ceilings should be removed wherever reasonably practicable.
Cleanliness of ceiling voids
Caveats and disclaimers
Re-inspection intervals
Maintaining records
Practical application of the guidance
The following table frames the processes recommended in the guidance. Where funds are not available for a baseline survey, it proposes a preliminary survey to assess and manage risk. This is also recommended by the FIS (Finishes and Interiors Sector), the trade association for plasterers.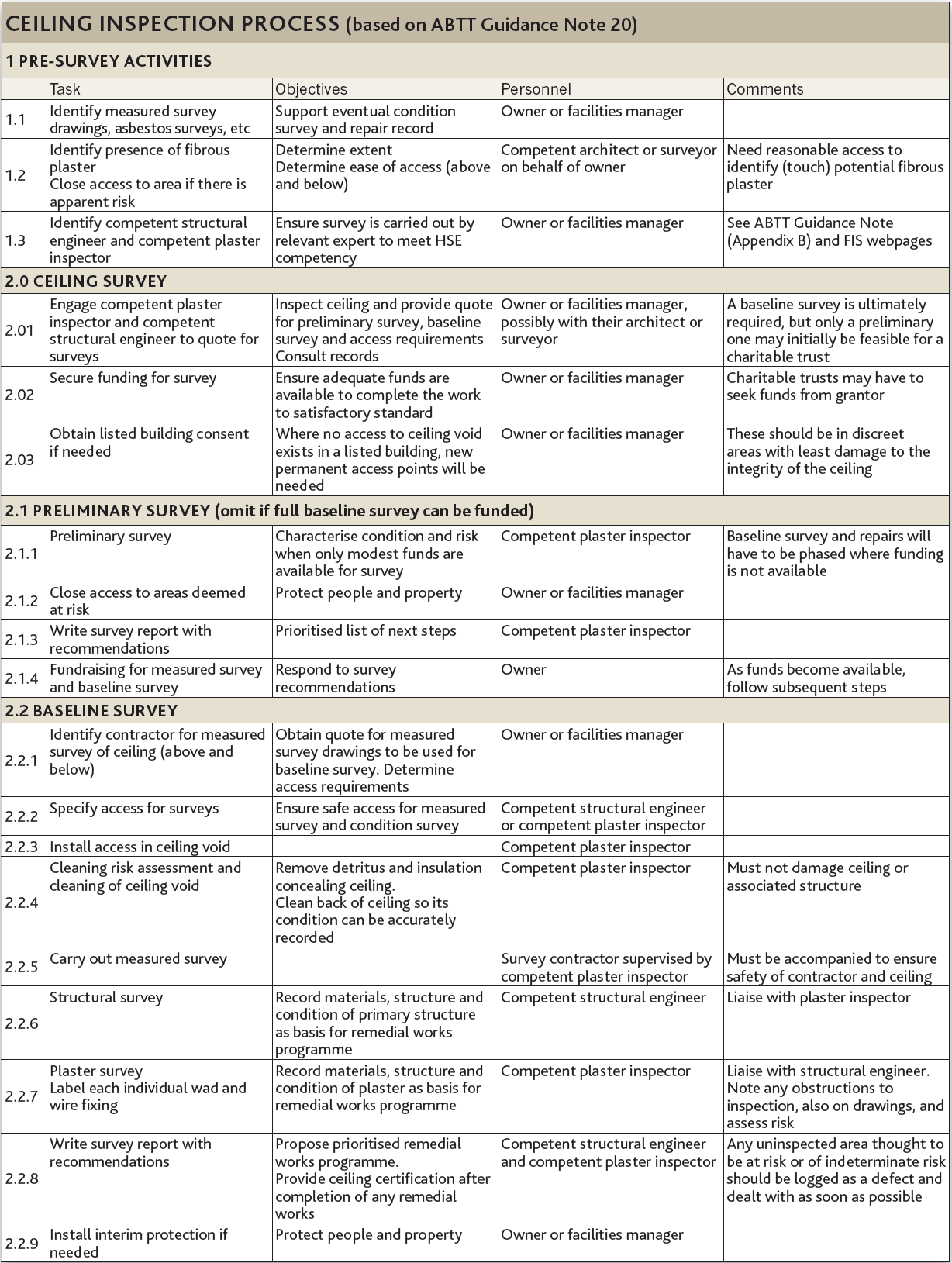 The ABTT guidance note constitutes the new standard by which all fibrous plaster ceilings should be assessed. The heightened awareness of fibrous plaster ceilings is prompting other initiatives. The FIS has a dedicated heritage group that has created additional guidance on survey format and determination of competency. Historic England is working with various partners, including the Theatres Trust, the FIS and specialist fibrous plaster companies, on several research streams to better understand and manage this material.
References
Association of British Theatre Technicians, Chartered Institute of Environmental Health, District Surveyors Association, Institute of Licensing (2015), David Adams (ed) Technical Standards for Places of Entertainment, Entertainment Technology Press, Great Shelford, Cambridge
Harrison, David (1999) 'Dramatic plasterwork: fibrous plaster in theatres', Building Conservation Directory
Health and Safety Executive, What is Competence?
---
This article originally appeared in IHBC's Context 154, published in May 2018. It was written by John Stewart, senior architectural conservator at Historic England, and co-editor of Mortars, Renders and Plasters (Ashgate, 2012).
--Institute of Historic Building Conservation
IHBC NewsBlog
IHBC's HESPR Pick this week: Transform church into community centre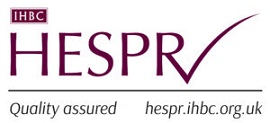 The IHBC Director's top pick this week: an opportunity to transform a church into a community centre of environmental awareness, valued £555k, closing 25/11.
---
Applications now open for the Sustainability Scholarship for 2020: Closing 29/11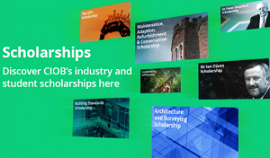 Applications are invited for the Sustainability Scholarship 2020, with successful applicants to receive £3000, support and mentoring from experts, and closing 29 November.
---
Government asked to save plans for Queensbury tunnel cycle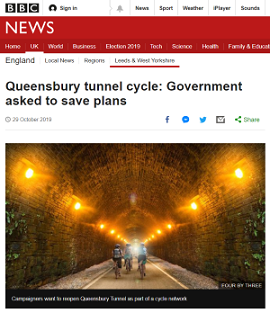 It was hoped the 1.4 mile (2.3km) Victorian Queensbury Tunnel could be used by cyclists travelling between Bradford and Halifax, but plans have been threatened.
---
Case Study in Durham Cathedral: Project Managment and Building Services Challenges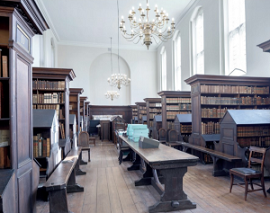 Completing works that widened public access to the hidden architectural spaces and collections of Durham Cathedral showcases exceptional project management.
---
Autumn clamp down on dust by HSE – site visits planned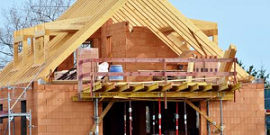 This month HSE is carrying out its latest construction inspection initiative with a focus in particular on measures in place to protect workers from occupational lung disease caused by asbestos, silica, wood and other dusts when carrying out common construction tasks.
---
Public property hubs to be delivered in Birmingham and Peterborough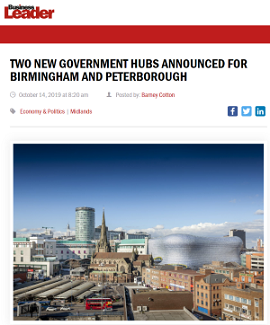 Peterborough and Birmingham are the latest places to benefit from the Government Hubs programme to regenerate city centre sites.
---
Banksy graffiti taken off Grade II listed Yorkshire bridge facing dismantling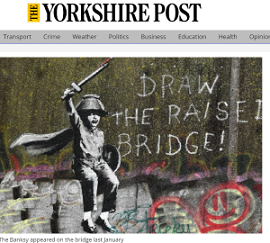 Graffiti by Banksy has been taken off a bridge in Hull as the Grade II (GII) listed Scott Street bridge itself faces dismantling.
---
The Liverpool Grade II 'jewel' that lies empty, derelict and vandalised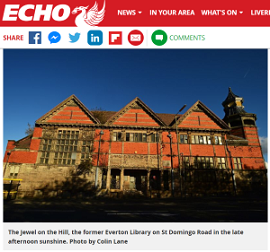 Liverpool landmark the Everton Library, a Grade II (GII) listed building that has been the focus of calls to restore it to its former glory continues to lie leaking, vandalised and derelict, when £5m could renovate the building, reports The Liverpool Echo.
---
Flintshire: Shotton steelworks' John Summers building to be restored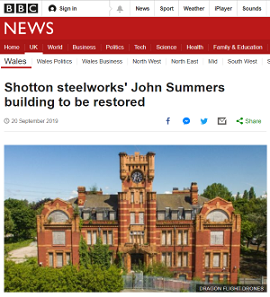 A landmark on a list of the UK's most endangered buildings, Shotton steelworks' Grade II-listed general office and clock tower, is to be brought back to life in Flintshire.
---
Rochdale Market, Manchester, to close as trader numbers and revenue continue to fall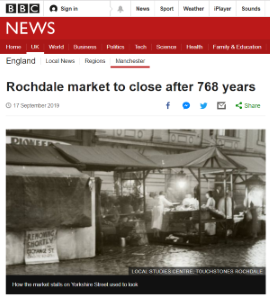 Rochdale Borough Council writes: Over the past year the number of traders regularly attending the market has halved and it is not financially viable.
---