Lime mortar
Mortar is one of the oldest building materials, used to allow large structures to be constructed from small, easy-to-handle components such as bricks, blocks and stone. It is composed from a mixture of a fine aggregate, a binder and water. This combination creates a paste that is used in masonry construction as a bedding and adhesive to bind and fill the gaps between adjacent blocks.
In modern construction, the fine aggregate is typically sand, and the binder cement. This is known as a cement mortar. However, if lime is used as the binder, this is known as lime mortar. Rather confusingly, a small amount of lime may also be also be used in cement mortars, where it acts as a plasticiser, making the mortar slower to harden and more flexible.
Lime mortar has been used in construction since the time of the ancient Egyptians around 4,000 to 6,000 BC. It continued to be used until the 19th century, when the introduction of Portland cement led to the emergence of cement mortars, which were faster setting and had a higher compressive and flexural strength. However, lime mortar is still used today, particularly on older buildings, both as a mortar and a render.
Lime is manufactured from limestone or chalk (calcium carbonate) which is crushed and then heated in a kiln to around 1,000°C. This converts the calcium carbonate into calcium oxide (quicklime) which is reacted with water (slaked) to produce a fine powder.
The word lime is derived from the Old English lim, meaning 'sticky substance' and the root, lei relating to slime or slimy. It obtained this name because it has a very fine particle size, finer than cement, and so is able to penetrate smaller 'holes' in the materials it is binding. It then tends to bind them more 'gently', as it is more flexible and gives earlier adhesion, but then gains strength more slowly than cement mortars. Lime mortar also remains workable for longer than cement mortar, even when used with absorbent masonry, and so it can be easier to properly fill joints.
Where less flexible, dense mortars such as cement mortar are used to bind softer masonry, such as soft sandstones, they can cause local stresses leading to the deterioration of the masonry.
Lime mortar is also more 'breathable' than cement mortars, that is, it is more vapour permeable, and so is less likely to trap moisture within the masonry construction. It is also better able to accommodate moisture changes, reducing the potential of damage from salts.
Despite this, some poorly-informed contractors continue to use cement mortar on masonry that is better suited to lime mortar, leaving it at risk of long-term deterioration.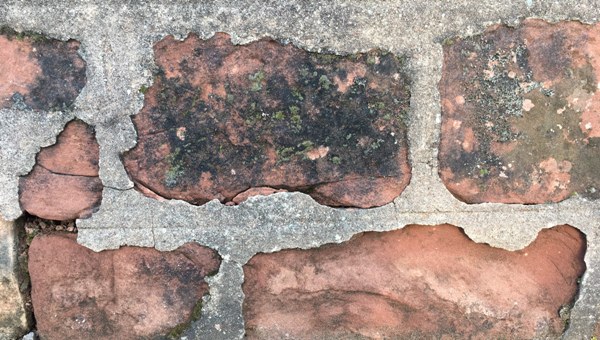 Damage caused by the use of cement mortar rather than lime mortar on a soft sandstone.
Lime mortar has lower embodied energy than cement mortar, and its binding properties mean it is more possible to re-use masonry. It has a 'self healing' capability, and it tends to fail under load before masonry, and is then easier to repair than the masonry would be if it failed.
Lime mortar can me made using hydraulic lime or non-hydraulic lime:
Hydraulic lime sets by hydration (the addition of water).
Non-hydraulic lime sets by carbonation (through exposure to the air).
Specifications for lime are set out in BS EN 459-1:2015 Building lime. Definitions, specifications and conformity criteria.
Lime mortar can take a long time to achieve its full strength, which depending on the conditions of moisture and temperature can be many months. Pozzolans can be added to achieve a harder, faster set, and other filler materials may be added to bulk up the mix.
If work is being undertaken to a historic structure, it is important to establish what sort of mortar was used in its original construction (or what sort of mortar predominates in the existing construction) as the use of the wrong mortar can lead to deterioration of the masonry, and the properties of lime mortar and cement mortar make them incompatible and so they should not be used together.
IHBC NewsBlog
IHBC-ALGAO-HE Local Authority conservation and archaeology staffing stats published
Historic England has issued the latest figures collated by the IHBC and ALGAO which highlights ongoing reductions in capacity even as workload continues to grow.
---
IHBC and COTAC jointly welcomed BIM4Heritage launch conference on 14 Sept
As supporters of the initiative they welcomed its launch conference – 'How can BIM help to understand and preserve the historic environment?' – held at the Royal Academy.
---
IHBC CPD in depth and in Context - Reconciling conservation & sustainable development
Sean McEntee sheds light on the need to balance conservation and urbanism in current Context 150 - 'Conservation and urbanism'.
---
ARB pre-consultation survey on the prescription of qualifications
The Architects Registration Board's pre-consultation review of its 'Criteria' and 'Procedures' for its 'Prescription of Qualifications' closes at midnight on 2 October.
---
Inspector concludes that Chelsea listed townhouse restoration outweighs loss of housing
Merging two flats allowed as, despite policy conflict, the 'substantial benefits arising from the enhancement of the listed building' carried more weight.
---
Victorian Society marks 10 years of endangered buildings campaigning with new top 10 list
c. Vic Soc

All of the Victorian and Edwardian buildings and structures on this year's list have been neglected for up to fifty years and have now reached a critical point of dereliction.
---
DCMS Report out on the role of culture and sport and heritage in place shaping
Research on the role of culture, sport and heritage assets and investment in positive economic and social outcomes at the local level concludes they are important influencers.
---
Considerate Constructors Scheme achieves 100,000 milestone
The national Scheme to improve the image of the construction industry – has reached a major milestone in UK construction history by registering its 100,000th site.
---
Victorian Society on Bristol landmark threatened by student flats
The Society highlights that one of the oldest hospital buildings in the country is under threat of total demolition as part of controversial plans for a large-scale student development.
---
UK best preserved WW1 aerodrome secures National Lottery cash
Stow Maries Great War Aerodrome, near Maldon in Essex, will be transformed into a major visitor attraction, thanks to National Lottery funding.
---
Spot the Bull: BBC time-lapse video shows revamp of Bracknell town centre
The redevelopment of Bracknell town centre involved the demolition of the town's (big) 'Brutalist' centre but the 'refurbishment' of the (small) 15th century Bull pub.