Harl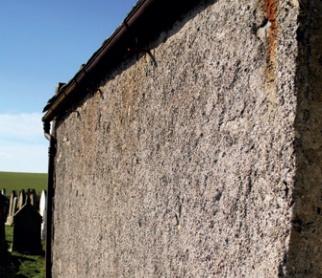 'Harl', also known as 'harling' (or lime harling), is a technique for weatherproofing the exterior of masonry buildings, traditional to Scotland and Northern Ireland. It is commonly found on Scottish castles as well as more common building types, and was favoured due to its practicality and suitability for the harsh, wet climate.
The term 'harling' derives from the action of hurling wet mortar at a solid wall. This is known as a 'cast-on' finish, as opposed to a floated base coat (traditional to England), or rough-cast work such as pebbledash. In Ireland, it is commonly known as 'wet dash'.
Harling consists of a slaked lime and coarse aggregate mortar which is thrown onto a stone wall, using a slurry of small pebbles or fine stone chips. By embedding a pigment in this material, the need for repainting can be avoided. A specially-shaped trowel is used to throw and then press the material into the surface. Cast-on coatings tend to provide better resistance to weather as the mortar is better compacted and more uniform throughout its thickness compared to trowelled-on coatings.
As the harl is mostly lime render it cures chemically rather than by drying, to provide a weather-protective and decorative coating. Once the harl is set it can be lime washed in various colours.
IHBC NewsBlog
IHBC's 2019 Nottingham Annual School a Great Success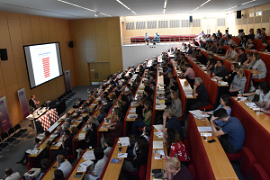 One of the IHBC's most populous Schools, the 2019 Nottingham School will be remembered for its combination authoritative speakers, urban experiences and accessible learning, including the IHBC's Spotlights.
---
England's new High Streets Task Force will help revitalise high streets and town centres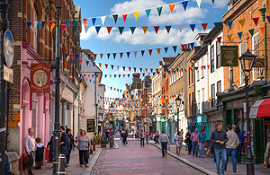 A new High Streets Task Force, to support local leaders as they revitalise England's high streets and town centres, has been launched.
---
UK petition to Zero-rate VAT on deep retrofit/eco-refurbishment building works now open

A UK parliamentary petition to Zero-rate VAT on deep retrofit/eco-refurbishment building works on all homes, has been launched, with a deadline of 8 January 2020.
---
IHBC's new Guidance Notes launched at Nottingham's 2019 School Spotlights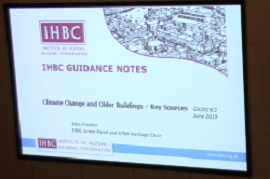 The IHBC has launched two new Guidance Notes, on Retrofitting of Traditional Buildings and Climate Change and Older Buildings – Key Sources.
---
NLA awards 2019 include Pitzhanger Manor and Gallery for Conservation & Retrofit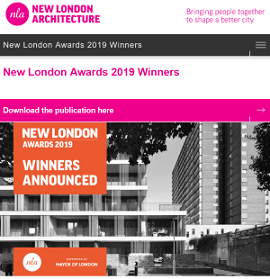 The Conservation & Retrofit award of the New London Awards (NLA) 2019 has been won by Pitzhanger Manor and Gallery, W5, by Jestico + Whiles and Julian Harrap Architects.
---
AHF £15M fund – 'Transforming Places Through Heritage'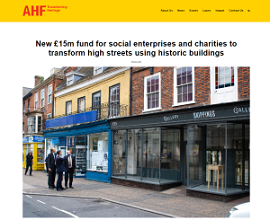 The Architectural Heritage Fund (AHF) has announced the opening of the 'Transforming Places Through Heritage' fund, focussed on reinvigorating England's high streets.
---
How wartime photographers dodged Nazi bombing to record historic buildings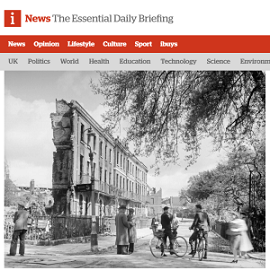 A race against devastation - a new exhibition chronicles the wartime work of the National Buildings Record – set up to capture a disappearing landscape.
---
---
---