Conservation area review and management
Using a conservation area appraisal and management plan, a council can build a community's capacity to contribute to the preservation and enhancement of its area.
Conservation areas are perhaps the most egalitarian of heritage designations. Their value is derived from the appearance and character of the area, appreciable from the public realm by anyone who cares to do so, and there are plenty who do. Historic England research shows that there is great enthusiasm for conservation areas not only among residents and those who work in the heritage profession, but also with the wider public. A total of 2.2 per cent of land within England is subject to a conservation area designation, including our most historic and picturesque towns and villages, ancient cities such as Canterbury and Durham, and planned settlements from Georgian Bath to post-war Plymouth, to name but a few.
As it is the overall character and appearance of a conservation area that merits the designation, rather than any single building, the areas draw collective pride and a communal sense of place. This means that there is a shared responsibility for protecting, maintaining or enhancing the appearance and experience of a conservation area.
Conservation areas, introduced under the Civic Amenities Act 1967, have engendered, over the last 50-odd years, an increased understanding among the public that places with a special character are valuable to us all and should be preserved. Although they have statutory protection, conservation areas have always been a local undertaking, with their designation and management administered by local planning authorities. Alongside, and perhaps in part due to, the decline in heritage expertise within local authorities, there has been an increase in raising awareness of conservation area designation and in providing communities with the tools needed to protect their areas.
In the present climate, there is limited capacity in local authorities to carry out the periodic review of conservation areas, which is required of them under the Planning (Listed Buildings and Conservation Areas) Act 1990. Private practitioners are now frequently brought in to undertake conservation area reviews, sometimes the first since designation, and prepare a conservation area appraisal and management plan (CAAMP). Although practitioners have the required professional expertise, consultants are rarely local to the area for review, and depend on input and knowledge from the community and council officers.
The reduction in heritage expertise within local authorities and the growing importance of transparency in decision-making have led to the production of more thorough guidance concerning conservation areas. This fulfils the statutory duty under the act for councils to 'publish proposals for the preservation and enhancement' of conservation areas and demystifies conservation area designation for the local communities. CAAMPs set out clearly what is special about an area, define its characteristics and explain, in simple language, what designation means for those living within it.
The best CAAMPs also take stock of the condition of a conservation area, identifying current issues, threats to its special interest and opportunities for enhancement. A tailored management plan or set of recommendations responds to these specific issues and opportunities, providing a basis against which to judge future proposals for change. For example, at Swindon, recommendations included securing new uses for vacant buildings, establishing a strategy for interpretation and looking for opportunities to improve the public realm.
Successful CAAMPs allow councils to build capacity within their local communities to assist in the preservation and enhancement of their local area. For this to happen, it is vital that the community is involved with the review and preparation of the guidance. This goes beyond the mandatory statutory consultation required for supplementary planning documents and requires meaningful engagement from the beginning of a conservation area review.
It is important that engagement is inclusive, even more challenging in a Covid-19 world of mostly virtual interactions. In normal times, it is best practice to organise an inception meeting, which interested groups and individuals can attend for information on the review and preparation of the CAAMP. While it is useful for practitioners to have some understanding of the area before this meeting, it is important that it takes place early in the process for real transparency and to allow meaningful public contribution to the process. Setting out clearly what the review can achieve and what factors the public can influence is helpful to ensure that expectations are realistic and ensure that feedback given is relevant.
Once a greater understanding of the area has been established through site surveys and historic research, there are opportunities for further engagement through workshops. These should aim, first, to unpick what the community values about its local heritage, to ensure that this, among other factors, can be drawn out in the assessment of its special interest. Second, once the bedrock of what is valued has been laid out, there is a chance to dig deeper into the perceived issues, threats, opportunities and aspirations the community has for the conservation area. What would they like to see changed or improved, and how it might be achieved? Including these in the CAAMP will allow the community to endorse, and share in the responsibility for enacting, the recommendations and actions it contains. Finally, if any potential changes to the conservation area boundary have been identified through site surveys, this is an opportunity to share these and gather initial feedback. Depending on budget and time constraints, workshops could be targeted to different groups, including councillors, local interest or amenity groups, businesses, or the general public.
During public workshops in Swindon, the continued strong sense of identity that the community draws from the now closed railway works was captured in the CAAMP. As the main employer in the town for more than a century and the reason the town prospered, the railway remains deeply embedded in both local memory and the physical buildings and institutions. It was clear that the town had a history of innovation, from being the birthplace of an embryonic NHS to the exemplary regeneration of the railway works following their closure. This spirit of innovation was drawn through into the CAAMP, looking at thematic opportunities to continue this regeneration and outwardly share the heritage interest of the town.
Questionnaires are a good addition or alternative to workshops in the current pandemic. Questions need to be easy to respond to, providing a choice of answers, but a questionnaire also allows the opportunity for broader feedback. A questionnaire prepared for Romsey's conservation area in Hampshire was launched at the height of the pandemic in April 2020. From the responses it was clear that maintaining and improving the appearance of buildings in the town, specifically the reinstatement of traditional shopfronts, was the most important issue for residents. As a result, the CAAMP included detailed guidance on the appropriate design of shopfronts in the town, and advice to building owners on good practice maintenance and repair.
Today the approach to statutory consultation, once a draft CAAMP has been prepared, is generally expected to be more thorough than simply publishing the CAAMP on the council's website and putting a notice of the consultation in the local newspaper. There are many activities that can be undertaken during the statutory consultation period, including sending out leaflets and questionnaires, holding Q&A events, and presentations to parish councils. The approach will be different in each circumstance. The aim should be to reach as many people as possible and re-engage with those consulted earlier in the process. A mixture of paper and digital materials can be shared through social and traditional media, and directly to people's letterboxes or inboxes. This should be combined with live events, either in person or online, which allow people to ask questions and voice opinions. Exhibitions, either manned or unmanned, are also a good option, particularly at present with the possibility to display information boards in the open air.
Statutory consultation aims to iron out any concerns with the proposed content, management recommendations and boundary amendments. It is also an opportunity to gather feedback on how well the CAAMP works as a document. Is the language clear enough or too technical? Does it contain sufficient guidance on things like good practice maintenance and when planning permission is needed? Is it easy to navigate to the information needed? Questionnaires can be used to gather feedback on such specifics, ensuring that the final CAAMP is as successful as possible.
It is important for the local planning authority and practitioners to carefully review the feedback received and discuss the best approach if there are conflicting opinions. It will not be possible to please everyone, so decisions should be backed by robust justification. Responding to consultation comments, specifically those not incorporated, assists the public in understanding the reasoning and helps avoid anyone feeling disenfranchised.
Through these engagement and consultation phases, there is as much an element of education as there is information and opinion gathering. Considering this, the public need to know that a conservation area designation exists, what it means for them and why a place is special, to have a desire to share in the responsibility for preserving and enhancing it.
Out of the conservation area review, specific opportunities for communities to take a lead on are likely to arise, such as developing a local heritage walk, creating an exhibition of historic photographs of the area, or organising an annual gutter-clearing day. It can also be an opportunity to instigate wider engagement with local heritage, and connect with other initiatives such as high street heritage action zones.
There is considerable potential for conservation area review and management to be used to unlock capacity among local communities to take the lead in caring for and celebrating their historic environments. Some reviews have already taken the step of using local volunteers to assist in site surveys, the process of gathering the evidence base for the CAAMP, but there are opportunities for this to be undertaken more frequently. Opportunities may arise for communities to co-write CAAMPs with a local planning authority or professional practitioner, and to explore community-led CAAMPs, perhaps using a similar mechanism to neighbourhood planning.
---
This article originally appeared in Context 167, published by the Institute of Historic Building Conservation (IHBC) in March 2021. It was written by Emma Bryant, a senior townscape and heritage consultant at Purcell.
--Institute of Historic Building Conservation
IHBC NewsBlog
Part of historic Old Courthouse in Cockermouth collapses into river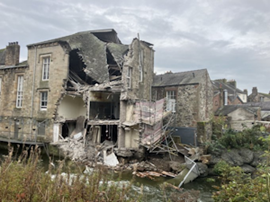 A section has fallen away and landed in the River Cocker below, including the back walls over three floors, sections of flooring and parts of the roof.
---
Scaffolding removed from Salisbury Cathedral after 37 years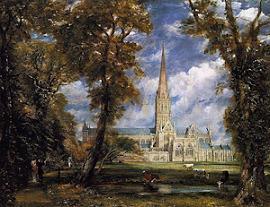 Starting with a survey in 1986, the 'topping out' ceremony took place 7 Sep 2023.
---
Demolition of Kirkcaldy's Category B former Kitty's nightclub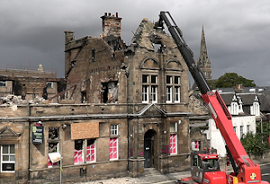 Following a fire, engineers confirmed that the building faced complete demolition.
---
Irreplaceable Welsh castle saved from collapse thanks to £2.2m grant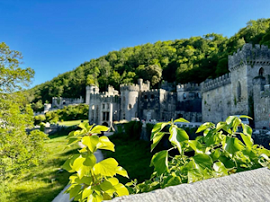 Wales' Gwrych Castle has a funding lifeline from the National Heritage Memorial Fund (NHMF) as part of its Covid-19 Response Fund
---
New interactive models of the 'Dinosaurs' sculptures in Crystal Palace Park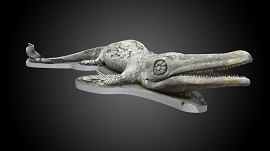 Interactive 3D models have been created of the 29 surviving 'dinosaurs' in Palace Park, South London.
---
How was it built – the Iconic Forth Bridge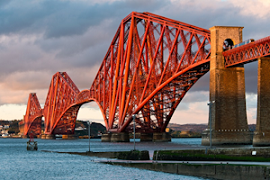 The Forth Bridge is one of the engineering wonders of the world. From the Engine Shed HES, find out more about how this incredible structure was built and what the conservation challenges are today.
---
Stirling's Christie Clock Tower demolition 'over safety' sparks Council investigation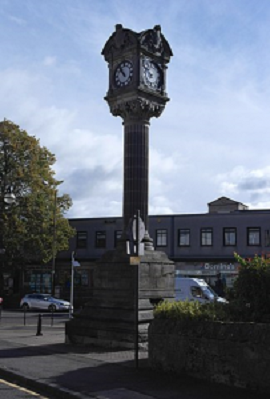 A clock tower which stood in Stirling for 117 years has been controversially and dramatically demolished by the local council over safety fears
---
The Natural Stone Source Book 2023-24 Specifiers Guide published

This guide is designed to be both inspirational and educational, providing the information and creative stimulation needed for successful completion of a natural stone project.
---
Context C176 published - World Heritage Sites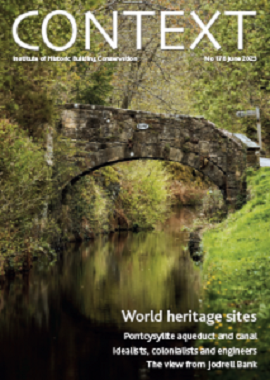 The issue explores the diverse facets of conservation of World Heritage Sites from across our globe.
---
Historic Environment Scotland unveils plans for new Archive House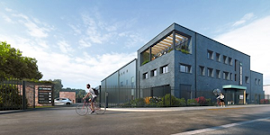 The innovative project will be an exemplar of reuse and retrofit of an existing building.