Community engagement in conservation
This article originally appeared as 'The challenges of community engagement' in IHBC's Context 148, March 2017. It was written by Nigel Barker-Mills, who retired from Historic England where he was London Planning Director, in 2016. He is currently contemplating consultancy.
---
Heritage professionals making the arguments arouses a suspicion that 'they would say that, wouldn't they?'. We need to think again about how and why we engage with the public.
The 50th anniversary of the Civic Amenities Act 1967 is an appropriate opportunity to reflect on my experience of working with communities and decision makers on managing what they regard as their local heritage. The management of conservation areas presents some different challenges to other types of heritage asset because of the way in which they provide identity for communities and the sense of local ownership they inspire. A continuing issue over the decades has been the tension between community aspirations for their special areas and the resources available to local authorities, in particular, to meet them.
It is generally the case that heritage professionals in local planning authorities are often trying to achieve similar objectives for historic places to those of the communities they serve. However, the gulf between those who are perceived to be part of the system and those affected by it can be wide. Attending an annual heritage forum held by a local authority trying to work constructively with interested local communities, I observed local groups complaining about what they saw as their lack of influence on decision making. There was acknowledgement that work was going ahead on the designation and review of conservation areas (but far too slowly for many) but the real frustration was the perception of lack of local influence on development management within their conservation areas. There was equal frustration on the part of the local authority officers that, despite their best efforts at consultation and engagement, the time-consuming process delivered little benefit. The issues that stood out most clearly were the lack of a common understanding about roles and the lack of a shared language.
The Community Heritage Initiative Project (CHIP) was developed subsequently, in 2004, with two aims. The first was to harness the interest and energy of the conservation area committees positively, so that they could augment the resources of the planning authority. The second was to build a better understanding of how to engage with the planning process and in particular development control. The two-year project used a heritage consultant as a facilitator, overseen by a steering group comprising a member and officers from the local authority, a representative from the county council and two representatives from the conservation area committees.
Four conservation areas were identified as pilots to be delivered in two phases, with an interim review to use lessons learned from the first phase in adapting and improving the second phase. The aim was to use members of the communities living in the areas to carry out the survey to identify the special character and appearance, and then to write up the appraisal with the support of local historians and the heritage consultant. The support included an evening and daytime event seeking volunteers to carry out area surveys and to facilitate surveys themselves, a workshop to translate the survey information into draft appraisals, and a community-led consultation event on the material produced.
There were issues with identifying the communities in the areas and then finding the best way to reach them to identify enough volunteers. We also found that volunteers were not confident about drafting the appraisal itself. Early attempts became bogged down in explaining the purpose of an appraisal, and trying to move beyond description and into analysis. It became clear we were expecting too much. The second phase was therefore adapted to provide more structure for volunteers by using the post-survey workshops to agree key points and then having the heritage consultant prepare the first draft of the appraisal for consultation in a manner more familiar to many.
The most successful aspects of the project were the community-led consultation events where volunteers presented their work and the findings to neighbours and friends. The other successful area was the dedicated project website, set up by the local authority, which kept everyone informed of progress, advertised events and promoted the collaboration between officers and communities.
A transfer of the model to a London borough with a very different demographic was less successful. A different local authority culture, a different heritage consultant and more disadvantaged communities all combined to present greater challenges. The experience demonstrated that no model of community engagement is universally applicable and that a clear, in-depth understanding of local circumstances is the key to maximising the chances of success.
One of the most challenging aspects of the project was developing an understanding in volunteers, as above, that description is not the same as analysis, and managing expectations of what activities could be managed through the planning process. This aspect of CHIPS led directly to the Oxford character assessment toolkit developed by English Heritage in south-east England.
The Building in Context (BIC) toolkit had similar origins, arising from a single evening workshop for local authority members concentrating on the issue of design in conservation areas. It was a lively and successful event which generated positive feedback, and promoted the design and conservation team.
Working jointly with CABE and using the Kent Architecture Centre for delivery, a pilot programme of seven events was devised. All included training for members on the principles of good design, but each focused on different issues arising out of the particular circumstances of the authority or community group involved.
Each was designed to address a key issue raised by the 'client'. All were reviewed and written up for publication on the associated BIC website. Through a process of trial and error the core principles that underpin any event were developed so that different bodies could run BIC training, using the toolkit. Mistakes were made during the pilot projects, but every event informed the following one.
Two elements of BIC were particularly effective and popular. The first was the figure-ground exercise, which was an effective ice-breaker and encouraged collaboration. The second was the mini 'masterclass', presented by an architect explaining in straightforward terms one or two of their projects, and being directly challenged in open debate.
The pilot was followed by a national programme of about 18 events up and down the country. Delivered in 2006–8 by English Heritage and CABE through the network of architecture centres, it was supported by the BIC website. The programme, which won a national planning award, eventually became an online resource following changes to CABE funding. [1]
The two examples were delivered with national funding just before the financial crash of 2008. The projects attempted to address obstacles caused by professional jargon and lack of skills, which were leading to a lack of engagement with the historic environment. Deliberate attempts to move beyond the requirements of statutory consultation, they were by no means unique.
However, in recent years it has become apparent that this form of engagement is becoming too expensive in the context of diminishing resources. There are also issues arising from government encouragement, through the Localism Act and neighbourhood planning, which means that the expectations of communities have been raised but are often left unfulfilled. Attitudes are changing, and after a decade of economic stress it seems that the acceptance of the historic environment being a public benefit is under pressure. For many it is in danger of becoming an irrelevance. There has also been a noticeable erosion of trust in public bodies and 'experts'.
Pressure on local authority resources is unrelenting and will intensify. IHBC members will have been involved in putting forward the arguments as to why the historic environment is important to the economic, social and environmental well-being of communities; arguments which have been made constantly from the 1960s, although in ever-changing ways. Yet those arguments now seem to have less traction in the face of 'crises' in housing and health. They are also undermined because it is heritage 'professionals' making the arguments, which arouses a suspicion that 'they would say that, wouldn't they?'. We need to think again about how and why we engage.
Historic England signalled a change of approach with its first exhibition on public art in the post-war period ('Out There') [2]. The exhibition was central to a wider programme of public events which included a call for the public to help find missing pieces of art. This generated wide discussion and sharing of ideas through public media, reaching audiences not usually associated with heritage. This more open attitude, seeking crowd-sourced content, is also evident in the Enriching the List and the Pride of Place Projects [3], reaching out to communities and individuals who previously may not have regarded Historic England or the heritage profession as being relevant to them. The challenges presented by jargon and the difficulty of reaching some communities are being addressed by using the channels of communication that are preferred by large sections of the public.
It is important to make the historic environment relevant in an increasingly complex world. We need to work effectively not just with our usual partners but also with those who have the potential to become advocates in the future, helping to make their voices heard in support of the historic environment. We will have to adapt to doing this in different ways: ones which we may not be expert in or comfortable with.
There will always be a tension between the desire to have structured engagement under our control and being open to taking opportunities quickly as they arise. But it is clear that the most effective way of generating the public support – which is our best hope of ensuring resources for the historic environment in the face of increasing competition – is to facilitate participation in as many ways as possible. This means taking advantage of the faster and more informal networks operating, for example, on social media. While there will always be a need to consult and engage face to face in the familiar way, projects like Enriching the List or Pride of Place, which are about celebrating the knowledge of others and sharing it in a way that is most relevant to the widest possible audiences, are potentially the way forward.
--Institute of Historic Building Conservation
External references
IHBC NewsBlog
IHBC's first Virtual School a Marked Success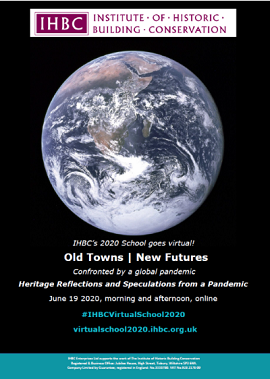 The first 'Virtual School' hosted by the IHBC was launched on 19 June with lead speakers covering pandemic-related topics shaping valued places over two sessions.
---
MPs are Asked for Views on £4bn Parliament Restoration Plan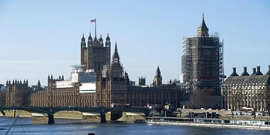 MPs and peers are being asked for their views on the planned restoration and renewal of the Houses of Parliament.
---
Ireland National Heritage Week: 15-23 August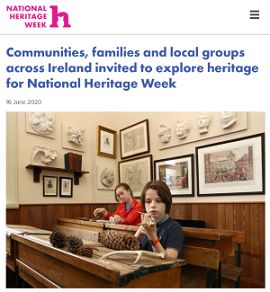 Plans are in place for a modified National Heritage Week for Ireland, which take into account ongoing restrictions on events and gatherings due to COVID-19.
---
Grimsby's historic Ice Factory thrown new survival lifeline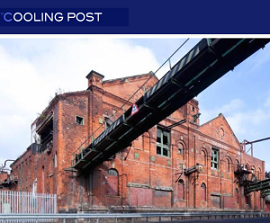 Opened in 1901, and derelict for the last 30 years, the Grimsby Ice Factory is the earliest and largest known surviving ice factory in the world. It still contains an array of historic ice making equipment including four J&E Hall ammonia compressors installed in 1931.
---
Risk Assessments and Contractual Impact from CIAT

A note on contractual obligations under the current COVID-19 pandemic has been issued by The Chartered Institute of Architectural Technologists(CIAT).
---
RTPI calls on government to issue planning guidance to prevent development delays

The Royal Town Planning Institute (RTPI) has called on the government to urgently issue planning guidance to prevent unnecessary delays to development from the pandemic.
---
How to Enjoy Heritage from Home, from the Heritage Fund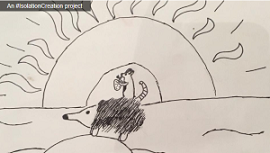 The Heritage Fund has put together a list of heritage-inspired activities to be done from home.
---
Listed Property Owners Club's Spring Checklist for Buildings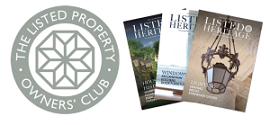 Spring is a good time to stand back and consider any building repairs that are required over the next 12 months, notes the LPOC, and regular inspection and maintenance is the key to keeping homes in good repair, as per its accessible step-by-step guidance.
---
Firefighters tackle blaze at converted Grade II listed former mill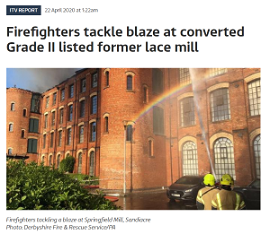 Derbyshire Fire and Rescue Service said "rapid and effective firefighting" had saved three quarters of the mill – which is now apartments.
---
Thieves take advantage of lockdown to steal lead from church roof in Halsham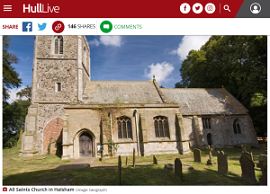 Police have appealed for witnesses after thieves stole lead from the roof of All Saints Church in Halsham near Hedon during the coronavirus lockdown.
---
IHBC's CPD Circular provides info on digital CPD opportunities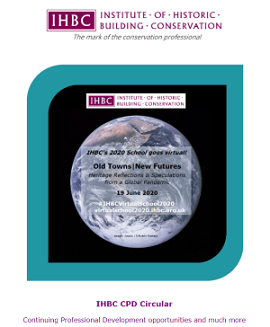 The regular newsletter showcases the IHBC's own Continuing Professional Development (CPD) content as well as online opportunities from 'IHBC Recognised CPD Providers' and other conservation related training and events.
---
Frank Lloyd Wright houses offer virtual tours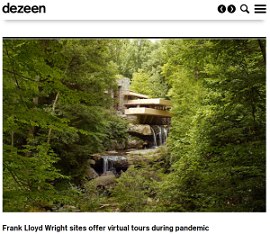 To make sure the public still has access to twelve of those famous works, #WrightVirtualVisits has been launched, which offers virtual tours of 12 iconic houses.
---