An art deco cinema on wartime Orkney
A family connection led to an investigation of the buildings and structures that mark the presence of the thousands of people serving on Orkney in the second world war.

The Garrison Theatre and Cinema in around 1942 (Left: photo by cinematreasures.org; right: photo by Orkney Defence Interest Network).
This article started out as a personal journey which took us to exploring the built heritage of the second world war on the Orkney Islands. My mother and father met while they were both stationed on Orkney during the war. They died many years ago and there is no one left from their generation, so the family knows very little about where or how they met. All we knew was that she was in the ATS and he was in the Royal Marines, and that he helped to build a cinema somewhere on Orkney. We concluded that a family trip to Orkney was needed to try to answer our questions while at the same time taking in all the history and breathtaking scenery on the islands.
My father, W Calder Robson, studied architecture at the Birmingham School of Architecture between 1928 and 1934 before working for the architectural practice of Harry Weedon. At the time, the Birmingham-based Weedons specialised in designing Odeon cinemas. Records show that my father, along with Harry Weedon, designed the Odeons at Harrogate [1] and Lancaster [2] in 1936, Bolton and Morecombe [3] in 1937 and Middlesbrough [4] and Blackpool in 1939. The war then started, cinemas stopped being built and my father joined the Royal Marines.
Our first port of call was to the Orkney Library and Archive in Kirkwall. Our expectation was that we would be able to find out where and when our parents had been on Orkney. The archive office turned out to be an excellent facility with helpful staff, but unfortunately it holds military records only for people born or living on Orkney and not for those stationed there during the war from elsewhere.
To find out about individual service records, we approached the Scapa Flow visitor Centre and Museum at Lyness on the Island of Hoy. Scapa Flow was of huge strategic importance during both the first and second world wars, the Royal Navy fleet being based there. It provided enormous sheltered anchorage. Lyness, which became the main base for the naval fleet, included wharves, stores, depots, tanks, repair workshops and a pumphouse. Around 12,000 service personnel were based at Lyness [5] living in camps with associated recreational facilities. Many of the original buildings have been demolished but some have been retained to form the basis of the Visitor Centre and Museum.
Our hope was that the museum would hold the military records we were looking for. The staff were again very helpful, and the museum has a vast amount of information, buildings, facilities and artefacts, but it does not hold military records for service personnel. Our attention was, however, drawn to the fact that on South Road on the edge of Lyness there had been a camp where the Royal Marines had been based. The view from the museum was that it was likely that my father would have been based there. The authorities had gone to great lengths to provide for the recreational and entertainment of the troops. The facilities at Lyness included the NAAFI, a recreation centre, football pitches, a hockey pitch and squash courts.
We also discovered, less than a mile south of Lyness on the B9047, a cinema that had been built in 1942. Known as the Garrison Theatre [6] which had incorporated both a cinema and theatre. The two-storey building, which had housed the foyer, projectionist's room, dressing rooms, the office and toilets, was still standing but had been converted into private residential accommodation. Behind it there had been two large Nissen or Romney huts, one of them accommodating the cinema and the other a theatre/dance hall with a stage. The huts have long since gone, but the outline of the foundations and the point at which the huts joined the remaining building are still clear. Apparently the cinema had 900 seats, modern sound, lighting and projection equipment, motorised curtains and central heating.
Records show that the Garrison Theatre was built by the Royal Engineers, assisted by the Royal Marine Engineers, at a cost of £4,000. [7] A moulded badge of the Royal Engineers has been incorporated into the facade of the building, centrally positioned above the entrance. This shows a flaming bomb and the word 'Ubique' (everywhere) – the motto of the Royal Engineers.
What was most striking about the remaining building was its clear art-deco style. Originally it had a brick frontage but it was rendered when it was converted to residential use. It has strongly emphasised horizontal lines, a stepped elevation and a flat roof with an extended central porch. It is a visually striking building. This then raises the question: at a time during the war when military buildings were very functional and basic, why is there an art-deco cinema just outside Lyness? Could it be that if a cinema was to be built at Lyness and there was a Royal Marines architect based just down the road who had spent five years before the war designing Odeon cinemas, the chances were they would end up with an art-deco design? We do not know for sure, but we would like to think that my father was based at Lyness and was responsible for the design of the cinema.
The remaining building was listed by Historic Scotland in 2002 as a Category C building. [8] It certainly stands out as a landmark in the locality. The Odeon in Harrogate (still a cinema) and the Odeon in Blackpool (now a nightclub and bar) are also listed Grade II. The Odeon in Morecombe survives as a DIY store but the other three Odeon cinemas have all been demolished.
The extent of the second world war legacy on Orkney and the contribution it makes to the islands' heritage are massive. Many of the military buildings, installations and structures were demolished after the war but many remain. Some, such as at Lyness, have been preserved with funding from agencies including Orkney Islands Council, Scottish National Heritage, the Heritage Lottery Fund and the European Regional Development Fund. At the Ness Battery [9] at Stromness, which was vital to the defence of Scapa Flow, the gun emplacements, accommodation huts and mess hall have all been retained. They were subject to an excellent restoration project that started in 2009. At the former Royal Navy Air Station HMS Tern [10] (RNAS Twatt) a small number of buildings still exist and some, such as the Control Tower, have been carefully restored by a local heritage group.
A great number of other military establishments have fallen into a state of disrepair. Many are privately owned, often by farmers, for whom their preservation is understandably not a priority. But these structures are such an important part of Orkney's heritage and impressive in themselves, even if they are not in the best of states. The Hoxa Head Battery on South Ronaldsay and the Stanger Head Battery on Flotta are excellent examples, but urgent action is needed to prevent further deterioration. This needs to be a priority for the Islands Council, Historic Scotland and all heritage organisations and groups.
Returning to our family questions, we now have the military records for my mother and father, although deciphering and interpreting them remains a challenge. Nearly everything is handwritten and very difficult to read and make sense of. Our investigations continue!
References
---
This article originally appeared in IHBC's Context 160 (Page 27), published by The Institute of Historic Building Conservation in July 2019. It was written by Frazer Robson, a town planner based in Leicester.
--Institute of Historic Building Conservation
IHBC NewsBlog
Ireland's Our Rural Future: support for LA purchase of vacant and derelict buildings for community use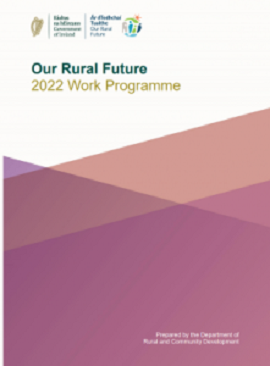 Ireland's Minister for Rural and Community Development, Heather Humphreys, announced a new funding stream to support Local Authorities (LAs) to purchase vacant buildings that could be converted and developed for community use.
---
BBC: Eleven Historic English pubs recognised for their interiors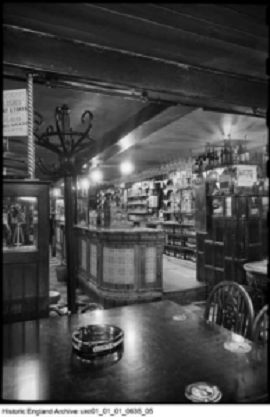 Eleven pubs across England have been recognised for their historic or unusual interiors, as they have been listed, upgraded or relisted.
---
HEF's Heritage Sector Resilience Plan launched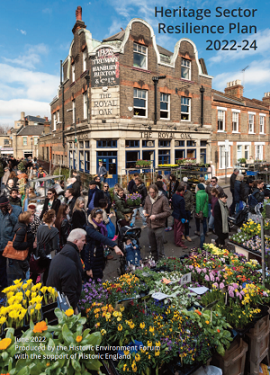 The Heritage Sector Resilience Plan, developed by the Historic Environment Forum (HEF) with the support of Historic England, has been launched.
---
Common Commitment to all Ireland's heritage – North South Agreement on Vernacular Heritage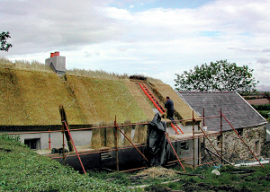 An 'All-Island' commitment to Ireland's vernacular heritage has been established with the signing of the North South Agreement on Vernacular Heritage, supporting traditional buildings etc.
---
Bristol Harbourside landmark Canons House gets GII listing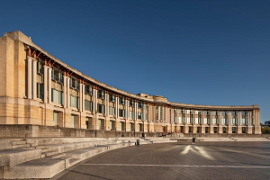 Canons House, a landmark building on Bristol Harbourside, has been awarded Grade II (GII) listed status having been built as a regional headquarters for Lloyds Bank between 1988 and 1991 (Arup)
---
BRE/BEIS project to modernise home energy rating scheme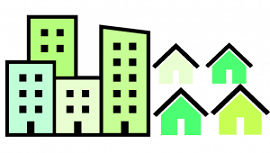 The Building Research Establishment (BRE) has announced a new project with the Department for Business, Energy and Industrial Strategy (BEIS) to improve and modernise the home energy rating scheme used to measure the energy and environmental performance of UK homes.
---
Interdisciplinary IHBC accreditation recognised by CSCS for PQP Cards

Sector lead the Construction Skills Certification Scheme (CSCS) has recognised the IHBC's professional accreditation and support (CPD etc.) in awarding its PQP (Professionally Qualified Person) cards.
---
Unearthing the history of Gloucester's 'the Fleece' Hotel starts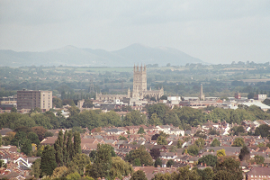 Work to repair a fire-hit medieval hotel in Gloucester is underway as crews have started work to strip back some of the modern trappings and reveal the historic framework.
---
European Heritage Heads Forum statement on Ukraine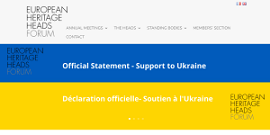 The Secretariat to the European Heritage Heads Forum has has coordinated its declaration of solidarity and support for Ukraine's cultural heritage institutions.
---
Welcome to #IHBC25 – 25 years since we turned professional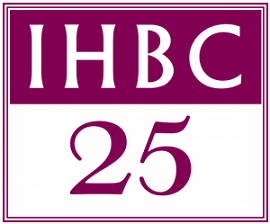 2022 will see the IHBC mark a quarter of a century since our incorporation as a professional body supporting and accrediting built and historic environment conservation specialists. We're kick-starting it by inviting your ideas on how to mark this special year!