Lewes Neighbourhood Plan
Lewes is built on a ridge of chalk, descending into a narrow gap in the South Downs cut by the River Ouse. One of King Alfred's defended burhs, it was sufficiently important to have a mint, defensive qualities and easy access to the Channel along the tidal river. These attributes were equally valued by the Normans following the Conquest, who quickly built a twin motte-and-bailey castle on part of the Saxon settlement, stamping a mark which remains to this day.
The original holder of the Rape of Sussex and builder of the castle, William de Warenne, also established a substantial Cluniac priory on lower ground to the immediate south. This was erased with particular determination at the Reformation so that only gaunt flint ruins now survive of a once massive foundation. Lewes High Street witnessed the burning of Protestant martyrs during the short reign of Queen Mary, leaving a stubborn and persistent strand of non-conformism in its wake and a continuing tradition of anarchic Bonfire, celebrated with gusto every year on 5 November. It is not a coincidence that one of England's most notable revolutionary thinkers, Tom Paine, was a son of the town. Were he able to return, two centuries on, he would recognise much that he would have been familiar with in his time: the distinctive Downland setting, much of the built fabric (remarkably well preserved), and the independent spirit of its townsfolk.
It may not be surprising, then, that the fiery spirits of 21st-century Lewes recognised the opportunity enshrined in the Localism Act to wrest control of the future of their town in the preparation of a neighbourhood plan. The striking setting of Lewes is a wonderful asset but it has constrained its natural growth. There have been no significant housing allocations since the 1970s, a fact which must have at least contributed to a level of house prices that are eyewatering even in the context of the over-heated South East. Timing coincided with the inclusion of Lewes in the newly established South Downs National Park. It is, narrowly, the largest town to have been included within any British national park. Would this become a further constraint, stifling natural development of the town still more, or might it offer an opportunity to show how a town might grow sustainably, within strictly defined limits? The town council was about to embark on a five-year journey to discover which outcome would prevail.
Feria Urbanism, a planning and design studio specialising in neighbourhood strategies and community engagement, was commissioned to undertake a series of interactive workshops in March and June 2015, followed by a three-day design forum for the general public in July. An interim report captured outcomes from these events and poster exhibitions were mounted during October and November. These meetings had followed an overarching joint core strategy (JCS) which had identified two strategic sites within the town, the 'North Street Quarter' on the riverside location of a former foundry and a greenfield allocation at Old Malling Farm. Together, these allocations would provide over 600 new homes, but are excluded from the neighbourhood plan because of their strategic classification. The neighbourhood plan would be required to find sites for at least a further 220. Extensive public consultation fully supported this addition to the town's fabric, but wholly in brownfield locations within the settlement boundary of the town. The emerging South Downs Local Plan would eventually carry forward these targets from the JCS, on its adoption.
The neighbourhood plan steering group enshrined four key characteristics that it contends make Lewes special; independence, geography, creativity and built heritage. Townsfolk were determined that policies in the plan should protect its dramatic skyline on its chalk ridge, views of it from the town's surrounds, and frequently striking views outward. These viewpoints were carefully identified on a map showing the locations and direction of 14 key views to be protected by a policy, Heritage Protection of Landscape and Townscape, HC3A. This sets out to protect the dominance of Lewes Castle, the visibility of open countryside from the town, the historic character and streetscape within the two established conservation areas and their complex and intricate roofscape. Further attention was given to the town's distinctive 'twittens', narrow passages that run off the main streets, and the flint boundary and retaining walls which are such a feature of many street scenes.
If Lewes had a heyday, it was arguably in the Georgian period, when the population grew from around 2,500 to over 8,500 by 1831. Timber-framed houses were frequently remodelled and refronted in a dizzying variety of cladding materials: bricks, flint, beach cobbles, weatherboards, imported slate and, most commonly, either plain tiles or mathematical tiles, an ingenious way to simulate brickwork in a wafer-thin skin, applied directly to the timber frame behind. Entirely new streets were laid out on the flanks of the historic core, lined with modest terraces, sometimes built of brick but often framed using Baltic softwoods and faced in identical materials to those cladding the remodelled medieval houses in the centre. This diversity is fascinating and still largely intact.
Today most Lewes residents are deeply committed to environmental concerns. This has led to a certain tension between the provision of various energy-saving measures on these delicate historic structures, which are frequently minimally insulated and were almost invariably fenestrated in the 18th and 19th centuries. This conflict is essentially insoluble. An early draft of the plan had proposed a heritage policy that would have differentiated between the linear core of Lewes, as shown on a 1799 map, and the early-19th-century development to its flanks. At examination, the local planning authority persuaded the examiner that this twin-track approach had not been founded on evidence in the 2007 conservation area appraisal and would lead to inconsistencies within the same conservation area that would result in harm to character. The approved policy in the neighbourhood plan, HC3B seeks to strike a balance fair to both sides of the argument.
As conservationists, we assume that we are on the side of the angels. Most of the buildings we protect were products of a low-carbon society; how can they now be blamed for polar melt or rising sea levels? However, in an age where Extinction Rebellion is gaining influence and may yet achieve political traction, we should be aware that some see our nuanced and complex consideration of historic fabric integrity or breathability as a blinkered impediment to a zero-carbon world, rather than a common-sense response to care of traditional structures based on evidence and long experience. Lewes may well be a harbinger of the future. There is an urgent need to distil punchy arguments that can counter-challenge assertions that may ultimately come to threaten our mission.
The neighbourhood plan takes care to protect another identified asset, the town's wealth of green spaces, some of which are long-established bonfire sites and therefore culturally precious. One green space identified is particularly large, the open downland, once the site of the Battle of Lewes in 1264 between Henry III, Simon de Montfort and his barons. Much later, this land would become the former Lewes Racecourse, convenient to Brighton and greatly beloved by the Prince Regent, who is reputed never to have missed an August meeting. The plan secures conservation of this and other green spaces for the duration of the plan period (15 years) as local green space – a designation that carries a similar planning weight to green belt. The battlefield is now one of the largest designated local green spaces in the country, protecting its special historic interest and giving further weight to its status as a registered battlefield.
Following examination in 2018, the neighbourhood plan sailed through referendum with a Yes vote of 92 per cent out of a respectable 25 per cent turnout and was formally 'made' by the South Downs National Park Authority on the 11 April, 2019. Locally generated neighbourhood plans are sometimes dismissed by planning professionals and the development industry as parochial, defensive and frequently inward-looking. This would be an entirely unfair criticism of the Lewes plan, which looks forward just as much as it looks back and is truly radical, with particularly ambitious encouragement for the provision of genuinely affordable new homes.
A generic weakness is that the wording of some policies required considerable vigilance on the part of the local planning authority and the examiner up to and including the final stages of examination, as in any subsequent appeal situations the legal profession may be guaranteed to exploit any policy ambiguity or imprecision for the benefit of its clients. Historic England was pleased to provide additional support with policy writing, given the importance and sensitivity of the town's built and archaeological heritage. Finally, if there is a concern, it is that policies of the plan have been conceived for a development industry that the people of Lewes would like to exist, rather than the development community Britain actually has. It will be interesting to see if the idealism of the plan can actually triumph over the harsh realities of development politics and market forces in the years to 2033.
---
This article originally appeared as 'Lewes Neighbourhood Plan: radical and ambitious' in IHBC's Context 162 (Page 37), published by The Institute of Historic Building Conservation in November 2019. It was written by Michael Scammell, conservation officer, South Downs National Park Authority. The assistance of Ian Linton of the neighbourhood plan steering group, Richard Eastham of Feria Urbanism and Rob Lloyd-Sweet of Historic England is gratefully acknowledged.
--Institute of Historic Building Conservation
IHBC NewsBlog
IHBC Virtual School 19 June: Heritage Reflections & Speculations from a Pandemic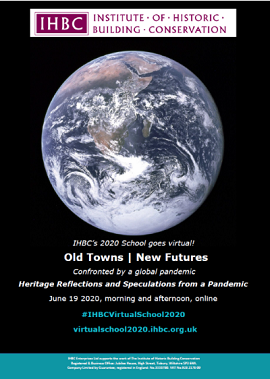 How the current pandemic will shape historic urban areas and their surrounding communities across the globe is impossible to tell. Join us to reflect on the implications for our current approaches to caring for valued places, and even speculate on future strategies and responses.
---
Risk Assessments and Contractual Impact from CIAT

A note on contractual obligations under the current COVID-19 pandemic has been issued by The Chartered Institute of Architectural Technologists(CIAT).
---
RTPI calls on government to issue planning guidance to prevent development delays

The Royal Town Planning Institute (RTPI) has called on the government to urgently issue planning guidance to prevent unnecessary delays to development from the pandemic.
---
How to Enjoy Heritage from Home, from the Heritage Fund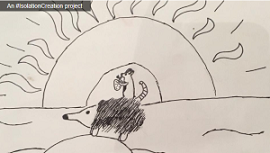 The Heritage Fund has put together a list of heritage-inspired activities to be done from home.
---
Listed Property Owners Club's Spring Checklist for Buildings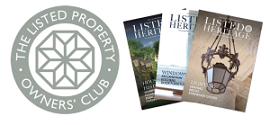 Spring is a good time to stand back and consider any building repairs that are required over the next 12 months, notes the LPOC, and regular inspection and maintenance is the key to keeping homes in good repair, as per its accessible step-by-step guidance.
---
Firefighters tackle blaze at converted Grade II listed former mill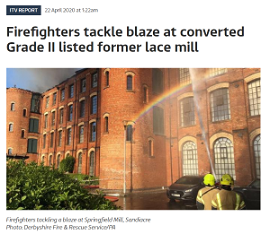 Derbyshire Fire and Rescue Service said "rapid and effective firefighting" had saved three quarters of the mill – which is now apartments.
---
Thieves take advantage of lockdown to steal lead from church roof in Halsham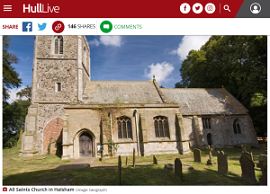 Police have appealed for witnesses after thieves stole lead from the roof of All Saints Church in Halsham near Hedon during the coronavirus lockdown.
---
IHBC's CPD Circular provides info on digital CPD opportunities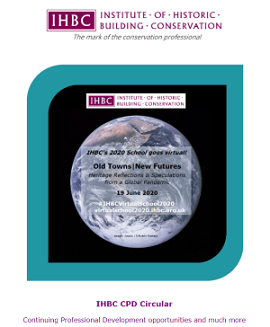 The regular newsletter showcases the IHBC's own Continuing Professional Development (CPD) content as well as online opportunities from 'IHBC Recognised CPD Providers' and other conservation related training and events.
---
Frank Lloyd Wright houses offer virtual tours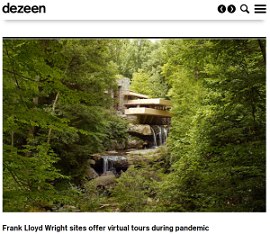 To make sure the public still has access to twelve of those famous works, #WrightVirtualVisits has been launched, which offers virtual tours of 12 iconic houses.
---
CIC's Coronavirus Digest review and survey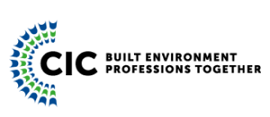 The Construction Industry Council's (CIC's) 'CIC Coronavirus Digest – Issue 8' surveys the latest government advice with updates from the construction industry.
---
COVID-19: Advice and Updates collated from the Heritage Sector
Organisations with conservation links have been collating resources on COVID-19 impacts, including Built Environment Forum Scotland (BEFS), Historic Environment Forum, The Heritage Alliance (THA), and Historic England, on cleaning surfaces.
---
Councils considering 'executive powers' as measures to avoid planning gridlock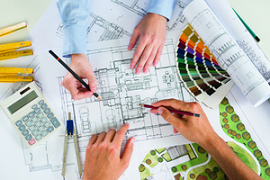 Councils are reported to be considering taking up rarely-used executive powers to keep the planning and development system moving during the coronavirus pandemic.
---
Historic England provides updated flood recovery advice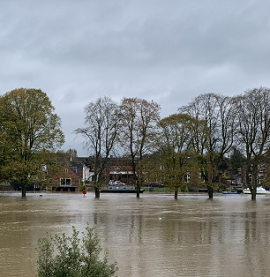 Historic England's 'After a Flood' provides timely advice on how to dry walls properly and avoid further damage to the building fabric.
---
Conservation of Timber Buildings: an example of evolving conservation techniques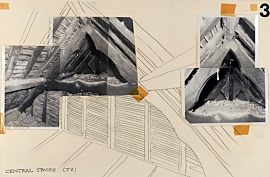 Context Issue 162 offers a peek into an archive of timber conservation history through the records of the practice of FWB and Mary Charles Chartered Architects.
---