Dorchester on Thames neighbourhood development plan
Identifying interim 'heritage areas' enabled an Oxfordshire village to provide the protection necessary to achieve the vision that was the primary objective of its neighbourhood plan.
Given the importance of neighbourhood development plans within the current planning regime, it might be helpful to readers who are engaged with the process to reflect on the challenges that we faced and the strategy that we adopted to bring our plan to a successful conclusion in a rural community with a population of just over 1,000 residents.
Dorchester on Thames is an attractive Oxfordshire village set on slightly higher ground between the open floodplain of the River Thames and its tributary the River Thame. It has an extensive and well-documented history with visible evidence from its origins as an iron-age settlement, through its development as a Roman town, an important centre of Saxon and medieval Christianity and its later prosperity as a staging post on one of the principal routes from London to Oxford. It is well protected, lying wholly within the green belt and with an unusually high number of listed buildings, two contiguous conservation areas and five scheduled ancient monuments. It has an active, if aging, population and supports a primary school, several local businesses and three small farms.
Following the Localism Act which came into force in April 2012, a well-attended public meeting in October that year urged the parish council to proceed with the formulation of a neighbourhood development plan and a small committee was formed to take this forward. Given its strong historic character this should have been a reasonably straightforward process but in the event, it took six years before the plan was finally made. There were a number of reasons why it took so long, and it is instructive to explore some of these.
In the early years there was the usual problem of a committee composed of volunteers from diverse backgrounds with a variety of different priorities. Imposing a disciplined focus on the relevant issues was a challenge that was compounded by a constant turnover of the officers of the district council which led to a lack of consistency in the advice that was offered. A major diversion was the pressure that was placed on us to make a significant contribution to the housing figures for the district as a whole, despite our green belt status. Our local member happened to be the leader of the council and he was determined that our plan should help him meet his targets.
At one stage it was even proposed by the district that a 35-acre field on the edge of the village should be removed from the green belt in order to accommodate 200 new houses and a great deal of time was spent in resisting this poorly formulated proposal. The plan was finally submitted in 2017 and following an independent examiner's report in December it proceeded to a referendum in March 2018, where it received a 96 per cent 'yes' vote on a turnout of 52 per cent of those eligible to vote. A key factor in achieving such a ringing endorsement was that the village had been fully consulted throughout the process through a number of public meetings, and monthly progress reports in the parish magazine and on the village website.
The prime objective for the whole plan was explicitly stated as 'To nurture and protect the natural and built environment of the village for future generations to enjoy', and the various policies on housing, tourism and the economy were set against that objective. Both conservation areas already had character appraisals and management plans which had been adopted by the council in 2004. In order to complement these studies, an analysis of the village outside the conservation areas was undertaken which identified two additional areas of such historic significance that it was felt they should form part of the designated boundaries of the existing conservation areas. One of these was the field which the council wanted to take out of the green belt.
The character appraisals were beginning to show signs of their age and a number of the proposals in the management plans had been achieved. We recognised that it was not within the scope of a neighbourhood plan to alter the conservation area boundaries or to modify the supporting documentation, but in order to fully achieve the stated objective we had at least hoped to get a commitment from the council to take our suggestions forward in parallel with the plan. However, although we enjoyed good relations with the conservation team, we were given a blunt refusal as they thought that their limited resources were better employed in tackling the backlog of conservation plans for less-well-protected areas. Although we understood the reasoning, it left us in a dilemma as to the best way to proceed with establishing an up-to-date and more nuanced approach which fully recognised the contribution of its history to the character of Dorchester.
It was Historic England, as one of our statutory consultees, who suggested a more creative way of resolving our dilemma. If we identified what they called 'heritage areas', we could then formulate policies that applied to that wider area and addressed the deficiencies in the character appraisals. This could legitimately act as an interim measure of protection until the conservation areas were revised in due course. In order to make this explicit, we included a series of 'proposals' (not policies) in the text which were described as 'important elements in the management of the historic character of Dorchester' and which should be subject to the same council policies as the designated conservation areas. We provided a detailed evidence base for the proposals and a fully justified list of undesignated heritage assets and other features which had been missed in the character appraisals.
The latter was of considerable importance because the local authority had never compiled a proper list of undesignated assets or adopted policies which would protect them. Some of the buildings had been noted on the conservation area appraisal maps, but we were able to identify other buildings which had been missed and to go outside the conservation area to include outlying structures. The 'proposals' then formed the basis for three separate policies. These covered the historic environment, undesignated buildings of interest, and views and vistas, while acknowledging that they touched on matters which it was hoped that the council would address in future. It was reassuring that this strategy was fully endorsed by the independent inspector and the policies are now part of the 'made' plan.
The identification of heritage areas has enabled us to provide the extra protection necessary to achieve our vision which was set out as the primary objective of our plan. Given the reluctance of the local planning authority to adopt our detailed and informed modifications to its existing policies, I would thoroughly recommend a similar strategy to others who are preparing their neighbourhood development plans. It would be interesting know whether Historic England has suggested the same tactic elsewhere or whether this was a unique response to our own circumstances. The adopted plan for Dorchester can be viewed on the website of South Oxfordshire District Council (www.southoxon.gov.uk).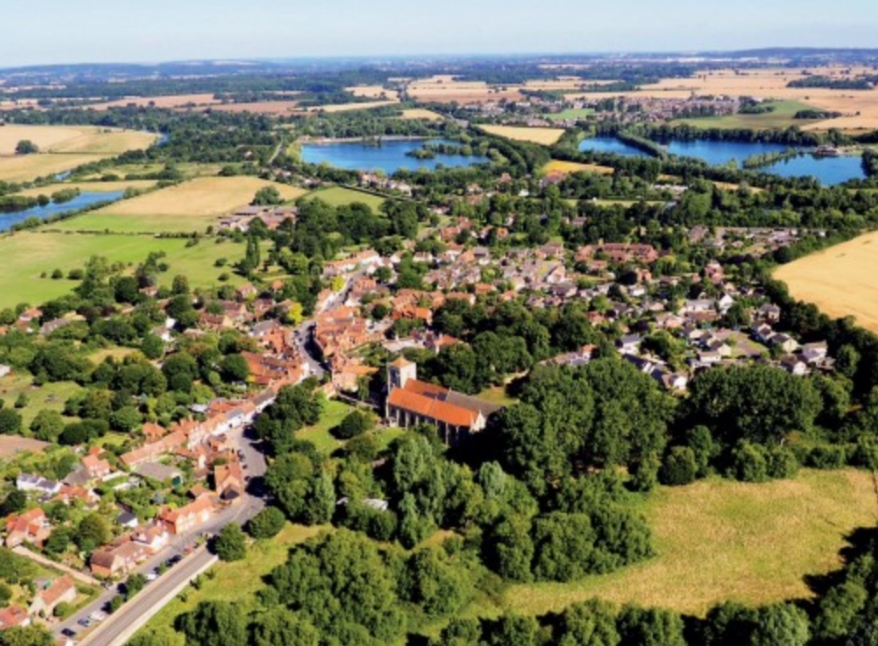 Dorchester on Thames from the air.
This article originally appeared as 'Creative thinking in a neighbourhood plan' in IHBC's Context 159 (Page 37), published in May 2019. It was written by Professor Malcolm Airs, emeritus fellow at Kellogg College, Oxford
--Institute of Historic Building Conservation
IHBC NewsBlog
IHBC's first Virtual School a Marked Success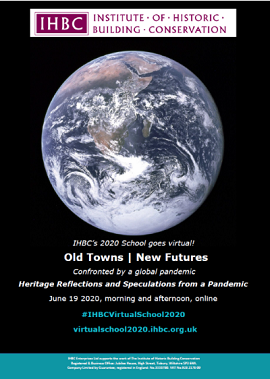 The first 'Virtual School' hosted by the IHBC was launched on 19 June with lead speakers covering pandemic-related topics shaping valued places over two sessions.
---
MPs are Asked for Views on £4bn Parliament Restoration Plan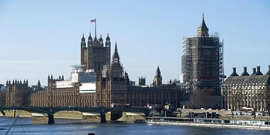 MPs and peers are being asked for their views on the planned restoration and renewal of the Houses of Parliament.
---
Ireland National Heritage Week: 15-23 August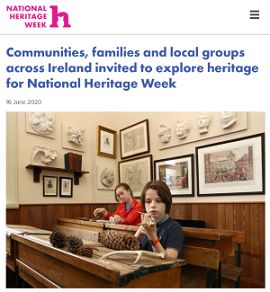 Plans are in place for a modified National Heritage Week for Ireland, which take into account ongoing restrictions on events and gatherings due to COVID-19.
---
Grimsby's historic Ice Factory thrown new survival lifeline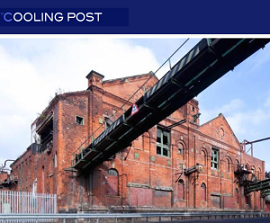 Opened in 1901, and derelict for the last 30 years, the Grimsby Ice Factory is the earliest and largest known surviving ice factory in the world. It still contains an array of historic ice making equipment including four J&E Hall ammonia compressors installed in 1931.
---
Risk Assessments and Contractual Impact from CIAT

A note on contractual obligations under the current COVID-19 pandemic has been issued by The Chartered Institute of Architectural Technologists(CIAT).
---
RTPI calls on government to issue planning guidance to prevent development delays

The Royal Town Planning Institute (RTPI) has called on the government to urgently issue planning guidance to prevent unnecessary delays to development from the pandemic.
---
How to Enjoy Heritage from Home, from the Heritage Fund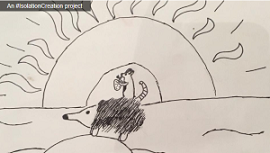 The Heritage Fund has put together a list of heritage-inspired activities to be done from home.
---
Listed Property Owners Club's Spring Checklist for Buildings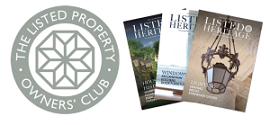 Spring is a good time to stand back and consider any building repairs that are required over the next 12 months, notes the LPOC, and regular inspection and maintenance is the key to keeping homes in good repair, as per its accessible step-by-step guidance.
---
Firefighters tackle blaze at converted Grade II listed former mill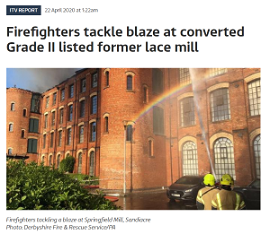 Derbyshire Fire and Rescue Service said "rapid and effective firefighting" had saved three quarters of the mill – which is now apartments.
---
Thieves take advantage of lockdown to steal lead from church roof in Halsham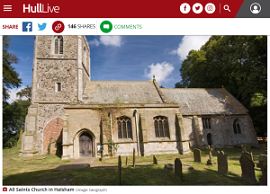 Police have appealed for witnesses after thieves stole lead from the roof of All Saints Church in Halsham near Hedon during the coronavirus lockdown.
---
IHBC's CPD Circular provides info on digital CPD opportunities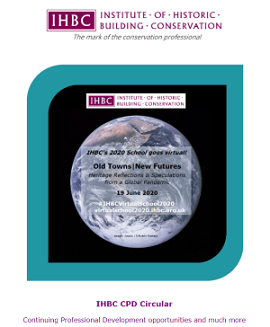 The regular newsletter showcases the IHBC's own Continuing Professional Development (CPD) content as well as online opportunities from 'IHBC Recognised CPD Providers' and other conservation related training and events.
---
Frank Lloyd Wright houses offer virtual tours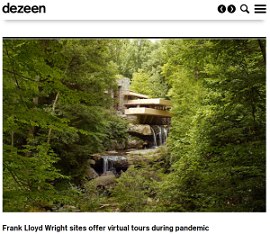 To make sure the public still has access to twelve of those famous works, #WrightVirtualVisits has been launched, which offers virtual tours of 12 iconic houses.
---