Burj al Arab, Dubai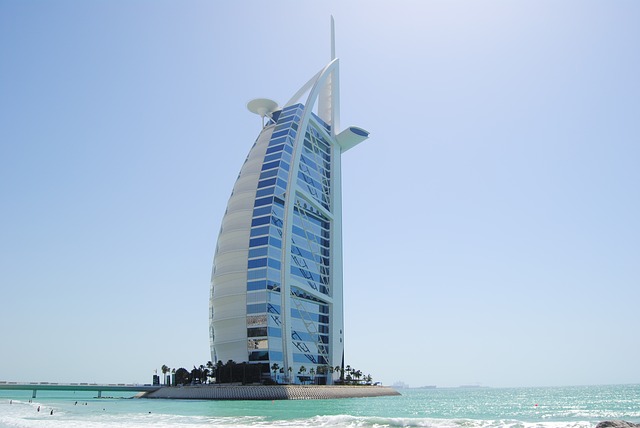 [edit]
Introduction
The Burj al Arab (translation: Arabian Tower), is a luxury hotel that stands on an artificial island nearly 300 m from the Jumeirah Beach in Dubai, UAE. Standing at 321 m, it is the third tallest hotel in the world and one of the most expensive, costing an estimated 7.8bn dollars.
New launch in 2019 Burj Jumeirah 550 Meter Tower In Dubai.
Dubai had enjoyed economic prosperity in the 1990s due to oil revenues, but officials decided declining reserves would require a shift in the economy and so they moved into luxury tourism and real estate development. In 1994, the Sheikh ruler of Dubai commissioned the British consultancy Atkins to design a building that would become synonymous with Dubai and the United Arab Emirates.
Led by the architect Tom Wright, Atkins designed a high-tech building to resemble the billowing sail of a traditional Arab 'dhow' or yacht.
Despite its height, 39% is made up of non-occupyable space, and the building has faced criticism because of its ostentatious levels of opulence and a favouring of style over function. Notwithstanding this however, since officially opening in December 1999, the Burj al Arab has succeeded in its aim of becoming an iconic symbol of Dubai.
The building is notable for a number of complex engineering and construction feats. The artificial island that was constructed needed to be built low enough to give the impression that the building was floating on water. The reclamation of the land from the sea took 3 years, as engineers created a ground/surface layer of large rocks. To avoid the risk of flooding, perforated concrete blocks were mounted on the bedrock in a honeycomb pattern designed to act as a giant artificial 'sponge' and reduce the wave impact.
To secure the building to the artificial island, 230 concrete piles measuring 40 m (130 ft) had to be driven into the sand. In total, the building contains more than 70,000 m3 of concrete and 9,000 tons of steel. At peak, 2,000 construction workers were involved in the project.
The building's layout is in the form of two wings spread in a V-shape, creating a 'mast' and enclosing a massive atrium. The façade is covered with two layers of architectural fabric, separated by 60 cm, in order to filter out excessive heat and sunlight.
Each of the 202 hotel suites consists of two levels, with a curved façade and balcony on the upper floor. These were prefabricated and installed on site into the concrete structure. To achieve adequate stiffness, giant metal trusses with a triangular section, each measuring 85 m long, were used on the exterior side walls. These have the effect of diagonally bracing the two side trusses and the large concrete 'mast'. These trusses can expand and contract by up to 5 cm in a day, and to accommodate this a special steering linkage rod had to be designed.
The building also features an inverted steel cone suspended near the roof at a height of 210 m (689 ft). This is primarily used as a helipad but has also been used for several PR events, most famously an exhibition tennis match between Roger Federer and Andre Agassi in 2005.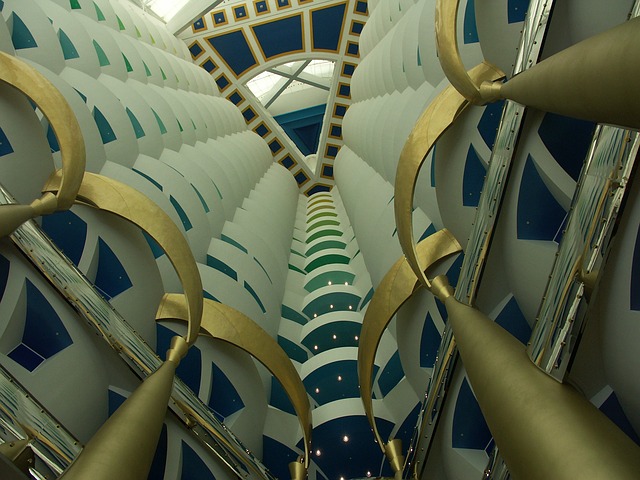 The atrium is 180 m (590 ft) tall.
As one of the most luxurious hotels in the world (the only one to have been given the unofficial commendation of '7 stars' by the media), the interior was designed to be palatial, eclectic and baroque.
Having decorated many high-profile hotels around the world, the Chinese designer Khuan Chew was commissioned to design the interior based on the four elements of the ancient world – water, fire, wind and earth. Water is present throughout the hotel in aquariums and fountains, while fire is included in an entrance fountain, together with steam representing air. Earth is symbolised by the 24,000 m2 of marble and precious stones used throughout the hotel, as well as 2,000 m2 of gold foil.
The hotel is also notable for its two distinctive restaurants. Al Muntaha (The Ultimate) is 200 m (660 ft) above the Persian Gulf, a C-section design that projects out at 30 m from each side of the central 'mast' column. This is supported by a cantilever extending 27 m (89 ft) from either side of the mast, and a series of 1.6 m thick steel beams that fan out from the column towards the restaurant edges.
The Al Mahara (Oyster) features a large seawater aquarium and is accessed via a simulation of a submarine voyage. The wall of the acrylic glass tank is 18 cm (7.1 in) thick to withstand the water pressure.
[edit]
Find out more
IHBC NewsBlog
IHBC's 2019 Nottingham Annual School a Great Success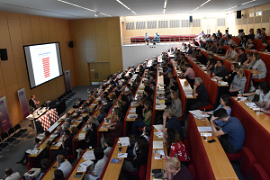 One of the IHBC's most populous Schools, the 2019 Nottingham School will be remembered for its combination authoritative speakers, urban experiences and accessible learning, including the IHBC's Spotlights.
---
England's new High Streets Task Force will help revitalise high streets and town centres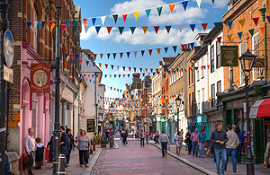 A new High Streets Task Force, to support local leaders as they revitalise England's high streets and town centres, has been launched.
---
UK petition to Zero-rate VAT on deep retrofit/eco-refurbishment building works now open

A UK parliamentary petition to Zero-rate VAT on deep retrofit/eco-refurbishment building works on all homes, has been launched, with a deadline of 8 January 2020.
---
IHBC's new Guidance Notes launched at Nottingham's 2019 School Spotlights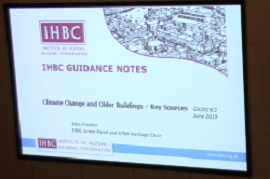 The IHBC has launched two new Guidance Notes, on Retrofitting of Traditional Buildings and Climate Change and Older Buildings – Key Sources.
---
NLA awards 2019 include Pitzhanger Manor and Gallery for Conservation & Retrofit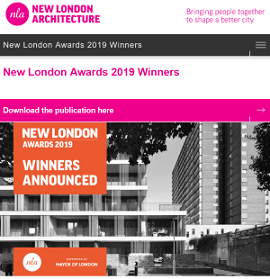 The Conservation & Retrofit award of the New London Awards (NLA) 2019 has been won by Pitzhanger Manor and Gallery, W5, by Jestico + Whiles and Julian Harrap Architects.
---
AHF £15M fund – 'Transforming Places Through Heritage'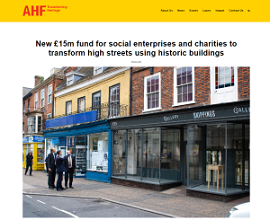 The Architectural Heritage Fund (AHF) has announced the opening of the 'Transforming Places Through Heritage' fund, focussed on reinvigorating England's high streets.
---
How wartime photographers dodged Nazi bombing to record historic buildings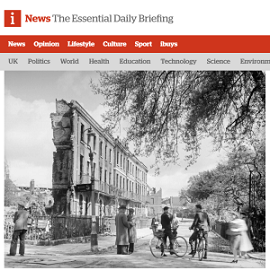 A race against devastation - a new exhibition chronicles the wartime work of the National Buildings Record – set up to capture a disappearing landscape.
---
---
---