Burj al Arab, Dubai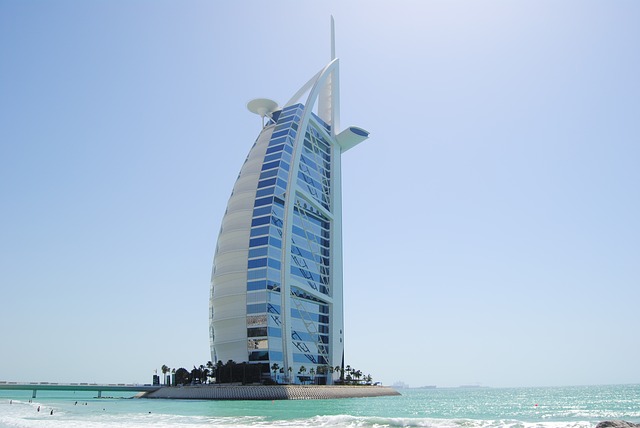 [edit]
Introduction
The Burj al Arab (translation: Arabian Tower), is a luxury hotel that stands on an artificial island nearly 300 m from the Jumeirah Beach in Dubai, UAE. Standing at 321 m, it is the third tallest hotel in the world and one of the most expensive, costing an estimated 7.8bn dollars.
Dubai had enjoyed economic prosperity in the 1990s due to oil revenues, but officials decided declining reserves would require a shift in the economy and so they moved into luxury tourism and real estate development. In 1994, the Sheikh ruler of Dubai commissioned the British consultancy Atkins to design a building that would become synonymous with Dubai and the United Arab Emirates.
Led by the architect Tom Wright, Atkins designed a high-tech building to resemble the billowing sail of a traditional Arab 'dhow' or yacht.
Despite its height, 39% is made up of non-occupyable space, and the building has faced criticism because of its ostentatious levels of opulence and a favouring of style over function. Notwithstanding this however, since officially opening in December 1999, the Burj al Arab has succeeded in its aim of becoming an iconic symbol of Dubai.
The building is notable for a number of complex engineering and construction feats. The artificial island that was constructed needed to be built low enough to give the impression that the building was floating on water. The reclamation of the land from the sea took 3 years, as engineers created a ground/surface layer of large rocks. To avoid the risk of flooding, perforated concrete blocks were mounted on the bedrock in a honeycomb pattern designed to act as a giant artificial 'sponge' and reduce the wave impact.
To secure the building to the artificial island, 230 concrete piles measuring 40 m (130 ft) had to be driven into the sand. In total, the building contains more than 70,000 m3 of concrete and 9,000 tons of steel. At peak, 2,000 construction workers were involved in the project.
The building's layout is in the form of two wings spread in a V-shape, creating a 'mast' and enclosing a massive atrium. The façade is covered with two layers of architectural fabric, separated by 60 cm, in order to filter out excessive heat and sunlight.
Each of the 202 hotel suites consists of two levels, with a curved façade and balcony on the upper floor. These were prefabricated and installed on site into the concrete structure. To achieve adequate stiffness, giant metal trusses with a triangular section, each measuring 85 m long, were used on the exterior side walls. These have the effect of diagonally bracing the two side trusses and the large concrete 'mast'. These trusses can expand and contract by up to 5 cm in a day, and to accommodate this a special steering linkage rod had to be designed.
The building also features an inverted steel cone suspended near the roof at a height of 210 m (689 ft). This is primarily used as a helipad but has also been used for several PR events, most famously an exhibition tennis match between Roger Federer and Andre Agassi in 2005.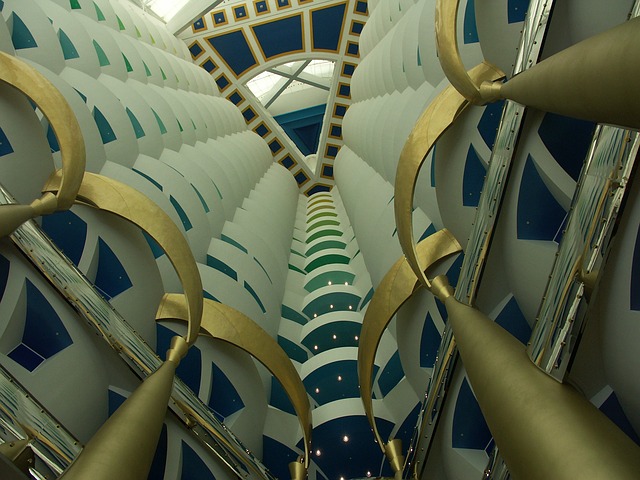 The atrium is 180 m (590 ft) tall.
As one of the most luxurious hotels in the world (the only one to have been given the unofficial commendation of '7 stars' by the media), the interior was designed to be palatial, eclectic and baroque.
Having decorated many high-profile hotels around the world, the Chinese designer Khuan Chew was commissioned to design the interior based on the four elements of the ancient world – water, fire, wind and earth. Water is present throughout the hotel in aquariums and fountains, while fire is included in an entrance fountain, together with steam representing air. Earth is symbolised by the 24,000 m2 of marble and precious stones used throughout the hotel, as well as 2,000 m2 of gold foil.
The hotel is also notable for its two distinctive restaurants. Al Muntaha (The Ultimate) is 200 m (660 ft) above the Persian Gulf, a C-section design that projects out at 30 m from each side of the central 'mast' column. This is supported by a cantilever extending 27 m (89 ft) from either side of the mast, and a series of 1.6 m thick steel beams that fan out from the column towards the restaurant edges.
The Al Mahara (Oyster) features a large seawater aquarium and is accessed via a simulation of a submarine voyage. The wall of the acrylic glass tank is 18 cm (7.1 in) thick to withstand the water pressure.
[edit]
Find out more
IHBC NewsBlog
IHBC FREE CPD Boost - Easy Access Webinar from Historic England and the IHBC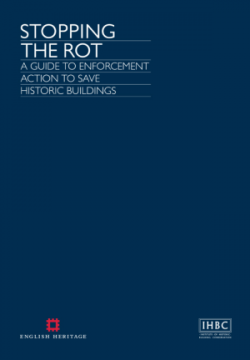 'Enhancing conservation areas & townscapes with S.215s', 13 December - numbers limited so book now!
---
IHBC Out of Context - CPD check-up and prize


'Who said that and what would you say back? FREE BS7913 for the best responses…
---
IHBC CPD boost: bite-sized briefings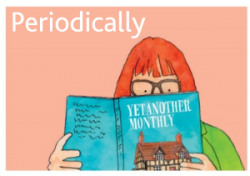 'Periodically', Bob Kindred's bite-sized briefings from the best of current heritage handbooks.
---
IHBC CPD Green Issue QuickQuiz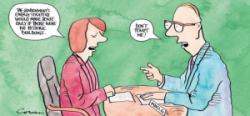 Do you know the ABCs of EPCs?
---
IHBC CPD Green Issue QuickQuiz Part 2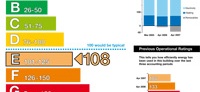 Do you know the ABCs of EPCs? - The answers! You tested your knowledge on energy performance certificates (EPC's) in the last Newsblog so now see how well you did!
---
IHBC at Listed Property Show London 2019 – FREE CPD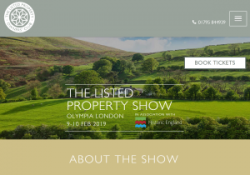 4 hours free CPD via IHBC and partners + lots more at the show in association with Historic England, on 9-10 February 2019 at London's Olympia.
---
IHBC launches new Toolbox Guidance Note for small traders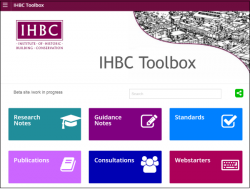 IHBC's latest Guidance Note in our Toolbox aims to provide sole practitioners and small traders with advice on taking on new work, offering 'Ten Red Flags' to watch out for.
---
Scotland - Historic Environment Audit (SHEA) 2018 is now out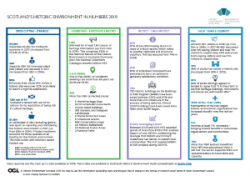 HES lead officer, Karen Robertson, has offered her personal blog looking at the trends and findings.
---
Slate Landscape of North-West Wales - preferred UNESCO World Heritage Site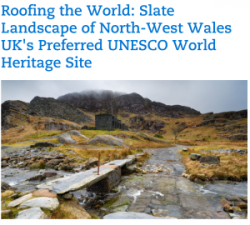 The Slate Landscape of North-West Wales will be the UK's next preferred nomination for UNESCO World Heritage Site status, Heritage Minister Michael Ellis announced recently.
---
Draft Parliamentary Buildings (Restoration and Renewal) Bill for Palace of Westminster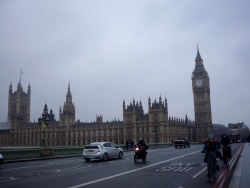 The draft Bill has been presented to allow 'interested parties the opportunity to consider the approach taken to the governance of the Restoration and Renewal Programme'.
---
APPG for Healthy Homes & Buildings White Paper published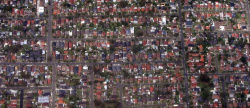 The White Paper highlights 'the need for a holistic approach to building design and renovation'.
---
Register English Community Assets on CAsE and you could win £100 gift voucher
The Architectural Heritage Fund (AHF) asks if you own or manage a community asset that you register it on the new Community Assets Exchange - you could win £100 gift voucher.
---
North of Tyne gets £600m devolution deal
Northern Powerhouse minister Jake Berry has confirmed a £600 million devolution deal for the North of Tyne. It is expected to generate £1.1 billion for the local economy.
---
Fifteen projects reach final of Heritage Angel Awards Wales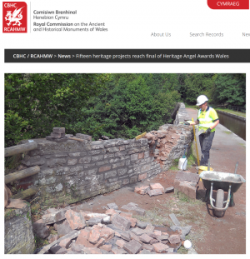 Fifteen outstanding examples of heritage achievement have been selected for a Heritage Angel Award by a panel of judges headed by Baroness Kay Andrews.
---
Entries open for 2019 John Betjeman award: Closing 26 Feb 2019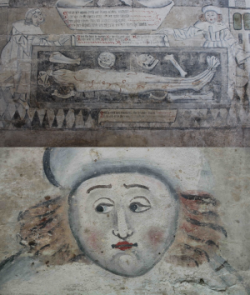 SPAB invites nominations for the award celebrating excellence in the repair to specific elements of places of worship of all denominations and faiths in England and Wales.
---
Civic Voice: Guidance tool for communities to identify local heritage assets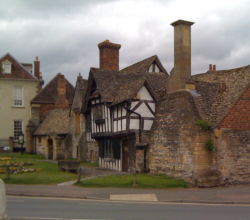 A resource developed as part of Civic Voice's Big Conservation Conversation and their 'Local Heritage List' campaign.
---
The economic value of culture - a benefit transfer study on museums in England
New research has been published to help understand the visitor and non-visitor value of cultural engagement at 4 cultural institutions in England – is this transferrable?
---
Former housing minister Nick Raynsford issues warning on planning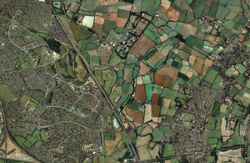 He writes that it has been reduced to a 'chaotic patchwork' of responsibilities which is not compatible with promoting the health, wellbeing and civil rights of communities.
---
DCMS revises - Principles of Selection for Listed Buildings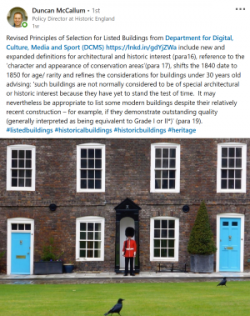 The Department for Digital, Culture, Media and Sport (DCMS) has issued its revised 'Principles of Selection for Listed Buildings' with new dates, definitions and more.
---
Specialist contractors call for government regulation of the construction industry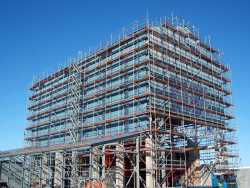 The chairman of the Specialist Engineering Contractors' (SEC) Group wants to government to set up a statutory authority to regulate construction industry practice.
---
Brexit skills shortages - survey

Add your company's take to the largest-ever poll on Brexit skills shortages.
---
Slow progress on encouraging female apprentices to construction industry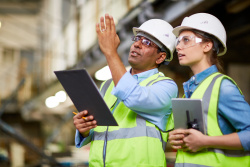 With 88% male in 2016/17 industry initiatives to encourage young women to join the construction industry do not appear to be making much headway.
---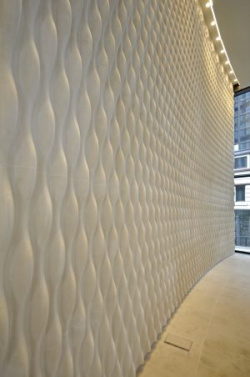 Water-jet cutting of stone changes the industry, but only so far!
---
Nuclear archive wins Andrew Doolan Best Building in Scotland Award for 2018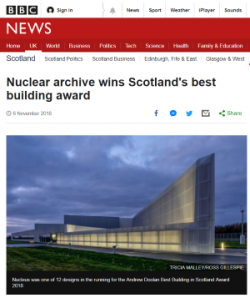 A national archive for the civil nuclear industry by Reiach & Hall Architects has won a top Scottish architecture prize: the Andrew Doolan Best Building in Scotland Award for 2018.