The Commonwealth War Graves Commission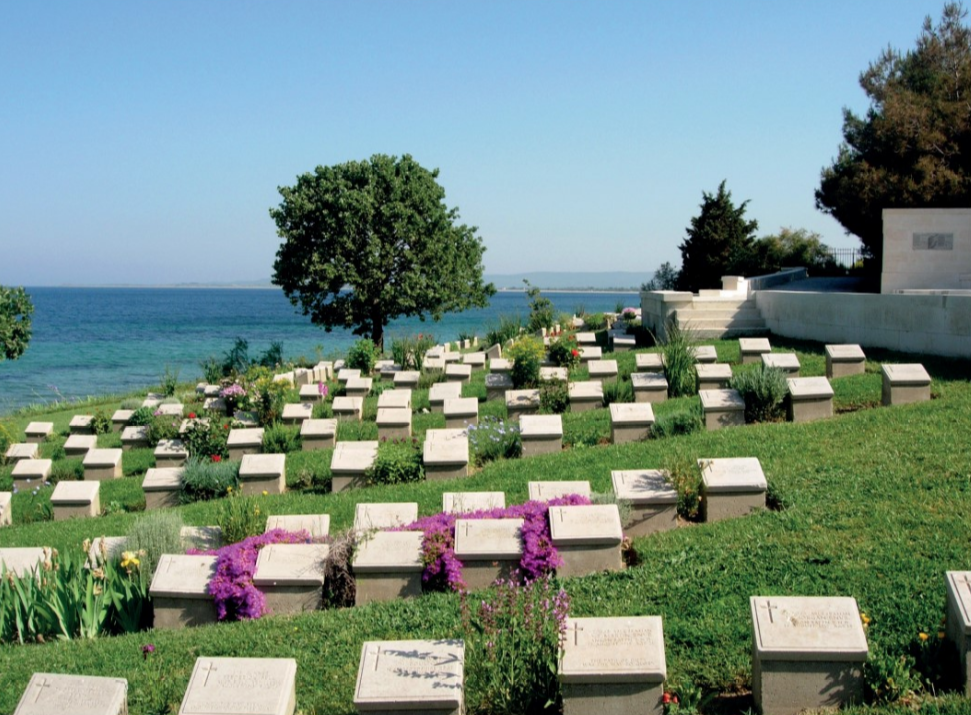 Beach Cemetery, Gallipoli (first world war)
The Commonwealth War Graves Commission cares for a historic estate whose structures and sites were designed by some of the most renowned architects and artists of the last century.
---
The Commonwealth War Graves Commission (CWGC) cares for war graves and memorials at 23,000 locations in more than 150 countries. They range from scattered graves in remote rural churchyards to vast cemeteries and major internationally known memorials to the missing. We look after war dead on every continent except Antarctica, with cemeteries extending from Archangel in the far north of Russia down to the Falkland Islands.
The then Imperial War Graves Commission (IWGC) was created by Royal Charter in 1917. The IWGC's founder, Sir Fabian Ware, enlisted the help of some of the best artistic minds to realise his vision – the author Rudyard Kipling as literary adviser; the architects Edwin Lutyens, Herbert Baker and Reginald Blomfield; Leslie MacDonald Gill for his expertise on lettering; Arthur Hill from the Royal Horticultural Society to advise on planting, and many others. After much debate they settled on a form of commemoration that is now familiar and accepted the world over – even if at the time it was highly controversial.
A number of remarkable decisions were taken which profoundly influenced the commemorative landscape maintained by the CWGC today. It was decided that everyone should be commemorated by name and that the form of commemoration should be equal – with no distinction on account of military or civil rank, race or creed. It would mean that the dead would be buried where they fell, officers next to other ranks, side by side in reflection of a common sacrifice for a common goal. This would lead to the creation of cemeteries in almost every corner of the world, but it would also dictate the form of these places and, in particular, the use of a headstone rather than a cross to mark each grave.
Records and registers were created and kept. Memorials were constructed for those with no known grave. Blomfield's Cross of Sacrifice would represent the faith of the majority and the Stone of Remembrance, designed by Lutyens, would commemorate those of all faiths and none. The achievements of the IWGC in those early years was staggering.
Today, we care for an important historic estate, with structures and sites designed by some of the most renowned architects and artists of the last century. The CWGC's cemeteries and memorials represent a unique commemorative, cultural, horticultural and architectural heritage. In a number of countries our sites are becoming listed or sometimes even under consideration for world heritage site status. With that recognition comes additional responsibility. The CWGC follows a conservation approach to ensure that our work is sustainable, and that we follow best practice for the care and upkeep of our sites.
Looking after our estate is a massive global undertaking. We employ 850 gardeners and 160 skilled craftsmen – stonemasons, blacksmiths and carpenters – all over the world. Our teams are locally employed and the vast majority of gardening and maintenance work is done by our own staff. To give a sense of scale, the area of ground controlled by the CWGC is equivalent to 994 football pitches. We look after well over a million headstones, nearly 14,000 Crosses of Sacrifice and over 330 Stones of Remembrance.
Caring for these historic and sensitive sites is quite a challenge. Our first world war cemeteries are now 100 years old, in locations that are fully exposed to the elements. We must deal with weathering, the effects of a changing climate and sometimes external factors, including vandalism. We contend with a huge range of climate, geography, and access restrictions with local standards, laws and regulations, not to mention cultural differences and language barriers. The challenge for us a century on is finding the balance between maintaining these places so that they fulfil the function they were designed for, and understanding, maintaining and conserving them for the future.
We take a long-term approach to the maintenance and management of the estate. We make sure that we consider our sites holistically in operational decisions we take – the built elements, the headstones and the landscape. We produce conservation statements before making any interventions, to ensure that the site and its significance has been fully understood. We produced detailed condition surveys of our larger 'constructed' sites (about 2,200 of them) on a rolling programme every five years, highlighting the need for repairs or maintenance and identifying priorities. We have our own surveyors across the world all using the same software for condition surveys.
We have an overarching heritage strategy and conservation standards which are set out in a number of internal policy and guidance documents, translated into various languages. The commission invests heavily in training and sharing skills between teams across the organisation.
Our staff specify and carry out maintenance and conservation work using traditional methods and materials wherever possible. Historic or significant built fabric is retained in situ, with conservation work being carried out on a minimal intervention basis with an understanding of local skills, materials, cultures and legislation. This can be hard to achieve. Even the term 'conservation' as we understand it in the UK means different things in different countries, or is simply not established at all. We have found the use of lime mortars, for example, to be almost impossible in some parts of the world where cement is all that is locally available; we regularly struggle to import mortars for masonry repairs.
Some recent examples of our work include the rebuilding of 100-year-old brick boundary walls to several first world war cemeteries in Belgium, where we have been grant aided by the Government of Flanders. We repair and rebuild using traditional lime mortars, re-using original bricks where we can. When we can not, replacement traditional handmade bricks are specified. This may sound straightforward but the scale is immense; we have around 50 miles of walls in France and Belgium alone. In complete contrast, one of our largest projects of recent years has been rebuilding the sea wall to our King Tom Cemetery in Freetown, Sierra Leone. There, distance makes us reliant on local skills and expertise to get the job done.
We are scoping a second phase of a major repair programme at the Thiepval Memorial in France. Thiepval, like Lutyens' Tower Hill Memorial in London (also about to undergo a major repair project this year) uses some design details that were still in their relative infancy in the 1920s and 30s.
Asphalt, for example, was regularly used as a waterproofing layer below natural stone roofs to our buildings, but this layer was often not continued up at vertical abutments. Gutters on our buildings are rare, but even when rainwater goods are present they are often hidden. Improving the detailing to such sensitive structures can be difficult to get right. We work with skilled conservation architects on repair projects and occasionally we will sensitively redesign problematic building details.
Legibility of inscriptions is a particular focus for us. It is essential that the names of the war dead are legible, and that headstones and panels are clean. Our teams work hard to present cemeteries and memorials to a high standard but of course can not 'preserve as new'. There is a difficult balancing act between conserving aging stone and caring for the headstones of the war dead in a respectful way so that names can be read.
An expert committee in the earliest days of the commission, which included Lutyens and MacDonald Gill, considered legibility. They concluded that 'the monumental inscription is usually designed to be a record for those who care to search for it rather than an announcement to the world — not so much an advertisement as a confidence.' This same principle guides our work today. We have detailed legibility guidance for our teams, and try to re-engrave a headstone where we can. If we can not, our own headstone production unit in France will produce a new one, in most cases using the same stone type.
The CWGC is known for the distinctive rows of white headstones seen in many cemeteries on the continent. Visitors are often surprised to find headstones of different stone types. We have over 30; Portland is the best known but Hopton Wood is commonly found, as are various types of granite and slate, and even concrete. We sometimes receive complaints about Hopton Wood headstones. This beautiful Derbyshire limestone, which was used extensively, is durable, but it can be hard to read inscriptions at certain times of the day. When the sun moves around, the legibility of the same headstone looks completely different. We work hard to explain our approach to our visitors, who sometimes think that the surface of the stone is eroded.
While taking care to follow conservation standards, we are also open to new ideas and approaches. We have been at the forefront of using new horticultural equipment and different techniques to care for our sites. We do not want to erase entirely the effects of time. But we must ensure that every name remains visible, legible and the structures remain safe and beautiful, so that they can be seen for centuries to come.
---
This article originally appeared in IHBC's Context 160 (Page 15), published in July 2019. It was written by Jon Gedling, director of works at the Commonwealth War Graves Commission.
--Institute of Historic Building Conservation
IHBC NewsBlog
HEF's Heritage Sector Resilience Plan launched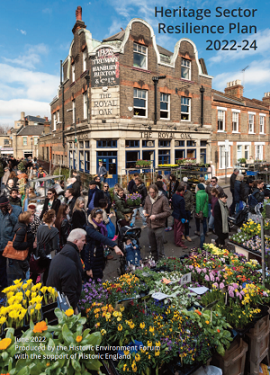 The Heritage Sector Resilience Plan, developed by the Historic Environment Forum (HEF) with the support of Historic England, has been launched.
---
Common Commitment to all Ireland's heritage – North South Agreement on Vernacular Heritage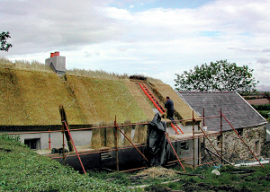 An 'All-Island' commitment to Ireland's vernacular heritage has been established with the signing of the North South Agreement on Vernacular Heritage, supporting traditional buildings etc.
---
Bristol Harbourside landmark Canons House gets GII listing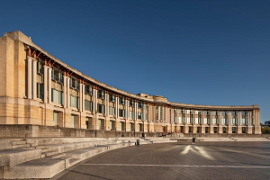 Canons House, a landmark building on Bristol Harbourside, has been awarded Grade II (GII) listed status having been built as a regional headquarters for Lloyds Bank between 1988 and 1991 (Arup)
---
BRE/BEIS project to modernise home energy rating scheme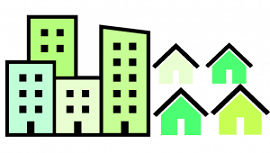 The Building Research Establishment (BRE) has announced a new project with the Department for Business, Energy and Industrial Strategy (BEIS) to improve and modernise the home energy rating scheme used to measure the energy and environmental performance of UK homes.
---
Interdisciplinary IHBC accreditation recognised by CSCS for PQP Cards

Sector lead the Construction Skills Certification Scheme (CSCS) has recognised the IHBC's professional accreditation and support (CPD etc.) in awarding its PQP (Professionally Qualified Person) cards.
---
IHBC Heritage Marketplace provides learning-led virtual engagement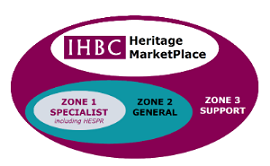 The IHBC's 2022 Aberdeen School Heritage MarketPlace (4.30-7.30PM, 15 June) is designed to extend the scope of a traditional IHBC School exhibition floor.
---
Unearthing the history of Gloucester's 'the Fleece' Hotel starts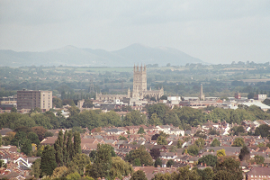 Work to repair a fire-hit medieval hotel in Gloucester is underway as crews have started work to strip back some of the modern trappings and reveal the historic framework.
---
Booking Open for IHBC Annual School: Aberdeen, 16-18 June 2022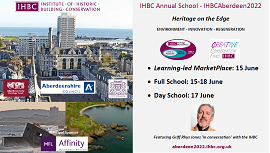 Options for in-person and virtual delegates to explore 'heritage on the edge' across up to 4 days of IHBC engagement & learning.
---
European Heritage Heads Forum statement on Ukraine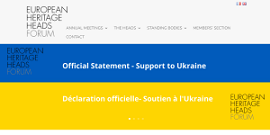 The Secretariat to the European Heritage Heads Forum has has coordinated its declaration of solidarity and support for Ukraine's cultural heritage institutions.
---
Welcome to #IHBC25 – 25 years since we turned professional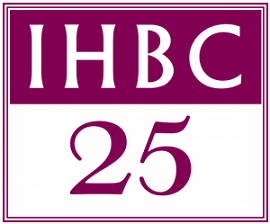 2022 will see the IHBC mark a quarter of a century since our incorporation as a professional body supporting and accrediting built and historic environment conservation specialists. We're kick-starting it by inviting your ideas on how to mark this special year!