Cemetourism
Heritage bodies can work with libraries and educators to raise the profiles of small, tranquil cemeteries as places to visit, and attract funding to ensure their maintenance.

Burials in Manchester's Southern Cemetery include Sir Matt Busby (Photo: P Lucas, Wikimedia) and LS Lowry (Photo: Alexandra Fairclough).
My interest in the art and architecture of funerary monuments and burial grounds as features worthy of conservation started many years ago as a fledging conservation officer. However, my fascination for the people who lay beneath the ground started during the Covid-19 pandemic. In truth, I never really had time to think about them. I live in the suburbs of a city, and the parks, rivers and canal footpaths were busy in my local area, so I chose to walk in my local cemeteries. They were all tranquil and beautiful places, and were surprisingly empty, despite being originally created as places to visit and promenade, as well as being resting places for the dead.
This article is a version of a blog that I wrote relating to three local cemeteries. I am not going to recite the history, architecture or interpretation of different burial sites. Historic England and eminent scholars have already done an excellent job and there are societies that provide detailed information relating to cemetourism (for example, the Association of Significant Cemeteries in Europe (ASCE) and Highgate Cemetery). However, I am going to share my insights into my informal lockdown research and my thoughts relating to local cemeteries and how to promote them as visitor destinations. It might be a springboard for getting heritage bodies to work alongside libraries and educators to provide a heritage resource, raising the profiles of small cemeteries as places to visit, and attracting funding to ensure their maintenance and long-term management.
As I walked around admiring the sculptures and epitaphs, I thought about the people and their lives, and I wondered how many locals knew about this aspect of their local history. I started to research several of the people buried in the cemeteries with the idea of creating a fundraising talk for my local community – which I did. It was well received and resulted in a fundraising walking tour.
I had identified an untapped educational resource. It had helped to create a community of interested people keen to share the interesting local knowledge and I have since led groups of all ages around my local cemetery. I am hoping to create better interpretation information which could enhance the visitor experience, raise the profile of the cemeteries, and in turn lead to improved funding for the management and maintenance of these special places.
Budgets relating to the maintenance of cemeteries have always been under pressure in every local authority that I have worked for, and I noticed that maintenance of many of those I visited was at best minimal, and enhancement was non-existent. I thought that local authorities and churches (outside of popular tourist destinations) were missing a trick to promote a sense of community ownership and a wider interest in these places. This could keep these burial grounds attractively managed and maintained and linked, to that, more interesting to the general public.
Burial grounds are described by Historic England as 'some of our most sensitive historical open spaces'. This refers to both churchyards and cemeteries. Cemeteries were designed and planned to create gardens for the dead. They are also memorials to the deceased. Much care and attention were paid to their funerary monuments. This included the design, form and materials used, and the symbolism and inscriptions chosen. It provides a valuable teaching resource in areas such as history, archaeology, religion, sociology, health, art and architecture. They create natural habitats for birds, animals and insects, and provide a geological interest in the material used for their monuments. In short, they are, or could be, a brilliant educational resource, which in turn provides an attractive destination worthy of more investment.
Cemetourism is visiting burial grounds and cemeteries with stories to tell. It is not a new concept: many cemeteries have big stories to tell and have been visited by tourists for decades. Highgate Cemetery, London, and Père Lachaise, Paris, are examples. But what about the local cemetery containing the remains of less well-known people? Where do they fit in?
In my ramblings every burial ground was full of stories, and each contained several persons of regional interest or national interest. I also found intriguing stories about people who were never well known or who had been forgotten.
My daily walks took me to several churchyards and cemeteries. I am concentrating on three cemeteries in Greater Manchester: Southern Cemetery, Chorlton, Manchester; Weaste Cemetery, Salford; and Sale and Brooklands Cemetery, Sale. All three cemeteries are included on the Register of Parks and Gardens of Special Historic Interest and include several listed structures within their planned layouts. They are all still in use for burials.
By the mid-19th century many towns and cities were faced with the prospect that quite soon there would be lack of burial space. Throughout this period, various reports and Acts of Parliament were published regarding the problems associated with overcrowded burial grounds. One such act was the Public Health Act 1848, which was brought in soon after the Asiatic cholera epidemic in the late 1840s. This claimed 62,000 lives nationally and around 814 lives in Manchester.
Under this act local boards of health were introduced, with the power to close burial grounds that were found to be dangerous to public health. The Burial Act 1853 gave local authorities the power to purchase land in order to establish and administer their own cemeteries. Under the Burials Beyond the Metropolis Act 1853, parish vestries were able to elect local authority 'burial boards' to undertake and supervise the administration of the burial of the dead.
Southern Cemetery is located south of Manchester. It is a busy cemetery with burials/ cremations on most days. Opened in 1879, it is the largest municipal cemetery in the country (and second largest in Europe). It has landscaped gardens, hundreds of trees, well-maintained pathways and planted beds. It is managed by the parks team of Manchester City Council and is well visited. It includes six listed structures, four of which are chapels, and all appear in generally good condition. These buildings were designed by the architect HJ Paul and the city surveyor James Gascoigne Lynde. The cemetery had mortuary chapels for Anglicans, non-conformists and Roman Catholics, and a Jewish chapel. It is also in the Register of Historic Parks and Gardens. It includes the final resting place of several famous Mancunians, which helps to attract visitors.
They include Sir Matt Busby, the Scottish footballer and manager of Manchester United between 1945–1969 and 1970–71; John Rylands, Victorian entrepreneur and major philanthropist, who owned the largest textile manufacturing business in the UK; LS Lowry, the artist famous for his stylised painting of industrial scenes of north-west England, whose work is displayed in the Lowry Art Gallery at Salford Quays; and Anthony H Wilson, BBC and ITV journalist, television and radio presenter, record label owner, night club owner and manager of several high-profile bands.
This is a good example of how a cemetery can be managed.
Weaste Cemetery is located near Salford Quays. It opened in 1857 and is the oldest of Salford's four cemeteries, and the oldest one I visited. Salford, an exciting, vibrant city full of history and heritage, is known as the cradle of the industrial revolution. It recognised that churchyards were getting overfull, leading to insanitary conditions for the densely populated areas, that alternative burial grounds were needed. Weaste Cemetery was built with four chapels and a summerhouse, which have all been demolished. The lodge, wall and railings at Weaste Cemetery are listed structures but they are in a poor condition. In addition, six of the funerary monuments are listed structures. The paths are managed and the landscape tended. A friends-of-the-cemetery group is doing an excellent job in managing and interpreting the site for visitors.
The first interment was Joseph Brotherton MP, who had campaigned for the cemetery to be created but died before it was completed. He established the first municipal library, museum and art gallery in Britain, and helped set up the vegetarian movement. The cemetery contains the graves of 373 Commonwealth service personnel who died during the world wars. Also buried there are Charles Halle, the pianist and conductor who founded Britain's longest-established symphony orchestra in 1858, and Eddie Coleman, the Manchester United footballer and Busby Babe who died in the Munich air disaster in 1958.
Sale and Brooklands Cemetery opened in 1862, designed by the architect William Wilson. It is unusual in its plan form. Divided into two parts, the older cemetery has an almost symmetrical layout with an unusual path layout fanning around lozenge-shaped areas for burials. There is a range of monuments from simple to very ornate, yet none is listed. The paths are in a poor condition, and the listed chapel and gatehouse are empty and considered to be at risk. Although there are several internationally important people buried here, I have highlighted one and mentioned several favourites that captured the imagination of both schoolchildren and adults alike.
Cemeteries are not only places where people can grieve and remember. They are also places that bridge the void between the present and the past, and the living and the dead. All burial grounds need to be treated with respect. There are visitors who like the macabre and others who are researching their family trees, as the popularity of find-a-grave websites demonstrates. They are public places, which and can be used to encourage visitors as well as mourners to explore and to educate the community about the unique history and even curiosities within the graveyard and most importantly, for the heritage professional, ensure that they are managed and maintained for the future.
Burials include James Prescott Joule, the physicist, mathematician and brewer, who lived locally and developed the first law of thermodynamics, and after whom the SI unit of energy is named; Elizabeth Burton, a Christian who died aged 24 in 1900 in the Boxer Rebellion (the Boxers conducted violent attacks targeting Christians and foreigners in northern China), a martyr of the China Inland Mission a missionary agency; and John Joseph Wright. Born in Cumbria, Wright lived locally when his parents moved here when he was a child. He was a hero of the first world war, after which he emigrated to North America. He was caught in a gunfight on a train in Montana by bandits, who were caught, convicted and given life sentences. He was given a soldier's burial and is commemorated in his family plot.
---
This article originally appeared as 'Cemetourism: bringing life to burial grounds' in the Institute of Historic Building Conservation's (IHBC's) Context 171, published in March 2022. It was written by Alexandra Fairclough, a lawyer and former planning inspector, who is a conservation officer for Cheshire East. She lectures on architectural history and law, and provides heritage talks and walks.
--Institute of Historic Building Conservation
IHBC NewsBlog
Ireland's Our Rural Future: support for LA purchase of vacant and derelict buildings for community use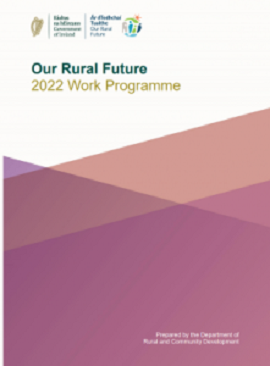 Ireland's Minister for Rural and Community Development, Heather Humphreys, announced a new funding stream to support Local Authorities (LAs) to purchase vacant buildings that could be converted and developed for community use.
---
BBC: Eleven Historic English pubs recognised for their interiors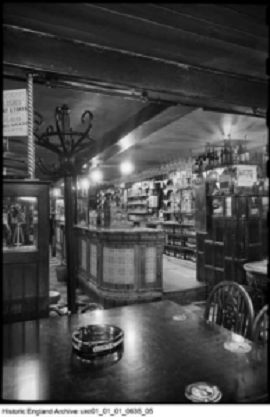 Eleven pubs across England have been recognised for their historic or unusual interiors, as they have been listed, upgraded or relisted.
---
HEF's Heritage Sector Resilience Plan launched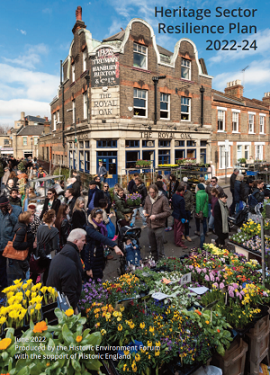 The Heritage Sector Resilience Plan, developed by the Historic Environment Forum (HEF) with the support of Historic England, has been launched.
---
Common Commitment to all Ireland's heritage – North South Agreement on Vernacular Heritage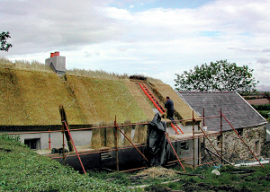 An 'All-Island' commitment to Ireland's vernacular heritage has been established with the signing of the North South Agreement on Vernacular Heritage, supporting traditional buildings etc.
---
Bristol Harbourside landmark Canons House gets GII listing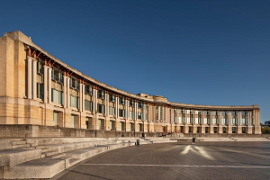 Canons House, a landmark building on Bristol Harbourside, has been awarded Grade II (GII) listed status having been built as a regional headquarters for Lloyds Bank between 1988 and 1991 (Arup)
---
BRE/BEIS project to modernise home energy rating scheme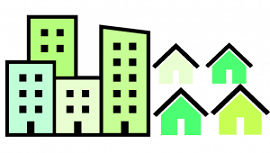 The Building Research Establishment (BRE) has announced a new project with the Department for Business, Energy and Industrial Strategy (BEIS) to improve and modernise the home energy rating scheme used to measure the energy and environmental performance of UK homes.
---
Interdisciplinary IHBC accreditation recognised by CSCS for PQP Cards

Sector lead the Construction Skills Certification Scheme (CSCS) has recognised the IHBC's professional accreditation and support (CPD etc.) in awarding its PQP (Professionally Qualified Person) cards.
---
Unearthing the history of Gloucester's 'the Fleece' Hotel starts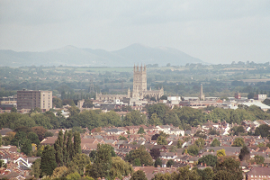 Work to repair a fire-hit medieval hotel in Gloucester is underway as crews have started work to strip back some of the modern trappings and reveal the historic framework.
---
European Heritage Heads Forum statement on Ukraine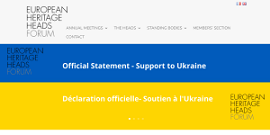 The Secretariat to the European Heritage Heads Forum has has coordinated its declaration of solidarity and support for Ukraine's cultural heritage institutions.
---
Welcome to #IHBC25 – 25 years since we turned professional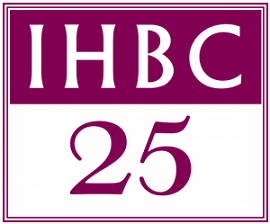 2022 will see the IHBC mark a quarter of a century since our incorporation as a professional body supporting and accrediting built and historic environment conservation specialists. We're kick-starting it by inviting your ideas on how to mark this special year!