Fires in historic buildings - the importance of emergency planning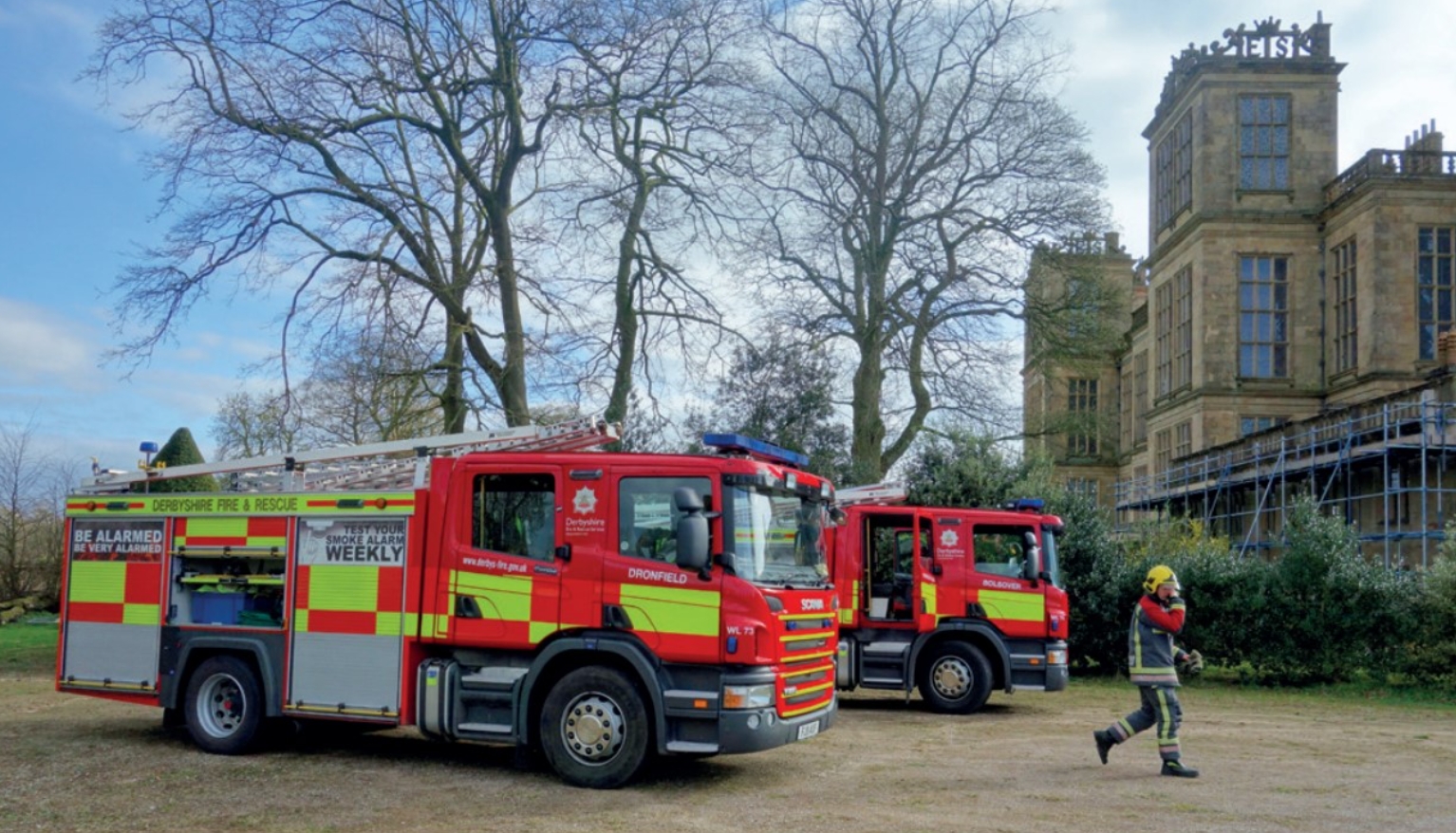 Derbyshire Fire and Rescue Service takes part in an exercise at Hardwick Hall, in Derbyshire, to help train firefighters to respond to a potential fire.
Of all the threats facing our most important historic buildings, fire is potentially the most horrifying for obvious reasons, even where lives are not at risk. It is not just the speed of their destruction that sets fires apart, but also the scope of their impact on both buildings and their contents.
Much can and is being done to improve fire safety in historic buildings, both to prevent the outbreak of fire and to control its spread should it occur. Where conservation restrictions allow and financial resources are available, historic buildings have had fire compartmentation improved, fire detection and alarm systems upgraded and in some cases fire suppression systems installed. Routine upgrading work such as electrical rewiring has also helped to reduce the risk. Owners and managers of buildings have understood the importance of fire safety management and consequently fire loading has been reduced where possible, ignition sources considered and temporary risks (such as having contractors on site) addressed.
Despite the improvements, there continues to be a regular incidence of serious fires in historic buildings. Every so often there are landmark cases that everyone takes notice of, for example Glasgow School of Art in 2104, and 2018, Royal Clarence Hotel in 2016 and Clandon Park House in 2015. However, it is the number and frequency of smaller fires that is really pernicious. Accurate numbers are problematic because of the lack of heritage-specific recording of incidents, but data collected for England suggests that over 350 fires occurred in heritage buildings in 2018 alone.
Given the above, it is clear that owners and operators of all historic buildings should accept the possibility that a fire might occur, recognise that forward planning for such an event can make a critical difference to the outcome, and ensure that they have a strategic plan in place to deal with such an eventuality. With this in mind, there are three main areas that require consideration: initial actions in the event of fire, interacting with the fire and rescue service, and salvage of artefacts from the building. It is accepted that all historic buildings are different in size, use, and layout and that in some cases there will be limited resources when dealing with a fire risk. However, even limited resources used carefully can have a positive impact and the basics of strategic planning are often not financially costly, with the biggest resource input required likely to be time.
The first element of planning that needs to be considered is the actions that will be taken in the very early stages of a fire, as evidence from past fires indicates that these can have a significant impact on the outcome. The three priorities are evacuation, raising the alarm and first-aid firefighting.
Given the importance of life safety, evacuation should in all cases be the first priority. Once the fire service arrives this will also be the first priority. The team will aim to confirm with the building management that the building has been evacuated and everyone is accounted for, and to assess the accuracy of this information. Having a robust system in place to account for persons in the building is a big advantage, possibly including some form of systematic physical sweep of the building to make sure that everyone is out. If there is any doubt about the credibility of the information, or if anyone is reported missing, the fire service will enter the building and search.
Quick contact with the fire service to confirm that there is a fire and thus trigger the dispatch of fire appliances is potentially problematic and needs careful consideration. The service will respond either if it has received a call from the property informing them of a fire, or if an alarm receiving centre has been able to confirm a fire. The former requires a reliable means of contacting the service in all circumstances. The latter has implications for unattended properties, where there could be some delay in responding to an alarm. Most more modern historic buildings may not even have this type of external alarm contact, and an important point for contemplation is what would happen if there were a fire while the building was unattended.
Early first-aid firefighting has the potential to limit fire growth and consequent spread, preventing a much bigger fire developing. Outside help at this point should not be relied on, and instead action should be taken as soon as the alarm is raised – with good detection in place this can potentially be very shortly after ignition. However, success relies on having the correct equipment in place and well-trained staff (or owners, tenants or occupiers) on the premises to operate it.
For buildings in rural areas in particular, and there are many of these, it is reasonable to assume that the fire service response might be slower, given the likely distance from a fire station (often staffed by on-call firefighters), quality of roads and the influence of weather on road conditions. In such situations the emphasis should be on self-sufficiency, and first-aid firefighting measures therefore assume a greater importance. However, such action is not always appropriate. Standard advice is that staff should only attempt to fight a fire if they are trained to do so, if the fire is small enough that their intervention is worthwhile and most importantly, if it safe to do so.
The importance of involving the fire service in emergency planning is widely acknowledged and establishing and maintaining a good working relationship should be embraced as a key priority. Most fire services have appointed contacts for heritage who are able to offer informed and well-directed input.
The effectiveness of the fire service's intervention can also be improved by ensuring that firefighters have a good level of familiarity with the building. So, in addition to consultation with fire protection officers about a range of issues (most likely related to life safety), it is essential that firefighters are invited to the building for orientation visits and to take part in emergency drills or exercises. Both will also enable fire commanders to make informed judgments about risk levels to fire crew carrying out firefighting and salvage operations. Orientation visits and emergency drills are discrete events, the former involving firefighters learning about the building and its layout and contents, perhaps walking through the building with a manager, and the latter being a simulation of the response to an actual fire event (an exercise).
The responsibility for establishing and maintaining such a relationship necessarily sits with the historic building's owners or managers because the breadth of the fire service's remit combined with limitations in resources means it is unlikely that the service will always be proactive towards heritage. The onus on establishing this relationship may change when there are life safety issues, but in this case the main focus of the fire service is life risk rather than heritage concerns.
Crucial to effective firefighting is the adequate provision of firefighting water; in a number of high-profile fires, problems with the water supply have had a negative impact. Prior-knowledge should ensure that water supply has been adequately accounted for, although in some cases the only solution has been to provide a store of water where none was available (digging a pond or installing a tank for example).
Access for fire appliances should also be taken into account – fire tenders are both wide and high and so can't always take the most direct approach route. They are also heavy and require solid ground to stand on. Fighting a fire is made more challenging where there is no external access to parts of some historic buildings because of high walls, ornate gardens and so on, and careful pre-planning allows for the exploration of alternative tactics.
In cases where important artefacts are at stake (the contents, or collection), thought needs to be given to removing them if there is a fire, a process often referred to as salvage. Again, this will involve close liaison with the fire service because salvage operations will be carried out by fire service personnel, except in cases when the risk is judged by the incident commander to be low enough to allow persons other than firefighters to enter a building (notwithstanding building staff being well-trained in salvage). At the simplest level the fire service needs to know which items are a priority for removal, where exactly in the building they are located and how they require handling. Prior-knowledge by the fire service of building layout, identification of priority items and practice in removing these from the building may prove very important when time is limited.
The key message for owners and operators of historic buildings, and those advising them, is that the need to plan for the possibility of a fire should be accepted as an urgent priority. It is also far better to have some kind of plan in place today, even though it may not be perfect, than the most intricate and brilliant plan tomorrow when it may already be too late.
Further Information
Excellent advice and useful templates are available from Historic England's website https://historicengland.org.uk/advice/technical-advice/emergency-and-fire/response-plans
A longer article by the same author, entitled Emergency planning for fire in historic buildings, has been published online in the journal The Historic Environment: Policy and Practice (Taylor and Francis)
---
This article originally appeared as Fires in historic buildings - the importance of emergency planning in IHBC's Yearbook 2019, published by The Institute of Historic Building Conservation in 2019. It was written by Simon Kincaid, a senior lecturer at Sheffield Hallam University teaching undergraduate and postgraduate architecture and building surveying. His main areas of expertise include fire safety and building conservation. He has published a number of journal articles about fire in historic buildings.
--Institute of Historic Building Conservation
IHBC NewsBlog
Mapping tool for unused construction materials launched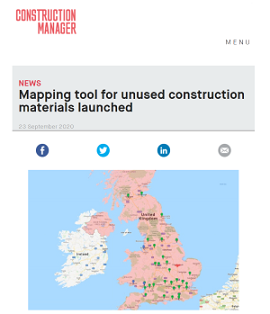 A mapping tool that provides contractors and their suppliers with a central database of local Materials Exchange Platform (MEP) projects to help cut waste by finding a home for unused materials has been launched.
---
'Unusual' WW2 sites listed and upgraded to mark 80th anniversary of Battle of Britain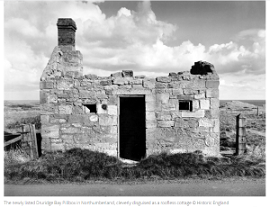 An air raid shelter, a pillbox cleverly disguised as a roofless cottage, a rare Chain Home radar defence tower, and a war memorial have been granted protection.
---
Derby City Council plans to knock down the 43-year old Assembly Rooms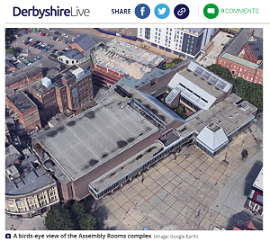 A planning application has been submitted by Derby City Council to knock down the Assembly Rooms – which has played host to the likes of Elton John, Iron Maiden, Take That, etc.
---
RIBA launches new contracts for the provision of conservation architectural services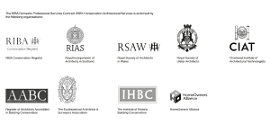 Specifically tailored for conservation projects, the Royal Institute of British Architects (RIBA) has launched two brand new professional services contracts.
---
Liverpool Mayor blocks £5m zip wire plan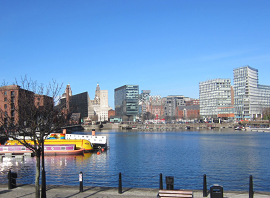 Liverpool Mayor Joe Anderson has made a dramatic intervention into the zip wire row which has divided people, politicians and businesses in the city.
---
Big Ben's roof is revealed as conservation work continues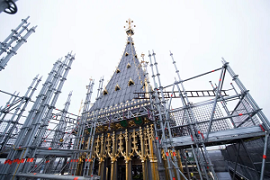 The roof of the Elizabeth Tower (also known as Big Ben) is slowly becoming visible again from 28 September 2020, as part of the scaffolding is removed.
---
Discover webinars, lectures, training, and other events via IHBC's CPD Circular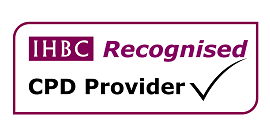 The IHBC lists quality providers of education and learning in the historic built environment, and emails a monthly recap of their upcoming events.
---
Denmark's 300-year-old homes of the future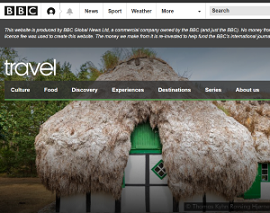 On Læsø, houses are thatched with thick, heavy bundles of silvery seaweed that have the potential to be a contemporary building material around the world.
---
Upcoming Heritage Open Days to feature in-person and online events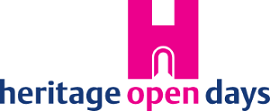 For the first time in its history, England's largest festival of heritage and culture will feature online events as well as in-person activities. Heritage Open Days (HODs) returns in September, thanks to support from players of People's Postcode Lottery.
---
RSA report 'Heritage for inclusive growth' published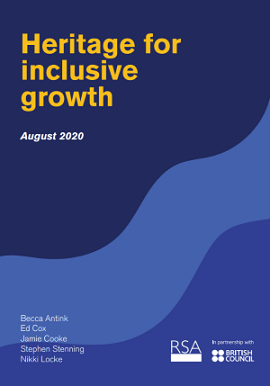 The Royal Society for the encouragement of Arts, Manufactures and Commerce (RSA) shows the scale of the 'missed opportunity' if we continue to separate heritage policymaking and economic policymaking.
---