Fires in historic buildings - the importance of emergency planning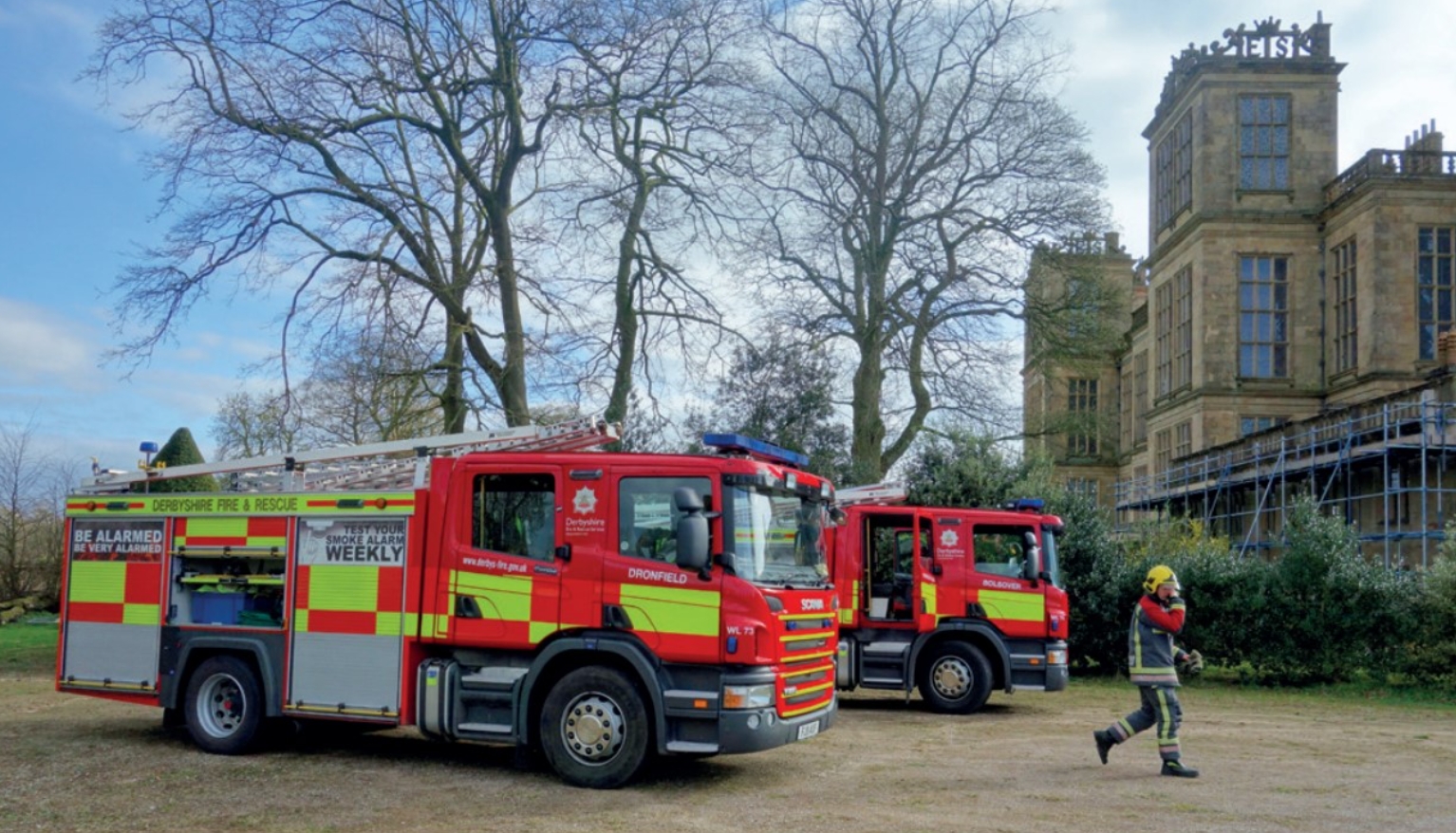 Derbyshire Fire and Rescue Service takes part in an exercise at Hardwick Hall, in Derbyshire, to help train firefighters to respond to a potential fire.
Of all the threats facing our most important historic buildings, fire is potentially the most horrifying for obvious reasons, even where lives are not at risk. It is not just the speed of their destruction that sets fires apart, but also the scope of their impact on both buildings and their contents.
Much can and is being done to improve fire safety in historic buildings, both to prevent the outbreak of fire and to control its spread should it occur. Where conservation restrictions allow and financial resources are available, historic buildings have had fire compartmentation improved, fire detection and alarm systems upgraded and in some cases fire suppression systems installed. Routine upgrading work such as electrical rewiring has also helped to reduce the risk. Owners and managers of buildings have understood the importance of fire safety management and consequently fire loading has been reduced where possible, ignition sources considered and temporary risks (such as having contractors on site) addressed.
Despite the improvements, there continues to be a regular incidence of serious fires in historic buildings. Every so often there are landmark cases that everyone takes notice of, for example Glasgow School of Art in 2104, and 2018, Royal Clarence Hotel in 2016 and Clandon Park House in 2015. However, it is the number and frequency of smaller fires that is really pernicious. Accurate numbers are problematic because of the lack of heritage-specific recording of incidents, but data collected for England suggests that over 350 fires occurred in heritage buildings in 2018 alone.
Given the above, it is clear that owners and operators of all historic buildings should accept the possibility that a fire might occur, recognise that forward planning for such an event can make a critical difference to the outcome, and ensure that they have a strategic plan in place to deal with such an eventuality. With this in mind, there are three main areas that require consideration: initial actions in the event of fire, interacting with the fire and rescue service, and salvage of artefacts from the building. It is accepted that all historic buildings are different in size, use, and layout and that in some cases there will be limited resources when dealing with a fire risk. However, even limited resources used carefully can have a positive impact and the basics of strategic planning are often not financially costly, with the biggest resource input required likely to be time.
The first element of planning that needs to be considered is the actions that will be taken in the very early stages of a fire, as evidence from past fires indicates that these can have a significant impact on the outcome. The three priorities are evacuation, raising the alarm and first-aid firefighting.
Given the importance of life safety, evacuation should in all cases be the first priority. Once the fire service arrives this will also be the first priority. The team will aim to confirm with the building management that the building has been evacuated and everyone is accounted for, and to assess the accuracy of this information. Having a robust system in place to account for persons in the building is a big advantage, possibly including some form of systematic physical sweep of the building to make sure that everyone is out. If there is any doubt about the credibility of the information, or if anyone is reported missing, the fire service will enter the building and search.
Quick contact with the fire service to confirm that there is a fire and thus trigger the dispatch of fire appliances is potentially problematic and needs careful consideration. The service will respond either if it has received a call from the property informing them of a fire, or if an alarm receiving centre has been able to confirm a fire. The former requires a reliable means of contacting the service in all circumstances. The latter has implications for unattended properties, where there could be some delay in responding to an alarm. Most more modern historic buildings may not even have this type of external alarm contact, and an important point for contemplation is what would happen if there were a fire while the building was unattended.
Early first-aid firefighting has the potential to limit fire growth and consequent spread, preventing a much bigger fire developing. Outside help at this point should not be relied on, and instead action should be taken as soon as the alarm is raised – with good detection in place this can potentially be very shortly after ignition. However, success relies on having the correct equipment in place and well-trained staff (or owners, tenants or occupiers) on the premises to operate it.
For buildings in rural areas in particular, and there are many of these, it is reasonable to assume that the fire service response might be slower, given the likely distance from a fire station (often staffed by on-call firefighters), quality of roads and the influence of weather on road conditions. In such situations the emphasis should be on self-sufficiency, and first-aid firefighting measures therefore assume a greater importance. However, such action is not always appropriate. Standard advice is that staff should only attempt to fight a fire if they are trained to do so, if the fire is small enough that their intervention is worthwhile and most importantly, if it safe to do so.
The importance of involving the fire service in emergency planning is widely acknowledged and establishing and maintaining a good working relationship should be embraced as a key priority. Most fire services have appointed contacts for heritage who are able to offer informed and well-directed input.
The effectiveness of the fire service's intervention can also be improved by ensuring that firefighters have a good level of familiarity with the building. So, in addition to consultation with fire protection officers about a range of issues (most likely related to life safety), it is essential that firefighters are invited to the building for orientation visits and to take part in emergency drills or exercises. Both will also enable fire commanders to make informed judgments about risk levels to fire crew carrying out firefighting and salvage operations. Orientation visits and emergency drills are discrete events, the former involving firefighters learning about the building and its layout and contents, perhaps walking through the building with a manager, and the latter being a simulation of the response to an actual fire event (an exercise).
The responsibility for establishing and maintaining such a relationship necessarily sits with the historic building's owners or managers because the breadth of the fire service's remit combined with limitations in resources means it is unlikely that the service will always be proactive towards heritage. The onus on establishing this relationship may change when there are life safety issues, but in this case the main focus of the fire service is life risk rather than heritage concerns.
Crucial to effective firefighting is the adequate provision of firefighting water; in a number of high-profile fires, problems with the water supply have had a negative impact. Prior-knowledge should ensure that water supply has been adequately accounted for, although in some cases the only solution has been to provide a store of water where none was available (digging a pond or installing a tank for example).
Access for fire appliances should also be taken into account – fire tenders are both wide and high and so can't always take the most direct approach route. They are also heavy and require solid ground to stand on. Fighting a fire is made more challenging where there is no external access to parts of some historic buildings because of high walls, ornate gardens and so on, and careful pre-planning allows for the exploration of alternative tactics.
In cases where important artefacts are at stake (the contents, or collection), thought needs to be given to removing them if there is a fire, a process often referred to as salvage. Again, this will involve close liaison with the fire service because salvage operations will be carried out by fire service personnel, except in cases when the risk is judged by the incident commander to be low enough to allow persons other than firefighters to enter a building (notwithstanding building staff being well-trained in salvage). At the simplest level the fire service needs to know which items are a priority for removal, where exactly in the building they are located and how they require handling. Prior-knowledge by the fire service of building layout, identification of priority items and practice in removing these from the building may prove very important when time is limited.
The key message for owners and operators of historic buildings, and those advising them, is that the need to plan for the possibility of a fire should be accepted as an urgent priority. It is also far better to have some kind of plan in place today, even though it may not be perfect, than the most intricate and brilliant plan tomorrow when it may already be too late.
Further Information
Excellent advice and useful templates are available from Historic England's website https://historicengland.org.uk/advice/technical-advice/emergency-and-fire/response-plans
A longer article by the same author, entitled Emergency planning for fire in historic buildings, has been published online in the journal The Historic Environment: Policy and Practice (Taylor and Francis)
---
This article originally appeared as Fires in historic buildings - the importance of emergency planning in IHBC's Yearbook 2019, published by The Institute of Historic Building Conservation in 2019. It was written by Simon Kincaid, a senior lecturer at Sheffield Hallam University teaching undergraduate and postgraduate architecture and building surveying. His main areas of expertise include fire safety and building conservation. He has published a number of journal articles about fire in historic buildings.
--Institute of Historic Building Conservation
IHBC NewsBlog
Ireland's Our Rural Future: support for LA purchase of vacant and derelict buildings for community use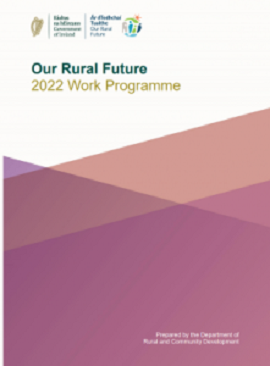 Ireland's Minister for Rural and Community Development, Heather Humphreys, announced a new funding stream to support Local Authorities (LAs) to purchase vacant buildings that could be converted and developed for community use.
---
BBC: Eleven Historic English pubs recognised for their interiors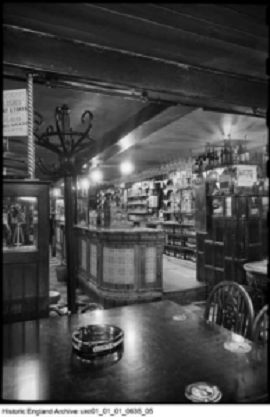 Eleven pubs across England have been recognised for their historic or unusual interiors, as they have been listed, upgraded or relisted.
---
HEF's Heritage Sector Resilience Plan launched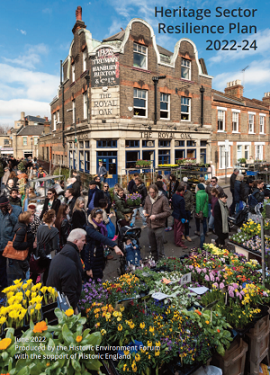 The Heritage Sector Resilience Plan, developed by the Historic Environment Forum (HEF) with the support of Historic England, has been launched.
---
Common Commitment to all Ireland's heritage – North South Agreement on Vernacular Heritage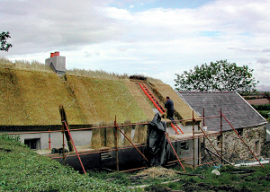 An 'All-Island' commitment to Ireland's vernacular heritage has been established with the signing of the North South Agreement on Vernacular Heritage, supporting traditional buildings etc.
---
Bristol Harbourside landmark Canons House gets GII listing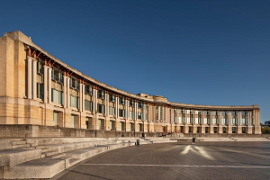 Canons House, a landmark building on Bristol Harbourside, has been awarded Grade II (GII) listed status having been built as a regional headquarters for Lloyds Bank between 1988 and 1991 (Arup)
---
BRE/BEIS project to modernise home energy rating scheme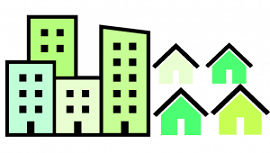 The Building Research Establishment (BRE) has announced a new project with the Department for Business, Energy and Industrial Strategy (BEIS) to improve and modernise the home energy rating scheme used to measure the energy and environmental performance of UK homes.
---
Interdisciplinary IHBC accreditation recognised by CSCS for PQP Cards

Sector lead the Construction Skills Certification Scheme (CSCS) has recognised the IHBC's professional accreditation and support (CPD etc.) in awarding its PQP (Professionally Qualified Person) cards.
---
Unearthing the history of Gloucester's 'the Fleece' Hotel starts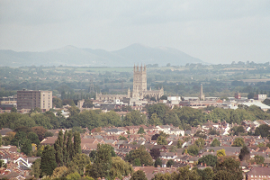 Work to repair a fire-hit medieval hotel in Gloucester is underway as crews have started work to strip back some of the modern trappings and reveal the historic framework.
---
European Heritage Heads Forum statement on Ukraine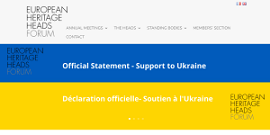 The Secretariat to the European Heritage Heads Forum has has coordinated its declaration of solidarity and support for Ukraine's cultural heritage institutions.
---
Welcome to #IHBC25 – 25 years since we turned professional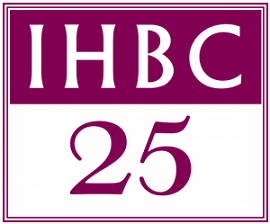 2022 will see the IHBC mark a quarter of a century since our incorporation as a professional body supporting and accrediting built and historic environment conservation specialists. We're kick-starting it by inviting your ideas on how to mark this special year!