The landscapes of Cambridge
This article originally appeared as 'Buildings, lawns, gardens, wilderness' in IHBC's Context 151, published in September 2017. It was written by Graham Tite, a conservation officer.
The quality of the city of Cambridge owes as much to its celebrated open spaces as to the architectural uniqueness of its university buildings and churches.
Cambridge sets before us in a more compact grouping than in any other place in Britain the widest possible choice of buildings for their dates of origin, layouts, architectural styles and materials. The locations are at churches of all periods as well as the numerous college sites and those of the ancient university itself. Around the market at the city's heart are remnants of early commerce, now mainly replaced with new structures put up to serve as a shopping hub for the region.
All of this can engage the viewer for decades. The meaning and the value of the spaces in between the buildings, most of them green in some way, have been illuminated by recent work on the history of one of the places of learning: Westcott House in Jesus Lane. This has led me to appreciate how Cambridge is to be understood for its landscapes.
The eternal image is of ranges of academic buildings looking inwards to central, well-kept lawns. Such spaces are treeless, although planted beds and creepers on the surrounding walls may soften the effect in various places. Several scenes, such as in the First Courts of Emmanuel College and of Peterhouse, present a chapel frontage to dramatic effect by starkly framing it with lawn, stone and sky. Purism and symmetry such as this are challenging. We can look at the many alternatives that have been thrown up over the years to meet the challenge.
Richard Lyne's bird's-eye view (1574) presents the whole of Cambridge in a single, astonishing view. David Loggan's set of views of individual college groups followed in 1690. These unique records both have the great advantage of combining architectural plan with elevation in a single image.
These two engraved depictions cover the vital period that began with the emergence of collegiate development at the close of the middle ages when the reformation transformed former monasteries into halls of residence for clerics, scholars and their pupils. By the end of the 17th century this change had largely been completed and the formula for the layout of the sixteen ancient foundations was well established. Their ground plans are a set of alternative solutions based on a single theme. No two are exactly alike but they all share a common purpose.
The aim was to build a self-contained community around a cloistered space for worship, eating, working in a library, and living, studying and teaching in an apartment. These activities were to be combined in a form both economical and dignified. Open space had a role to play in this potentially crowded and dangerous environment. When Enlightenment individualism took over by degrees from the original, communal lifestyle of monastic simplicity, the buildings gradually grew in grandeur. The garden took on much more importance.
To illustrate this we can compare Lyne's view of 'Gray Friars' with Loggan's view of Sidney Sussex College, as the same site had become from its refoundation in 1596. This plot remains unchanged, with Hobson Street to the south and Jesus Lane to the north. The old 'King's Ditch' (a tributary of the main river but long since covered over) runs through the view: conspicuously in Lyne but made into part of the gardens and bridged over in the 1690 view, where it can be glimpsed crossing the site just above the buildings' ridges.
The simple husbandry of religious times has been replaced by professionally designed horticulture. Fashionable layouts divide the grounds of the college (this is the best or most explicit of Loggan's set of Cambridge college views) into 'garden rooms' with the addition of other spaces for trees (some of them for fruit?) and outdoor exercise in a period before the advent of out-of-town sportsfields and boathouses.
Trees are seen on the lawns of one court, and they pop up too in Loggan in front of King's College Chapel. Self-sufficiency is indicated by two walled garden plots where strips seems to show the cultivation of crops of vegetables and, more likely, herbs. A rare survival of such self-sufficiency may be found even today in the Fellows' Garden at Christ's College nearby, where beehives are maintained. Christ's also once had a small herb garden placed neatly next to the kitchens, but it has since been covered over and used first as the site of a bath house site and later for a modern library.
As well as the King's Ditch, the university city also has the main river circling round it to the west and north. In the course of the 17th to 19th centuries this amenity was exploited for its scenic value as bridges from colleges backing on to the water were constructed. These gave access to the celebrated Backs area, a classic British parkland scene showing the same watery blend of meadows, trees and nearby buildings as found in so many country house settings.
The Backs era culminated in the early 19th century with the construction of a Bridge of Sighs at St John's College and the new trans-pontine court it leads to. The picturesque soon led to the Victorians' love of the herbaceous border, and to more natural or informal landscape effects.
This is best seen at the rear of Trinity Hall, where a new set of red brick buildings was established to lead from the old, rigidly squared First Court towards the river. Symmetry was abandoned and a great tree commands a tapering lawn. This wonderfully artless composition was declared by the writer Henry James to be 'the prettiest spot in the World'.
The same Liverpool firm of architects that worked at Trinity Hall, Grayson and Ould, added the Jesus Lane Clergy Training School to its Cambridge portfolio in 1898. This is now called Westcott House. My own research into the development of the site, as purchased from Jesus College, shows a remarkable innovation. The layout was based on the ancient garden of the demolished Radegund Manor House and an adjoining plot that stood at the rear of a terrace of eight houses.
The Church of England training school added buildings (overlooked by the looming church and spire of All Saints' by Bodley) to form a courtyard/cloister in a gradual process leading up to full enclosure by 1939. The shape of the preserved gardens governed the plan. The institution takes a pride in the wildness of the garden at its heart, and allows long grass and wild flowers to prosper. This gives rise to a superb effect that is matched in Cambridge only by the wild garden in the old burial ground behind Little Saint Mary's Church. Here again there is a stunning blend of wild landscape with architecture provided by the ancient tower of the church, the rugged rear elevations of Peterhouse and the very pretty row of cottages in the nearby lane.
Recent developments include placing modern works of sculpture in garden settings. Here Jesus College leads the way. Temporary exhibitions and permanent installations bring increased interest to the gardens and grounds of a site that is richly endowed with space inherited from the lands of the former nunnery, as occupied since the reformation by the university college.
The 'sacredness' of the open spaces in gardens has notably been breached at Christ's College, where the Third Court has a lawn and trees in a south-facing position. Hundreds of students live in the nearby blocks, of which three make up the other sides of the layout. In the 21st century the middle of the court has been provided with works of art, gravel walks and seating to provide a most successful recreation area
---
This article originally appeared as 'Buildings, lawns, gardens, wilderness' in IHBC's Context 151, published in September 2017. It was written by Graham Tite, a conservation officer.
--Institute of Historic Building Conservation
Find out more
IHBC NewsBlog
IHBC FREE CPD Boost - Easy Access Webinar from Historic England and the IHBC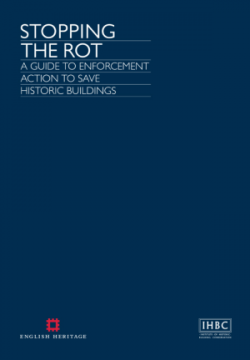 'Enhancing conservation areas & townscapes with S.215s', 13 December - numbers limited so book now!
---
IHBC Out of Context - CPD check-up and prize


'Who said that and what would you say back? FREE BS7913 for the best responses…
---
IHBC CPD boost: bite-sized briefings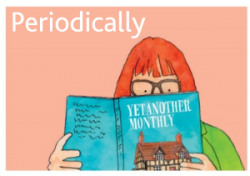 'Periodically', Bob Kindred's bite-sized briefings from the best of current heritage handbooks.
---
IHBC CPD Green Issue QuickQuiz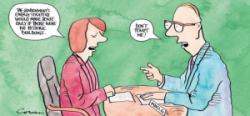 Do you know the ABCs of EPCs?
---
IHBC CPD Green Issue QuickQuiz Part 2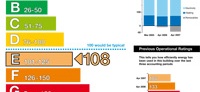 Do you know the ABCs of EPCs? - The answers! You tested your knowledge on energy performance certificates (EPC's) in the last Newsblog so now see how well you did!
---
IHBC at Listed Property Show London 2019 – FREE CPD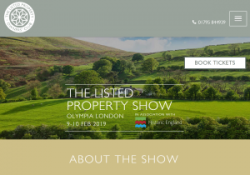 4 hours free CPD via IHBC and partners + lots more at the show in association with Historic England, on 9-10 February 2019 at London's Olympia.
---
IHBC launches new Toolbox Guidance Note for small traders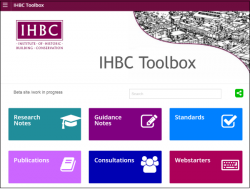 IHBC's latest Guidance Note in our Toolbox aims to provide sole practitioners and small traders with advice on taking on new work, offering 'Ten Red Flags' to watch out for.
---
Scotland - Historic Environment Audit (SHEA) 2018 is now out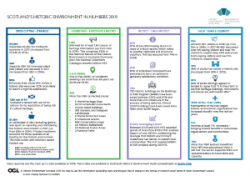 HES lead officer, Karen Robertson, has offered her personal blog looking at the trends and findings.
---
Slate Landscape of North-West Wales - preferred UNESCO World Heritage Site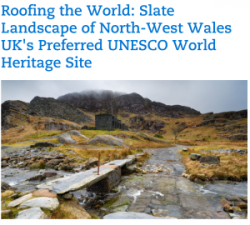 The Slate Landscape of North-West Wales will be the UK's next preferred nomination for UNESCO World Heritage Site status, Heritage Minister Michael Ellis announced recently.
---
Draft Parliamentary Buildings (Restoration and Renewal) Bill for Palace of Westminster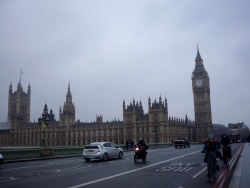 The draft Bill has been presented to allow 'interested parties the opportunity to consider the approach taken to the governance of the Restoration and Renewal Programme'.
---
APPG for Healthy Homes & Buildings White Paper published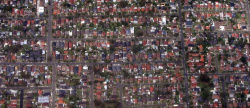 The White Paper highlights 'the need for a holistic approach to building design and renovation'.
---
Register English Community Assets on CAsE and you could win £100 gift voucher
The Architectural Heritage Fund (AHF) asks if you own or manage a community asset that you register it on the new Community Assets Exchange - you could win £100 gift voucher.
---
North of Tyne gets £600m devolution deal
Northern Powerhouse minister Jake Berry has confirmed a £600 million devolution deal for the North of Tyne. It is expected to generate £1.1 billion for the local economy.
---
Fifteen projects reach final of Heritage Angel Awards Wales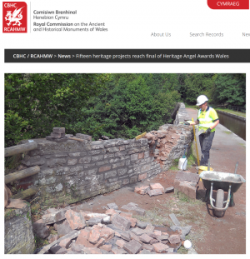 Fifteen outstanding examples of heritage achievement have been selected for a Heritage Angel Award by a panel of judges headed by Baroness Kay Andrews.
---
Entries open for 2019 John Betjeman award: Closing 26 Feb 2019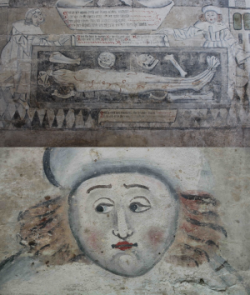 SPAB invites nominations for the award celebrating excellence in the repair to specific elements of places of worship of all denominations and faiths in England and Wales.
---
Civic Voice: Guidance tool for communities to identify local heritage assets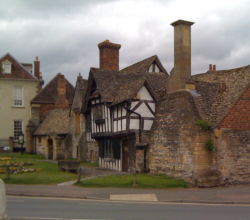 A resource developed as part of Civic Voice's Big Conservation Conversation and their 'Local Heritage List' campaign.
---
The economic value of culture - a benefit transfer study on museums in England
New research has been published to help understand the visitor and non-visitor value of cultural engagement at 4 cultural institutions in England – is this transferrable?
---
Former housing minister Nick Raynsford issues warning on planning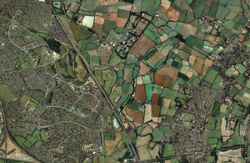 He writes that it has been reduced to a 'chaotic patchwork' of responsibilities which is not compatible with promoting the health, wellbeing and civil rights of communities.
---
DCMS revises - Principles of Selection for Listed Buildings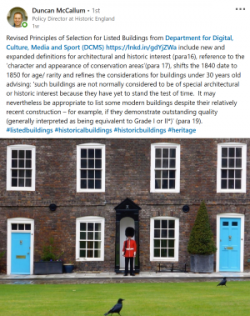 The Department for Digital, Culture, Media and Sport (DCMS) has issued its revised 'Principles of Selection for Listed Buildings' with new dates, definitions and more.
---
Specialist contractors call for government regulation of the construction industry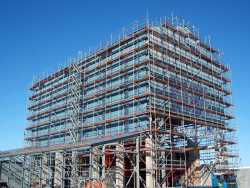 The chairman of the Specialist Engineering Contractors' (SEC) Group wants to government to set up a statutory authority to regulate construction industry practice.
---
Brexit skills shortages - survey

Add your company's take to the largest-ever poll on Brexit skills shortages.
---
Slow progress on encouraging female apprentices to construction industry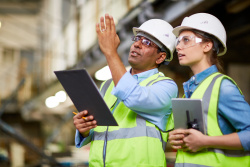 With 88% male in 2016/17 industry initiatives to encourage young women to join the construction industry do not appear to be making much headway.
---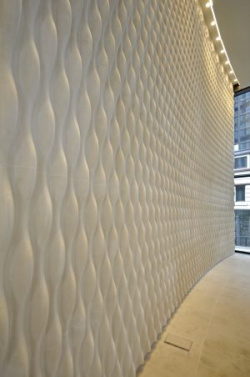 Water-jet cutting of stone changes the industry, but only so far!
---
Nuclear archive wins Andrew Doolan Best Building in Scotland Award for 2018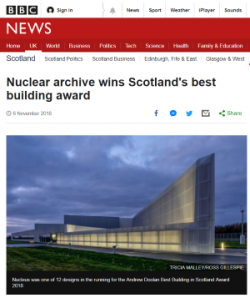 A national archive for the civil nuclear industry by Reiach & Hall Architects has won a top Scottish architecture prize: the Andrew Doolan Best Building in Scotland Award for 2018.