Shared heritage from a social perspective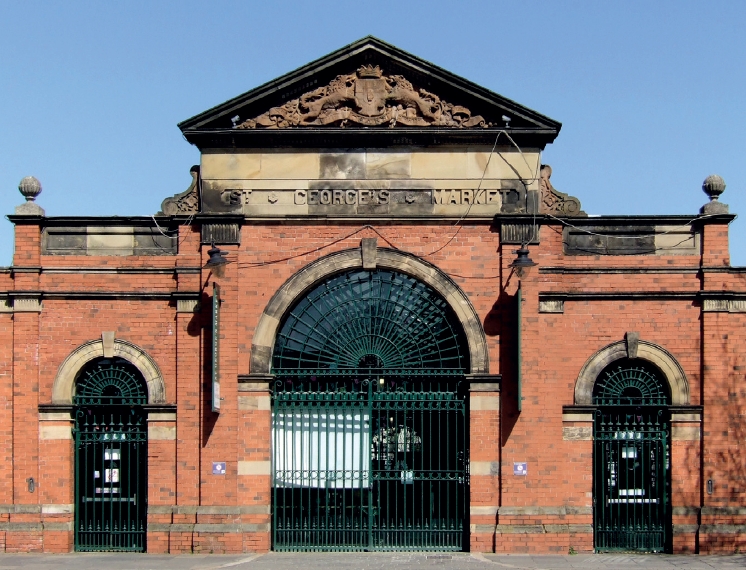 The award-winning St George's Market, Belfast was transformed from dereliction in the late 1990s and remains one of the city's favourite attractions (Andrew McClelland).
Introduction
Regeneration has been a critical public policy concern in the UK for half a century. In part this reflects the decline of traditional industries and the legacy of vacant and under-utilised land and buildings, many with heritage values. However, regeneration remains the subject of intense debate: how is it best achieved? What is the role of the state? And, crucially, who does regeneration ultimately serve?
Indeed, critical aspects of the current developer-led model are the subject of marked criticism in the media and elsewhere. It is charged with directing material gains towards the few, hastening the displacement of local people and otherwise exacerbating socio-economic inequalities (see Further Information, Forrest). Given that the 2008 economic crisis still weighs negatively on a wide range of places, coupled with continuing fallout from austerity measures at local government level, it is unsurprising that a worsening regeneration policy context is identified in the UK (see Further Information, Reeve and Shipley, 2014).
These debates necessarily implicate the historic environment, particularly as the heritage sector strives to embrace pluralistic agendas and societal challenges, ranging from social cohesion to environmental sustainability. However, it is apparent that alternative thinking is required to enable the progression of more equitable forms of regeneration that take into account the prospective placemaking role of the historic environment.
Heritage has a complicated relationship with regeneration: it is historically associated with gentrification processes and sometimes suffers from the uneven distribution of benefits and costs seen with other economic activities. Perhaps this is most clearly exhibited in places experiencing tensions from touristic over-development. Nonetheless, celebrated examples of the transformation of historic assets, often as part of wider initiatives in 'post-industrial' cities, include St George's Market in Belfast and Albert Dock in Liverpool. The latter has been recognised as a flagship for waterfront development internationally.
While these examples relate to individual sites, the Townscape Heritage Initiative (THI), which is funded by the Heritage Lottery Fund (HLF), is the most prominent heritage-led regeneration programme in the UK.
THI Schemes
Launched in 1998, the THI is a multidimensional grant programme targeted at areas with a high concentration of heritage assets and issues of disrepair and social deprivation. Millions of pounds have been invested through the initiative in several hundred schemes ranging from the large-scale Merchant City THI in Glasgow to Llanrwst in rural north Wales, leveraging in millions more from the private sector and other grant-giving bodies.
Longitudinal research into THIs undertaken by Oxford Brookes University (see Further Information, Reeve and Shipley, 2013, 2014) provides insights that can inform strategic thinking on effective and progressive heritage regeneration efforts. It is worth reiterating some of the key findings before considering another contemporary model of economic development.
Sixteen THI case study schemes were evaluated against four key indicators corresponding with the HLF's intended goals: improving townscape appearance, enhancing quality of life, engendering economic vitality and strengthening commercial confidence in the selected areas. All the schemes recorded positive change over a ten-year period on all measures, especially in relation to townscape improvements, but marked variations occurred in their performance. The discussion of such nuances reveals the principal factors affecting the capacity of heritage-led regeneration to deliver economic and social outcomes as well as conservation improvements.
Significant contextual issues were important determinants of the success of a scheme, impacting upon the ability to lever in matching funding. Problems can include failing economic demand and the pre-existing dependence of a place on a single industry vulnerable to rapid decline, while the existence of latent economic demand improved the prospects of positive outcomes. Although the post-2008 crisis negatively affected the success indicators in most of the schemes studied, in those experiencing only marginal economic improvements the THI at least assisted in maintaining the status quo or preventing further deterioration. Therefore, addressing the wider economic context should be a complementary ingredient to heritage-led regeneration, particularly in the most deprived communities.
The CED programme is a more recently established initiative that puts local communities at the forefront of regeneration efforts. The CED was introduced in England in 2015 with funding from the DCLG, and is delivered by a partnership involving Locality, the New Economics Foundation, Responsible Finance, the Centre for Local Economic Strategies and the Community Development Foundation. The programme sets in motion a community-led process aimed at creating new inclusive economic opportunities for disadvantaged local areas, with economic growth conceived as a means to an end rather than an end in itself. The desired long-term outcomes include the re-shaping of the local economy and local retention of the wealth generated, for example through the use of local builders in any redevelopment.
A partnership approach is again encouraged, embracing residents, businesses, service providers and other stakeholders, with communities receiving a mixture of technical and small-scale grant support ultimately leading to the creation of a CED plan setting out a range of achievable activities and their proposed implementation. The highly oversubscribed programme is demonstrative of significant demand for fresh thinking and investment, with the emphasis on evaluating progress to identify emerging lessons and how they can be applied to heritage-led regeneration.
Although the CED approach embraces a broad variety of prospective projects and activities, several characteristics ensure its pertinence to heritage. In particular, evidence suggests that the most successful schemes pursued asset-led regeneration, whereby communities own and develop assets in a way that captures new and existing economic value for local public benefit. The heritage sector has decades of experience of regenerating physical heritage assets, with the work of building preservation trusts especially exemplary. Indeed, many aspects of the CED process resonate with the approach taken by heritage funders such as the Architectural Heritage Fund.
Thus, several of the promoted CED projects began with the conservation of a heritage asset in mind. In Tunstall, Stoke-on-Trent, for example, Urban Vision North Staffordshire's aim was to secure the future of the Grade II former town hall. However, by following the CED process, the group's vision was subsequently widened to embrace the remodelling of the High Street and Tower Square.
Furthermore, the identifiable assets of local places include the skills-base of the community and the opportunities that exist to develop this in line with creating sustainable employment opportunities. From a heritage perspective, the promotion of traditional building skills is clearly pertinent to furthering the closely coupled skills and conservation agendas.
The CED is indicative of evolutionary thinking towards alternative approaches to promoting inclusive economic change, taking into account the interrelationship between positive economic, social and environmental outcomes, and the desirability of enabling community participation in regeneration to move from consultation towards 'partnership' and 'control' (see Further Information, Co-operatives UK). However, the relative infancy of CED in the UK, versus the inherently long-term nature of sustainable regeneration processes, suggests that it is too early to draw conclusions. Whereas Co-operatives UK's evaluation indicates CED's promising start, the report also identifies factors that limit its capacity to effect widespread change and points to deeper structural issues.
For example, the 'wider context' poses substantial barriers, including inadequate resources and timeframes, and the persistence of standardised measures of economic success that are deemed incompatible with evidencing the 'triple-lock' of economic, environmental and social outcomes. The need to embed more inclusive concepts within wider economic strategies and statutory processes such as neighbourhood planning can also be problematic. It is significant that similar contextual concerns were echoed in the THI evaluation. Hence, the desirability of enabling communities to have greater control over reshaping the local economy through developing mechanisms to leverage the assets at their disposal, and of enabling better alignment between the objectives of the council and other powerful groups with the needs of the community.
It may be unusual to conclude with a definition, but the challenging policy environment demands the kind of optimistic thinking underpinning the 'aspirational regeneration' proposed by Leary and McCarthy (see Further Information):
'[urban] regeneration is area-based intervention which is public sector initiated, funded, supported, or inspired, aimed at producing significant sustainable improvements in the conditions of local people, communities and places suffering from aspects of deprivation, often multiple in nature.'
Crucially, this perspective on regeneration is founded on public sector leadership providing a long-term strategic vision to construct conducive policy and other frameworks required to support programmes of local community-led economic development such as the CED. If appropriately resourced, the body that is best placed to sustain financial and other assistance over time is the local authority, as demonstrated by the critical involvement of local authorities in the majority of THI schemes since the late 1990s.
Addressing the complex and varied socio-economic conditions faced by communities across the UK, including through heritage-led regeneration, will always be highly challenging, demanding partnership approaches and meaningful public involvement. However, the contextual issues are such that government must lead the way.
Further Information
---
This article originally appeared in IHBC's 2018 Yearbook (Page 23), published by Cathedral Communications. It was written by Andrew McClelland, a postdoctoral researcher at Maynooth University. He is the chair of the Northern Ireland branch committee of the IHBC and co-organiser of the 2018 Belfast Annual School.
--Institute of Historic Building Conservation
IHBC NewsBlog
Drinkers toast the future after historic Leeds pub granted GII listed heritage status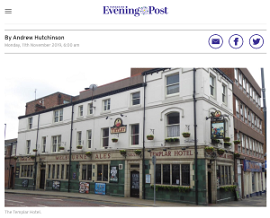 The Templar Hotel on Vicar Lane has been listed at Grade II by the Department for Digital, Culture, Media and Sport on the advice of Historic England.
---
Housing Minister announces new champion for modern 'MMC' housebuilding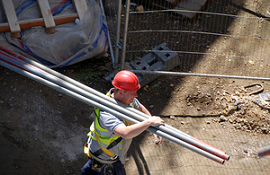 Government has announced a new Champion for Modern Methods of Construction as part of the government's drive to make the UK the global leader in housing standards.
---
RTPI on 'Why planning needs better outcome measurement'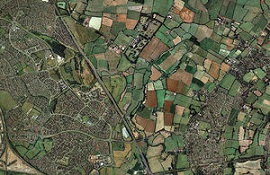 Planning is about so much more than the number of applications approved and the speed of processing them so the RTPI is commissioning research aimed at producing a toolkit that can demonstrate a wider range of outcomes.
---
The rise of 'facadism' in London, from the BBC and 'The Gentle Author'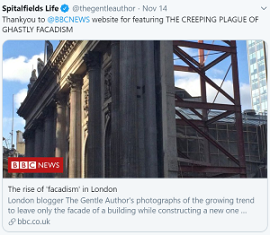 London blogger The Gentle Author has been photographing the changing face of London, focusing on what is known as 'facadism', the practice of destroying everything apart from the front wall and constructing a new building behind it.
---
Great Yarmouth Winter Gardens Facing Off Dilapidation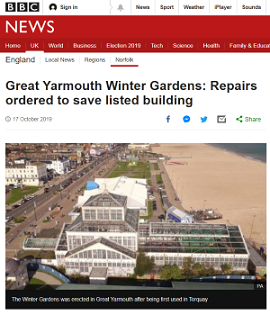 Urgent repairs have been ordered to save one of the country's most endangered buildings from dilapidation while Great Yarmouth Borough Council seeks an investor.
---
Construction urged to do more for butterflies and bees, via SNH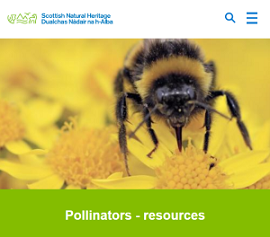 SNH has published new guidance on how best to fit pollinators into urban design and construction with a series of easy steps to suit all project budgets and sizes.
---
Applications now open for the Sustainability Scholarship for 2020: Closing 29/11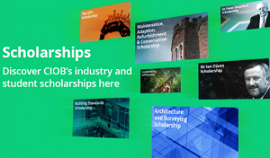 Applications are invited for the Sustainability Scholarship 2020, with successful applicants to receive £3000, support and mentoring from experts, and closing 29 November.
---
Government asked to save plans for Queensbury tunnel cycle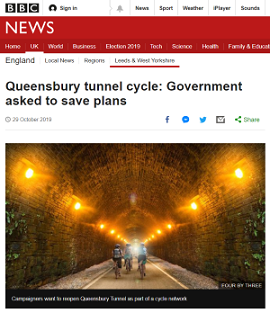 It was hoped the 1.4 mile (2.3km) Victorian Queensbury Tunnel could be used by cyclists travelling between Bradford and Halifax, but plans have been threatened.
---
Case Study in Durham Cathedral: Project Managment and Building Services Challenges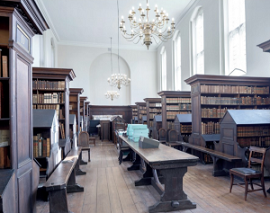 Completing works that widened public access to the hidden architectural spaces and collections of Durham Cathedral showcases exceptional project management.
---
Autumn clamp down on dust by HSE – site visits planned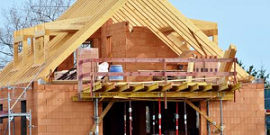 This month HSE is carrying out its latest construction inspection initiative with a focus in particular on measures in place to protect workers from occupational lung disease caused by asbestos, silica, wood and other dusts when carrying out common construction tasks.
---
Public property hubs to be delivered in Birmingham and Peterborough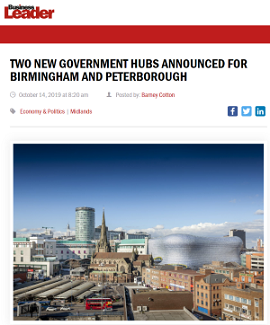 Peterborough and Birmingham are the latest places to benefit from the Government Hubs programme to regenerate city centre sites.
---