Housing defects
Defects are aspects of a building that are not performing adequately for their intended use.
Defects may occur because of:
Some defects are apparent (patent defects) and some are hidden (latent defects).
Defects in new buildings may be attributable to designers, suppliers or contractors, and may result in a claim. In addition, during the first 12 months or so after completion (depending on the terms of the construction contract), the contractor may be required to remedy defects during a time commonly referred to as the 'defects liability period', and beyond that there may be some form of ongoing warranty.
In addition, irrespective of contractual obligations, the Defective Premises Act 1972 provides that a person taking on work for, or in connection with, the provision of a dwelling owes a duty to the person acquiring the dwelling and subsequent purchasers to see that the work which they take on is done in a workmanlike or professional manner, with proper materials so that it will be fit for habitation when completed.
However, defects in older buildings may not be clearly attributable to a particular party, but may result from a change in circumstances or use, an environmental impact, poor maintenance and so on, or from a combination of factors.
The housing stock in England is relatively old, with approximately 44% built before 1980, and 20% built before 1919. As a result it is prone to poor performance and a number of common defects.
The list below provides links to articles on Designing Buildings Wiki that provide information about common defects in housing:
Other common problems may include:
Featured articles and news
IHBC Gus Astley Student Award 2017 now open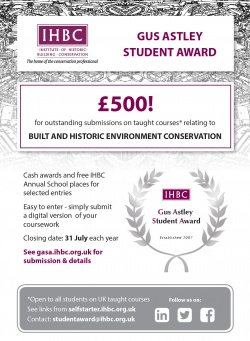 Send in your coursework on a taught course by 31 July for a chance to win a prize and attend the IHBC's Annual School in Belfast in June 2018.
---
Can Wellington (NZ) save its heritage buildings before it's too late?

---
Local military heritage at risk
The Daily Telegraph reports that many small regimental museums are to lose Ministry of Defence (MoD) funding by the end of next decade.
---
Heritage Open Days festival 2016 attended by millions
The Heritage Open Days (HODs) 2016 Impact Report shows an estimated 3 million visitors attending 5293 events with £10m for local economies.
---
International News - Cultural Protection Fund projects announced
The British Council has announced the initial projects to be supported by the Cultural Protection Fund, which will protect heritage overseas.