English housing stock age
According to the English housing survey 2014 to 2015: housing stock report, published by the Department for Communities and Local Government (DCLG), the age of the housing stock in England in 2014 was: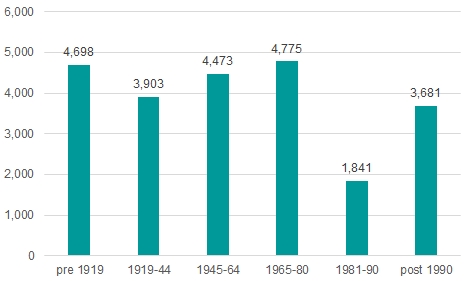 [The number of houses is shown in thousands]
20% were built before 1919 and 24% were built after 1980. There were approximately 23.4 million homes in total, just over a million of which were vacant.
The earlier 2001 DCLG English House Condition Survey gives more detail about the pre 1919 period: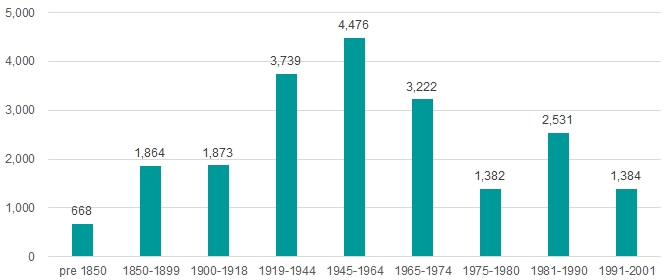 These figures can be combined (approximately) and some timeline information added to give a sense of the period houses and their likely construction.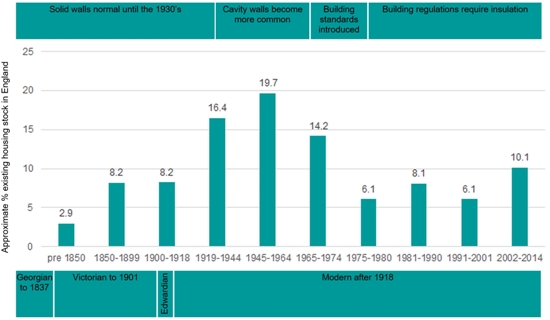 Featured articles and news
IHBC asks you to contribute to the debate on gentrification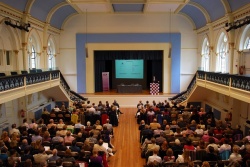 The Guardian reports on the dangers of gentrification - join the debate at IHBC NewsBlogs
---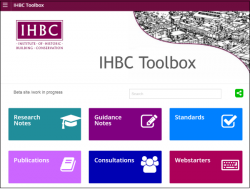 Our Toolbox offers easy access to the essential tools in conservation practice including links to Standards, 22 Practice notes, Consultations and much more.
---
Churchill Barriers to be listed

Second World War structures at Scapa Flow have been recognised as being of national importance by Historic Environment Scotland (HES).
---
Historic brick reservoir image wins award
The image of a covered reservoir in London's Finsbury Park has won the best architecture photograph of the year at the Arcaid Images Architectural Photography Awards 2016.
---
Westminster City Council gains approval for Special Policy Areas
The London Council's plans are given the go-ahead to management development in five unique specialist clusters.
---
Property Flood Resilience Action Plan out
An independent report has been issued relating to flood protection, aiming to help with flood resilience.