Wet rot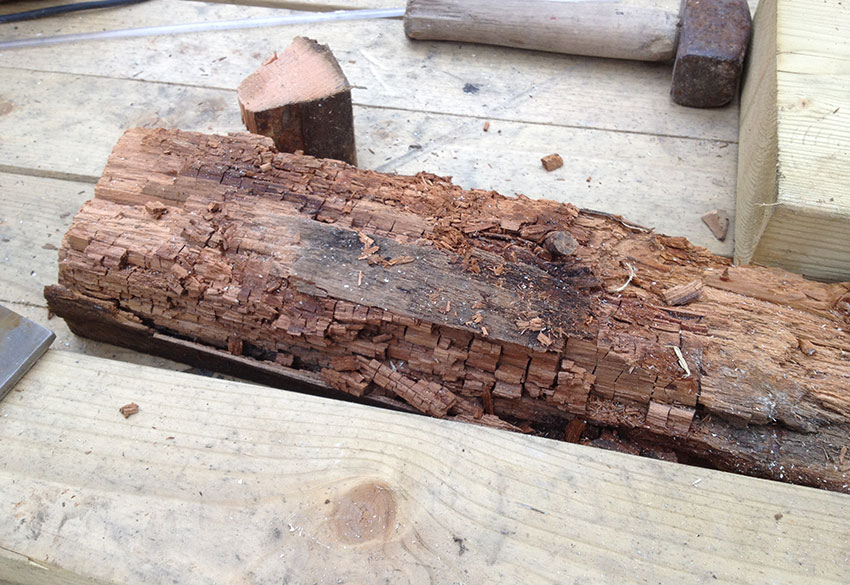 Wet rot is a generic name given to a range of conditions that can affect timber where there is the continual presence of moisture, perhaps caused by leaking pipework, poor ventilation (resulting in condensation), rising or penetrating damp and so on.
Wet rot is more common than dry rot, but generally less problematic. However, if left untreated, it can cause serious structural problems.
Wet rot can be recognised by a damp, musty smell, fungal threads of black or dark blown colour, or large longitudinal cracking with minor lateral cracks. The growth pattern is similar to dry rot but spores will not germinate in dry timber.
Treatment typically involves replacing the affected timber. In straight-forward cases, this may simply involve cutting out and replacing relatively small areas of timber. In some cases however, it may be necessary to remove entire timbers and replace them. Where these are primary structural members in difficult to access areas, this can be a difficult procedure.
It is also very important to tackle the source of moisture and to dry out surrounding areas and to treat surrounding timbers with a timber hardener and preservative so that reoccurrence is prevented.
It may be advisable to obtain a specialist survey if wet rot is suspected.
Featured articles and news
IHBC South West Branch Annual conference - Heritage in Law
The branch explores 'Heritage in Law' in its 2017 Conference, supported by Historic England which takes place in Bristol on 9 June with reduced rates for IHBC members.
---
IHBC welcomes Built Environment Forum Scotland success in new National Performance Framework heritage measures
Including the recommendation that 'the current measure of % of A-listed buildings on the Buildings at Risk Register is replaced with % of pre-1919 dwellings classified as having disrepair to critical elements.'
---
IHBC Context online now includes issues 1-20
Originally the 'Newsletter' of the predecessor organisation, the ACO, Context is today the historic environment practitioner's best source for accessible expertise in contemporary conservation.
---
Director's top pick this week features a call from Greenham Parish Council for a Project Manager to lead on the refurbishment of the iconic control tower of the former Greenham Common airfield.
---
Largest Community Right to Build Order in Britain - if successful
The Mount Pleasant Neighbourhood Forum has submitted the Order as the group intends to provide 40 more affordable homes than the Royal Mail scheme that has already been granted permission.
---
Heritage Lottery Fund statement on changes for funding for places of worship
The HLF is changing the way it funds places of worship as From September 2017, the current Grants for Places of Worship programme will close to new applications.
---
Locality launches new Commission on the Future of Localism and Consultation
Locality, the link group for community-led neighbourhood organisations, seeks to uncover what is needed to reinvigorate local democracy and empower communities.
---
Towers that will change the face of Liverpool approved
£250 million scheme to build a three-tower housing complex on the edge of Liverpool's business district has secured approval.