Facility management and technology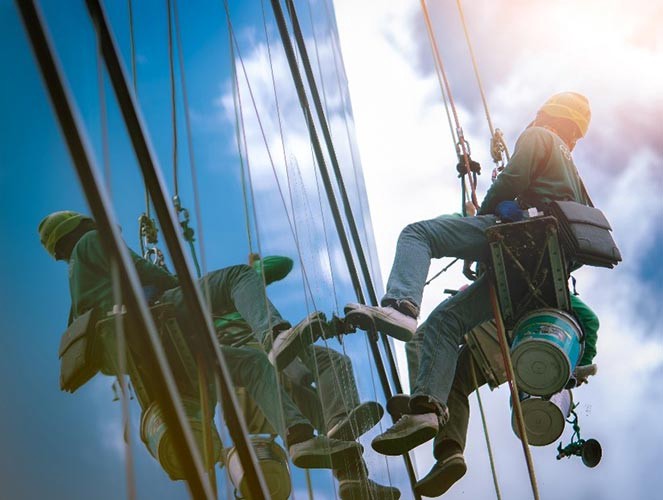 [edit]
Introduction
Keeping up with the demands of advances in multiple sites in a portfolio requires, tools, control, intelligence and strategic implementation of the resources at hand. Both in-house and outsourced facility management (FM) is growing exponentially with the total market for facilities management projected to grow from 1.24 trillion USD (in 2019) to a predicted 1.62 trillion by 2027. Consequently, FM has seen itself rising from an under-optimised resource to a fundamental support that enriches facilities and intelligently empowers businesses.
[edit] Digital transformation and FM
Bill Schmarzo, CTO of Dell EMC Services defines digital transformation as "the application of digital capabilities to processes, products and assets to improve efficiency, enhance customer value, manage risk and uncover new monetization opportunities."
In the business context, data driven digital transformation refers to the exploitation of real-time data collection, analysis and prediction of issues to constantly add value to the company's offering and to stay competitive. This will ultimately optimise performance within the organisation, maximise resources, flexibility and help companies make timely and informed decisions.
With technological disruption in almost every business field, digital transformation in the FM industry has become equally essential. The legacy models of FM operations have considerable budget constraints which limit innovation and efficiency. However, by utilising the business automation techniques, it is possible to explore untapped data to obtain more predictable and contextual insights and make more of the already available assets.
The use of smarter technology like the Internet of Things (IoT), machine learning (ML) and artificial intelligence (AI) makes the existing systems smarter - rather than replacing them with a new generation of inputs eventually contributing to effective cost cutting.
Technology driven efficiency results in holistic and strategic FM operation along with elevating asset performance, contributing to commercial gains and improving customer service and satisfaction.
Traditional reliability of hardware and manual work has proven to be inflexible and rigid because of decreased optimisation and difficult management. The idea is to set up smart workflows that track asset performance, predict and prevent peculiarities and proactively manage the facilities.
With big data analytics, AI and ML, a new layer of empowered functionality will be added, enabling predictive intervention and intelligent insights in business operations. These will help to make informed purchase decisions along with continuous speculation on investments.
[edit]
Continuous optimisation
FM operations can achieve solid productivity and acceleration in the ongoing tasks by eliminating inefficient paperwork and manual work. ML-driven performance analytics and custom KPIs enable data-led decision making, drive predictive models of operations and pinpoint abnormal asset anomalies. This facilitates a quick and responsive approach to problem solving.
[edit] Data-driven decision making and predictive analysis
Being confronted with data and operating through technology is pushing FM to new waters. Actionable insights derived from the IoT devices and other software when combined and processed can aid in optimising assets, workforce and sustainability.
Several time series ML models can derive a new stream of information about potential cost optimisation, inventory management and consumption patterns. Outcomes include reduced overall operational cost and minimised asset downtime.
IoT enabled smart buildings and offices, optimised workplaces and computer vision technologies allow making operations coherent across distributed sites and eases down tracking of assets, equipment, workflow systems and buildings — which were conventionally quite complicated and fault-prone. A fully centralised system that can solely but effectively respond to energy, security and operational data on a single platform will require a less dispersed workforce. Such a unified central source provides a bird's eye view of the entire organisation and makes monitoring easy.
With proper exploratory data analysis of asset and budget, repair or updation decisions related to the equipment can be quickly taken - possibly in accordance with budget and maintenance data. This helps monitor the machinery uptime and downtime and increase the life cycle of the equipment.
Blockchain has the potential to offer a streamlined way to store and access secure data. It functions as a cloud-based, permanent, digitally secure ledger among the parties, and can reduce complexities of contract management, work processing order and processing of payments. All the contractual processes are recorded in real-time, and it induces automation with the capability of self-executing workflows.
Early fault detection is critical for smooth customer experience and business functioning. In the past, faults were reported after the harm was done. Modern technology applied in buildings is coming pre-installed with sensors and IoT based services to anticipate faults before they happen. The digital information collected can determine whether the device is working as expected. In the case of an anomaly, early detection of a fault or replacement reminders ease out the whole process.
Ensuring safety standards and employing mitigation techniques in the post-pandemic workplace is becoming quite necessary in 2021. Using IoT and AI, social distancing amongst the employees, regulating the planned access to different assets within a building, tracking attendance using computer vision technology and so on are some of methods organisations have adopted to minimise human contact.
Also, thermal cameras for temperature screening, built-in room sensors to track human activity, facemask detection and optimised parking spaces are widely used to enhance employee safety and experience in the office.
The technologically disruptive paradigm of FM has transformed the conventional way of the utilisation of professionals, assets and money. It has taken a centre stage and produced unprecedented outcomes. This has always been the industry that identified bottlenecks in the business processes and created solutions in response.
The consensus emerging for technology predicts bigger shifts and includes increased support for research and development, regulations for emerging technologies and devices and value driven approaches of FM and their accessibility to businesses of all sizes.
The IoT-AI driven FM industry can't blaze forward without the incorporation of a skilled workforce that has a strong background in STEM areas like programming, data analysis, cybersecurity, AI and ML. Big changes are required to keep the innovations alive, and like many other fields, the FM industry is also calling for the adoption of new technologies and an IT skilled workforce.
IHBC NewsBlog
IHBC Annual School 18 June 2021: Over 25 MarketPlace Stalls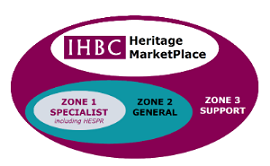 IHBC's Virtual Annual School 2021 MarketPlace stalls provide access to over 25 of the sector's most influential organisations. Book now to join!
---
IHBC Annual School: Historic Places - People Places: 18 June 2021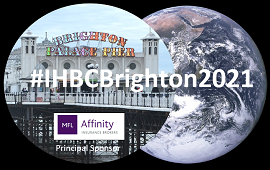 IHBC's 2021 virtual conference examines how we can best change and sustain places for the benefit of people, led by expert practitioners boasting international, national and local profiles and experiences.
---
Europe's top heritage awards honour 24 exemplary achievements from 18 countries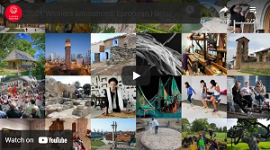 The 2021 winners of the European Heritage Awards / Europa Nostra Awards have been announced.
---
10 Local Councils in England to test the use of digital tools in planning process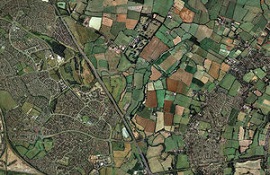 England's Housing Minister has announced a £1.1 million fund to test the use of digital tools and data standards across 10 local areas.
---
LABC launches new home improvement website: Front Door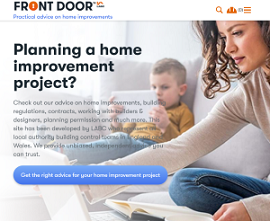 Created by the Local Authority Building Control (LABC), Front Door provides practical guidance on home improvements and renovations as well as technical advice on obtaining building control and planning approvals.
---
Oriel College decision on 'Rhodes' and Related Issues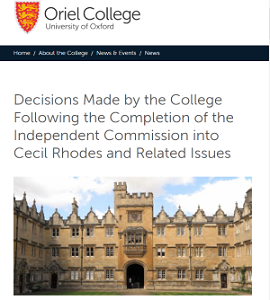 The Independent Commission established by the Governing Body of Oriel College on the memorials and legacy of Cecil Rhodes has reported.
---
Platt's Eyot fire: River Thames GII Boatyards Destroyed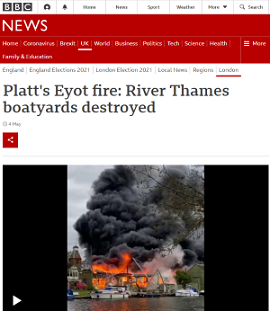 A huge blaze has destroyed two Grade-II listed boatyards on a River Thames island.
---
St Albans Cathedral restoration features a figure wearing a face-mask!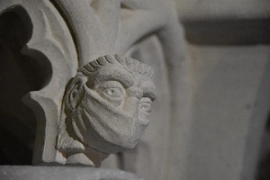 The medieval shrine of St Amphibalus has been restored to its former glory, now with 'a modern addition of a face wearing a face-mask to commemorate the shrine's restoration project' in the pandemic!
---
Ulster Canal to be Restored and Reopened in Border Region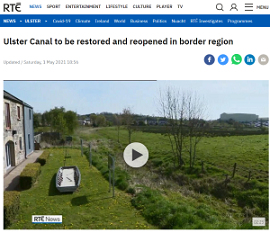 A section of the Ulster Canal, a disused canal in the border region of Monaghan and Fermanagh, will be restored and reopened as a public amenity more than 90 years after it was abandoned.
---
Remains of 'high-status' Roman villa and bath-house found in Scarborough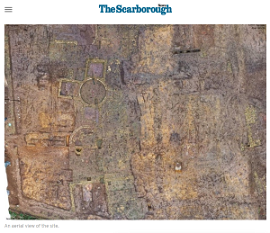 One of the most stunning Roman finds ever unearthed in Britain has been discovered on the site of a new housing development in a village near Scarborough.