Video gaming technology and heritage
The narrative power and ever-advancing realism of video gaming technology has considerable potential to communicate heritage value during urban regeneration.
If we consider urban heritage to be about more than physical structures and spaces, incorporating cultures, practices and the intangible heritage of the 'neighbourhood', we need to think deeply about how it can be protected and utilised in the most effective and appropriate ways. Digging further into this duality of the physical and non-physical aspects of heritage, we can see how the line begins to blur. Many structures and spaces attain heritage value not because they are pleasant to look at, but because people attach value to them based on memories of interaction with those spaces and structures over time. Even the most innocuous spaces can attain heritage value as a result of current and past use, whether it is an alleyway that evokes childhood memories of play or a street corner that someone associates with an important event or process running throughout their life.
This kind of emotional connection becomes even more abstract when the spaces and structures in question no longer exist. If a building has been demolished, has its heritage ceased to exist? The social memory of how somewhere 'used to be' forms part of the present sense of place, which is often a construct that is only truly understood by the people who live in or have a strong connection to that place. While the role of relevant people and communities is paramount to ensuring effective heritage conservation and utilisation, it is inevitable that professionals who do not usually have strong personal connections to the space will be involved in some capacity. The question that then arises is: how can the 'outsider' (heritage conservationist, architect, urban designer, planner, policymaker) obtain a genuine and considered understanding of this 'insider heritage narrative'?
This article outlines an attempt to bridge this gap by using historical research methods and video game technology as part of an Arts and Humanities Research Council (AHRC) funded project at Ulster University. My colleagues and I have carried out oral history interviews with residents and former residents of a number of adjoining neighbourhoods in the city of Derry. We have attempted to understand historic patterns of movement around the city and how people have interacted with the built environment over time. The conversations we have recorded invariably bring forth the power of emotional connection to space, and the creation of heritage value from that process. We also engage in archival research, collating photographs, video, government documents, newspaper articles, memoirs and ephemeral materials.
Our intention is to find a way to make all this material, and what it says about the importance of such heritage, comprehensible to the planners, architects and urban designers who are concurrently planning a major public realm rejuvenation scheme in the same area. While we are exploring a number of ways in which the information can be effectively communicated, one area of focus has been video game technology. The medium provides the means to recreate the historic built environment in three dimensions but, more important, it offers a way of transmitting emotional connection to space through immersive storytelling.
The city of Derry is rightly viewed as a place with a rich heritage. It is the only completely walled city in Ireland. The 17th-century walls and the largely intact historic streetscape within attract significant numbers of tourists. The dark tourism trend has also had a major impact in recent years, sparking a small Troubles tour guide industry. When we embarked on our research, the intention was to explore the history of everyday life in the city before, during and after the conflict (commonly understood to have lasted from 1968 to 1998). Everyday life in Derry after 1968 was bound up with violence and trauma. The same street corner could evoke fond memories of someone playing with marbles as a child, then later being referenced in the same interview as the site of a fatal shooting. Interviewees did not consciously offer such juxtapositions as something that might interest us as researchers, but the blurring of lines between the wholesome and the traumatic illustrates how everyday interaction between people and their physical environment encompasses a spectrum of experiences that inflect urban heritage in different ways.
Derry industrialised and grew rapidly in the 19th century. A flourishing textile industry attracted masses of workers from rural areas, who required housing. The story is similar to that of any industrialising city. Residential areas grew in a pattern of gridiron terraced streets. Living conditions and public health were poor. The terraced streets of areas like the Bogside and Fountain formed largely self-contained, tightly knit communities. Shops, services, schools, churches, work and leisure were all within walking distance. Most of the terraces were cleared and replaced with modernist housing as part of major regeneration schemes during the 1960s and 1970s.
There is an element of rose-tinted nostalgia about open doors and the ability to borrow a cup of sugar from neighbours on the terraced streets, but this also represents a shared experience of poverty and pride in working-class culture. Interviewees spoke with sadness about the loss of a sense of community after the clearances, but they also demonstrated a hard-nosed realism about the necessity for modernisation. After all, campaigns against overcrowding and substandard housing partly drove the civil rights movement of the 1960s.[1]
An interesting element of the oral history interviews we carried out with residents and former residents of inner-city neighbourhoods was how people related everyday experience in spatial terms. The existing built fabric was bound up with memories of places that no longer exist physically, and contrasts between the two iterations of the neighbourhood were offered to demonstrate the devastating impact of urban design that was divorced from the lived experience of the space. Stories were related about people turning inwards, communities becoming fractured, and access to services becoming so difficult that some older people began to stay indoors permanently.
It is difficult to represent the impact of these changes with authenticity. We first considered building a virtual environment that allowed people to walk the old streets in an immersive virtual reality experience. When the impact of the pandemic began to be more acutely felt, we quickly shelved the idea of using virtual reality headsets, which would have had to be shared by users at public events. The concept of using a traditional video game platform to represent the space became appealing. A virtual environment could be created, but users would interact with it on screen, rather than through a headset. The reduced costs of this approach allowed us to begin exploring how we could more creatively represent the emotional impact of the extant memory and destruction of the space.
We are now in the process of developing a game in conjunction with a development company (Cupboard Games) which brought with it a freshness of approach that completely changed our view of how we could best represent the space virtually. Cupboard Games' idea was to emphasise a narrative element in the game while also attempting to accurately represent the historical built fabric of the city. This took the form of a user being presented with a two-dimensional contemporary map and tasked with flipping back and forth to the three-dimensional environment, and negotiating their way around the historic streetscape.
The player is a letter-carrier who must deliver mail to a number of homes in the city. As they progress and succeed in negotiating the city, a historic map grows alongside the contemporary one, demonstrating the changes that have occurred. Perhaps most significantly, it becomes clear to the player that the letters they are delivering are vesting orders, demanding that residents leave their homes so that the streets can be demolished to make way for modern traffic infrastructure and housing. Archival reproductions of real letters are relayed in the game, as are newspaper reports and snippets of our oral history interviews. The overall effect is to impress the player with a visual experience, while also allowing them to experience the emotional impact of changes to the built environment that took place under the banner of progress.
The purpose of the game is not to legitimise nostalgia for a lost age, nor to further lament the errors of post-war urban regeneration. Instead it attempts to highlight the complexities involved in planning and designing modern, sustainable and healthy cities, while also protecting urban heritage in a way that does more than simply retain physical relics of the past. Next, we intend to test the game with urban designers currently working on regeneration proposals for the same neighbourhoods. We hope this will convey the emotional history and memory of the space in a way that can inspire new thinking on heritage and regeneration.
The potential of the narrative power and ever-advancing realism of gaming technology has yet to be explored in any great detail. We hope this project will offer some evidence of that potential and set a benchmark for future engagement.
References
[1] It is also vitally important to understand the impact of the sectarian divide in the city, and how issues like political discrimination, gerrymandering and violence affected the lives of residents. See Bob Purdie (1990) Politics in the Streets: the origins of the civil rights movement in Northern Ireland, Belfast. Chapter 5, 'Derry and its Action Committees' is available at https://cain.ulster.ac.uk/events/crights/purdie/purdie90_chap5.pdf. The Conflict Archive on the Internet (CAIN) is the most authoritative source of information available on the Northern Ireland conflict: see https://cain.ulster.ac.uk
---
This article originally appeared as 'Gaming the urban past' in Context 168, published by the Institute of Historic Building Conservation (IHBC) in June 2021. It was written by Adrian Grant, a historian and lecturer in policy at Ulster University. He is currently leading the AHRC-funded project Divided Pasts – Design Futures, which seeks to utilise heritage more effectively in urban design and planning processes.
--Institute of Historic Building Conservation
IHBC NewsBlog
BRE/BEIS project to modernise home energy rating scheme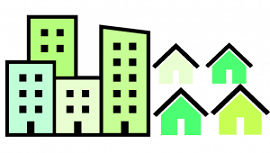 The Building Research Establishment (BRE) has announced a new project with the Department for Business, Energy and Industrial Strategy (BEIS) to improve and modernise the home energy rating scheme used to measure the energy and environmental performance of UK homes.
---
Interdisciplinary IHBC accreditation recognised by CSCS for PQP Cards

Sector lead the Construction Skills Certification Scheme (CSCS) has recognised the IHBC's professional accreditation and support (CPD etc.) in awarding its PQP (Professionally Qualified Person) cards.
---
IHBC Heritage Marketplace provides learning-led virtual engagement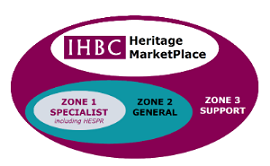 The IHBC's 2022 Aberdeen School Heritage MarketPlace (4.30-7.30PM, 15 June) is designed to extend the scope of a traditional IHBC School exhibition floor.
---
Unearthing the history of Gloucester's 'the Fleece' Hotel starts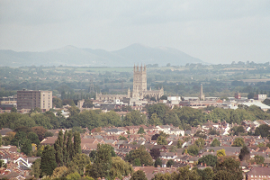 Work to repair a fire-hit medieval hotel in Gloucester is underway as crews have started work to strip back some of the modern trappings and reveal the historic framework.
---
Booking Open for IHBC Annual School: Aberdeen, 16-18 June 2022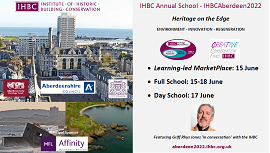 Options for in-person and virtual delegates to explore 'heritage on the edge' across up to 4 days of IHBC engagement & learning.
---
European Heritage Heads Forum statement on Ukraine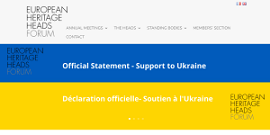 The Secretariat to the European Heritage Heads Forum has has coordinated its declaration of solidarity and support for Ukraine's cultural heritage institutions.
---
Welcome to #IHBC25 – 25 years since we turned professional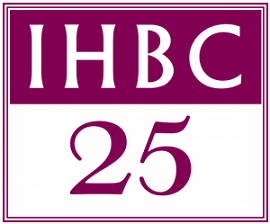 2022 will see the IHBC mark a quarter of a century since our incorporation as a professional body supporting and accrediting built and historic environment conservation specialists. We're kick-starting it by inviting your ideas on how to mark this special year!
---
IHBC launches new Guidance Note on 'Design sources for historic building conservation'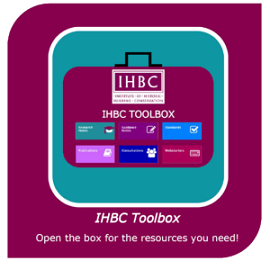 The IHBC's latest Guidance Note adds to the institute's open-access, online practitioner's Toolbox.
---
England's communities empowered to shape design of neighbourhoods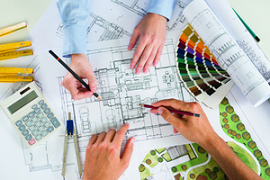 Twenty-five areas in England from Bournemouth to Carlisle have been awarded a share of £3 million to help them set their own standards for design locally. "move from a vicious circle of generic development to a virtuous circle of regenerative development".
---
IHBC at COP26 - Conserving our Places Conserves our Planet - Podcast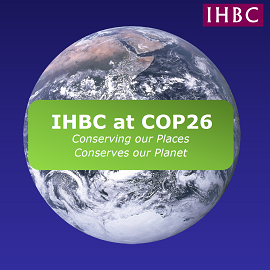 The IHBC seeks to raise awareness and understanding of how building conservation philosophy and practice contributes towards meeting the challenge of climate change.